Going by the sheer numbers, Instagram is fast turning out to be a favorite platform for both marketers and social media buffs who love to explore stunning photos and funky videos. While there could be all sorts of ways to get a lot of traction on the social networking platform, giving a stylish look to the text can prove to be a game-changer. Simply, what appeals to the eyes, does succeed in winning a ton of hearts – more often than not! And that's exactly what has led me to line up the 10 best Instagram font generators for iPhone/iPad, Android, and web that can put your posts ahead of the curve in 2020. So, if you want one to create nice-looking fonts, head over to get one in your armory!
Best Instagram Font Generators in 2020
It always pays to get rid of the quirks upfront. So, let's put them out of the way!
So, How to Do You Generate Instagram Fonts?
Well, creating fonts for Instagram is as straightforward as typing/pasting a normal text and hitting the return button. Yeah, you got that right! With several pretty easy-to-use font generators waiting in the wing, getting a cool font that can make your Insta post look eye-catching is never a big deal. After trying out several contenders, I've picked out the sites/apps that get the job done reliably. So, I'm sure they can live up to your billing – without any snags.
1. Fontify
From what I have experienced, I can say that Fontify is one of the best Instagram font generator apps for Android and iPhone. Sporting an intuitive UI, the app works quite efficiently in letting you generate Instagram fonts on your smartphone. As you can see in the screenshot, there is one dedicated Copy button near every font. You can press that button to copy the text in the selected font. This is a great way if you want to use multiple fonts in the same text.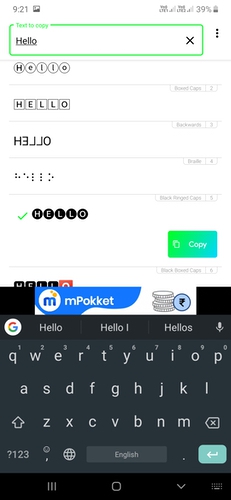 Compared to other Instagram font generators we listed, Fontify is native and doesn't consume many resources from a device. There are even some cool features. For instance, Fontify shows a shortcut for moving to Instagram, where you are going to paste the text. And, yes, you can use the custom-font text on not just Instagram but also WhatsApp and Facebook.
2. Sprezz Keyboard
If Fontify claims to be a titan, Sprezz Keyboard can safely stake the claim of being one of the best iPhone/iPad Instagram font generators. Yeah, this impressive iOS keyboard app also doubles as an Instagram font generator. That means you can use this app to not only accelerate your typing but also adorn your Instagram posts. Probably the best part here is that you don't have to copy and paste things anymore. Instead, Sprezz Keyboard presents you with a keyboard that is filled with fancy Unicode fonts. You can go to Sprezz Keyboard settings and choose a font from a variety of options.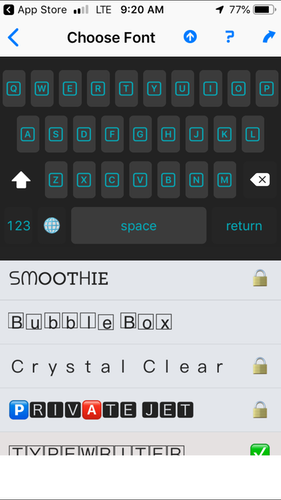 From the usability perspective, Sprezz Keyboard is one of the best Instagram fonts you can get. The problem is that you have to go to Settings every time you need a different font. That thing apart, you can have a cool way to publish fancier fonts on Instagram and other apps. As a keyboard app, Sprezz Keyboard allows some level of customization as well. If you want to use Sprezz on your Android device, you can use its web app. It's doesn't' have the best UI but it works.
Install: Free, with in-app purchase (iOS/Web App)
3. Font for Instagram
Font for Instagram is another Android app for creating different fonts for Instagram. It offers one limited collection of fonts — beauty types. Compared to other apps, you will be able to find more fancy type fonts in the collection. There are some perks here, though. For instance, you can type a bunch of text using different fonts by simply picking one font from the menu.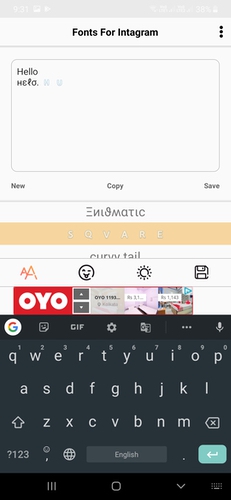 This is great if you are trying to make an Instagram bio that stands out in the crowd. Apart from the normal set of fonts, Font for Instagram also allows you to bring Unicode-type emojis to the text. You can check them out from the nearby tab. The collection, despite being fancy almost every time, is interesting and that's cool for most Instagram users.
Install: Free (Android)
4. Fonts – for Instagram
Fonts – for Instagram has got all sorts of ingredients to be a fine font generator for Instagram (available for both iPhone and iPad). What has caught my eyes in this font generator is a pretty easy way to pick fonts. Just like we did in the previous app, you can actually use multiple fonts in the same text. However, the problem is that many fonts we see in Fonts – for Instagram are premium.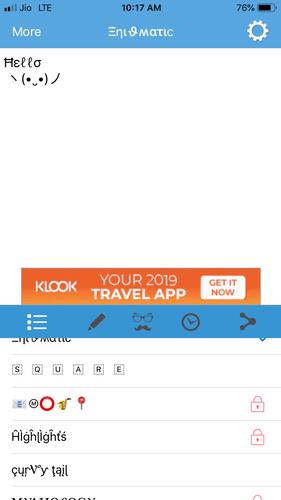 You have to pay a certain amount to unlock some of the fancy fonts in this app. That's the same case for emojis and other elements as well. It's like having an iOS version of Font for Instagram but with a bit more restrictions. However, if you don't want an entire keyboard full of Unicode characters, you must check out Fonts – for Instagram.
Install: Free, in-app purchases (iOS)

5. Cool Fonts for Instagram
As someone who likes to have the luxury of a variety of fonts, I have found "Cool Fonts for Instagram" quite good. This Instagram font generator features a clutter-free interface and works effectively in converting normal text into several font styles. Just type or paste a text in the input field and the app will do the rest for you by offering many nice-looking fonts for your post. After that, you can just copy the font and paste it wherever you want. In short, Cool Fonts for Instagram is a pretty neat Instagram font generating app for iOS.
Install: Free (iOS)
6. FontCap
There are very few Instagram font generators for Android that are as straightforward as FontCapt. Featuring a growing library of over 150 fonts and numbers, it's got enough variety to let you create stylish fonts so that you can make your Instagram posts the needed edge to gain maximum traction on the social networking platform. What's more, the app also offers shortcuts to let you share the generated fronts with others.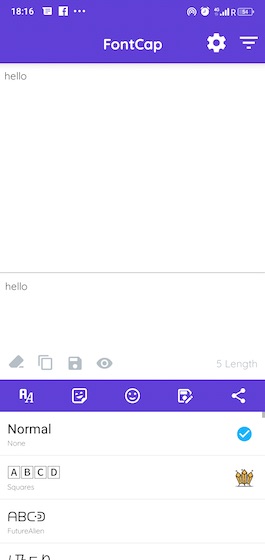 Install: Free (Android)
7. Fontsy
Without an iota of doubt, Fontsy is an all-in-one font generator for your iPhone and iPad. And if you often have to create nice-looking fonts for social networking apps including Instagram, Facebook, Snapchat, WhatsApp, Facebook Messenger, it can come in super handy for you. The highlight of this app is a massive library of fonts that you can use to make your posts look stand out. It's worth noting that this fully-featured Instagram font creator offers a limited freemium model. So, if you want to unlock all of its fonts, you will need to spend $9.99/week.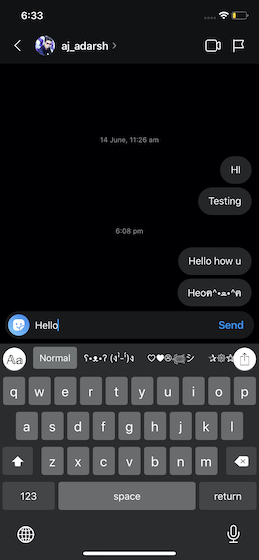 Install: Free (iOS)
8. Instagram Fonts
Simply put, Instagram Fonts is one of the most popular Instagram font generators available for desktop and mobile. To get started, you can enter the desired text and press a button to see the variety of available fonts. There are hundreds of fonts you can choose from. Some of them are neat while others are fancy. Instagram Fonts also presents a few font combinations – the fonts with both text and emojis.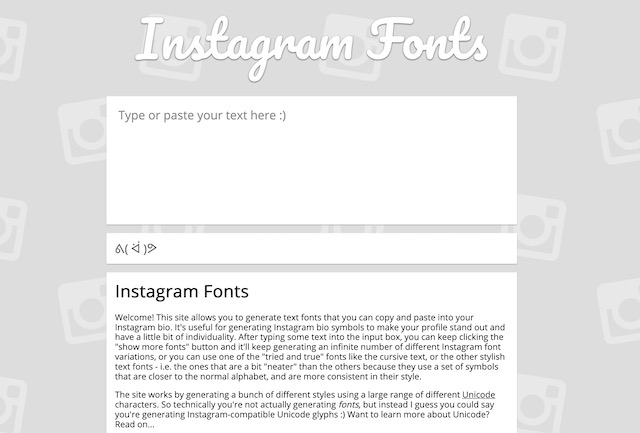 The interface of Instagram Fonts is super-simple. You can keep clicking on Load More Fonts until you find an amazing font you really want. Once you are done, you can go ahead and copy-paste the font on Instagram. We tested some of the fonts and most of them were working fine. However, we think you should stay away from glitch-type characters.
9. Instagram Fonts Generator
If you prefer fancy-looking Instagram fonts, you shouldn't fail to check out Instagram Fonts Generator. Featuring a pretty clean user-interface, it makes the process of generating Instagram fonts quite hassle-free. As soon as you enter the text, Instagram Fonts Generator shows you the same text in several different fonts which you can use to make your Instagram posts look pleasing to the eyes. What's more, you can also bring in some emojis to add some fun elements to the mix.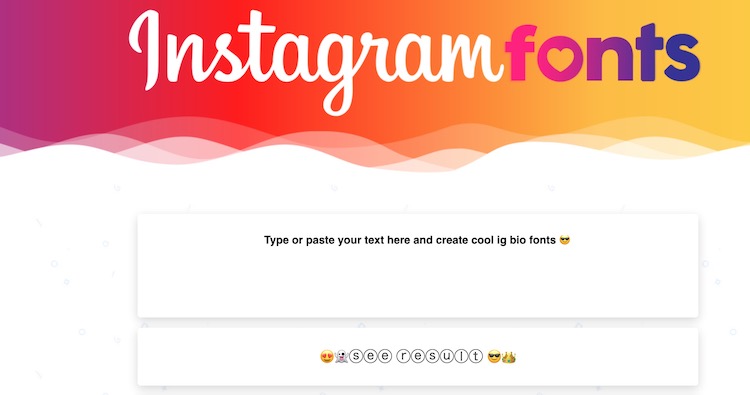 As it uses fancier characters, compatibility might come in your way. In our testing process, some characters in the description were not displayed correctly on screen. If you are using the service from a mobile device, you can recognize this instantly. However, I don't think it's a dealbreaker considering its ability to generate nice-looking Instagram fonts.
10. Fonts for Instagram
If you are after a pretty simple Instagram font generator that can get the job done, Fonts for Instagram could be the right pick for you. During my brief testing, I found most of its fonts working well on Instagram. So, you can copy and paste the generated text on the screen blindfolded and expect it to work. While you might encounter normal Unicode issues at times, the easy to use UI of Fonts for Instagram stays impressive.

As for compatibility, it supports both mobile and desktop. Thus, you can use it to generate cool Instagram fonts not only on your iPhone, iPad, and Android devices but also on your computers. Having given Fonts for Instagram a try on both mobile devices and desktop, I can say that it's one of the most reliable font generators for Instagram.
Choose from the Top Instagram Font Generators
So, these are the top-ranked font generators for the Facebook-owned social networking platforms. With so many notable font creators lined up, I hope you have found the right bet. As we are talking about Instagram, I would recommend you to check out the best Instagram photo editors and filters for Instagram as well. Besides, feel free to send across your valuable feedback in the comments down below.