Instagram has now become a place where you can find interesting photographs, videos and even some text content. However, while Instagram has filters and allows you to edit photos and videos, there isn't much customization for text content. The worst part? You cannot even change the font of the text you publish on Instagram. Indeed, there are times when you badly need an escape from the default Instagram font. And that's where best Instagram font generators come in.
Instagram font generators are utility tools that let you generate custom fonts for Instagram. You will be able to use these fonts in your Instagram posts, bios, and almost everywhere. You will be able to find all sorts of fonts here, including those fancy cursive ones and the elegant picks. In this article, we are going to talk about the best Instagram font generators out there and how to use them.
Note: Most of the font generators on the list share quite similar names so be sure to use our links to visit the specific font generators as a simple Google Search might send you on a hunting trip.
Best Instagram Font Generators for 2019
Before we get to our list of Instagram font generators let us first learn a little about these custom fonts and how they work.
Something about Unicode and Font Generators
We told you that Instagram doesn't support custom fonts. Wondering how this works, then? Well, you have to thank Unicode for all this.
Unicode is an international standard that deals with encoding, decoding and representation of text in digital devices. Characters coherent with this standard should work on almost all devices. So, what Instagram font generators do is converting your text into a bunch of symbols. These symbols would work on almost every digital device, technically. Nevertheless, there are times when Unicode characters don't work well.
So, Instagram font generators will help you choose from the variety of symbols from Unicode characters as per the text you have entered. Now that you have the basic ideas clear about Instagram font generators, let's check out some of the best.
List of Best Instagram Font Generators
1. Instagram Fonts
Instagram Fonts is one of the most popular Instagram font generators available for desktop and mobile. You can enter the desired text and press a button to see the variety of available fonts. There are hundreds of fonts you can choose from. Some of them are neat while others are fancy. Instagram Fonts also presents a few font combinations. That is, fonts with both text and emojis.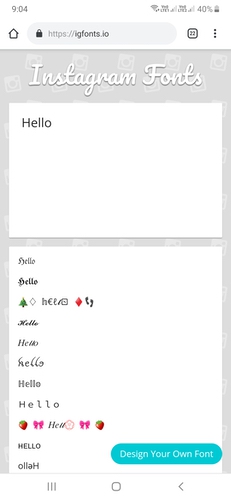 The interface of Instagram Fonts is super-simple. You can keep clicking on Load More Fonts until you find an amazing font you really want. Once you are done, you can go ahead and copy-paste the font on Instagram. We tested some of the fonts and most of them were working fine. However, we think you should stay away from glitch-type characters.
2. Instagram Fonts Generator
If you are looking for a fancier set of Instagram fonts, you should check out the Instagram Fonts Generator. It too comes with an amazing user interface, which is in fact cleaner than the previous one. As soon as you enter the text, Instagram Fonts Generator will show you the same text in different fonts. You can also bring in some emojis if you want.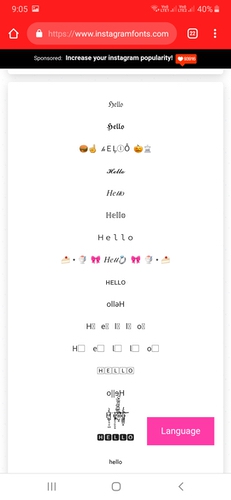 Because it uses more fancier characters, compatibility is a big issue. In our testing process, some characters in the description were not displayed correctly on screen. If you are using the service from a mobile device, you can recognize this instantly. Once again, you can copy-paste characters that are being displayed in the correct manner.
3. Fonts for Instagram
Another Instagram font generator solution, Fonts for Instagram offers you a limited set of fonts. However, we found that most of their fonts are working fine on Instagram. So, you can copy and paste the text on the screen blindfolded and expect it to work. While you may encounter normal Unicode issues, the easy to use UI of Fonts for Instagram stays impressive.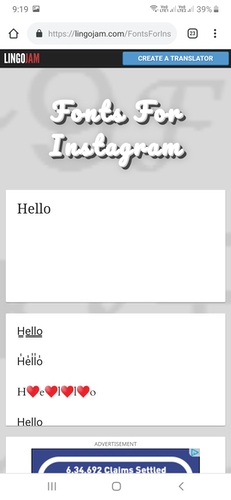 So, Fonts for Instagram is a great option if you are looking for a minimal collection of functional fonts. You'll be able to keep the service with confidence, and it works great on both mobile and desktop. In Android, we were able to copy and paste everything with real smoothness. In the course of time, however, you may get bored with the collection.
 4. Fontify (Android Only)
Fontify is an amazing Android app for generating Instagram fonts. It has one of the best UIs we've seen and it allows you to choose the right font according to your needs. As you can see in the screenshot, there is one dedicated Copy button near every font. You can press that button to copy the text in the selected font. This is a great way if you want to use multiple fonts in the same text.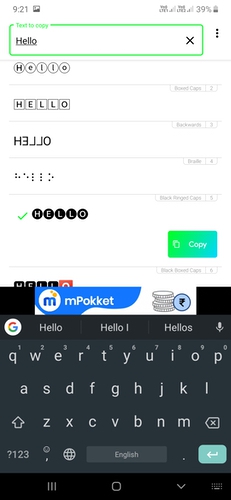 Compared to other Instagram font generators we listed, Fontify is native and doesn't consume much resource from a device. There are even some cooler features. For instance, Fontify shows a shortcut for moving to Instagram, where you are going to paste the text. And, yes, you can use the custom-font text on not just Instagram but also WhatsApp and Facebook.
Install: free
5. Sprezz Keyboard
Sprezz Keyboard is an iOS keyboard application that doubles as an Instagram font generator. The best part here is that you don't have to copy and paste things anymore. Instead, Sprezz Keyboard presents you with a keyboard that is filled with fancy Unicode fonts. You can go to Sprezz Keyboard settings and choose a font from the variety of options.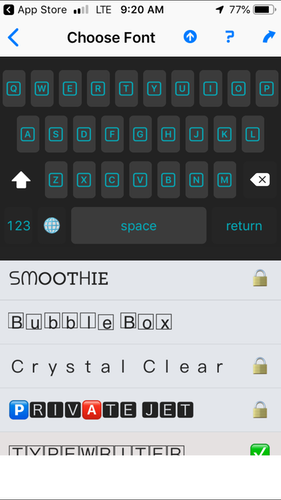 From the usability perspective, Sprezz Keyboard is one of the best Instagram fonts you can get. The problem is that you have to go to Settings every time you need a different font. That thing apart, you can have a cool way to publish fancier fonts on Instagram and other apps. As a keyboard app, Sprezz Keyboard allows some level of customization as well. If you want to use Sprezz on your Android device, you can use its web app. It's doesn't' have the best UI but it works.
Install: Free, with in-app purchase / Visit Web App
6. Font for Instagram (Android Only)
Font for Instagram is another Android application for using different fonts on Instagram. This app offers one limited collection of fonts — beauty types. Compared to other apps, you will be able to find more fancy type fonts in the collection. There are some perks here, though. For instance, you can type a bunch of text using different fonts by simply picking one font from the menu.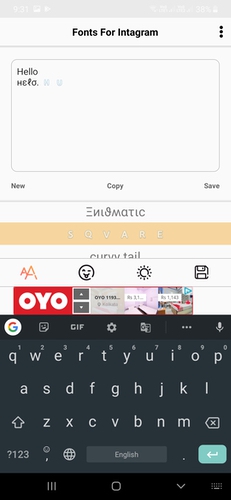 This is great if you are trying to make an Instagram bio that stands out in the crowd. Apart from the normal set of fonts, Font for Instagram also allows you to bring Unicode-type emojis to the text. You can check them out from the nearby tab. The collection, despite being fancy almost every time, is interesting and that's cool for most Instagram users.
Install: Free
7. Fonts – for Instagram (iOS Only)
We end this list with a traditional Instagram font generator app for iOS. Fonts – for Instagram is available for both iPhone and iPad devices out there and offers an easy way to pick fonts. Just like we did in the previous app, you can actually use multiple fonts in the same text. However, the problem is that many fonts we see in Fonts – for Instagram are premium.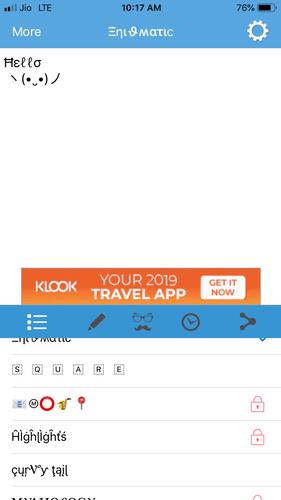 You have to pay a certain amount to unlock some of the fancy fonts in this app. That's the same case for emojis and other elements as well. It's like having an iOS version of Font for Instagram but with bit more restrictions. However, if you don't want an entire keyboard full of Unicode characters, you must check out Fonts – for Instagram.
Install: Free, in-app purchases
How to Use Instagram Font Generators
We will give you an overview about the potential options.
Using a Website (Android, iOS, Windows, and Mac)
It's all about copying and pasting. You can visit one of the best Instagram font generators we have listed and enter the text you want to convert. The problem is that you can convert one piece of text to one font only at a time.

Using an App (Android and iOS)
If you are using an app like Fontify or Fonts – for Instagram, the task is even easier. These apps let you create a text that is made of multiple fonts. You can choose the font you want and type the text. Once you're done, you can copy and paste everything to Instagram.
If you are on iOS, you can use an app like Sprezz Keyboard. This keyboard allows you to paste fancy fonts in a direct manner. In this case, however, you have to visit Settings each time you need a different font. If you can fix to a particular font, these apps are great.
SEE ALSO: How to Repost on Instagram: Multiple Methods Explained
Use These Awesome Instagram Font Generators
So, these are some of the most effective ways to generate fonts for Instagram. As you have seen, some apps allow you to bring the text directly to Instagram and other apps. For instance, Sprezzy Keyboard is a superb option for iOS. However, if you are looking for some more flexibility, you should go with Fontify or other IG font generators we have listed.
If you are already using a font generator which is not on the list do let us know in the comments section below.