Though Instagram comes with a variety of filters that can suit different moods and themes including retro and glamorous, they are still – at most – baby filters. As for the editing tools, they are quite basic. Don't get me wrong! For casual photo sharing, the built-in filters and editing tools are up to the task. And if you want your shots to look decent enough to win praise from your friends and loved ones, you may not feel the lack of better control over editing. But what if you want your shots to rival pro quality or look gorgeous by keeping away blemishes like wrinkles, dark spots, and even pimples? Well, this is where this extensive roundup of the 15 best Instagram photo editor apps for iPhone and Android have a role to play.
Best Instagram Photo Editor Apps for Android and iOS in 2020
To make photo editing quite straightforward, these photo editors come with easy-to-use editing tools. So, you can enhance the look of your image, get rid of dark spots, and even add some instant effects to make your pic appear stunning on Instagram. Not just that, some image editors even feature makeup tools so that you can adorn your pics. Knowing that a lot of Instagrammers love to capture funky selfies, we've also picked out highly-rated selfie editors. Features like built-in selfie cameras coupled with a wide range of filters make them standout. Now that you know what's coming up, let's head over to explore the top Instagram photo editors for iOS and Android!
1. Adobe Lightroom
"Adobe Lightroom" stands out on many fronts and deserves to find its place right at the top as the best Instagram photo editor apps list. What gives it an edge over many of its rivals is the pretty clean and intuitive interface. Couple that with a wide range of editing tools and you have a very handy photo editor for Instagram.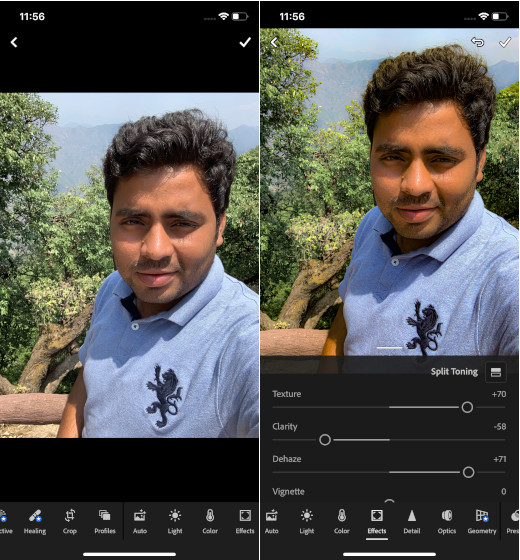 Based on how nice you want your shots to appear, you can fine-tune several vital things like color, contrast, tone, and exposure. There is a color mixer that allows you to refine colors so that the pics look visually appealing. One of the highlights of Adobe Lightroom is the ability to import and edit even RAW images. If you are a purist, keep an eye on this feature.
Featuring multiple camera modes like HDR, professional and RAW, you can capture high-quality shots using your smartphone. Besides, you can choose to upgrade to the pro version of Lightroom to unlock lots of advanced tools such as selective adjustments, healing brush, cloud storage and more. Using albums, folders and star ratings, you will be able to keep all of your pics perfectly organized.
It would indeed be a bit unfair if I don't mention Adobe Photoshop Express (which is the sibling of this app – iOS/Android) as it's designed for the pros. It's feature-rich and offers you desired control to edit your pics elegantly. So, give it a try as well if you want to have more powerful tools at your disposal.
Pricing: Free, in-app purchases available
2. VSCO
At the second spot, I've picked out VSCO. Simply put, it's got all the ingredients to let you edit your images proficiently. With this app, you get a variety of professionally crafted presets and tools to experiment with. Should you want your Instagram pics to always sport trendy style, these presets could just be the need of the hour for you.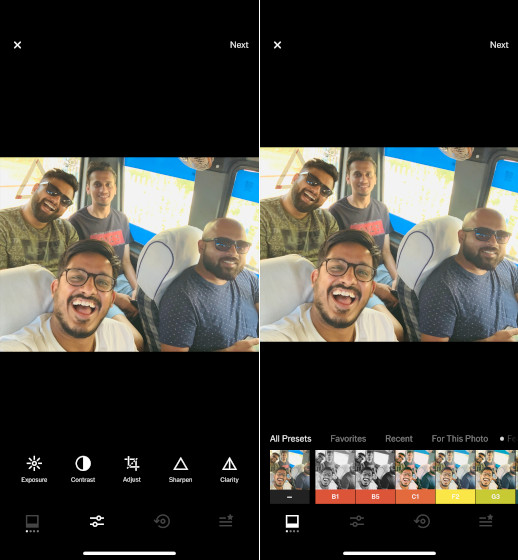 You can adjust many aspects of the pics like contrast, saturation, and grain so that they appear pleasing to the eyes. Make the best use of "Film X" to create evergreen film looks. Plus, the advanced editing tools like borders, HSL offers you the convenience to completely transform your Instagram avatar.
However, what makes this photo editing app so great is the option to connect with a huge community of creators. Thus, you will be able to explore a lot of eye-catching content and get the much-needed inspiration from them. Also, watch out for the super cool tips and tricks shared by the community members to enhance your photography skills. Overall, VSCO is one of the best Instagram photo editors for Android and iOS.
Pricing: Free, $19.99 for yearly VSCO membership
3. Snapseed
Google's "Snapseed" is known to be a powerhouse for all good reasons. And if you want to have the luxury of top-notch editing tools to beautifully craft your Instagram photos, you've got to keep it right on your radar. Loaded with many filters, it ensures you get the desired result without putting a lot of effort. Based on the mood or theme, you can pick out the filter that can best define your pics.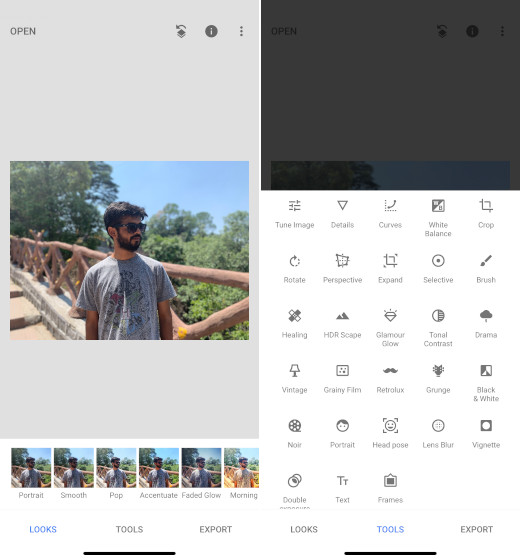 It lets you open both JPG and RAW files and design them efficiently. Precisely adjust the color so that the image appears more realistic and crisp. Take control of brightness, exposure, and saturation to give the photos a flawless appearance. Get rid of the skewed lines and smartly fine-tune the geometry of building to ensure your images appear not just stunning but also glitch-free.
You can use the healing tool to remove someone who seems to have sneaked into your group photos. With the lens blur, you will be able to add a bokeh effect to the shots. The option to add both plain and stylized text seems to add more cherry to the cake. What's more, you can also take advantage of the glamour glow to make your pics steal hearts and go for the vintage option to embrace retro looks. If you want to use the full power of Snapseed, go read our article on best Snapseed tips and tricks. You will be using Snapseed like a pro in days.
Pricing: Free 
4. Afterlight 2
Afterlight 2 has always impressed me for more than one reason. First and foremost, I find its user-interface pretty easy-to-use. Plus, all the available tools are quite convenient to handle. So, even if photo editing hadn't been your forte, you can edit your images effortlessly.
Aside from the appreciable UI, the app comes with a handy depth effect feature which you can use to put more focus on your subject and take the attention away from the unwanted background. For a more dramatic result, you can try out the prism effects and the stunning film light leaks. Plus, there are also dusty film overlays to ramp up the whole thing.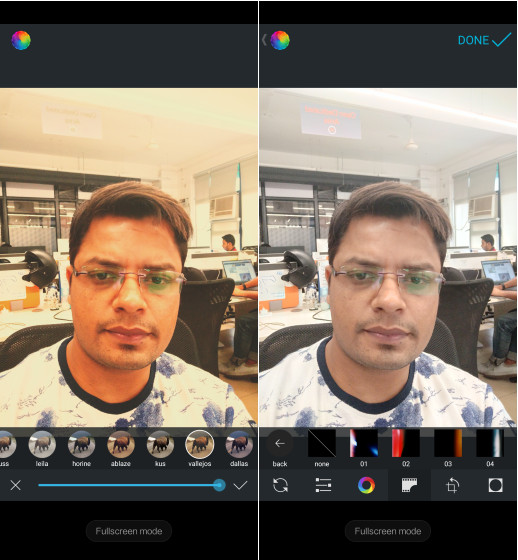 With tools like selective hue, tone, clarify, and curves, it's quite easy to find a more attractive look of the image. Thanks to a wide variety of frames, your Instagram pics will appear not only more stylish but also different. Not to mention the availability of tons of fonts and appreciable design that could add more charm to your images. Once you have edited your pics, you get to save them in multiple sizes like small, medium and max, which is yet another plus from the perspective of storage management.
One of my favorite features of Afterlight 2 is the super cool "Double Exposure" that allows blending images together to create great combinations. Try it out and I bet you'd like every bit of it.
Pricing: $2.99 for iOS, Free with in-app purchases for Android
5. AirBrush
For adding glamour to your pics, AirBrush is the ideal way to go. Whether you want to remove the acne from your photos or liven up the makeup, it can stand up to the task really well. Choose from a variety of modern filters to transform your appearance in the blink of an eye. Try out a more suitable lightening and offer up the perfect smile to your selfies so that they can win attention with ease. You can use the easy-to-use tools to perfectly even out the skin tone. And oh, don't forget to smoothen up the lines so that you appear more adorable than ever before.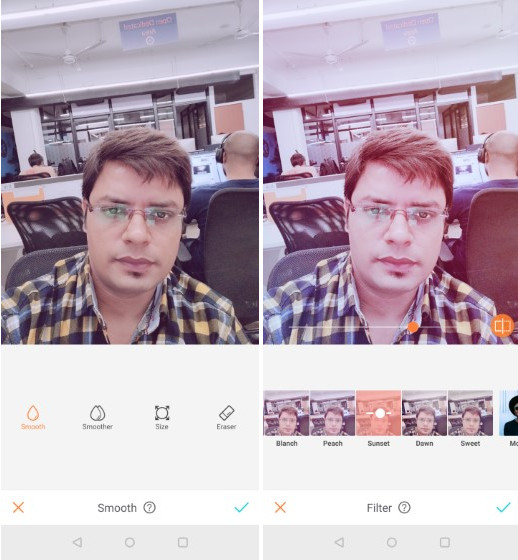 It's the infectious smile that is believed to garner a lot of praise. And with this app, you can quickly whiten teeth as well as widen or nudge your smile to appear more commendable. There is even an option to enlarge eyes and even brighten them to look more stylish.
AirBrush also lets you slim down or expand any facial features as well, which would come into play when you want to want to appear in perfect shape. Besides, there is also a stretch tool to make you look taller. Well, if you want the photos of Instagram to turn out to be huge attention-grabber, it should be a fine bet.
Pricing: Free, in-app purchases available
6. Polarr Photo Editor
What has called for my attention in Polarr Photo Editor is the smart auto-enhance tools. That means, the app will get half of your job done, ensuring you don't need to spend plenty of time to have a better result. Another feature that has made me want this app is the dual-lens effect as well as easy depth adjustment. Times when you wish to make the subject stand out by keeping the unnecessary background at bay, it should come into the play.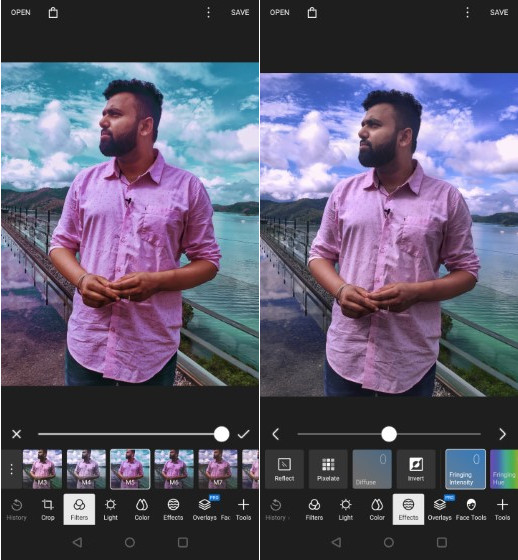 With a good many artistic tools and effects, you will always have something out-of-the-box to go for. Moreover, Polarr also offers you the option to create and customize filters. If you love experimenting with tools, chances are you will really adore this feature. Another thing that's worth noting is the photo-realistic effects such as weather effects, clouds, flares, light leaks, and more. As someone who always wants to get the most out of my pics, I found them appreciable.
Even better, the spot-on color adjustment, custom overlay along with the pretty good blending modes make it a complete suite for getting the most out of your Instagram selfies. Besides, the batch exporting and photo extension simplifies the task. Everything considered; Polarr can easily stake the claim of being one of the top Instagram photo editors for iOS and Android.
Pricing: Free, in-app purchases available
7. Photo Lab
"Photo Lab" is a full-fledged photo editor and has several tricks up its sleeve. Well, I've saved it for the folks who always seem to crave for more photo effects. What puts it at the forefront is the massive library that consists of over 800 effects. That means you will get a range of effects to try and choose the ideal one for your pic. Besides, the app comes with around 50 preset styles. If you like turning your pics into praiseworthy artwork, these preset styles would be worth having a look.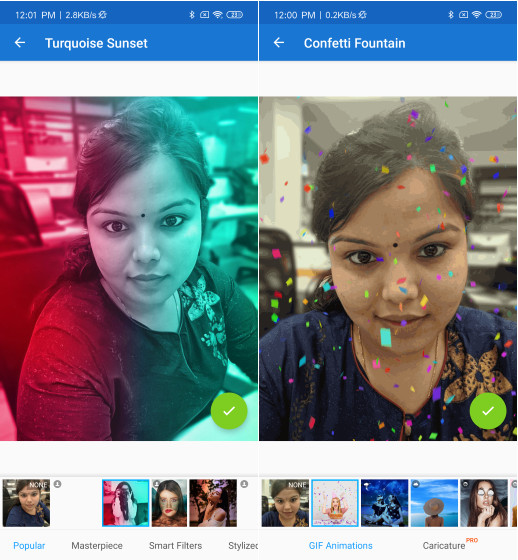 As for photo filters, they are in large numbers and can play a vital role in beautifying your images. Not to mention the face photo montages that can let you turn your pic (or for that matter anyone's) into a monster, pirate and what not. Explore the ever-growing library of frames and choose the one that can go nicely with your Instagram photos. And just in case, you want to give a unique frame to some of your memorable images, create photo collages.
Pricing: Free-trial ($1.99 starting price for iOS)/ Free (for Android) 
8. Pixlr
"Pixlr" claims to offer over 2 million combinations of effects. If you want your library of tools to never run out of options, you should keep this Instagram photo editor in mind. Like making beautiful collages to post on Instagram? You can select from several preset collages to bring together multiple memories in one frame and give them a better reason to smile together. To ensure your pics look flawless, you can remove the blemishes like red-eye and also be able to smoothen up the skin as well as whiten the teeth to appear more stylish.
Select from a bunch of overlays for your pics depending on the theme or mood. For a more creative look, design your image like a true artist and make it appear as an ink sketch and even a pencil drawing. Do not forget to unravel a large pack of effects that can instantly change the entire appearance of your images.
The app provides a variety of fonts so that the text looks equally attractive. Once you have beautifully crafted your images, you can ideally resize them. Lastly, take advantage of the favorites button to never let the most loved tools go out of your sight.
Pricing: Free, in-app purchases available
9. Perfect365
Should you want the photo editing process to be hassle-free, Perfect365 would be a pretty good option. The reason why I find it worth having a go is that it's got lots of makeup and beauty tools. So, if you think that your Instagram stories have to look enchanting, this app can fit into your needs admirably.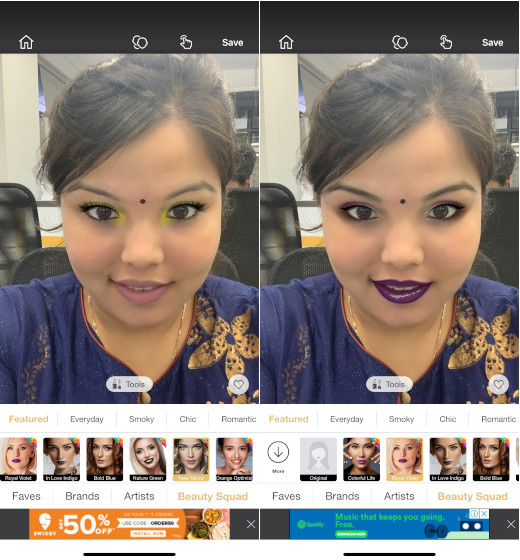 The app boasts around 200 preset styles that can come in really handy in letting you add the x-factor to your images. And with the endless color options, you have a bit more freedom to make the photos appear charming. Thanks to the advanced face detection technology, it offers a more suitable makeup choice. Therefore, you can easily embrace the appearance that can look befitting on you.
Make the most of a variety of hairstyles and colors. You have the liberty to explore a number of famous beauty brands and handpick the items that can deliver a pleasing result. That's not all, Perfect365 also offers smart makeup and fashion tips which could be enormously pivotal for both the aspiring role models and the ones who are already the icons for many.
Pricing: Free, in-app purchases available
10. Layout from Instagram
If you are after top-notch layouts, l would recommend you to give a shot to "Layout from Instagram." As the name itself suggests, the app is developed by people at Instagram and offers you plenty of choices.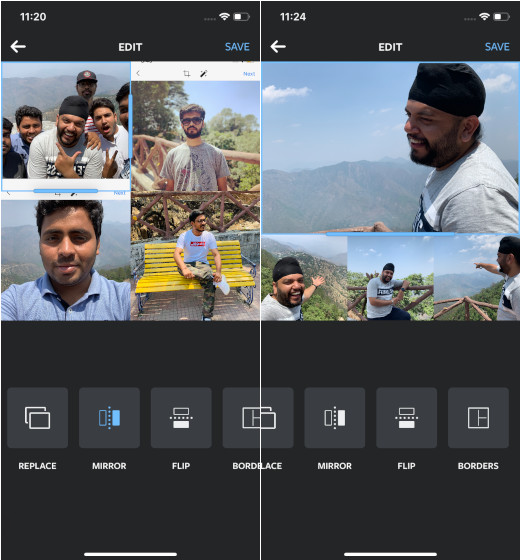 The app allows you to remix up to 9 photos to create a stunning layout. Moreover, you will be able to use Instagram filters and all the available tools to refine your creativity. It features an intelligent Faces tab to let you quickly access the photos with the people in them. Plus, there is a cool photo booth mode that allows you to snap up to 4 shots at one go.
As for the interface, I've found it quite straightforward as it doesn't involve much learning curve. So, getting started is as easy as you'd like. Furthermore, you can save your favorite layouts to your photo library and share them with your friends.
Pricing: Free
11. InSquare Pic
"InSquare Pic" can easily turn out to be your favorite Instagram photo editor and collage maker. So, if you want to have the best of both worlds, this one has to be one of the better picks. Using this app, you can resize your pics and make the most of several filters to adorn your images with ease. It also comes with neatly designed overlays that can rev up the appearance of photos. Select from a number of background effects such as gradient, blur and even mosaic to beautify your pics.
You can add captions to your photos and get the best out of light leak effect to enhance the images. It also lets you choose the preferred ratio for the pic—not just for Instagram but also for Facebook and Pinterest. To ensure your images start trending right from the word go and get lots of likes and appreciable comments, do not forget to add suitable hashtags. On top of all, there is also a plethora of emoji stickers to add some fun elements.
Pricing: Free, in-app purchases available
Availability: Android
12. HypoCam
What about having a go at a top-notch black and white camera? Well, if you like to snap some retro-looking shots this one has to be your prime pick. I like its simple yet intuitive UI. Thanks to the live-view controls, you can get the most out of monochrome photography using your mobile device. The availability of an ever-growing filter pack allows you to refine your pics with ease. And with so many textures vying for your attention, your black and white pics will have more reasons to appear commendable.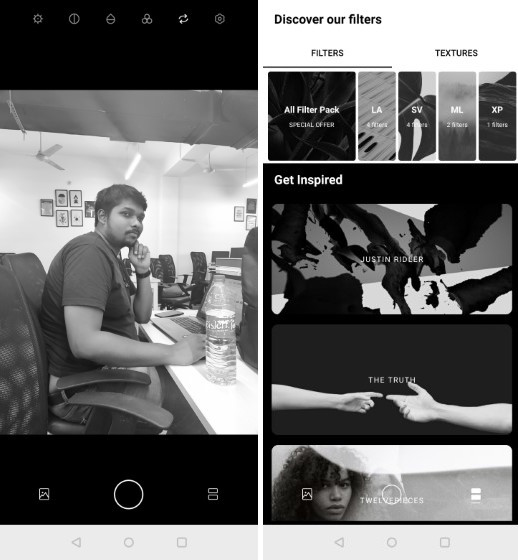 Overall, this Instagram photo editor app works pretty reliably, making sure capturing vintage images remains an easy affair for you. So, should you ever decide to give a classy look to your Instagram shots, give a chance to HypoCam. I'm sure it will stand up to your demand.
Pricing: Free, in-app purchases available
13. BeautyPlus
If you wish to add glamorous quotient to your Instagram selfies, BeautyPlus could be the right answer to your need. The app features several beauty-enhancing tools so that you can beautify your look by removing acne, wrinkles, and freckles. Besides, it also lets you adjust the face, enlarge the eyes, and even dye hair. But what can prove to be a game-changer is the cool makeup tool that can make you appear gorgeous.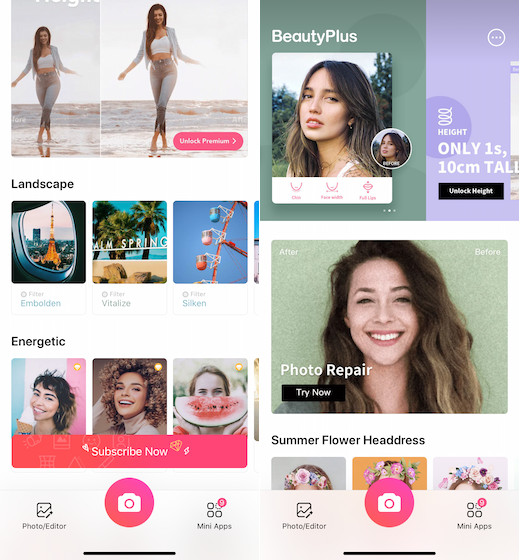 Another feature worth taking note of is the height adjustment tool that can let you easily adjust your height. Whether you wish to look a little taller or want to get slightly shorter to look perfect, this height adjustment tool can prove to be quite effective. And with over 100 filters, choosing a more suitable filter for a specific shot shouldn't be a big ask. If you think that BeautyPlus is just a photo editor, let me tell you that it's more than capable to work as a beauty camera. If you don't have much time to get into editing, you can use its built-in shooter to snap nice shots with just a tap.
Pricing: Free, in-app purchases available
14. Facetune2
Claiming to be the best selfie editing app, Facetune2 seems fully equipped to let you edit glamorous selfies for sharing on Instagram. Just like BeautyPlus, it's also got a solid collection of makeup tools so that you can adorn your look to your heart's liking. For instance, you can smoothen your skin, whiten teeth, contour faces, and even get rid of blemishes like pimples, wrinkles, and bad lighting. And that too in just a few quick swipes.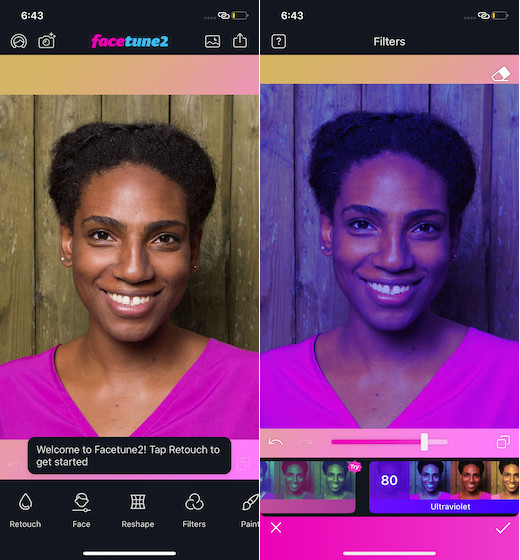 If you want to dive a little deeper into editing, the artistic tools will have a role to play. The glitter brushes can let you paint your hair so that it can look stunning. And with the prism effect at the disposal, you can make your pic appear pleasing to the eyes. Even in terms of filters, Facetune2 has looked up to the task thanks to an ever-growing library of filters. So, it doesn't matter whether you want your image to look retro or go filmy, the wide variety of filters can cater to your needs. Long story short, Facetune2 has got the quality to be your go-to Instagram selfie editor.
Pricing: Free, in-app purchases available
15. StoryChic for Instagram Story
How about styling your Instagram stories? StoryChic is what you should pick to design your stories so that they can go viral. Featuring a huge library of over 500 static and animated templates, the app offers you a variety of templates to choose from. Besides, it also has an impressive collection of filters and catchy effects so that you can enhance your images with the needed flair. Aside from a variety of templates, StoryChic has got over 40 good-looking fonts. If you want your text to look just as eye-catching as the story itself, those fonts could prove to more than a handful.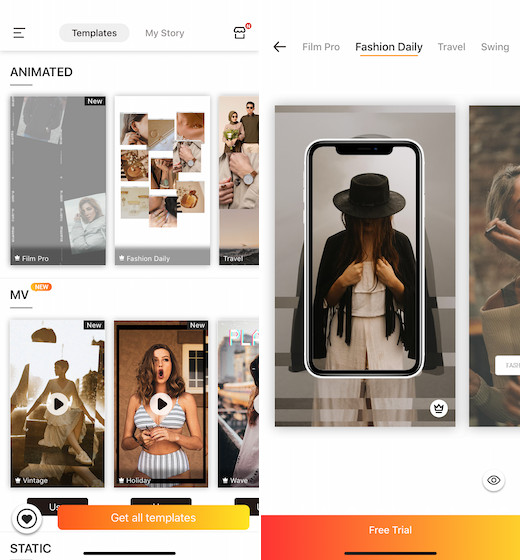 Not just images, StoryChic can let you even fine-tune videos for Instagram. And with plenty of music video templates, creating a video story filled with loving music becomes quite straightforward. Once your story is ready to go live, you can export it in high quality and share it on several social networking sites like Facebook, Instagram, and WhatsApp. Overall, it's easily the best Instagram photo editor for creating cool stories.
Pricing: Free, in-app purchases available
Use These Amazing Instagram Photo Editor Apps
Now that you have a range of highly rated photo editors for Instagram at your disposal, make the most of them to win plenty of eyeballs and praise on the social networking sites. As most of these apps come with tons of filters and effects, experiment with the looks as much as possible. And once you are happy with the outcome, blast the pics on your favorite social site.
But don't think only good photos can get you success on Instagram. You also need to learn Instagram tips to get the most out of this amazing platform. You should also know what is the best time for posting photos on Instagram so you get best engagement. So, click on the links read the articles. Well, that is all from my side. Have I missed out on some deserving photo editing apps? Do let me know their names in the comments down below.