Hootsuite is a popular platform for managing social media channels like Facebook and Instagram. It has become an indispensable tool for digital marketers. However, many companies, small to medium, find the service pretty expensive given its standard team plan starts at $129/month. Besides the pricing, some also find Hootsuite's user interface outdated with endless features cramped on the main dashboard. So, if you are looking for a service like Hootsuite which is either cheaper or offers a modern UI, we have you covered. In this article, we have come up with the 14 best Hootsuite alternatives which are feature-rich and quite reliable. Now having said that, let's go through the list and find a suitable Hootsuite replacement for you.
Best Hootsuite Alternatives in 2020
Here, I have included 10 social media platforms like Hootsuite which are excellent and offer a wide range of features. Be assured that most of the mentioned services are cheaper than Hootsuite. Also, they all allow you to schedule posts and get in-depth analytics report on almost all the platforms. With that said, let's begin the list without further ado.
1. Buffer
Buffer is undoubtedly one of the best Hootsuite alternatives with modern user interface and promising dashboard. Unlike Hootsuite, Buffer has a tidy dashboard keeping all the social media accounts in one place. However, it does not show comments and live feed on the dashboard because Buffer wants to keep everything neat and minimalistic. When it comes to features, Buffer allows you to set up schedules for multiple posts which works way better than Hootsuite because of its smart auto-publishing API. You can further add content to the queue and create a customized calendar of all the scheduled posts.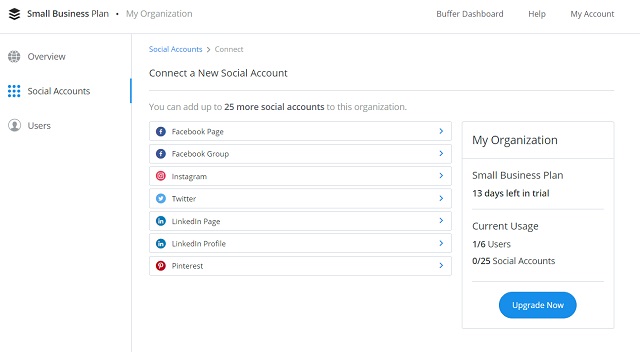 In terms of pricing, Buffer offers three separate plans for publishing, analytics, and interaction with the audience. Under the first plan, it focuses on content planning, collaboration, scheduling, and publishing. With the second plan, you can analyze user engagement and find in-depth analytic reports. Under the third plan, you can reply to messages and comments made on multiple social media platforms from Buffer itself. Considering all the points, Buffer is cheaper than Hootsuite as it offers separate plans so that users can choose according to your requirement. Simply put, Buffer is an excellent social media tool with great UI and competitive pricing. You should definitely try it for once.
Features: Plan, collaborate and publish; Scheduling and auto-publishing, Minimalist UI, Great Dashboard, Uses first-party API, Visual Calendar, Reminder, Audience interaction, In-depth social analytics
Pricing: Free trial for 14 days, Starts at $15/month (Publishing), Starts at $50/month (Analytics), Starts at $50/month (Interaction with Audience)
2. Sprout Social
Sprout Social is a fairly new social media management tool in the town, but it has quickly made its way to the top. It has almost all the features of Hootsuite but largely differs on approach and execution. First of all, Sprout Social has a clean interface with essential insights on the dashboard. Further, you can publish and schedule content, engage with your audience, and also go through the social media analytics at the same time. There is also something called Teams which lets you collaborate with other members.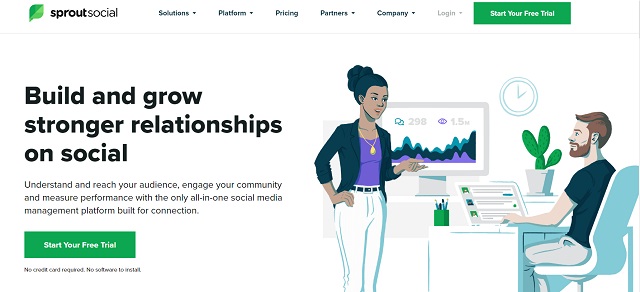 Apart from that, just like Hootsuite, it uses first-party APIs from Google, Facebook, and Instagram to auto-publish posts so that is great. The best part about Sprout Social is that it has a unique feature called ViralPost which automatically publishes posts depending on the peak hour to maximize visibility and reach. You will also find its analytics on par with Hootsuite. To put it straight, Sprout Social is a feature-packed alternative to Hootsuite and you can't go wrong with it.
Features: Sleek dashboard, Great UI, Curate and publish, Collaborate with Teams, Supports scheduling, First-party API, Deep analytics, Engage with your audience, 
Pricing: Free trial for 30 days, Standard plan starts at $99/month (5 social profiles)
3. Later
While Later is not as feature-rich as Hootsuite, it's one of the best platforms for managing social media channels particularly Instagram. The central premise of Later is to plan, analyze, schedule, and publish posts. Later works with Instagram, Twitter, Facebook, and Pinterest and supports scheduling, bulk upload, location tagging, and more. You also get valuable insights from the analytics about your audience, their demography, peak hour, engagement report, etc.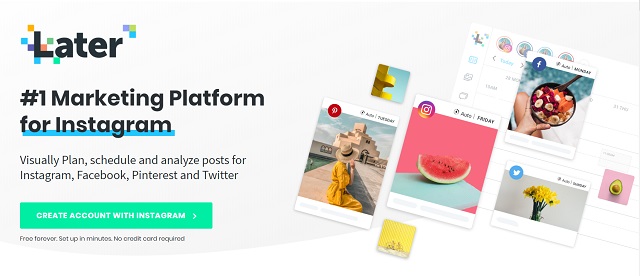 But that is not all. It costs way less than Hootsuite and there is also a free version available albeit with limited features. Simply put, if you are looking for a cheaper alternative to Hootsuite, Later will take you right home. It's an excellent tool with all the essential features and I am sure you are going to love it.
Features: Plan social media posts; Schedule and auto-publish, Supports all major social media sites, Best for scheduling posts on Instagram, Much cheaper than Hootsuite, Valuable social analytics, Offers a free plan
Pricing: Free, Starts at $9 for individuals, Starts at $19 for businesses
4. Crowdfire
Crowdfire is another cheaper alternative to Hootsuite, but this one does not skip on core features and supports all major social media channels. First off, its interface is pretty simple with all your social media accounts and analytics grouped together. Besides that, you can easily schedule posts which you can plan a month in advance. There is also an option for multi-scheduling which can be used to publish the same content multiple times on different platforms.
Having said that, the great part about Crowdfire is that, it has a "Post at Best Time" feature just like Sprout Social which uses advanced algorithm to find out the optimal time to publish posts. This will surely help your brand reach a new audience and increase engagement with them. Apart from that, the analytics of Crowdfire is top-notch and I would say it's very comparable to Hootsuite. To sum up, if you want a cheaper Hootsuite alternative with a similar set of features, Crowdfire is a great platform to opt for.
Features: Supports major social media websites, Analytics is great, Schedule and publish posts, Multi-scheduling, Collaborate, Post at Best Time for maximum reach, Much cheaper than Hootsuite, Offers a free plan
Pricing: Free, Starts at $7.48 /month
5. Agora Pulse
Agora Pulse is considered one of the best social media management tools and certainly rivals Hootsuite in terms of features. While the pricing is slightly on the higher side, you get access to endless features including scheduling and auto-publishing. To begin with, the dashboard is pretty straightforward with a quick overview of all the social media accounts. What I particularly love about Agora Pulse is that all the core features are accessible from the dashboard. No need to jump through menus and sub-menus to find certain functionality.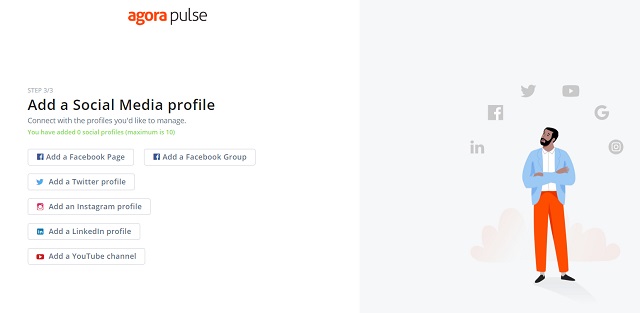 Besides that, Agora Pulse allows you to collaborate with multiple people without any limitation. You can also publish the same post on multiple accounts in just a click using customized social parameters. In terms of analytics, Agora Pulse is very similar to Hootsuite. You can find keywords which are in trend, monitor social media growth, find reports with insights and valuable suggestions and much more. Simply put, if you need a social media tool which can truly compete Hootsuite then Agora Pulse is the one to pick.
Features: Feature-packed, Schedule and publish posts, Accessible dashboard, Collaborate, Interact with audience, Track followers, Top-notch analytics, Monitor social media
Pricing: Free trial for 30 days, Starts at $99/month
6. SocialPilot
SocialPilot is a popular and reliable social media tool for marketers working in the digital ecosystem. It's a near-complete alternative to Hootsuite because of the endless features it offers. First of all, SocialPilot's core strength is analytics and it's way better than Hootsuite. You can connect your social media accounts on the platform it will provide valuable metrics, recommendations, and business insights. Apart from that, you can also schedule posts, manage social media presence, interact with your audience and a lot more. There are also options for auto-publishing, bulk upload and collaboration with team members.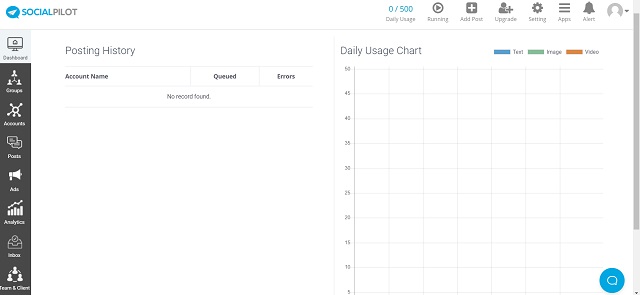 Having said that, the best part about SocialPilot is that you don't need to pay additional fees for connecting multiple accounts. It allows you to add up to 5 accounts without any extra charge and that is absolutely great. In tandem, if you run a small business, SocialPilot is the best option you have given Hootsuite costs way too much. All in all, if you are looking for an advanced analytical tool coupled with social media management then SocialPilot can be a great pick.
Features: Superior social analytics, Schedule and publish posts, Bulk upload, Collaborate, Best for small business, Interact with audience, Visual calendar, Much cheaper than Hootsuite
Pricing: Free trial for 14 days, Starts at $30/month
7. MavSocial
MavSocial is not a big name among the social media tools, however, it's quite good and offers great features at an affordable price. In fact, in terms of features, it's almost neck and neck with Hootsuite. You can curate your content, monitor analytics, and schedule as many posts as you want. Currently, it supports Facebook, Twitter, Instagram, YouTube, LinkedIn and more. MavSocial also supports collaboration so you can easily team up with other members and conceptualize social media posts efficiently. The best part is that you can access millions of stock images from its library for social media posts without any additional cost. How great is that?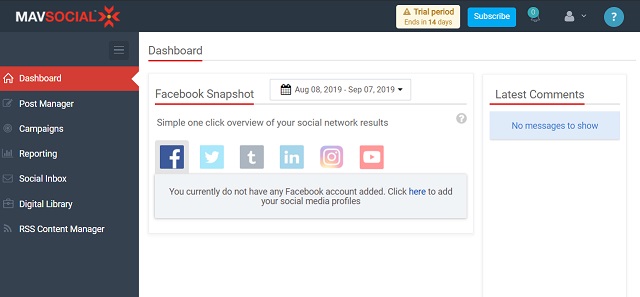 MavSocial offers a unique Campaign Planner which can be used to start a social media campaign across multiple channels. You can keep a tab on the campaign from one place without jumping to every social media site. Apart from that, it allows you to monitor keywords, view deep insights and analytical trends. In terms of productivity, MavSocial has a clear edge over Hootsuite, courtesy a highly intuitive inbox. Thus, you can check out all the comments and be able to like or respond right from one spot. So, no more switching between different social accounts just to keep a track of the replies of your clients. Moreover, it also offers an extra layer of safeguard to your account with a 2-step verification Google authentication and AWS security. 
Features: Supports all major social media sites, Curate and publish, Schedule posts, Collaborate, Access stock images, Campaign planner, Deep insights, Analytical trends
Pricing: Free trial for 14 days, Starts at $19/month
8. Social Report
If you are looking for a social media tool which can offer in-depth analytical reports about your company then Social Report is the best service to opt for. While you can also curate and schedule posts on its platform, analytics is its core strength and you are going to significantly benefit from its advanced tracking tools. It has something called social listening which tracks all the communication on social media and provides a personalized report which can help you promote your brand more efficiently. Besides, you can track keywords, find the buzz in town, and closely monitor all social media accounts with advanced analytics.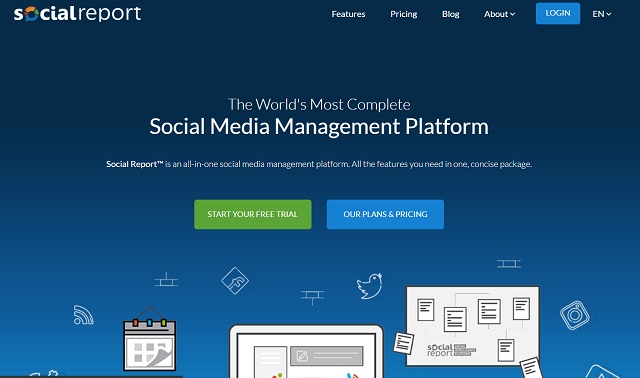 Having said all of that, Social Report has also brought scheduling and publishing on its platform, making it a complete replacement to Hootsuite. You can manage all your social media accounts, collaborate with team members and interact with your audience as well. To sum up, Social Report is one of the advanced social media monitoring tools and you should definitely give it a try.
Features: In-depth analytical report, Social listening, Scheduling and publishing, Collaboration, Interact with audience, Monitor social media
Pricing: Free trial for 30 days, Starts at $49/month
9. Sendible
Sendible is our next pick for a Hootsuite replacement which supports all major social media sites. Similar to other marketing tools, it has all the standard features including planning, scheduling, publishing, and analytics. You get an impressive dashboard which shows recent comments on social media channels, analytics report, and user engagement report. Apart from that, you can also create a pre-defined reply bot which can automate replies on various social media channels.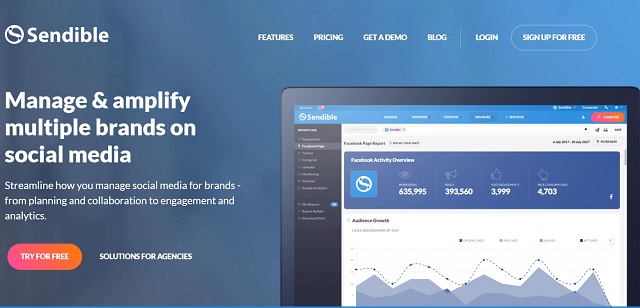 Apart from that, the best part about Sendible is its visual calendar. You can manage all your posts and activity on the visual calendar and can also invite other people for collaboration. In terms of user analytics, Sendible offers many monitoring features like demography, peak engagement time, keyword tracking, etc. All in all, Sendible is a complete package and a great alternative to Hootsuite at a much cheaper price.
Features: Plan and schedule posts, manage social media accounts, Reply bot, Excellent visual calendar, Collaboration, Track followers, Monitor social media trends
Pricing: Free trial for 30 days, Starts at $29/month for individuals and $99/month for a team (3 members)
10. Socialdraft
Socialdraft is another Hootsuite alternative which is quite affordable and comes with all the major features required to manage social media efficiently. Unlike the dashboard on Hootsuite, it has a visual calendar where you can drag and drop posts, create schedules, and reminders. You can effortlessly manage all your social media posts using the sleek and intuitive interface. In addition, you get the exciting new feature called TrueTime which will automatically publish your posts depending on the peak engagement time. That is awesome, right?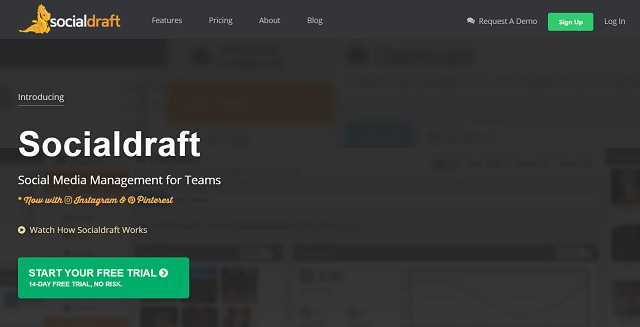 Well, that is not all. Socialdraft also has support for collaboration and you can team up with at most 5 people at a time. Coming to analytics, it does not provide you deep analytical reports like Hootsuite, but does offer insights and personalized suggestions based on various social media metrics. Simply put, Socialdraft comes with great features and at half the cost of Hootsuite. If you are looking for a cheaper Hootsuite alternative, Socialdraft can be a good choice.
Features: Curate content and schedule posts, Intuitive visual calendar, TrueTime for publishing at the optimal time, Collaboration, Business insights, URL shortener
Pricing: Free trial for 14 days, Starts at $19/month ($60/month for a team of 5 members)
11. SocialOomph
For a simplified social post scheduling experience, "SocialOomph" has looked quite efficient to me. What gives this social media management service an edge over many other alternatives is a wide range of scheduling tools. So, just in case you are looking for a Hootsuite alternative that boats several scheduling tools, it can be the right answer to your needs. Another notable feature of SocialOomph is the ability to automatically create social and blog posts RSS feed entries with optional keyword filtering. Should you want to keep your followers or clients in the loop with all the major happenings, this feature could turn out to be a game-changer.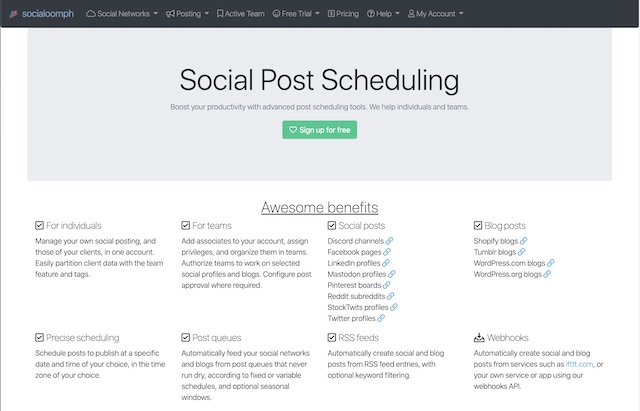 As a blogger, you would really appreciate SocialOomph's bulk uploading feature that offers you the flexibility to upload several posts at one go. In this aspect, I think this social media manager is just as productive as Hootsuite. One of my favorite features of this service is self-destructing which can come into play in several situations. For instance, you can use the self-destructing tool to get rid of the posts that are no longer important for your followers. In terms of post tagging, I think SocialOomph is a touch better than Hootsuite. The former allows you to post tags with ease so that you can quickly find and group them. Not just that, SocialOomph offers a free version with basic tools and its premium offering is also relatively cheaper ($15) than Hootsuite's.
Features: Wide range of scheduling tools, Automatically create social and blog posts RSS feed entries, Bulk uploading feature, Self-destructing tool 
Pricing: Free for one social profile, $15/month for advanced suite 
12. Social Clout
One of the better ways to stay ahead of the competition is to keep a track of rivals' performance so that you can figure out where you stand among them and what are your shortcomings. With Social Clout, you are able to not only take control of all of your social accounts across platforms but also compare your performance with your rivals'. Thus, you get a clear picture of what you need to do to get more traction or for that matter position your brand as more favorable to customers. If an in-depth analysis of your social media presence vis-a-vis your competitors is what you are looking for, Social Clout is a better alternative to Hootsuite.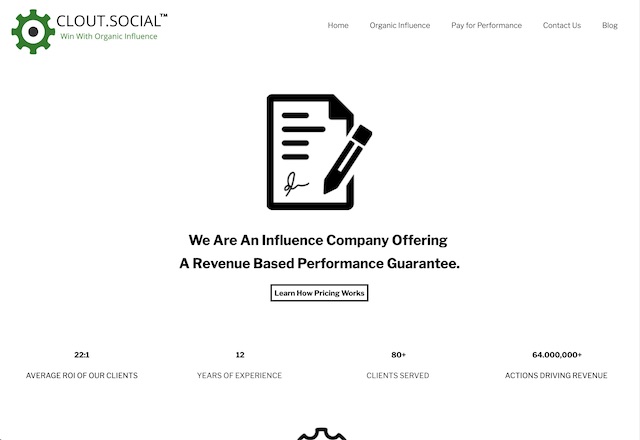 Another feature that has called for my attention in this SMM is the real-time feedback that plays a vital role in planning better business strategies. Besides, it also allows you to monitor keyword searches and take advantage of the NLP-based sentiment analyzer to understand your customers' opinions about your products. Not just that, it also scores much better than Hootsuite when it comes to enhancing the engagement with customers by allowing you to track social conversations.
Features: Enables you to compare your performance with rivals',  Real-time feedback, Monitor keyword searches, NLP-based sentiment analyzer
Pricing:  Free (for up to 3 social media accounts), $49/month starting price for advanced SMM
13. Zoho Social
Though Hootsuite comes with some really handy post organizing tools, Zoho Social can beat it to the punch when it comes to flexibility. So, for the folks who want to have a bit more control over organizing social media posts, this offering from Zoho appears to be a proficient alternative. With the built-in content calendar, you can schedule your posts across different times so that your brand continues to catch the limelight on the internet. Moreover, Social also offers time predictions to help you hit the bulls' eyes.
In terms of tracking vial information, I find Zoho Social just as efficient as Hootsuite. Featuring several listening columns, the SMM allows you to quickly access all the relevant information. And with needed customization, you can also fine-tune the dashboard in line with your requirements. On the social analytics front, it does a pretty good job by offering insightful reports about how well your products are being received and how your clients engage with you on social media. Everything considered; Zoho Social is an able alternative to Hootsuite due largely to being highly efficient in most aspects.
Features: Handy post organizing tools, Built-in content calendar, Detailed social analytics, Insightful reports
Pricing:  Free (for 1 member) $15/month for the standard plan 
14. PromoRepublic
Very few social media marketing tool is as effective as PromoRepublic in terms of localized social media marketing. So, if you are hunting for a Hootsuite alternative to give your localized marketing a boost, you shouldn't fail to try it out. Depending on where you want to start your marketing campaign, you can ideally optimize your posts so that they can succeed in sending the right message to the targeted audience. It comes with a full-fledged social media calendar to help you plan your posts and unleash them at the stipulated time.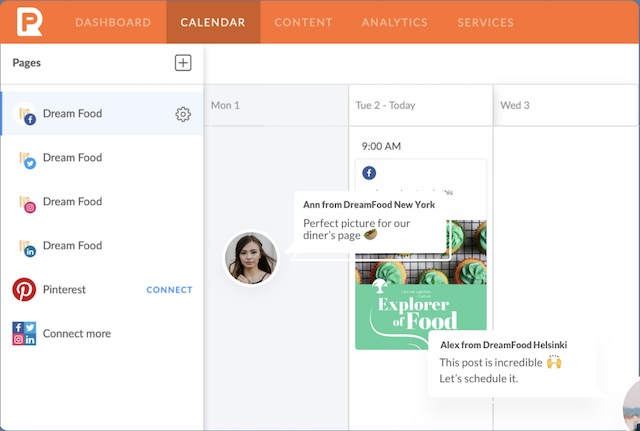 As for organizing content, PromoRepublic is as proficient as Hootsuite, allowing you to keep all the posts perfectly organized so that keeping a track of each one remains less time-consuming. Powered by AI, this SMM also offers scheduling suggestions based on the type of content. As a result, it becomes a tad straightforward for you to post content and derive the desired outcome. Just like Hootsuite, it keeps you in the loop about how well your posts are performing with detailed reporting. Even in terms of managing ads, PromoRepublic is quite productive. Taking everything into account, this one has to be your top bet for amping up your localized social media marketing.
Features: Very efficient for localized social media marketing, Full-fledged social media calendar, Scheduling suggestions, Productive ads manager
Pricing: 14-days free trial, Starting price $49/month for the standard plan and $99/month for the professional plan
Grow Your Online Presence with the Best Hootsuite Alternatives
So that was our list of 10 best Hootsuite alternatives which are feature-rich and much cheaper than Hootsuite. We have tried to include social media tools which are affordable but does not compromise on core features and reliability. There are also some services which are a bit expensive, but needless to say, have competing features like Hootsuite. Anyway, that is all from our side. If you liked our selection, do comment down below and let us know.