People have been looking for Instagram alternatives for quite some time now. While some are not happy with the recent privacy policy changes, some have lost interest in the app since Facebook acquired it. And finally, some simply want to try out something fresh and new instead of scrolling through the mix of photos, videos, Instagram Reels, and more. Well, if that's the case, then we have you covered. We have compiled a list of apps like Instagram, that have innovative new features and better content. So on that note, here are the 12 best Instagram alternatives for you.
1. Snapchat
If we are looking for Instagram alternatives, Snapchat rightfully deserves to be at the top of the list. After all, Facebook copied many of Snapchat's features and added them to Instagram to keep users from leaving. From Stories to disappearing messages, face filters, and more. So if you want to use the OG Instagram, I would recommend Snapchat without any reservations. The best part is that lately, Snapchat has revamped its efforts and brought new features such as Discover similar to Instagram Feed.
Also, we already know, the AR filters on Snapchat are much better than those on Instagram. Snap Map is also a great place to explore events, breaking news, etc. To sum up, Snapchat is not a generic social media app but one that could foresee what direction social media will take in a few years, i.e. short video Stories. If you want to experience innovative new features, Snapchat is better poised to bring them than Instagram.
Install: Android / iOS (Free, Offers in-app purchases)
2. 500px – Best Instagram Alternative for Photographers
500px is easily one of the best alternatives to Instagram for photographers. It serves as a community for digital photography enthusiasts and aspiring photographers from more than 195 countries. It does not have many social media features like Stories or Reels, but you have an explore tab, and you can also create Quests, which work like Instagram Guides. The best part is that 500px also has a website so you can explore the best photographs on a bigger screen.
Bear in mind, 500px allows users to upload only 20 images per week on the free plan. If you don't want any limitations, you can pay $25 annually to share as many photos as you like. All in all, 500px is not for everyone but for budding Instagram photographers who want exposure to their work.
Install: Android / iOS (Free, Offers in-app purchases)
3. Behance
If you are a creative artist and find Instagram's heavy push for Reels distasteful then you would find a better home at Behance. It's a social media platform, now owned by Adobe, and is the perfect place for showcasing your creative work. It acts like your creative portfolio which you can share with other people in the field. No matter if you are a graphic designer, photographer, game designer, motion graphics artist, etc., you will find like-minded people and an eager audience on Behance.
Similar to Instagram Live, Behance also has live streams where you can watch other artists and designers sharing their techniques on how to create your best artwork. The best part is that Behance has a very similar UI to Instagram with support for Stories, activity feeds, messaging, notifications, and more. So if you are looking for a proper alternative to Instagram for creative artists, Behance is the best place to be.
Install: Android / iOS (Free, Offers in-app purchases)
4. ArtStation
In 2023, if you are an artist, that too an aspiring one, you NEED to have ArtStation on your phone. For all you creative minds out there who have the ability to bring your ideas to life, you couldn't have asked for a better platform. Moreover, if you have ArtStation on your phone, you don't need LinkedIn either. You can apply for jobs from the platform itself. Moreover, you get to see job listings from top companies like Rockstar Games (the creators of the GTA series and the upcoming GTA 6).
So yes, it is definitely the platform where your dreams have the potential to come true. Whether you are a game developer, animator, or designer, ArtStation is the best place to build your portfolio. Besides, it doesn't take an effort to do so. Not only is the UI very aesthetic, seamless, and responsive, but the ArtStation community is also one of the best that there is. Easily, one of the best Instagram alternatives for all you creative peeps out there.
Install: Android / iOS (Free, Offers in-app purchases)
5. Pinterest
Strictly put, Pinterest is not the best alternative for Instagram, but it brings some features that can be helpful for niche users. If you generally use Instagram for exploring and finding new creative ideas, Pinterest will offer you much better content. It doesn't matter if you are looking for home design concepts or a wedding theme, you can find everything on Pinterest. It's also a great Instagram alternative website in that regard.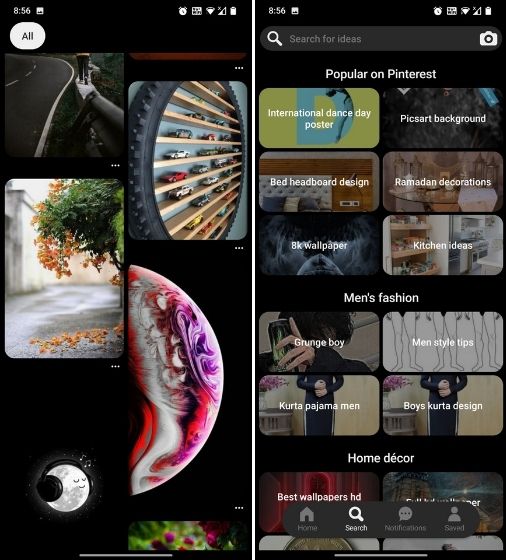 What's more, there are DIY concepts, lifestyle tips, fashion styles, etc., available on the platform in abundance. You can also create your own design concepts and upload them on Pinterest. In addition, you can save your ideas, organize them, label your saved posts and share them with your followers. So if you are one of these users, you will find a home on Pinterest.
6. Tumblr
Tumblr is one of the oldest social media networks on the Internet, but it has not garnered as much popularity as Instagram or Facebook. It is widely seen as a microblogging platform, but Tumblr is much more than that. You can now post multimedia such as images, GIFs, videos, and more. There are also options to explore Tumblr with hashtags, and you can create a community with support for private chats. There is no support for Stories, though.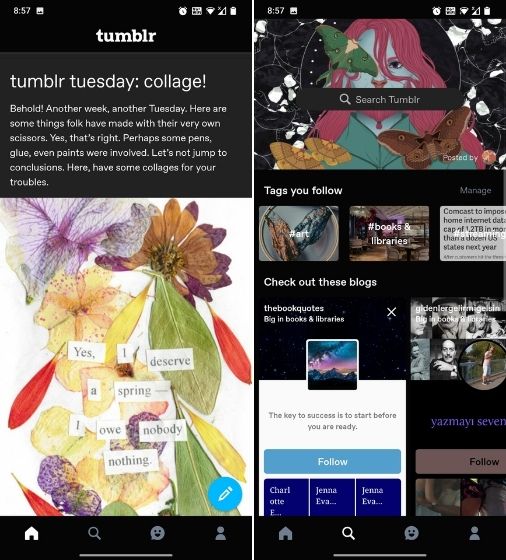 Note that Tumblr has previously been criticized for adult content on its platform, but it was banned back in 2018. Tumblr is a niche social media platform and can be a creative outlet for many users if used with the right settings.
7. Imgur
Imgur is one of the most popular photo-sharing websites on the web. If you are looking for a website alternative to Instagram, then Imgur does most of the things right. Bear in mind that Imgur is primarily a public platform, but you can hide your photos/ videos, and they will not be searchable. You can create a private link to share your content. As for the features, you can upload photos, videos, and GIFs and share them with your community through tags.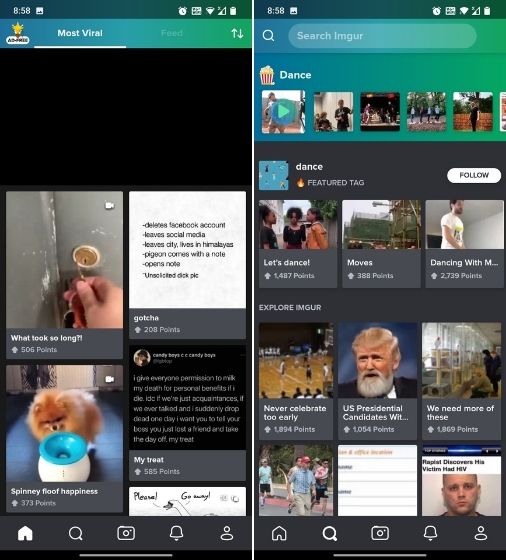 Imgur is basically a hub for meme-makers, and you can use it to your own advantage. The service has an excellent explore tab that allows you to find viral content on the web. What's more, Imgur now has a messaging feature, so you are covered on this front. Overall, Imgur is a great alternative to Instagram if you keep your account public.
Install: Android / iOS (Free, Offers in-app purchases)
8. VSCO
VSCO ranks among the best photo editors for Android and iOS, but not many know that it also has a vast community of creative users. Within the community, you can post your content, connect with other artists, take up the weekly challenge, and discover a ton of original content. The Discover section is amazing, and you can filter content with tags, location, and other parameters.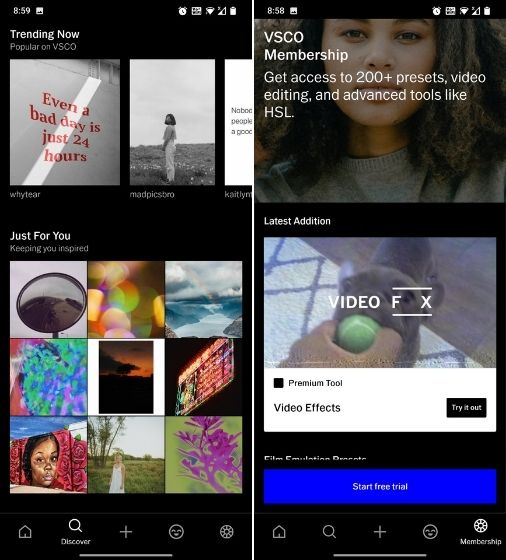 The best part is that VSCO has also added a video effect tool, making it an all-around multimedia platform. That said, bear in mind that features like video effects and advanced presets are available under the paid plan. To sum up, if you are a professional digital artist or a photographer and want to connect with people with similar interests, VSCO is a better place for you than Instagram and an awesome alternative Instagram app for Android and iOS.
Install: Android / iOS (Free, Offers in-app purchases)
9. BeReal
Social media platforms often make you end up doom-scrolling your time away. So, if you are looking to undergo a social media detox and BeReal for a change, this app is for you. The very idea behind BeReal is to allow you to show your true side on the platform. No filter, no edits, nothing. Just the raw you, out there, for your circle to see. If you ask me, I'd say that this is exactly how a social media platform should be. Of course, there are risks. However, it all comes down to who you add as a friend.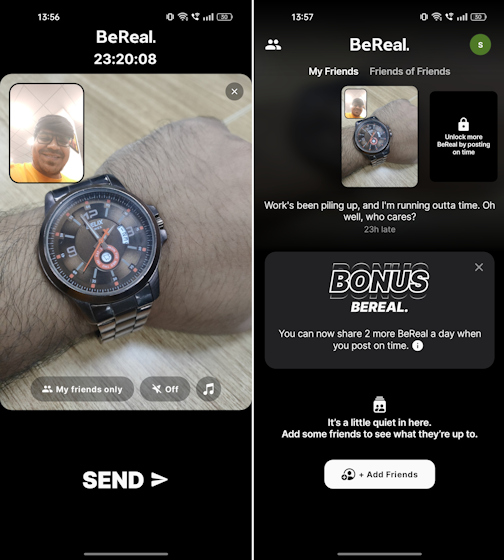 When it first came out, the platform allowed you to post only a single post each day. However, now, this number has gone up to 3 posts. This allows you to just post and be out of there in no time at all. Moreover, because of this, you won't find yourself being on the app more than needed. BeReal is definitely the best social media detox companion you can ask for. Also, one of the best most unique Instagram alternatives out there.
Install: Android / iOS (Free)
10. TikTok – Best Instagram Alternative App for Reels
Similar to Snapchat, Facebook has lifted the short-video Reels feature from TikTok. Many love the new addition, but if you want to see more creativity than Instagram Reels, go ahead and install TikTok right now. It currently has 689 million monthly active users in comparison to Instagram's one billion monthly active users. The figures are a bit less due to India's ban on TikTok, but in terms of popularity, TikTok is ahead of Instagram Reels. For users in India, you can find TikTok alternatives from our list.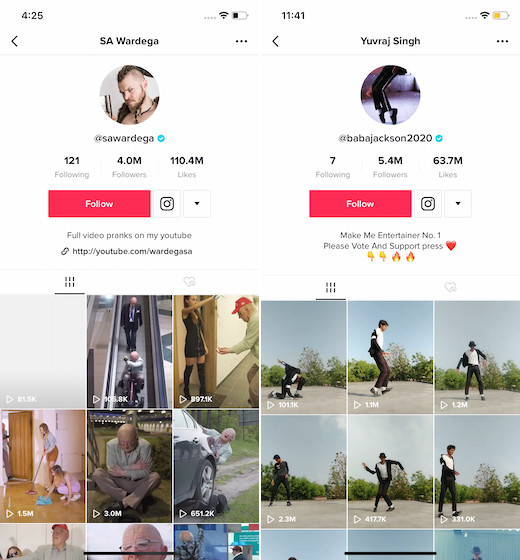 You also get many innovative social media features such as Duet (which became "Remix Reels" on Instagram), in-library music, AR filters, and more. You can read our comparison between Instagram and TikTok for an in-depth understanding of the features. Sure, TikTok does not have the option to publish standard posts, but that's the only missing part. You have got a DM option on TikTok as well. I think for quirky short videos, TikTok is a better alternative to Instagram Reels.
Install: Android / iOS (Free, Offers in-app purchases)
11. Triller
Triller is another short video app that can replace Instagram Reels for you. It's a social video platform that allows you to create original and creative videos. With Triller, you can create professional-looking videos and share the content with your followers in seconds. It has all the features that you would expect from a worthy Instagram alternative app.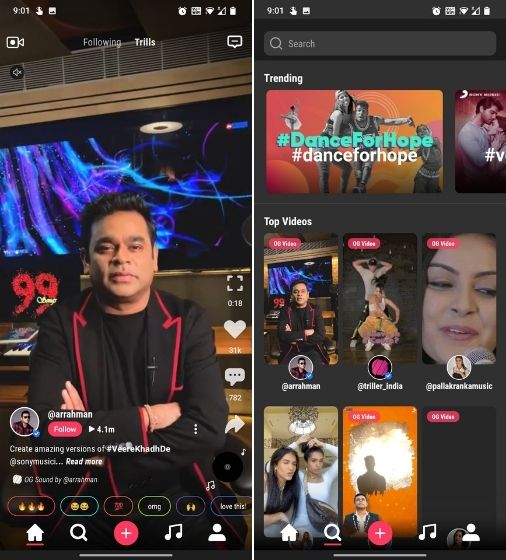 You can create amazing music videos, participate in trending challenges, use filters, apply emojis, and drawings, collaborate with friends, and more. The platform is popular among celebrities, including Justin Bieber, Rita Ora, Kevin Hart, and more. So, you are going to get a ton of exposure here, much like Instagram. Overall, Triller seems to be a great alternative to Instagram Reels, and you should definitely check it out.
Install: Android / iOS (Free, Offers in-app purchases)
12. Moj Lite +
After TikTok got banned in India, many made-in-India short video apps sprung up having similar features. Moj Lite + (earlier known as MX TakaTak) is one of the popular ones out there, and now that TikTok is not available, it directly rivals Instagram Reels in India. Just like Reels, you can create and post unique content on Moj Lite + to gain followers and exposure.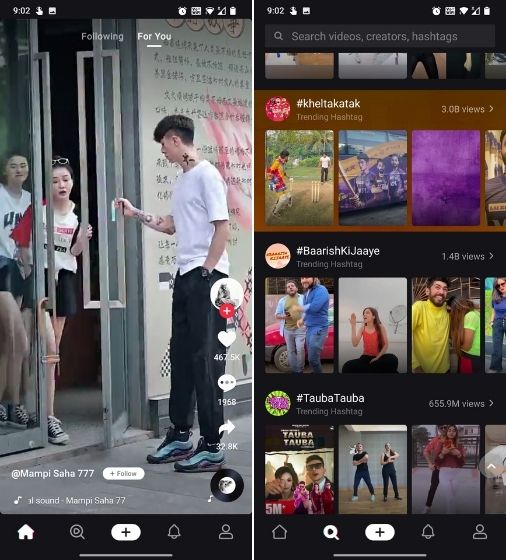 Apart from Moj Lite +, there are many other reel competitors in India, including Josh, Roposo, Chingari, etc. You can try out any one of these apps, and you will get a similar experience. So to conclude, if you want an app like Instagram developed in India and has a short video format, Moj Lite + is a good choice.
Use Apps & Websites Like Instagram
So these are some of the best Instagram alternatives on Android and iOS. As Instagram has become an umbrella of features from different social media apps, it's hard to find an app with all the features, including posts, short videos, and Stories. Nevertheless, we have tried to bring some popular apps to light on this list, so you can choose from a wide selection of Instagram alternative apps. There are also standalone apps that compete with Instagram Reels, so we have added them at the end. Anyway, that is all from us. If you want to learn new Instagram tips and tricks, follow our linked article. And if you have any suggestions to make, comment down below and let us know.
Frequently Asked Questions (FAQs)
Q. Is there an alternative to Instagram?
There are plenty of Instagram alternative apps out there. We have covered the best 12 Instagram alternatives for 2023 which can offer you the closest experience to the Insta app. Moreover, we have also covered some websites like Instagram in case you want something to browse on the web.
Q. Is there a website like Instagram?
Yes, there are website alternatives to Instagram as well. While Imgur is one of the most popular image-sharing and hosting websites, there are plenty of others on this list, including Pinterest, that you should check out.
Q. Where can I post my photography?
Even though Instagram is the most common place for people to share photography, you can also explore using apps like VSCO, and 500px as an alternative to Instagram for photographers.
Q. Which social media is better than Instagram?
If you are a photographer, 500px and VSCO are much better than Instagram to find the right audience. Apart from that, creative artists can take a look at Behance and DeviantArt.
Q. Is there any other version of Instagram?
No, Instagram offers only one app for all kinds of users. However, it has an Instagram Lite app for low-powered devices. And if you want to make your account public, you can switch to a professional account where you can track the engagement and interactions with more analytical tools.