Instagram has announced Remix, a TikTok Duet-like feature that lets users create a new Reels video alongside an existing one. While Remix will usually come in handy to harmonize or parody existing short videos, you could shoot some pretty creative and funny responses too. In case you're wondering how to use the Instagram Reels Remix feature, read on till the end to know everything about it.
Remix Reels on Instagram
According to Instagram, the Remix feature is enabled only for new Reels by default. As a result, you will have to manually enable remixing for old videos if you want other creators to remix your old content. With that out of the way, let's get to the steps for remixing Reels.
Remix Instagram Reels
1. Open an Instagram Reels video either from the Reels tab or from a user's profile. Tap on the vertical three dots menu at the top-right corner and choose 'Remix This Reel' from the list of options that appear.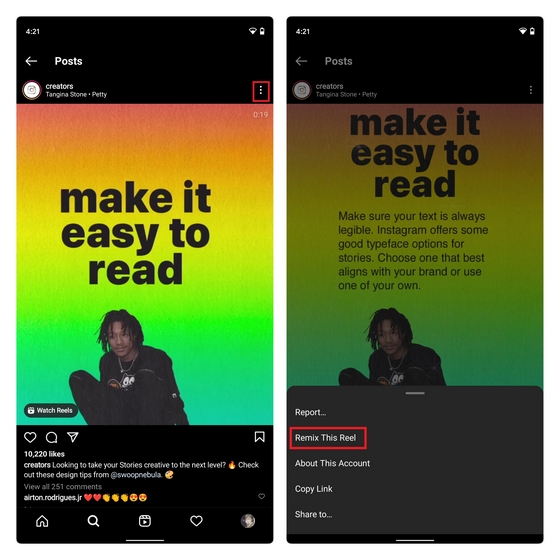 2. You can now record the response video or tap on the file picker at the bottom left corner to use a prerecorded video. You have the effects, timer, and touch up and other tools available for use while recording the video.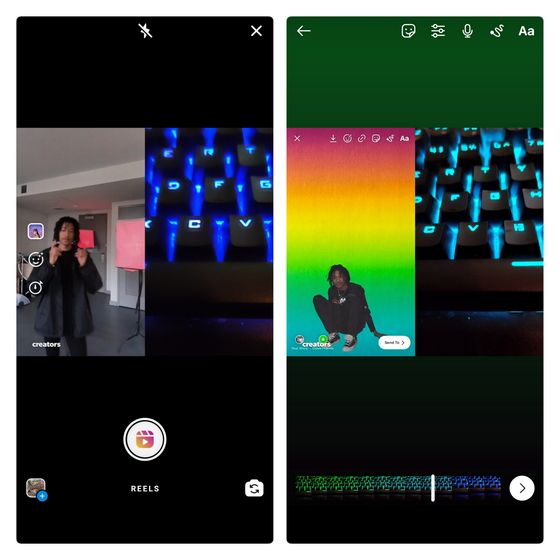 3. You can use Instagram's set of tools to edit your Reels to your heart's content. For instance, you can tap on the mic button to record a quick voiceover.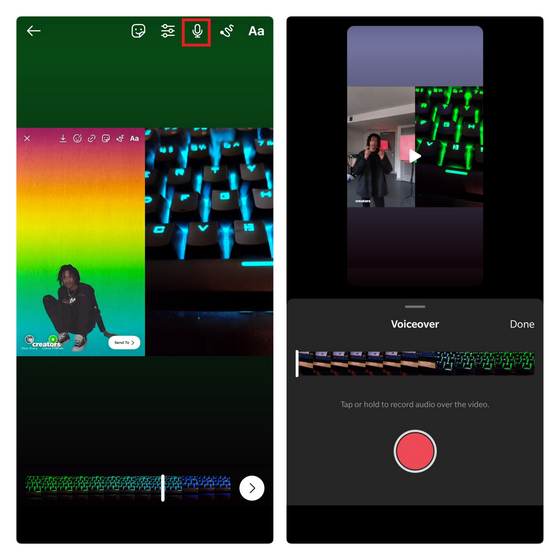 4. Once you're done with all the edits, tap on the 'Next' button and share the post after writing a caption and picking the cover image.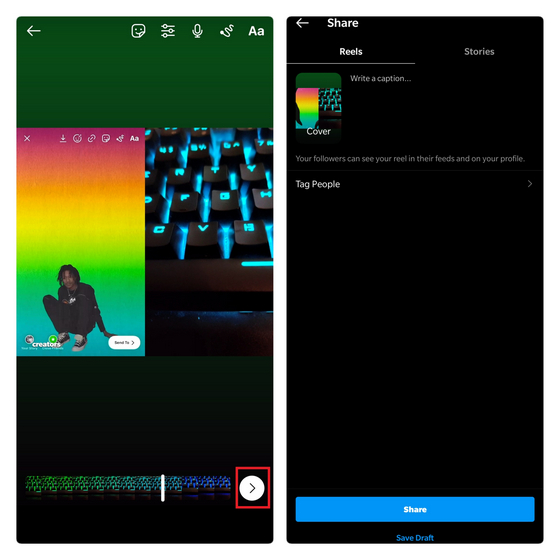 Enable Remixing for Old Reels
As mentioned earlier, you can't remix old videos by default. You will not see the 'Remix this Reel' option as it is missing on these videos. Hence, you'll have to manually enable it so that you or others can remix it. Follow these steps to do so:
1. Open an old Reel and tap on the vertical three dots menu present at the bottom right corner. From here, tap on Enable Remixing, and that's it. You have now let others remix your old video.
Disable Instagram Reels Remix
In case you don't want others to remix your Instagram Reels, you can disable the feature. You can either disable remix for specific videos or entirely disable the feature for all your videos. Check out the steps for both options below.
Disable Remix for Individual Reels
1. Open a Reels video, tap on the vertical three dots menu, and tap on the 'Disable Remixing' button.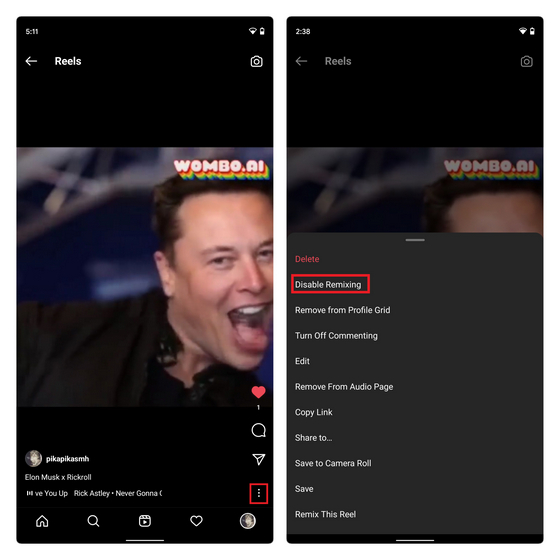 2. Instagram will now show you a warning before disabling the remix feature. Tap on 'Disable' to confirm the change.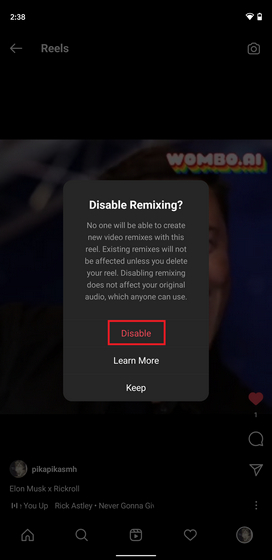 Disable Remix for All Reels
1. You can entirely disable remixing for all your videos from Settings. Open Settings in the Instagram app and head to Privacy.
2. Under the Privacy settings, you'll see a 'Reels' option. Tap on it and disable the 'Enable Remixing' toggle to turn off the feature. Other users will no longer be able to Remix any of your Reels.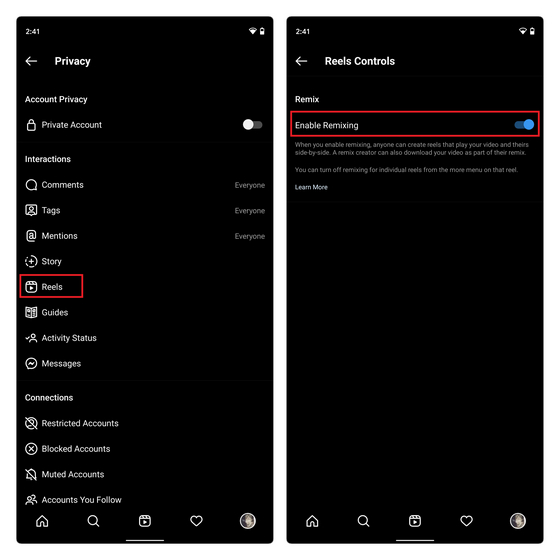 Get Creative with Remix for Instagram Reels
So, that's how you can remix Reels on Instagram. It is a fun feature that will see people get creative and shoot parody videos together, harmonize on songs, cook, dance battles, and more. If you found this guide helpful, check out our articles on downloading Reels videos, the best Instagram Reels features, and tips to use Reels like a pro. Also, do not forget to go through the best Instagram features and Instagram tips and tricks.