Days after TikTok was banned in India, Instagram has rolled out a promising alternative "Reels". Featuring some eye-catching features coupled with the great hype, Instagram Reels seems to be probably the most equipped challenger to the ByteDance's offering. Whether you are curious to give this all-new video-sharing platform a shot or take a close look at some of the best Instagram Reels features, we've got you covered.
Best Instagram Reels Features in 2020
Being integrated with Instagram, Reels already looks feature-rich in most aspects. And if you have been using Instagram, chances are that Reels would seem to be a pretty familiar platform to you. Aside from having the big-ticket features like filters and songs, it also offers some super handy controls so that you can enhance the privacy of your clips and also safeguard yourself against trollers. Let's head over to know more about what Reels has in store!
Quick Links of the Reels Features
1. Huge Collection of Soundtracks
When it comes to creating stunning lip-sync videos or fun-loving clips, what proves to be a gamechanger is the suitable music. And guess what, Reels has got an ever-increasing library of songs to keep you fully entertained.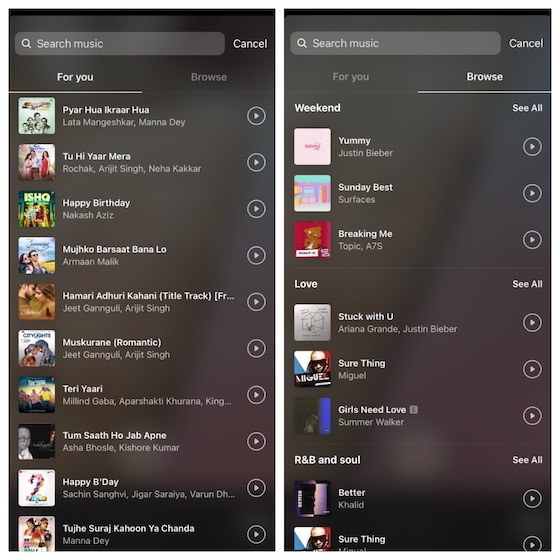 Whether you want to pick trendy songs to stay in the hunt or go with the classics to give your fans some offbeat taste, you don't have to look beyond Reels' music collection. What's more, it also offers a curated assortment of music in keeping with your taste so that you won't have to spend a lot of time to choose the right song for your clip.
2. Ability to Select Any Part of a Song
Times when you want your clip to arrest attention instantly, desired flexibility becomes the need of the hour. Aside from letting you choose from a huge library of songs, Reels also allows you to select any part of a song. As a result, you can pick out certain portions of a song to add an x-factor to your clip. Once you have selected a song, use the music selection tool to choose a certain part of that song.
3. A Ton of Fascinating Filters
What gives TikTok a clear edge over many other counterparts is a large collection of filters. And looking at what Instagram Reels have in store, I can say that it has got enough variety to let users create exciting clips. So, whether you wish to add some glamorous touch to your clips or want to make your videos look hilarious or quirky, the Reels can cater to your taste.
4. Amazing Slow Motion
Another feature that has caught my eyes in Reels is the ability to create slow-motion clips. As someone who likes to catch up with stunning slow-motion videos, I've found it pretty good. When you are ready to create your reel, tap on the video-adjusting tool, and then choose the .3X or .5x to make a nice slow-motion clip. Note that you also have the option to speed up your clip.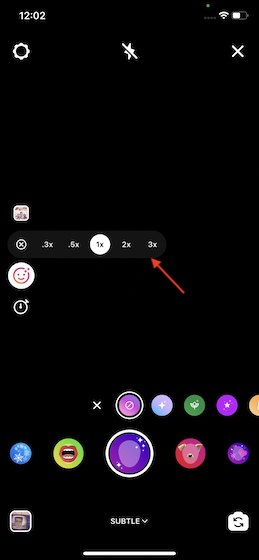 5. Fun-Loving Stickers
No matter what sort of clips you are trying to create, you can't keep cool stickers away from the scene for too long. To ensure you always have the luxury of a wide assortment of stickers, Reels allows you to use all the stickers and emojis that Instagram is known for. What's more, you can also make the most of scribble and text tools to add some unique touch to your clips.
6. Take Control of Comments
If you are planning to be a Reels star, you must be fully prepared to deal with both high praise and unexpected criticism. Besides, there will always be a lot of professional trollers who would never miss a chance to take a potshot at you to demoralize and demotivate you with a barrage of offensive comments.
So, how would you deal with them? Being part of Instagram, Reels also allows you to control comments so that only your followers will be able to comment on your clips. This way you can save yourself from falling prey to trollers.
To do it, open Instagram -> profile tab -> menu button -> Settings -> Privacy -> Comments. Next up, fine-tune comments as per your needs. For instance, you can allow comments from only your followers and even disable offensive comments.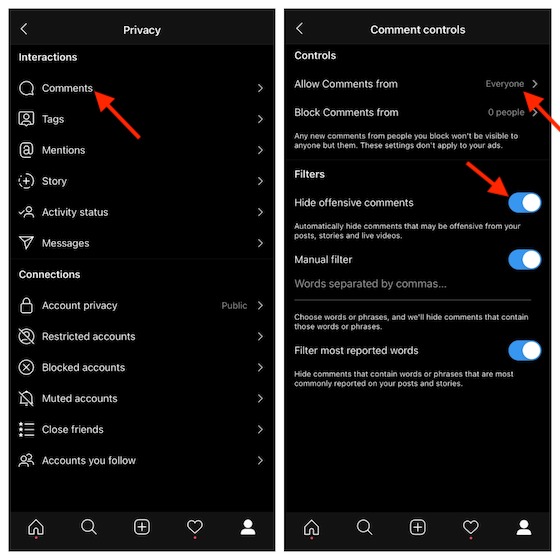 7. Protect Your Reels
Creating a unique reel takes plenty of effort. Only those who are passionate about making top-notch clips can ever know the pain that goes behind those few seconds of clips that are pleasing to watch.
If you wish to add a shield to your reels to protect them from being blatantly copied, enable the private account. When the private account is enabled, only your approved followers will be able to view and share your reels. Furthermore, if anyone shares your reel, only your followers will be able to see them.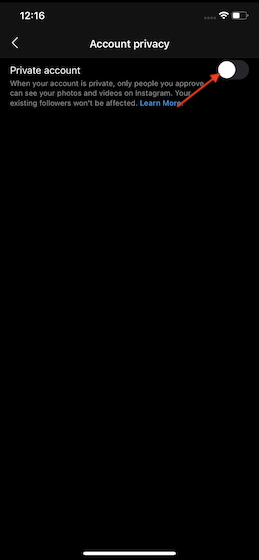 On top of all, Instagram Reels won't allow anyone to create a reel using your original audio which will go a long way in safeguarding your creativity. To protect your reels, launch Instagram -> profile tab -> menu button -> Settings -> Privacy -> Account privacy. Then, turn on the switch for the Private account.
8. Hide Your Reels from Certain People
For those looking for a way to keep their reels away from the sight of some friends, there is a quick way to hide reels. All you need to do to prevent anyone from viewing your reels is tap on the Settings button at the top left corner and choose Hide story from. On the next screen, you should see the list of all of your friends. Simply, select the name of the friends from whom you want to hide your clips. In the end, tap on Done at the top right to confirm.
9. Save Instagram Reels to Photo Library
Whenever I make a cool Instagram reel, I prefer to save it to the Camera Roll to watch it offline. If you also belong to the same school of thought, make sure it's enabled on your device. While creating a reel, tap on the Settings button at the top left corner of the screen. Then scroll down and turn on the switch for Save to Camera Roll.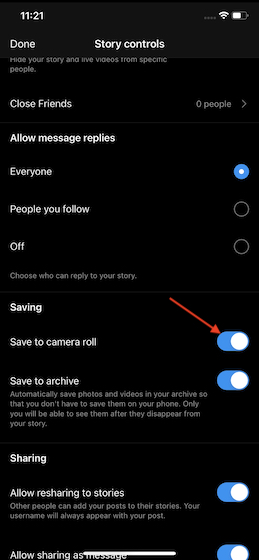 10. Share Your Instagram Reels to Facebook
Should you wish to make your story go viral, be sure to make the most of Facebook as well. Slightly hidden in the setting is an option to automatically share Instagram Reels on Facebook. While creating a reel, hit the Setting button located at the top left corner.
After that turn on the switch for Share your story to Facebook. Next up, a popup will appear saying, "Instagram wants to use 'facebook.com' to sign in. It allows the app and the website to share information about you." Tap on Confirm.
Bonus: Featured Reels
If you fancy being a noted Reels creator, you should always endeavor to deliver amazing content that's different and is also a treat to watch.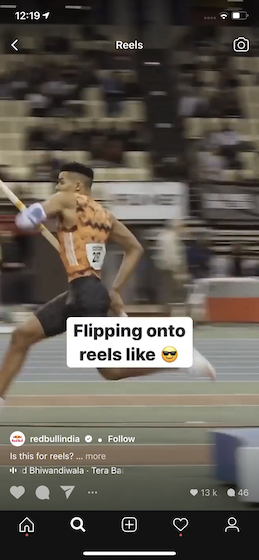 To motivate talents, Instagram picks out top-notch clips from different genres and feature them. But to get your videos featured, you need to ensure your clips are original and also have the quality to appeal to a massive audience.
Top Instagram Reels Features You Should Know
That's pretty much it! So, these are the top Instagram Reels features which you should know. Even though Instagram's short-video platform is new, it's got most bases covered. And with the Facebook-owned company looking very keen on addressing the shortcomings, it's just a matter of time before it will seem to be a runaway winner against TikTok. Have you tried it out? If yes, do share your two cents about Reels and what makes it so promising.
---
Load More