At launch Google Hangouts was lauded as the messaging app of the future, providing users with an all-in-one package that supported SMS, IM, voice calls, video calls, and on top of that, it worked on almost all platforms. Coming from the stables of one of the biggest tech companies in the world Hangouts definitely showed promise, which is why users flocked to the messaging app. Hangouts' popularity also grew due to the fact that it was integrated within a couple of Google products, including Gmail and Google+ (RIP), and it also came pre-installed on a number of Android devices. However, Hangouts went full enterprise last year, aiming to become a Slack alternative, leaving behind a ton of users looking for other Hangouts alternatives.
Best Hangouts Alternatives You Should Try
1. WhatsApp
Let's kick off the list with the most obvious alternative to hangout there is. Facebook-owned WhatsApp is the most widely used instant messaging app out there and for good reason. The app offers everything you'd expect from a good instant messenger, including text, voice and video support, media transfers, and group chats. On top of that, the app also supports voice messages, which really come in handy if you don't feel like typing out a text and are too lazy to make a call.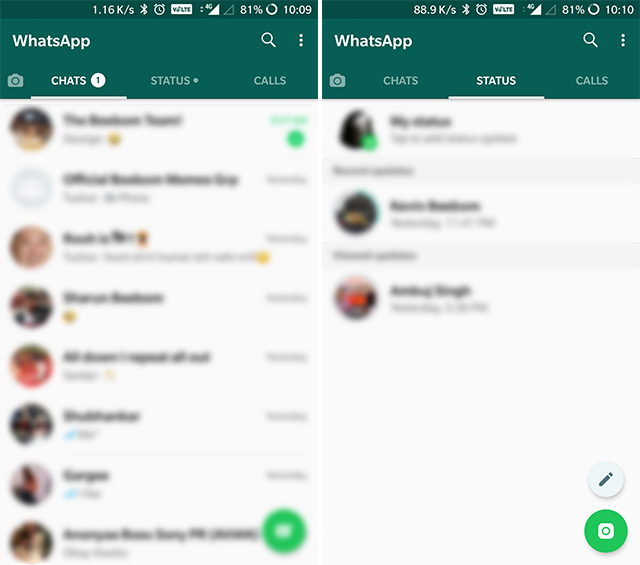 WhatsApp has even introduced a payments feature in the Indian market, which means that you'll easily be able to transfer money to people in your contact list using the app. Other than that, the app includes a great location sharing feature, that I tend to use quite often when I have to share my current location with friends or family, and if you're looking for some social media-like features in your messenger, WhatsApp also has an Instagram Stories-like feature that allows you to post temporary statuses on your profile that you contacts can view. Over all, if you're looking for an app like Hangouts for personal use, WhatsApp is definitely something you should consider.
Supported platforms: Windows, macOS, Android, iOS, Web
Price: Free
2. Discord
Discord is another app you can try out as a Hangouts replacement. While the app is primarily targeted at gamers, Discord packs in some amazing features that make it the best chat app/messenger I've tried till date. The app features voice chat capabilities, along with real-time messaging, push notifications, easy invites and group chat support. You can even share media like videos, images and GIFs on the platform, with additional features like communities that you can join and interact with others who share the same interests as you.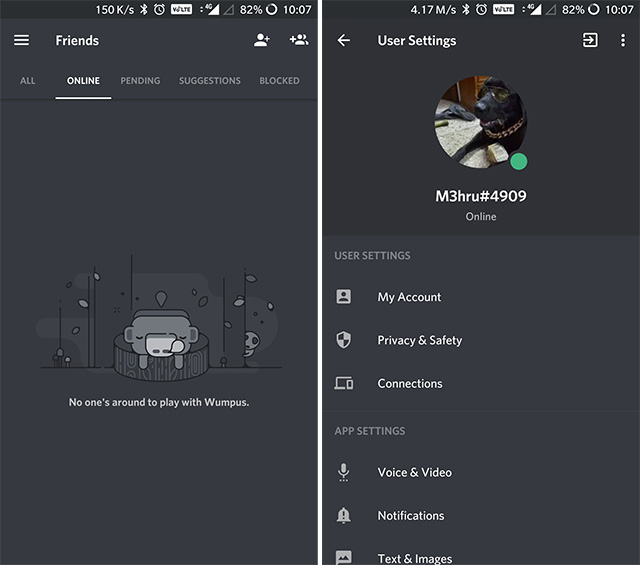 For all the gamers out there, not only does Discord show who's online in your friends list, it also shows which game they're playing, which could really come in handy if you're on the lookout for people to play with. What's really great about Discord, however, is that it is available on multiple platforms and features cross-platform support, which means that you can stay connected, irrespective of the device you're using. The service also offers a couple of other cool features, including bots that allow you to enhance your server or play music in the background. Sure, it doesn't include SMS functionality, but who uses that these days anyway?
Supported platforms: Windows, macOS, Linux, Android, iOS, Web
Price: Free
3. Telegram
In case Discord is too gamer-y for you, but you still want a feature rich instant messaging app that is similar to Hangouts, then you should consider checking out Telegram. The app not only includes the usual features that you'd find in any other instant messaging app, including text and voice support and media transfers, it also includes some unique features like 256-bit symmetric AES encryption, 2049-bit RSA encryption, and Diffie-Hellman secure key exchange, which make it one of the most secure messaging apps out there.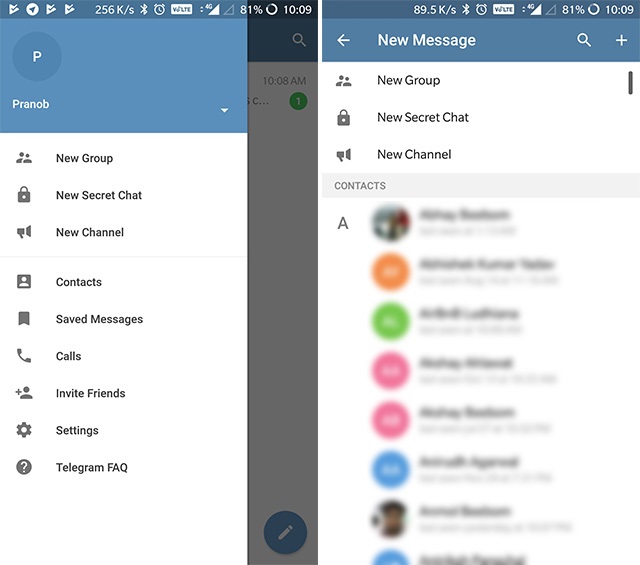 Telegram also includes a bunch of other useful features, allowing users to create group chats with up to 100,000 members, set up bots for specific tasks, use extensive photo/video editing tools, and send self-destructing secret chats. With all of that in two, you'd expect Telegram to be quite expensive, but it's absolutely free to use and it doesn't even feature any ads. For a more in-depth look at all the cool things Telegram has to offer, you can check out our post on cool Telegram messenger tricks.
Supported platforms: Windows, macOS, Linux, Android, iOS, Web
Price: Free
4. Signal
Signal is another great instant messaging app that you can use to fill the void left by Hangouts. The app also features most of the usual features found on other instant messaging apps, including text, voice and video support, group chat support and media transfer support. What's unique about Signal, however, is that it allows users to send traditional SMS messages, which none of the aforementioned apps offer.
Signal also lays a lot of emphasis on user privacy, offering encrypted group chat which not only encrypts the messages sent in the group, but also ensures that the Signal server never has access to any of the group metadata.
Supported platforms: Windows, macOS, Linux, Android, iOS
Price: Free
5. Wire
Privacy conscious individuals looking for a Hangouts alternative should also check out Wire – a secure instant messenger which is directed at businesses and professionals. Although the app offers all of the usual features you'd expect from an instant messenger, it's a bit more professional looking than Hangouts and has some cool features to help improve your team's productivity. Wire allows you to communicate with your team via both private and group conversations, and even supports file transfers which is crucial for an office setting.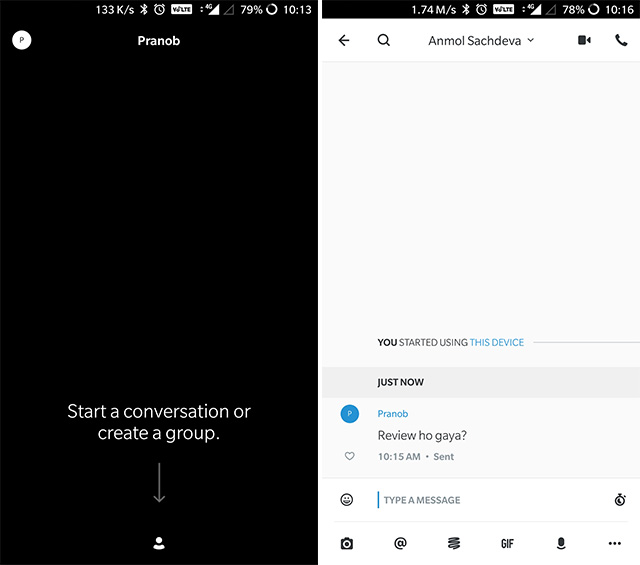 The app has a dedicated conference call button, using which you can make group voice and video calls with your team just as you did on Hangouts, and it even allows users to invite business partners and customers to the platform through unique guest rooms. Wire even supports self-destruct messages, in case you need to keep some conversations completely private, and it has a unique device fingerprinting feature which you can use if you're really serious about privacy.
Supported platforms: Windows, macOS, Linux, Android, iOS, Web
Price: Free for personal use; Starts at EUR 4 per user per month for enterprise users
6. LINE
If you're looking for an instant messaging app that also fulfills your social media needs then you should take a look at LINE. Much like any other app on this list, and similar to Hangouts, LINE offers text messaging, voice call and video call support, along with media transfer and group chat features, but the app's social media features really set it apart. The app has a Facebook-like timeline on which you can share messages, photos, videos and locations with your friends and you can even connect with celebrities on the platform.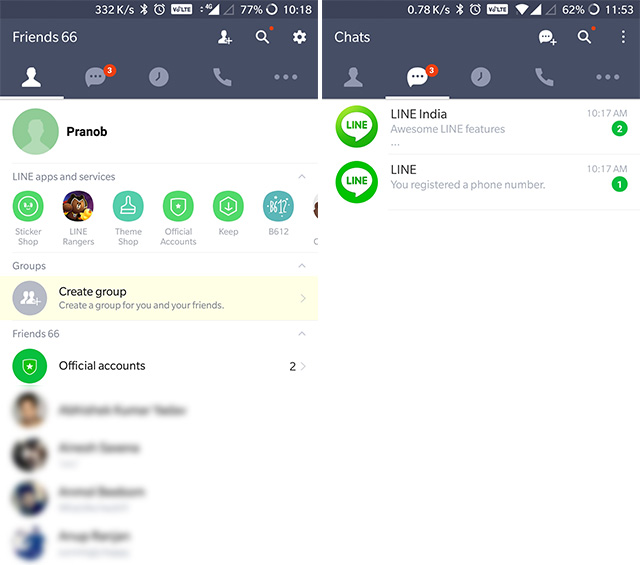 Just like Hangouts, LINE also has a great selection of stickers, with some of them reaching such levels of popularity that they have their own range of customized third-party gear like Bluetooth speakers. The app also has a personal storage space in which you can keep your messages, photos, videos, etc. and it also features app recommendations that introduce users to a wide variety of popular entertainment and lifestyle apps on the platform.
Supported platforms: Windows, macOS, Android, iOS, Web
Price: Free
7. Viber Messenger
The Viber Messenger is also a great Hangouts substitute that you can check out, which features pretty much everything you'd find in Hangouts, or any modern instant messaging app. Just like Hangouts, Viber has text support, a voice and video calling feature, support for group chats with up to 250 people per group, along with a wide range of stickers that you can use to spruce up your conversation.
What sets Viber Messenger apart from other apps on this list are its instant video messages which allow you to send short video clips to your friends, a hidden chat feature that allows users to hide chats from the home page, and a damage control feature which allows users to delete text or voice messages even after they're sent. Try out Viber Messenger in case any of these unique features pique your interest.
Supported platforms: Windows, macOS, Linux, Android, iOS, Chrome OS
Price: Free
8. Messenger
Facebook's Messenger is also a feature packed Hangouts replacement that you can use. One of the big things about Hangouts was that most people were already on the platform since it was connected to their Google accounts, and that's exactly what makes Messenger a good option — a vast number of people are already on Facebook, so you can easily connect with them using Messenger. The app features multi-platform support, allowing users to connect with each other no matter which device they're using and it supports all the usual instant messaging features that people commonly use.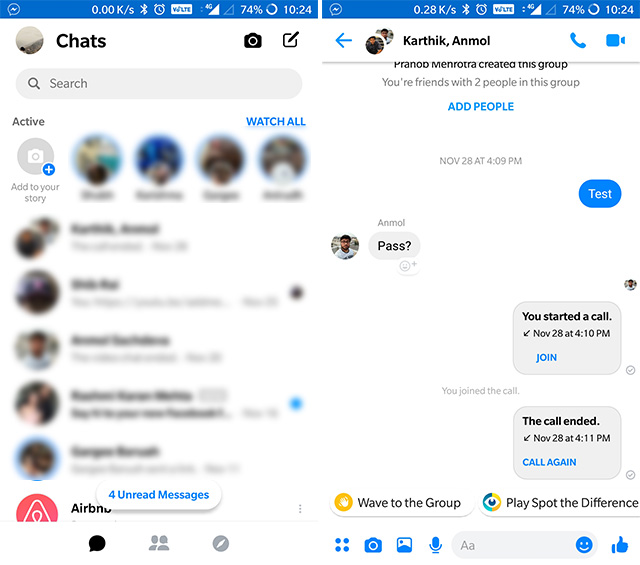 Messenger differentiates itself from competitors by offering a feature packed video calling feature and a decent camera app, which include a bunch of cool overlays that you can use to liven up your photos/video. Messenger also has quite a large hub for games, allowing users to play with friends and compare scores with all of their Facebook friends. Another great feature worth noting is that Messenger also allows users to directly connect with businesses, which can really come in handy if you want to make reservations or get real-time customer service. The app also has a wide selection of bots that are capable of all kinds of things to make life easier for users.
Supported platforms: Android, iOS, Web
Price: Free
9. Kik
Kik is another app that you can use to stay connected to friends and family. The app includes all of the usual features that you'd find in Hangouts, including text support, group video chats, media transfers, etc., but the way it allows you to connect with people without sharing your phone number differentiates it from the rest.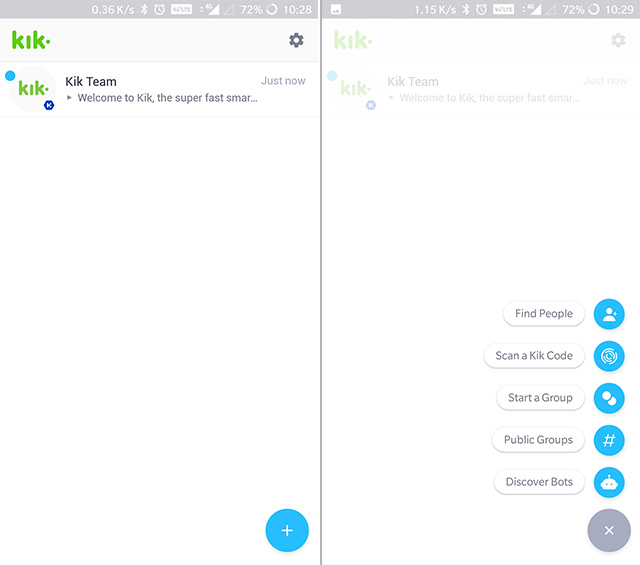 All you need to connect with people on Kik is create a unique username which you can share with people and since there's no phone numbers involved, you can safely connect with people you don't really know, but share similar interests with. Kik is similar to Hangouts and is great for those of you who don't feel comfortable sharing your phone number with random people you meet on the internet. Kik also has a decent selection of bots that you can use and the platform also has a wide selection of public groups that you can join where you'll meet like-minded individuals.
Supported platforms: Android, iOS
Price: Free
10. Skype
Last, but not the least, is Microsoft's own instant messaging app – Skype. The app needs no introduction, because it's been around for quite a while now, and it still remains a compelling option for several reasons. The app is simple to use, features all of the common instant messaging features, including support for group video calls (up to 24 people!), media transfer, voice calls, and it's available on almost all platforms.
What differentiates Skype from other apps on this list is that it includes support for SMS messages and it has a handy screen sharing feature that allows you to share your screen with friends and family. The app even allows you to make calls to mobile numbers and landlines, but this feature isn't free to use. While I believe you might have already tried out Skype before, in case you haven't, the app does deserve a shot.
Supported platforms: Windows, macOS, Linux, Android, iOS, Xbox One, Amazon Alexa devices
Price: Free
Try Out These Hangouts Alternatives
That rounds up our list of the alternatives you should try. I personally use WhatsApp, Google Allo and Discord quite frequently, and while Discord is definitely my favorite, I tend to use WhatsApp most often because of the fact that it's more popular and most of the people around me are using it already. Have you tried any of these Hangouts substitutes before? Which one do you prefer and why? Let us know in the comments section below. And in case one of your favorites hasn't made it to the list, make sure you share it in the comments section and we'll add it to the list.