Most people who've used computers for any length of time know only too well that hard drive failures are a routine affair, and unfortunately, they often come without any prior warnings. We have all fallen victims to temperamental hard drives at some stage of our lives, and it always seems to come at the most ill-opportune moment. If you've already suffered because of a failed hard drive (or two), you know the importance of protecting yourself from such eventuality by backing up your important data, so I don't really need to preach to the choir.
If, however, you're still not backing up all the important documents, media and other files from your computer, this is as good a time as any to start looking for a good, free backup software, so that you're well-prepared when your hard disk or SSD decides to finally give up on you. Backing up the data also comes as a lifesaver in case you fall victim to ransomware, and with news about WannaCry, Petya 2.0 (NotPetya) and NemucodAES in the air, what better way to protect yourself against cyber-criminals than to keep your data all backed up, so that even if things do go horribly wrong, your data will still be safe and secured. With all that in mind, we've prepared a list of the 10 best free backup software for Windows:
Note: I tried out these free backup software on Windows 10, but almost all of them should work on older Windows computers. Also, all the following software are free backup solutions and their free versions should be good enough for most people but we have also talked about their premium features.
Best Free Backup Software for Windows
1. EASUS Todo Backup
EASUS Todo Backup is one the most feature-rich backup utilities on Windows, and once you've used it for a while, it's not difficult to see why. While file backups, as expected, come in three different flavors (full, differential and incremental), the imaging actually comes with an option to create a Linux-based boot disc that should come in really handy should the worst comes to pass. While the software allows users to schedule and perform custom backups anytime, by default, it performs a full backup each week, and differential backups every half an hour in case it detects any change in the system. For added security, the software allows you to encrypt the full system images that can be compressed at a fairly high level so as to occupy less space on the disk.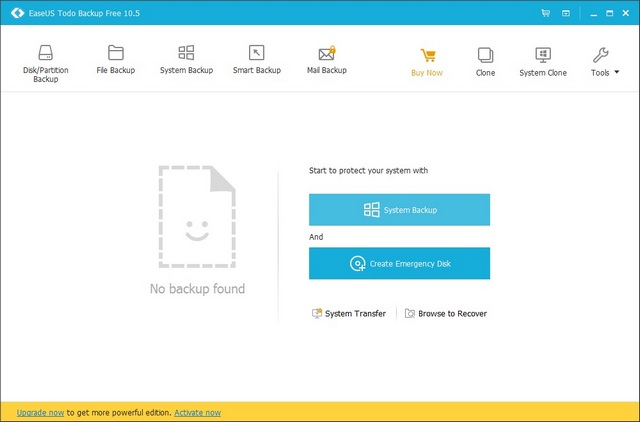 EASUS Todo Backup allows users to even backup Android devices. You can also split large disk images into smaller segments, and set passwords to protect your data from being spied on by any unauthorized person. Another cool feature is the Image Reserve option that allows users to delete or merge old system images to help save drive space. However, the single best feature of EASUS Todo Backup is the ability to clone the system disk to migrate your Windows installation to another HDD or SSD. That's a feature which is fairly common for most backup utilities, but only in their premium, paid versions. However, unlike most of them, EASUS offers this essential feature in its free version, which makes it my personal favorite free backup software on Windows.
Download (Free, Premium versions start at $29.99)
2. Comodo Backup
Comodo Backup is one of the best free backup solutions available in the market today for home users, thanks to the sheer number of features and options on offer. The software allows users to copy not just their document and media files, but also registry entries, e-mails, IM chat history, browser data, entire folders and even disk partitions, including the system drive. Users can back up either to a local drive or to the cloud, with the company offering 90-day free cloud storage for up to 10GB of data. In case you want to continue using Comodo's cloud storage facilities to backup your data, you'll need to pay $7.99 per month once the trial is over.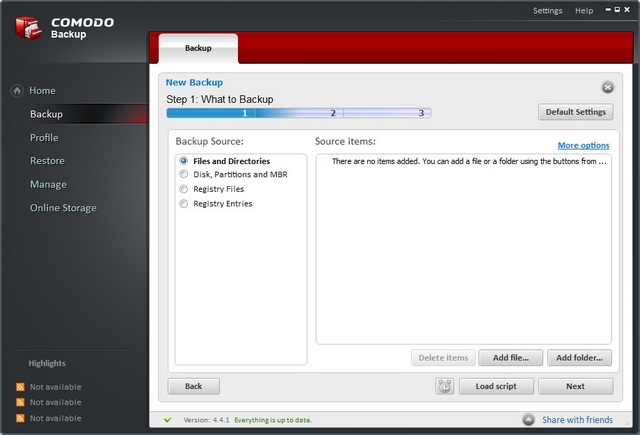 In case you don't want the cloud option, you can always use local storage, like an internal or external hard drive, DVD, network folder or FTP server. You may also choose to send the data to yourself via e-mail. The software also comes with scheduling options that allow users to either run the backup at specific intervals that range from every few minutes to every day, week or month. You may also run the backup at every startup, or do so manually whenever you feel like.
Download (Free, Premium plans start at $7.99)

3. AOMEI Backupper Standard
AOMEI Backupper Standard is yet another great backup software for Windows that comes with all the features you'd expect in a free backup program. You can copy files, folders and entire partitions either manually or at scheduled intervals. Like Comodo, AOMEI also offers you the option to perform incremental and differential backups, which means once you're done with the full backup the first time, the amount of time taken to do your subsequent backups reduce significantly. The software also offers password protection and full encryption, and has is the ability to mount a backed-up image as a virtual local drive, which allows users to explore the image just like a standard Windows installation.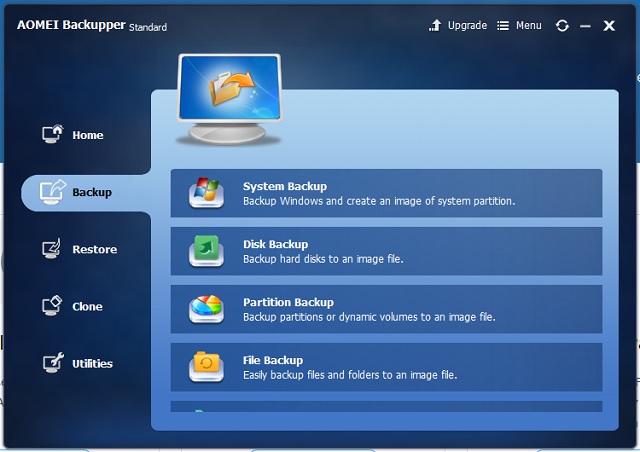 You can also create full system images with AOMEI Backupper Standard, but you can't clone the system partition for migration to other drives. As is the case with most backup software, those features are available only in the Professional and higher versions that cost $49.95 and above.
Download (Free, Premium versions start at $49.95)
4. Paragon Backup and Recovery
Paragon Backup and Recovery comes with much the same set of features as the ones above it on the list, but it does have a cool little trick up its sleeve unlike some of its competitors. The program allows users to save the backed-up images in a number of different file formats, including Microsoft PC Image file (VHD), VMWare Image file (VMDK) and of course, its own, proprietary PVHD image file. Like most other options on this list, you can compress the images and also split them up into smaller pieces to save disk space, and even exclude certain file types from your backup.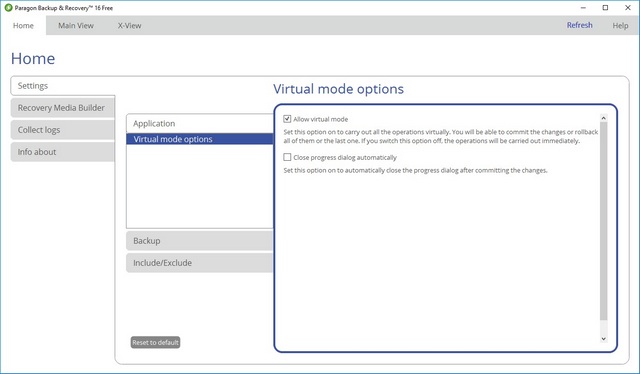 Paragon doesn't really lack in terms of features, but comes with a fairly large installer that weighs in at over 200MB, so do keep that in mind if you want to give this one a go.
Download (Free, Premium versions start at $39.99)
5. Genie Timeline Free
Genie Timeline Free easily has one of the most user-friendly interfaces among all the programs listed here (bar one, we'll come to that later) on the list. It can back up files and folders to a network drive from your local computer, but you can also choose to backup to a local disk if you want. Like Paragon, it allows you to exclude file types that you don't want to backup, and you can also manually edit out individual files and folders from your backup list. The one interesting aspect that makes program stand out from its competitors is an iOS app that allows you to monitor a backup-in-progress from your iPhone or iPad.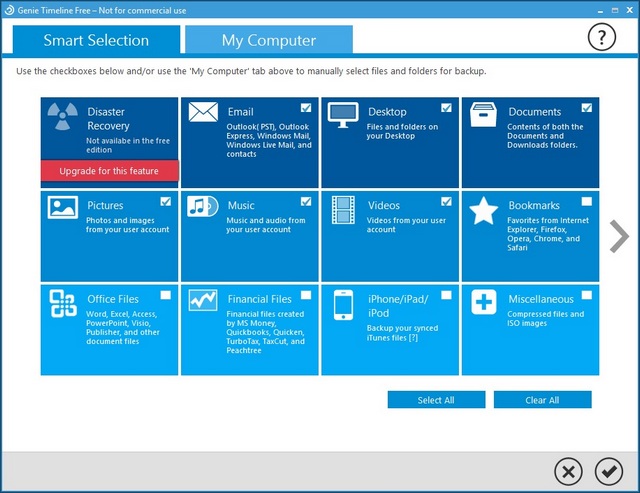 However, even though the free version of Genie Timeline comes with some novel features, it misses out on some standard features that you'd expect from a free backup program circa 2017. You can't schedule backups according to your preference, which is an absolutely essential feature that most other free utilities have, but this one doesn't. You also don't get encryption in the free version of Genie Timeline. If you need any of these features, you'll need to pay for either the Home version that starts at $39.95 or the Pro version that starts at $59.95.
Download (Free, Premium versions start at $39.95)
6. Free Easis Drive Cloning
The one program that has all the others beat in terms of user-friendliness is Free Easis Drive Cloning that comes with three pretty straightforward options the moment you open the program – Create Image, Restore Image and Clone Drives. It may be a bit too simplistic for advanced users who may find that it doesn't offer as many options as they would ideally want, but many mainstream PC users might just find the simplicity a welcome change.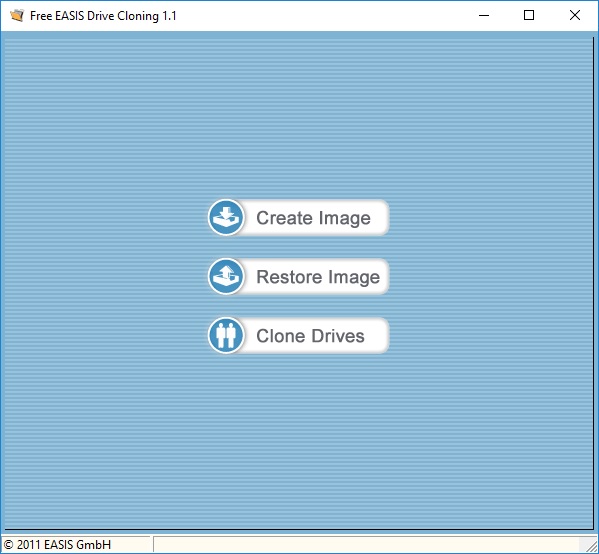 However, the utility actually backs up not just the sectors with actual data but also the free sectors in a disk, which means, backing up a 250GB partition with just 10GB of data will actually result in a 250GB image file. What's worse, you can't compress those images to smaller files, because that feature is reserved for the paid versions that start at $19.
Download (Free, Premium versions start at $19)
7. Personal Backup
If data backup is all you want, you should take a look at Personal Backup, which can backup your data on a local disk, and external drive, a network device or an FTP server. You can choose from full, differential and incremental backups, and can also encrypt your data for privacy and compress it to save disk space. You can either backup the data manually, or schedule automatic backups on a daily or weekly basis. You can also schedule backups at every login or before every shutdown. On the flip side, it doesn't offer imaging, nor does it come with the an easy-to-operate GUI for mainstream users.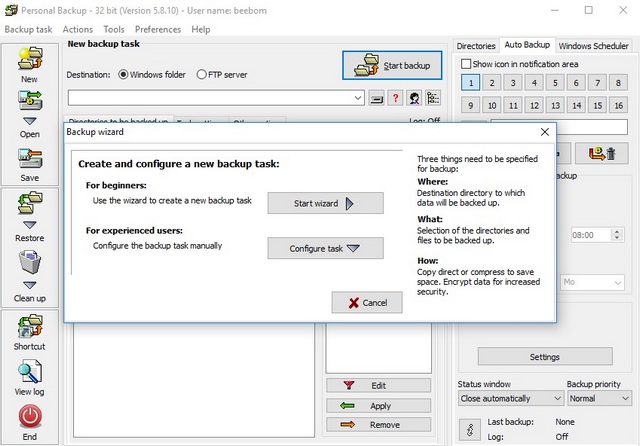 The program is written and maintained by Dr. Jurgen Rathlev, and offers a comprehensive set of features as long as you're not looking for imaging. In case you want to give it a go, just make sure to pick the correct version to download depending on whether you're running 32 or 64-bit version of Windows. One thing to remember here is that Personal Backup is a donationware and doesn't have a premium version, so if you like it, you could always make a donation to the developer.
Download (Free)

8. Crashplan
Crashplan has quite a few options that are aimed at the enterprise, but it does offer a free option that works well for the home user. Like many of its peers, Crashplan can also backup data to either an internal or external drive, but you can actually backup to multiple offsite locations to hedge your bets against natural disasters. It also offers unlimited cloud storage without any bandwidth caps, but for that, you'll need to upgrade to one of the paid plans that start at $5.99 per month ($59.99 per year) for a single computer and $13.99 per month ($149.99 per year) for 10 computers. You can also schedule multiple backups to run simultaneously if you were to opt for either of these two plans.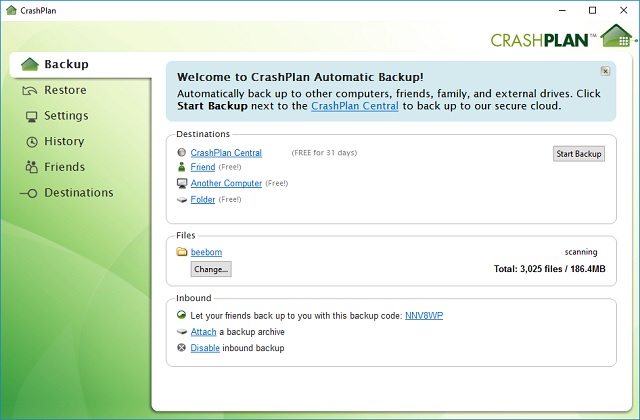 If you're not looking to pay for your data backup software, Crashplan's free option still offers automated daily backups (both differential and incremental) that are encrypted with 448-bit encryption, including a private key option. The company also claims that its data centers use "Enterprise-class Hardware and military-grade security for power redundancy, cooling and fire protection".
Download (Free, Premium subscription plans start at $59.99 per year)
9. Veeam Agent for Microsoft Windows
Veeam Agent for Microsoft Windows is a fairly long name for what was originally released a couple of years ago as Veeam Endpoint Backup Free. Unlike most of the other utilities on this list that are meant for the home user for the most part, Veeam is mostly known for its enterprise solutions. However, the company does have free utilities that come with some really cool and unique features that are not always offered by the others. Veeam Agent for Microsoft Windows is a free program that delivers backup and recovery not just for local Windows-based desktops, laptops, servers and workstations, but also devices running in the public cloud. It fully supports Windows 10 and Windows Server 2016, but doesn't officially support anything older than Windows 7 (SP1) or Windows Server 2008 (SP1).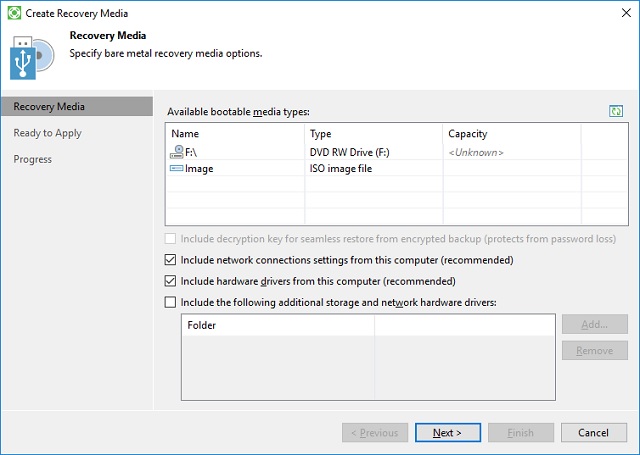 It is one of the most well-known solutions in the market today if you're looking for a free backup of your servers running on for VMware and Hyper-V. However, it offers much more functionality than that. It can create a full backup of VMs and restore everything including files, folders, and settings. It also allows users to migrate between the hosts even if you do not officially use vMotion or Storage vMotion. It also allows you to backup your data to magnetic tapes, which is more than what can be said about many other free utilities. This is not a product that you need if you're just looking to backup your gaming rig or your work PC, but in case you're looking for a free tool for vSphere and Hyper-V, this is as good a choice as any.
Download (Free, Premium version pricing available on request)
10. HDClone Free
HDClone Free does offer its users a free edition, but it's severely handicapped in terms of its features as compared to the paid versions. While the free version does have the ability to backup entire drives, you cannot compress or encrypt your data with the free version.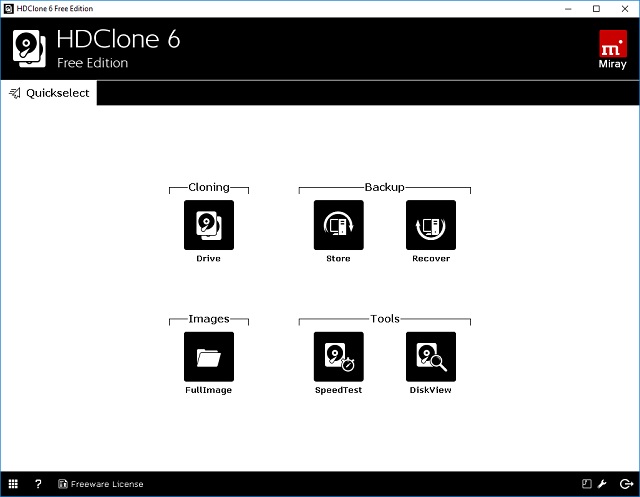 On the positive side, the program supports a lot of legacy Windows versions, going right back to XP and Server 2003. Having said that, this is clearly not the most feature-filled software on the list, although it does get some brownie points for its simple and easy-to-use interface.
Download (Free, Premium versions start at €16.72)
SEE ALSO: 10 Best Data Recovery Software
Choose from these Free Backup Software for Windows
Unless you literally have nothing of note on your PC, backing up your computer is an essential part of your digital life, but many of us keep ignoring that until it's too late. Personally, I used to use Acronis True Image many moons ago, and it helped me migrate my Windows 7 Pro installation from my 320GB 7200RPM HDD to an MLC Nand-based 250GB SSD. However, Acronis unfortunately doesn't offer a free version of its backup and recovery software, so we couldn't really put it on our list, seeing as this is strictly a compilation of the best free utilities. That being the case, I'll pick EASUS Todo Backup over all the others without so much as batting an eyelid, if only because it is the only free utility that will help you migrate your OS to another hard drive or SSD.
So, do you use any of the free backup software mentioned above, or do you use something else that you think should have received a mention here? Do leave your comments or suggestions below, as we love hearing from you.