Typing has become an important part of our lives, as most modern-day jobs comprise of using a computer and when you are using a computer, you need to be able to type quick and fast. Things can get a little slow and sometimes embarrassing at work if you are a slow typer but it's never too late to learn, isn't it? Well, if that's the case, we are here to help you out. We are listing the best typing tools available and that includes websites & software that teach you typing.
First of all, let's get something clear, most websites and software teach you the touch typing technique, in which a person uses all his ten fingers to type without looking at the keyboard. Touch typing is the best way to type quickly & accurately but chances are, you use the "Hunt and peck" or "Buffering" technique. In the Hunt and peck typing technique, a person generally uses two to five of his fingers or types by looking at the keys. In the Buffering typing technique, a person memorises a few words he has to type and then types those words quickly looking at the keyboard.
So, now that we have established a few things about typing techniques, let's get down to business. There are a number of great typing tools available and it's tough to choose among them but we have done it for you and here are the best ones:
Best Typing Software to Learn Touch Typing
Typesy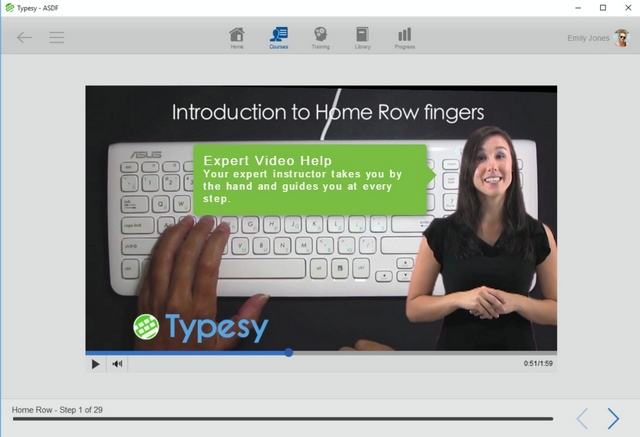 You must have heard of Ultimate Typing software, right? Well, they have just re-branded to Typesy but nothing else has changed and it remains one of the best typing applications around. The software is packed with a number of amazing, innovative features that should make learning touch typing way more fun. It features various exercises, cool typing drills and great lessons that should make sure you learn like a pro. Along with that, the software also includes video tutorials for step by step instructions. Moreover, there's advanced monitoring, personal help, social profile with a dashboard, smart goals, statistics and games that make the whole experience fun.
Currently, Typesy supports US, UK, Australian, Canadian, Spanish and Brazilian keyboard layouts. Sadly, the software is only available to buy and there's no free trial version either. The good news is a single license gives you unlimited installs on various supported devices.
Buy Typesy: ($29.95)
Compatibility: Windows, OS X, Linux, Chrome OS
Typing Instructor Platinum
Typing Instructor Platinum is one of the most premium typing applications available for learning touch typing and it brings a lot of great features. There are more than 20 typing courses, high-quality typing games, custom courses and some very exciting typing activities. It also takes into consideration if you are a beginner or a professional just trying to enhance your skills. One of the best things is that the software gives you real time feedback while you are taking a lesson.
There are also some interactive multi-player games that you can play if you are confident enough and want to compete in some typing challenges with others. Typing Instructor also gives you certification if you complete a course.
Download/Buy Typing Instructor Platinum (Free trial, Full version $29.99)
Compatibility: Windows 10, 8, 7, XP, OS X
UltraKey
UltraKey is another popular typing software, which is the favourite among many typists and enterprises. UltraKey 6 has been recently released and it makes the software even better. It is available for everyone including individuals, professionals, families and enterprises. According to UltraKey, you just need to use it for 20 minutes a day and 8 hours in total to get a good hold of touch typing. The software includes lessons with effective instructions, practice content to suit specific styles, words per minute (wpm) tracking, typing tests and more. It's also a great software for schools and enterprises, as it does not require high maintenance and brings features like certificates, record keeping in the cloud along with licensing options that are aimed at them.
The software currently supports localized keyboard layouts for North America, UK and Australia. UltraKey also powers other typing software like Mavis Beacon teaches typing. An individual or family UltraKey license can be used for 3 home computers and 8 users.
Download UltraKey (Free trial, Full version $39.95)
Compatibility: Windows 10, 8, 7, Vista, XP and OS X 10.4 or later
Rapid Typing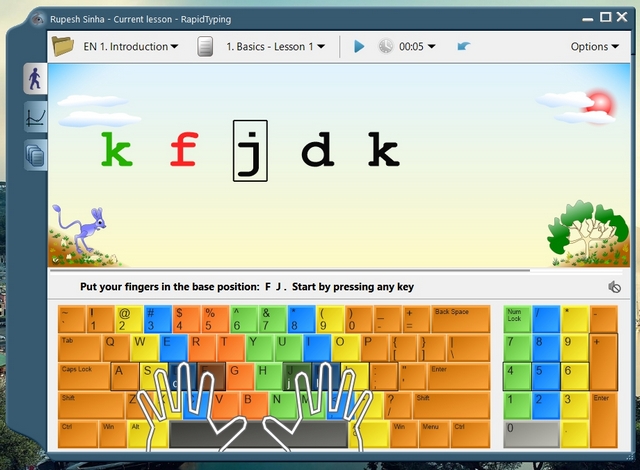 Rapid Typing has been known for its various typing applications, games and online tools but it's the Rapid Typing software that is the best. When you start using Rapid Typing for the first time, it lets you configure your keyboard on your language, the number of keys and platform. You can also choose to learn either one hand or two hand touch typing. There are detailed separate lessons for basic typing, shift keys, digit keys and numeric keys. Also, there are various courses like beginner, experienced, advanced and testing.
The software supports 24 languages including English, Dutch, Spanish, French, Belgian and more. Along with the Rapid Typing software, there's a Rapid Typing Portable version, which does not require any install at all and you can take it on a USB stick to use anywhere on the go. The great news is Rapid Typing is free and it's compatible with most of the major platforms.
Download Rapid Typing or Rapid Typing Portable (Free)
Compatibility: Windows 10, 8, 7, Vista, XP, Linux & Unixes, OS X, Chrome OS
GS Typing Tutor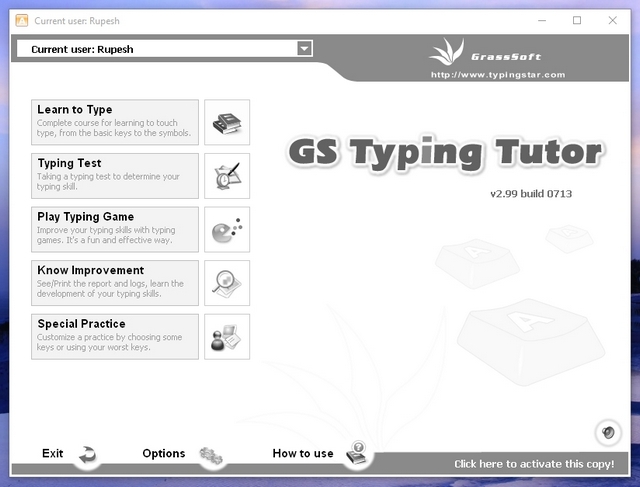 GS Typing Tutor is a popular typing software that lets you learn touch typing with ease. First of all, it supports most of the major languages across the globe like English, Finnish, French, German, Greek, Arabic, Norwegian and more. The software asks you at the beginning itself, whether you want to learn two handed or single handed typing. There are also different modes like Beginner for people who want to learn from scratch and Performance for people who are already well versed with typing but want to test their skills.
The most notable features of the software include typing tests, statistics, special practice for specific issues, different types of courses and more. GS Typing Tutor comes with support for 24 keyboard layouts including Qwerty, Dvorak, Latin American, Swiss French & German and more. The software is available as free trial. While the software's official website does not mention support for Windows 10, we tested it on Windows 10 and it ran pretty smooth.
Download GS Typing Tutor (Free Trial / Paid version $29.95)
Compatibility: Windows 10, 8, 7, XP.
KeyBlaze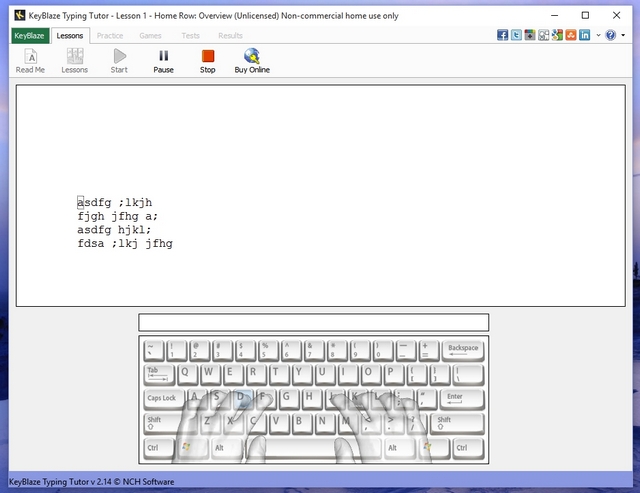 If you are looking for one typing software that fulfils the needs of your whole family, KeyBlaze typing software should be a good bet for you. The software supports various user types and profiles including kids, teen beginner or improving, adult beginner, improving or professional and more. The app has no added distractions, as it takes you straight to the typing lessons.
Along with that, there are options such as practice mode, games and a speed test. There's ability to compare your results with your friends or colleagues as well. Keyblaze supports various keyboard layouts like US English, UK English, Dvorak, German and more.
Download KeyBlaze (Free Version, Plus Version $29.99)
Compatibility: Windows 10, 8.1, 8, 7, Vista, XP and Mac OS X 10.4 or later.
Typing Master 10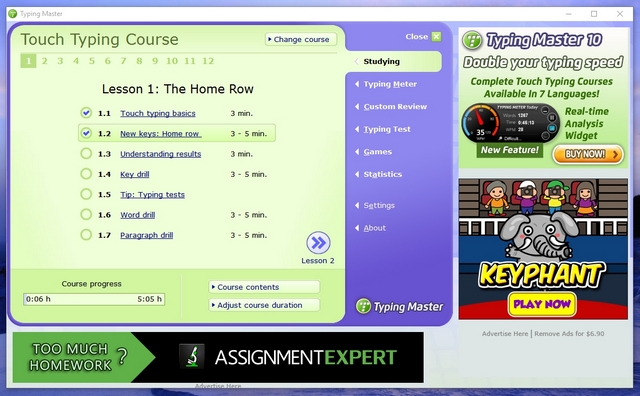 Typing Master has been consistently among the best typing software for quite some time now and it remains to be the same. The software supports US, Europe, Canadian French, Canadian Multilingual, Danish, French and Belgian keyboard layouts. The features of the application include different typing tests, custom reviews to fix specific difficulties, typing meter and fun typing games. It also lets you choose whether you want you want your speed to be displayed in words per minute (wpm) or keystrokes per minute (kpm).
The software comes in a free version but the Premium version brings you professional drills, more courses and unlimited typing meter, so you may as well get it.
Download Typing Master (Free version / Premium version $6.90)
Compatibility: Windows 10, 8.1, 8, 7, Vista
Master Key
Master Key's best feature is the unique typing drills that it brings and they certainly make you learn quickly. There's also a cool ParaTyper game along with support for teachers to sync their students, multi-class support, class editor, reports and more. There's also ability to create custom drills, so that you can work on your weaknesses. The software supports French and German along with English.
You can also print a certificate of mastery when you master a drill. The application offers free trial but the paid version brings you more drills and unlocks many features.
Download Master Key (Free trial / Paid version $15)
Compatibility: Windows 10, 8, 7, Vista, XP and Mac OS X 10.4 or later
Best Websites to Take Touch Typing Lessons and Play Typing Games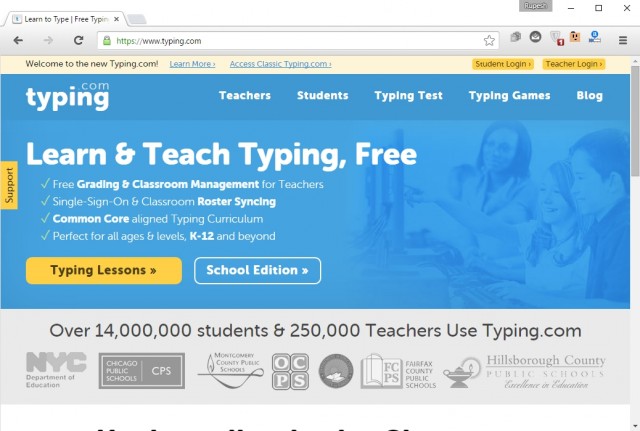 Typing.com has gone through various name changes but it no-doubt remains the best typing tool available on the web. It's the best online tool if you want to get typing lessons, play some amazing typing games and there's way more than that. First and foremost, Typing.com is free to use but it includes non-intrusive ads, which can be removed if you get a premium account. The feature list includes typing lessons, typing games like Keyboard Ninja, Tommy Q Zombie Defender & more, student & teacher oriented features and more.
If you are a teacher, there's ability to sync the entire class and track & grade their performances. For students, there are engaging typing lessons, certificates and a plethora of typing games. Typing.com supports 15 international keyboards including formats like QWERTY, QWERTZ & AZERTY  and it is optimised for your PC, laptop, Chromebook, tablet, phone.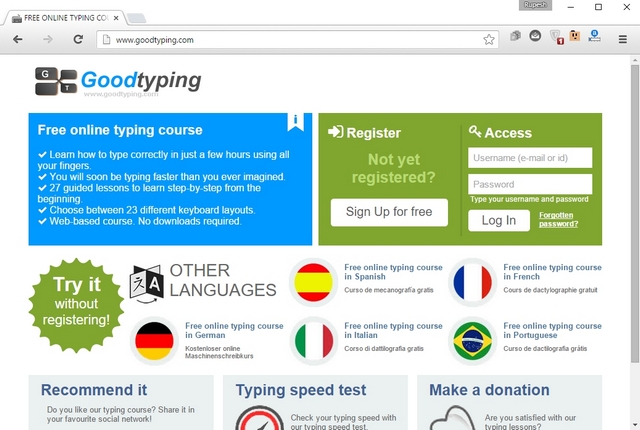 Goodtyping brings you various web courses to learn touch typing and the makers claim that by using Goodtyping, you will "Learn how to type correctly in just a few hours using all your fingers." The website supports 23 different keyboard layouts, various languages including English, Spanish, French, German, Italian and Portuguese. If you are a beginner, there's nothing to worry about as there are 27 step-by-step lessons on typing and if you are already a pro in typing, you can take a test to see how good you are.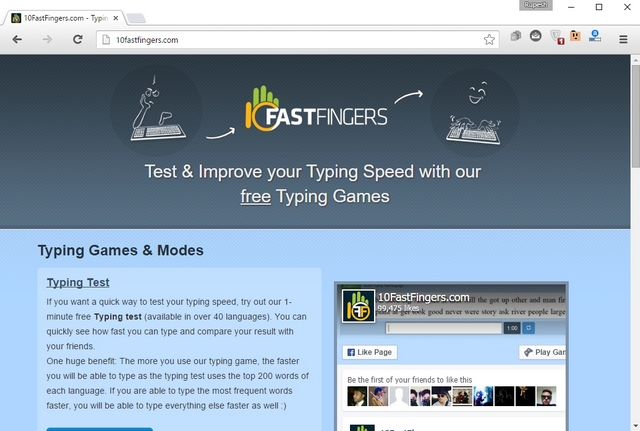 10FastFingers has been one of the very popular typing websites over the years and it still remains a great place, if you want to learn touch typing and also have some fun. It includes Typing Practice to improve your typing skills and practice hard, Typing Test is a 1-minute test available in 40 languages to check your typing speed, which you can also share and compare with your friends. There's also an online Typing Competition and as the name suggests it lets you compete against people from across the world.  If you would just like to compete with your friends, there's a "Private" mode for that.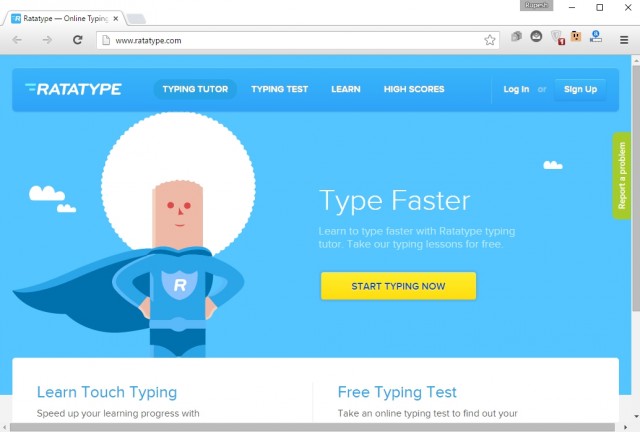 Ratatype is another popular typing tutor website that teaches you touch typing in a fun and easy manner. The website offers various typing lessons, which not only teaches you touch typing but also helps you out with your sitting posture. Once you know the correct method of placing your fingers, you can start practising and when you feel you are good enough, you can take the typing test. Ratatype also gives you certificates when you clear their typing test. Platinum certificate if you have a speed of over 70 words per minute (wpm) and accuracy of 99.5%, Gold certificate for 50 wpm and 98.7% accuracy and Silver certificate for typing speed of 40 wpm and 96% accuracy.
SEE ALSO: 5 Best Online Grammar and Punctuation Checking Tools
These are the best tools that you should use if you want to type like a pro. We included both software and websites, so that people who don't have a consistent internet connection don't miss out. Which tool is your favourite? Let us know in the comments section below.