Compression is one of the most used features of PC, being used for both personal and business use. We need to compress or decompress files to decrease size or to email the files. The two most popular tools for this purpose are WinZip and WinRAR, being used by millions. Unfortunately, these are paid tools and most users prefer free tools. However, as almost everything is available free on the internet, compressions tools are not an exception. There are many alternative free third-party tools available on the internet that will let you compress files or decompress different formats for no cost. Most of these tools can provide same features as WinZip or WinRAR, but there are some tools that can arguably provide even better features.
There are tools available for both Windows PC / Mac and smartphones, you just need to select the one that works perfectly for you. Today, we are going to list down best alternatives to WinZip and WinRaR, just make your pick.
WinZip and WinRAR Free Alternatives
1. 7-Zip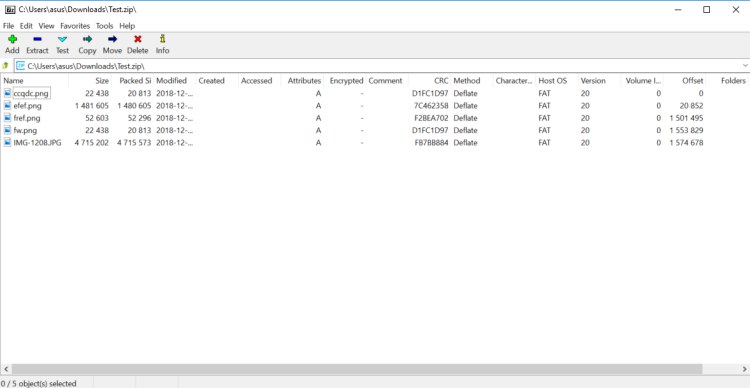 7-Zip definitely deserves the first mention. It is an open source tool and completely free to use. The main reason why it is loved by so many people is its high ratio compression. It offers up to 10% better compression than other tools, including WinRAR and WinZip.
Furthermore, if you are compressing to its native format 7z, then it can offer compression up to 30-70%. However, these numbers solely depend on the type of file you are compression. You can easily zip/unzip formats such as, 7z, ZIP, GZIP, RAR, TAR and WIM.
Download (Windows 10, 8.1, 8 and 7)
2. B1 Free Archiver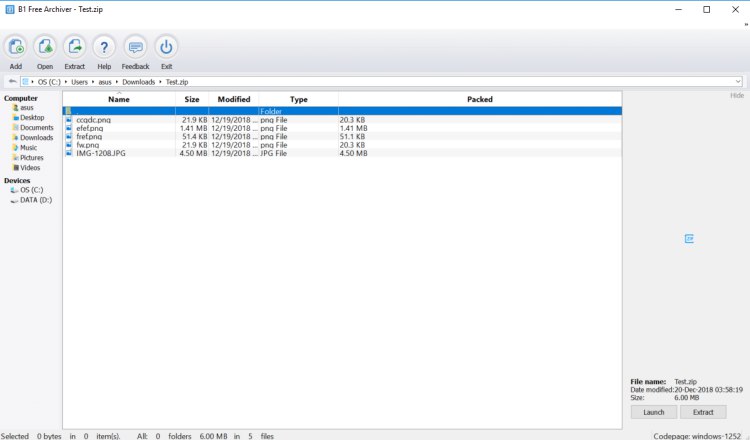 B1 Free Archiver is another great tool with very professional interface. It supports tons of formats, including 7z, b1, zip, rar, arj, xpi, jar, txz and many more. Best of all, it offers both desktop and online tools. You can either download the desktop tool to compress/decompress files offline or use the online archiver to compress/decompress files online without downloading a software.
Online archiver is specially handy when you are not allowed to download softwares on a PC due to restrictions (like, work PC). Although, it is free but it does offer some adware during the installation. So be careful and make sure you decline all the offers if you don't need them.
Download (Windows, Mac, Linux and Android)
3. ExtractNow
This is a completely free tool with a very simple interface. However, it can only unpack files. What makes this a good pick is its ability to extract multiple files easily. You can just drag and drop compressed files in the interface of the tool, and click on "Extract" to extract all of them at once.
Other tools can also extract multiple files at the same time, but this tool makes it very simple and makes sure you have to click the least. Just like other tools, it also supports all popular formats to extract.
Download (Windows 10, 8.1, 8, 7 and XP)
4. jZip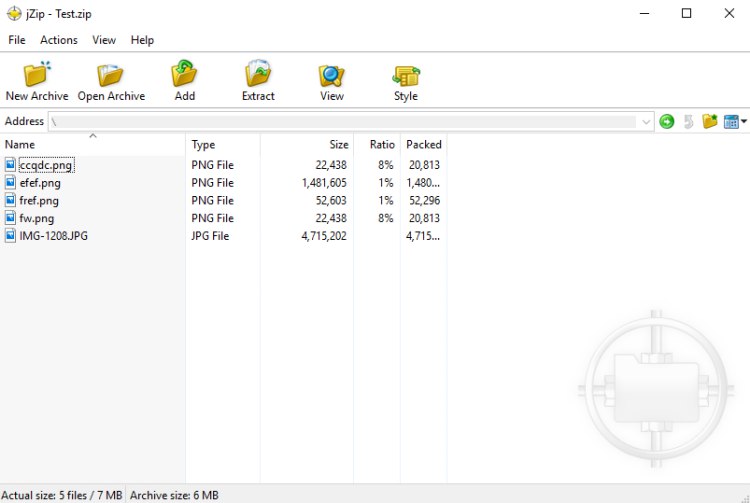 jZip is a free tool that offers amazing compression ratios similar to 7-Zip. It supports all the popular formats, like rar, zip, 7-zip, TAR and GZip. Unlike 7-Zip, it has a simpler interface with just few options, making it perfect for beginners.
You won't get many customization options, all you can do is pack or unpack files with ease. It is free, but it does adds ask toolbar as adware while installation. So make sure you uncheck these options while installing if you don't need it.
Download (Windows 10, 8.1, 8, 7 and XP)
5. PeaZip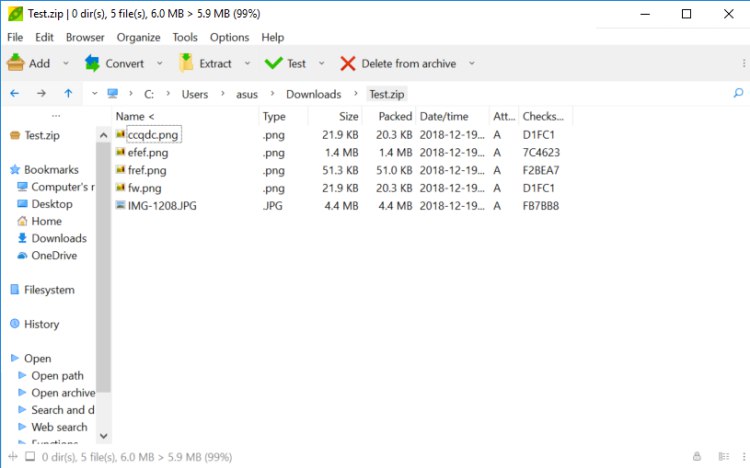 PeaZip is a powerful open source tool that is completely free to use. It can add powerful encryption to files, adding complete protection from prying eyes. You can easily work on multiple files at the same time and can choose only specific files to extract from different files.
You can also add powerful filters to archive only required file types. It supports all popular formats, such as 7z, XZ, BZ2, ZIP, RAR, TAR and GZ. If you are looking for a replacement to 7-Zip, then this tool is a great replacement with similar features.
Download (Windows 10, 8.1, 8, 7 and XP)
6. Hamster Zip Archiver 4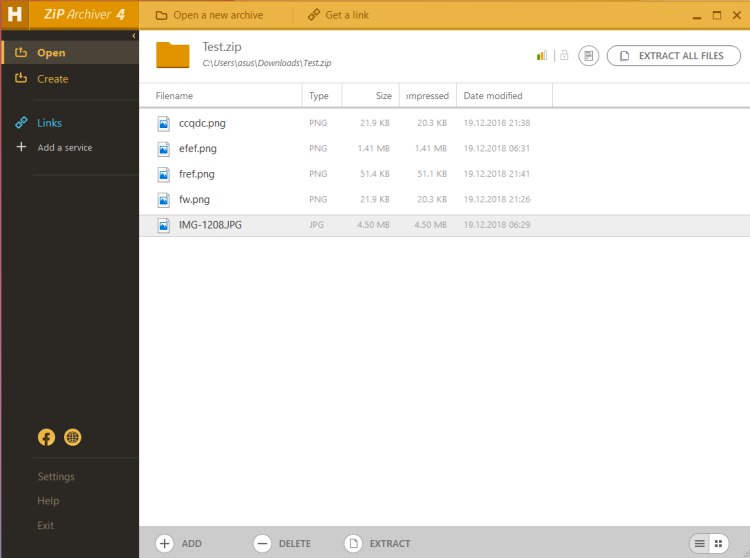 Hamster Zip Archiver 4 is a free tool that is simple yet powerful. It has unique compression method that offers amazing compression ratio and 2 times faster compression. You can select the compression level as you please and also add password protection to protected the packed files.
It supports all the popular compression formats, like 7z, RAR, ZIP, TAR and XZ, etc. It can also integrate with cloud services to save and share files over the internet. However, it will offer adware during installation, keep that in mind while installing.
Download (Windows 10, 8, 7 and XP)
7. Bandizip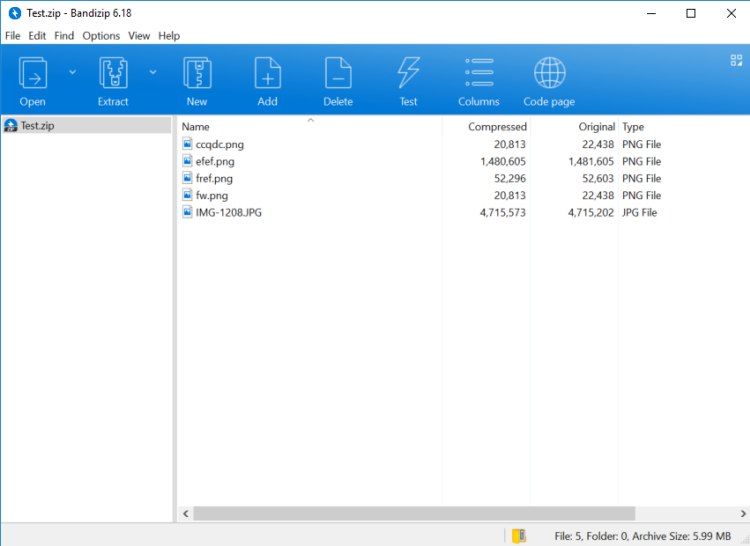 Bandizip is a free tool without any kind of adware or malware added with the program. You can scan files for viruses before opening and it supports multi-core compression. This means, if you have a high-end PC, the tool will be able to take full advantage of all the cores to provide faster and better compression.
You can also add powerful encryptions, such as AES 256 and ZipCrypto for optimum protection.
Download (Windows 10, 8.1, 8, 7 and XP)
8. Zip Extractor (Chrome Extension)
Zip Extractor is a free Google Chrome Extension that will let you extract compressed files from your PC or Google Drive to Google Drive. It is a good solution if you don't want to download apps to your PC and instead do everything in your browser.
It has a simple interface and supports multiple compression formats. However, it will only extract files to your Google Drive, not your PC. It offers easy options to share the extracted files with other users and you can extract multiple files at the same time.
WinZip and WinRAR Alternative Android and iOS App
If you would like to use a compression and decompression tools on the go, then you can also get some WinZip and WinRAR alternatives on your Android and iPhone.
9. Zip & RAR File Extractor (iOS App)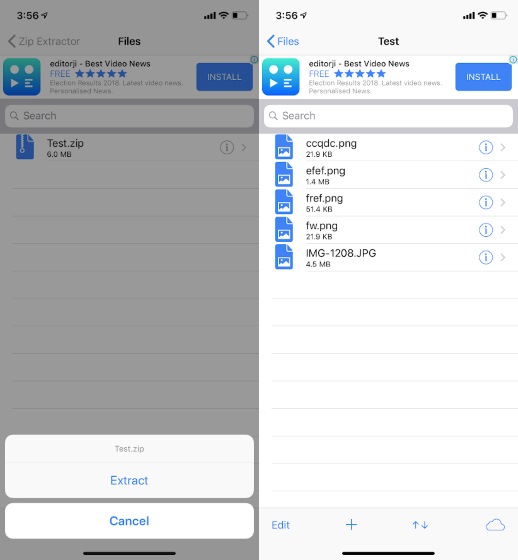 If you are on the lookout for a .zip and .rar file extractor for iOS, then 'Zip & RAR file extractor' is worth checking out. It's a no-frills iOS app that lets you extract .zip or .rar files on iOS. It's is also one of the most simple apps to use. During my testing, I was easily able to both extract a .zip file and create an archive within minutes. In fact, you can also create encrypted zip files, which is just awesome.
Download Zip & RAR File Extractor (Free)
10. RAR
RAR is a fully featured android app that supports multiple formats like, Zip, RAR, TAR, BZ2, GZ and ARJ. It has a basic file manager built-in to look for your files and add them to the app. You can add multiple files and also encrypt files for maximum protection.
You can also repair damaged files (if repairable) using the repair command of this tool. It is an ad supported app and you can get rid of ads by paying and turning off the feature in the options. The app can also utilize multiple cores for maximum compression speed.
11. Simple Unrar
As the name suggests, Simple Unrar is a simple app that is only created to extract .rar files. If your main focus is on extracting .rar files, then this is a great app as it offers some astounding features for this purpose. The app is ad supported and it can support .rar files up to version 5.
The interface is quite simple as well, you can easily browse and extract RAR files up to 2 GB in size. You can directly extract files from email attachments, and the app can keep broken files in order to not disturb current files in process.
SEE ALSO: 10 Android Apps For Zip and RAR Files
Hope this article helps you find best WinRAR and WinZIP alternative tool. If you have any other suggestion, feel free to let us know in comments section.