Ransomware is one of the growing threats when it comes to the security and privacy of our computers. In the last couple of years, there has been a massive rise in the spread of ransomware. These ransomware spread through malicious software, shady emails etc. In fact, we recently came across a ransomware dubbed "WannaCry" or "WannaCrypt", which has locked down many computers across the globe. WannaCry, like most ransomware, encrypts the files on a Windows system and asks the user for a huge amount of ransom to decrypt these files. Plus, there are reports suggesting that even if you pay the ransom, your files will not be decrypted. So, once a ransomware hits your computer, your files are most probably gone.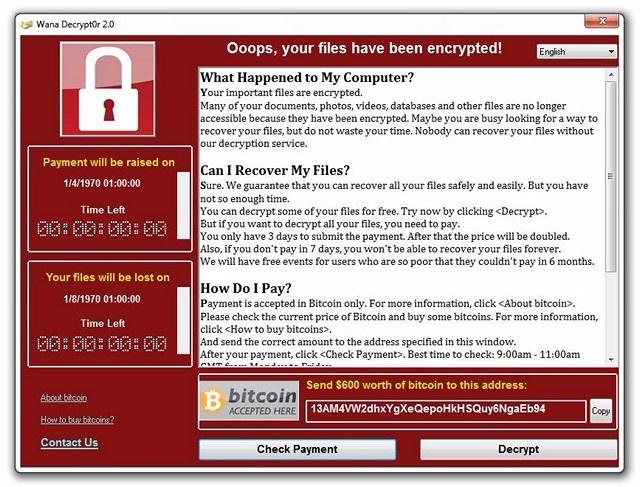 So, if you want to make sure that your Windows PC does not get hit by a ransomware in the future, here are the 6 best anti-ransomware software that you should be using:
Note: We are including tools that will prevent ransomware from entering your PC, as well as tools that might protect or even decrypt your files in case your PC has been hit by a ransomware attack. 
1. Trend Micro Internet Security
Trend Micro is one of the few companies to announce that if you are using the company's Internet Security tool, you are safe against the WannaCry ransomware attack. The Internet Security software from Trend Micro protects you from email scams and stops ransomware and other online threats before they reach your PC. Trend Micro claims that the software blocks more 250 threats every day for a user. Along with that, Trendo Micro's tool brings additional features like securing your privacy on social media, restricting children from various webpages, and the ability to optimize performance.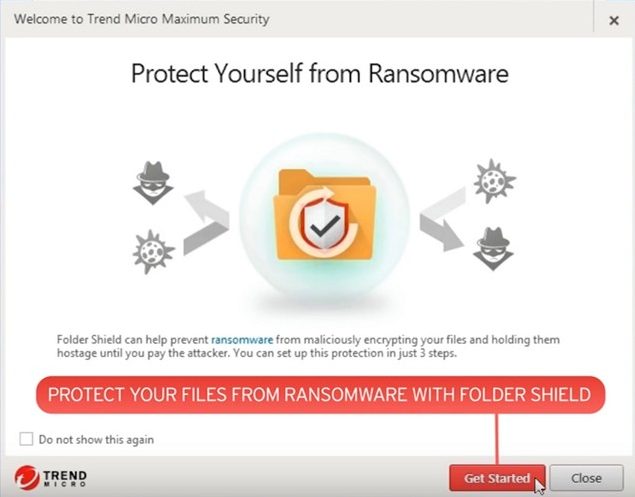 Trend Micro even offers a free solution if your PC has been hit by a ransomware. There is Crypto Ransomware File Decryptor Tool and the Lock Screen Ransomware Tool. Both the tools are available for free and can detect and even remove certain crypto ransomware.
Download: (Free Trial, $39.95/year)
Platforms: Windows 10, 8, 7, Vista, 7
2. Zemana Antimalware
Zemana Antimalware is my personal favorite anti-malware tool for Windows. It's a lightweight security solution that brings great protection against ransomware. Considering the increase in ransomware attacks, Zemana claims to have invested years to offer the best anti-ransomware solution. In fact, the folks over at MRG Effitas consider Zemana's tool the best tool for ransomware protection. Along with that, Zemana Antimalware detects and deletes spyware, adware and other different hardcore malware. The software brings real time protection and additional features like browser cleanup. While Zemana Antimalware is available in a free version, you will have to get the Premium subscription to get real-time protection and ransomware protection.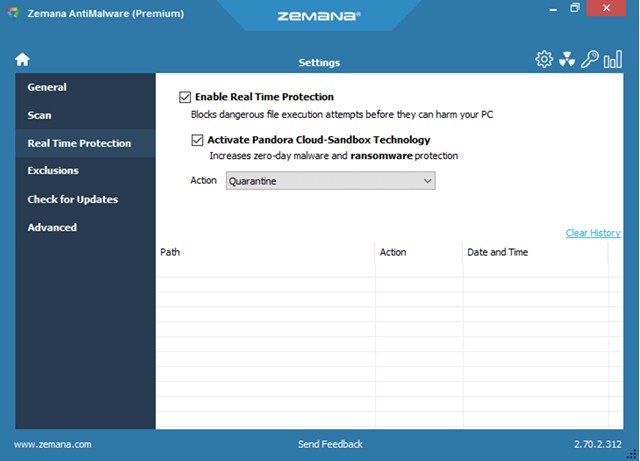 Download: (Free, Premium starts at $15.99/year)
Platforms: Windows 10, 8, 7
3. Bitdefender Internet Security 2017
Bitdefender is one of the popular names when it comes to antivirus tools and they have a pretty capable internet security software. The Bitdefender Internet Security software claims to bring ultimate protection against internet threats and includes advanced protection from the latest ransomware threats. With Bitdefender, you can even place your important files in a special protection to make sure they are not affected when your system is hit by a ransomware attack. Other than that, the tool also brings security when you're connected to a public or non-secure WiFi network and brings features like Parental Advisor and Privacy Firewall.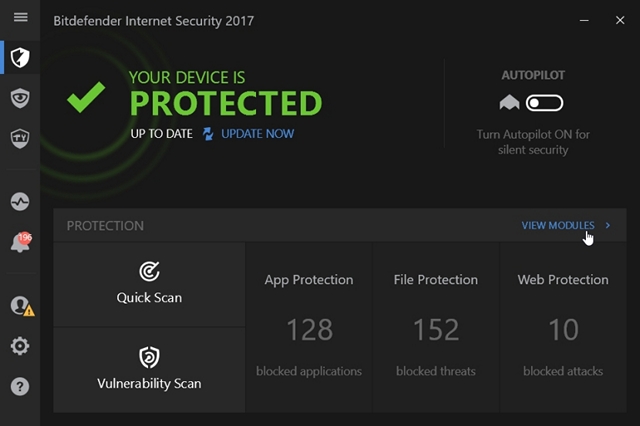 Bitdefender also offers a free anti-ransomware tool that prevents ransomware from CTB-Locker, Locky, Petya, and TeslaCrypt ransomware families. This acts more like a vaccination tool, so if you want to real time protection, you should get the Internet Security software.
Download: (Free Trial, $44.99/year)
Platforms: Windows 10, 8, 7
4. Malwarebytes 3
As the name suggests, Malwarebytes is aimed at malware infecting PCs. The software brings smarter detection and features specialized ransomware protection. Malwarebytes claims to bring next gen technology to shield your files from ransomware. Thanks to its anti-malware, anti-spyware, and anti-rootkit technology, the tool also detects malware in real time while also removing them. That's not all, as Malwarebytes 3 also defends your browser and other software that connect to the internet. It also detects fake and infected websites. Overall, Malwarebytes is arguably the best solution when it comes to malware detection and removal.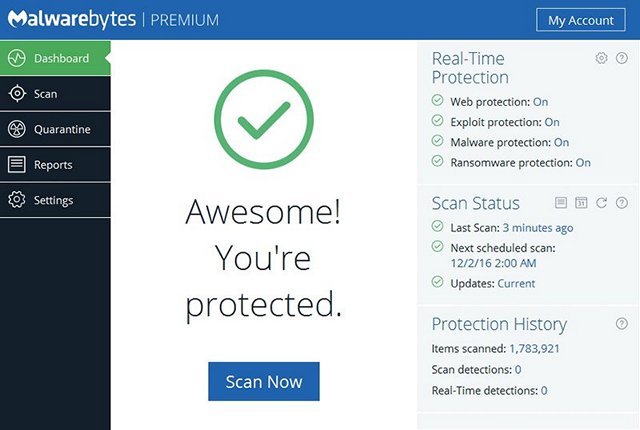 The company also acquired CryptoMonitor last year, and introduced its Anti-Ransomware tool, so if you are specifically looking to block ransomware, you can also check it out.
Download: (Free Trial, $39.99/year)
Platforms: Windows 10, 8, 7, Vista, XP 
5. HitmanPro.Alert
HitmanPro.Alert might not be as popular as other tools on this list but it's known to be a pretty comprehensive anti-malware software. The software can detect any behaviour of a ransomware in your system and it makes sure to remove or reverse its effects. HitmanPro.Alert packs in a CryptoGuard technology that claims to neutralize any budding ransomware in your system and restore the files before they are encrypted. Unlike other anti-ransomware out there, it keeps a check on any malicious behavior to detect any malware, or malicious files in the system.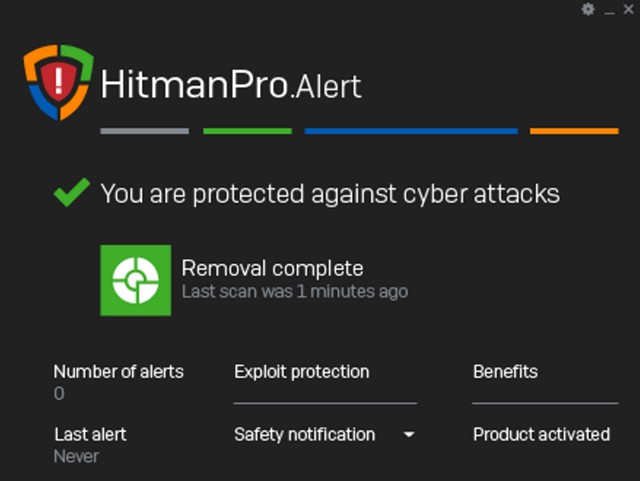 Other than that, the software brings cloud assisted scanning, online banking protection, and more.
Download: (Free Trial, $34.95/year)
Platforms: Windows 10, 8.1, 7, Vista, XP
6. Kaspersky Internet Security
Kapersky Internet Security is another very popular solution out there and like other popular antivirus solutions, Kaspersky too features an anti-ransomware capabilities. The software brings protection against different internet threats including ransomware, while also protecting your privacy and personal information, in case of an attack. The "award winning" security solution also notifies you about any unreliable webites, so that ransomware does not spread to your system.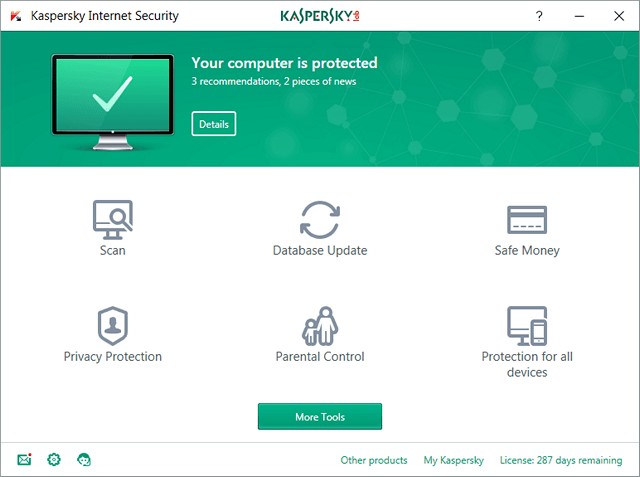 The tool also brings handy additional features like the ability to stop unauthorized usage of webcam, protect your system when you are connected to a public WiFi networkextra security when making payments, and more.
Also, if you are part of a business and if you have been hit by a ransomware attack, you can download the free Kaspersky Anti-Ransomware Tool for Business that claims to work against ransomware and cryptomalware immediately!
Download: (Free Trial, $54.99/year)
Platforms: Windows 10, 8, 7, Vista, XP
SEE ALSO: 12 Online Scam Protection Tips To Keep Yourself Secure
The Best Anti-Ransomware Software For Ransomware Protection
Well, these are best anti-ransomware software for Windows that will make sure you are protected against any ransom viruses. In fact, some of these tools also claim to detect and remove cryptolockers but I'm not too sure about that. So, if you are worried about the increasing ransomware attacks, do make sure to download one of these anti-ransomware tools on your Windows PC. Well, that was all? Do let us know your experience with any ransomware and anti-ransomware tools in the comments section below.
---
Load More