Are you tired of passing chits around to your crushes, or asking your friends to help you ask that girl/guy out? Well, why not make use of the technology at hand! Dating is no longer a taboo in our country, and there are a plethora of apps that allow you to search a potential partner in no time. However, out of all those apps, choosing the right one for you can be a tough task. Well, fret not, as we bring to you our list of 10 best dating apps in India, with each app having a unique way of presenting potential matches for you. Well, what are you waiting for, let's get started:
10 Best Dating Apps in India for Android and iOS
1. Tinder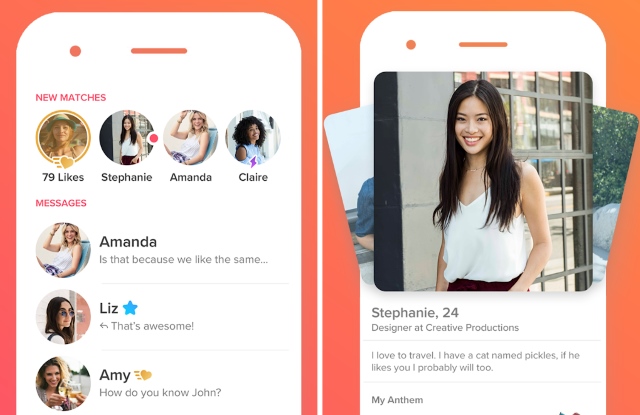 The app that needs no introduction – Tinder. Tinder boasts of the largest user base online of people searching for flings or love online. Its algorithm, which can also be inarguably called its unique selling proposition, is that the app has the ability to connect you with a person in less than a minute. Then, there are features such as super like and more, allowing you to express your emotions on a larger scale. The interface is also one of the easiest to use, embedding gestures in the interface for swiping left and right, making the entire user experience great. If you're someone who is new to the online dating scene, Tinder is easily the first recommendation for you.
Install: Android / iOS (Free with in-app purchases)
2. Happn
Mix your real life paths with your dating app – that is what the Happn app does. The service's tagline reads, "Find the people you have crossed path with" and it literally lets you do that. Every time you cross paths with another Happn member in real life, their profile shows up on your timeline. Similar to other dating apps out there, once you're matched with a profile, the process remains the same – conversing with them in private chat. However, the simple idea of showing people you've crossed paths with is what sets this app apart from others. It allows you to better know the people around you, as well as discover people you might have met.
Install: Android / iOS (Free with in-app purchases)
3. OkCupid
The idea behind OkCupid is to give you more refined dates based on your interests and passions. You have the power to eradicate prospective matches based on the things you dislike. OkCupid takes most of the guessing out of the dating process before you are matched. As such, the chances of finding a person that you can connect to are much higher in OkCupid. However, when it comes to using OkCupid is that most of its exclusive features require you to pay real money, which might not appeal to some. Nonetheless, if you want your dates to be selected based on your preferences and not just looks, OkCupid is what you're looking for.
Install: Android / iOS (Free with in-app purchases)
4. Hinge
Unlike apps that hook you up with strangers, Hinge follows a different path altogether. Hinge is a service which wants to set you up with friends of your friends. The app uses your Facebook profile to give you suggestions which include your friends, friends-of-friends, and 3rd-degree friends. The main idea is that your friends will be friends with people who more or less have the same personality as you. If you are someone who likes that friend of a friend but can't directly approach him/her, Hinge might be the service you are looking for.
Install: Android / iOS (Free with in-app purchases)
5. Truly Madly
Competing with plenty of other global apps is Truly Madly, which is a homegrown app in India. The app is made especially for India and hosts one of the largest dating communities in the country. The service also allows users to create and upload a video profile allowing users to better express themselves. If you live in India and looking for a date, TrulyMadly is one of the best ways to do that. I mean, it's always better to use an app that lists out singles based on your location, right?
Install: Android / iOS (Free with in-app purchases)
6. Woo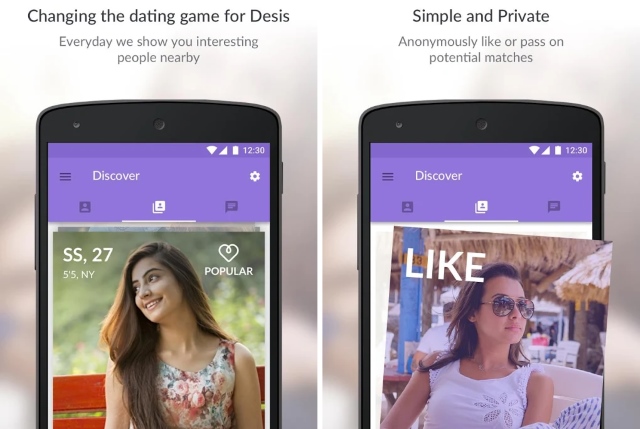 Not everybody is looking for flings with just about anyone, right? Well, that's where Woo comes in. Woo is a dating and matchmaking app, which focuses only on well-educated professionals. With some unique features such as Voice Intro, Tag Search, Question Cast and Direct Messaging, this app proves to be rather engaging for the user. Additionally, there's also the Woo Globe feature which helps you find a partner for you globally. Woo might be new to the dating app scene, but has managed to gain a lot of userbase thanks to its matching algorithm and neatly designed user interface.
Install: Android / iOS (Free with in-app purchases)
7. Coffee Meets Bagel
Coffee Meets Bagel has one of the most innovative approaches when it comes to creating a dating app. The service is positioned towards women, giving them more power by taking away the guessing game. Women only receive suggestions from those guys who have already shown an interest in them. On the other hand, the guys only have the option to like or pass on the matches. Additionally, every user gets suggestions once a day, so you don't have to waste time browsing through multiple profiles. If you do not want to waste your time each day, but would still prefer to look for singles in your area that match your interests, Coffee Meets Bagel is definitely the app to go with.
Install: Android / iOS (Free with in-app purchases)
8. TryDate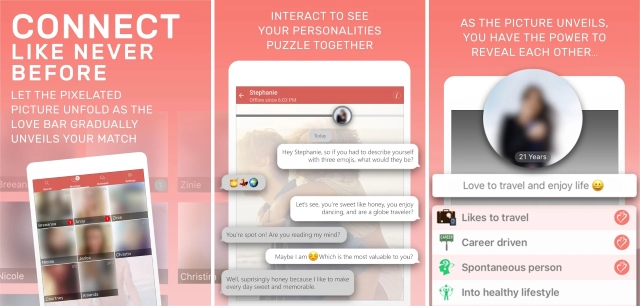 A lot of people prefer TryDate simply because of the service's guarantee of 100% verified profiles. While the user base is still growing, the biggest plus point here is that you will never stumble upon any bots or fake profiles. Another unique feature of the app is that you and your match won't be able to see each other's profile or know who you are talking to except that you've both liked each other. Chatting and interacting will gradually reveal yourself and the person behind your match, giving both of you a chance to learn about each other's personality before looks.
Install: Android / iOS (Free with in-app purchases)
9. Moco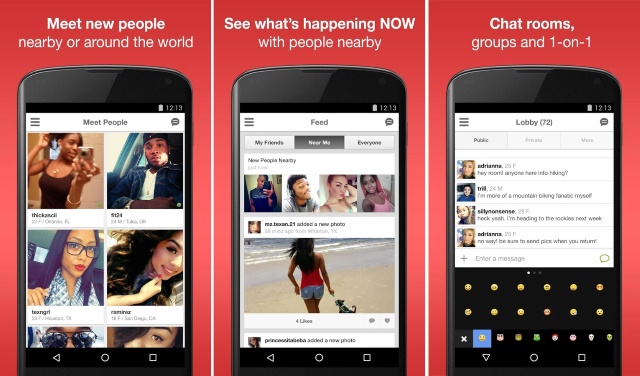 In a very short span of time, Moco has managed to gain a lot of popularity. And not just in the field of dating but also helping people meet new friends and socializing in a way that stands unmatched. The app boasts of features that let you add to your profile, the images, videos, music etc., you can rest assured of meeting some rather exhilarating people, who appreciate your fields of interests. Additionally, there are options for a public chat room or group chat as well, allowing the app to double up as a simple way of socializing or making new friends. Whether you're in the hunt of a partner or looking to make some new friends, Moco has got your app.
Install: Android / iOS (Free with in-app purchases)
10. Grindr
Grindr is the world's largest social networking app for gay, bi, trans, and queer people. Dating is harsh as it is, but it's especially hard for people who are not straight as there is no way to know that the people they fancy have the same sexual preferences or not. Thankfully, Grindr takes out the guessing part of the world of gay, bi, trans, and queer dating, allowing them to find like-minded people. If you have different interests, Grindr allows you to find someone based upon your interests only.
Install: Android / iOS (Free with in-app purchases)
SEE ALSO: 10 Best Apps to Hide Photos and Videos on Android
Mingle Your Heart out with these 10 Best Dating Apps in India
Gone are the days when dating was considered a taboo in India. We live in the new world, and thanks to the above-listed dating apps, searching for your potential soulmate is no longer a tedious task. So, which one of these apps will you be making use of? Let us know in the comments down below.