Experts recommend fostering pro skills at a young age so they have a lasting impact on the respective careers. If you want your little champ wants to learn something new, like develop groundbreaking apps or create stunning websites, there couldn't be a better time to get a headstart. Contrary to traditional belief, learning the basics of coding is a lot easier than you might think. The colorful UI, game-like exercises designed to build problem-solving and logical thinking skills help make learning how to code fascinating. So if you want your child to step into the world of coding while having some fun, check out our curated list of the best coding apps for kids (free and paid) on iOS and Android in 2021.
Best Coding Apps for iPhone and Android for Kids in 2021
Coding apps for kids have gotten way smarter than they used to be. They have found numerous intriguing ways to teach the fundamentals of coding to young learners. The bite-sized exercises come with several surprises, including progress rewards that keep children motivated to give their best.
With in-depth progress tracking, these kids coding apps enable parents to keep an eye on their performance. Hence, finding their strong and weak areas become a tad easier. What's more, the apps also offer insightful tips to keep children on the right track. As parents, all you need to do is find the right coding app for your kids.
1. codeSpark Academy
codeSpark Academy makes learning how to code a fun-loving experience for kids. It features a "no words" interface and teaches the basics of computer programming through highly interactive learning activities such as games, puzzles, game design, step-by-step creative projects, and offline printables. This interactive learning concept makes codeSpark a popular home coding program for kids from 5 to 9 years of age.
Moreover, the app offers personalized daily activities based on a child's progress that not only keeps the interest intact but motivates young learners to give their best. Parents can keep track of the child's activities and also offer up help when needed. Notably, this award-winning coding app can support up to 3 individual child profiles, so more than one child can use the app to learn how to program.
codeSpark Academy features a pleasing interface that feels snappier and is easy to navigate. While the coding app is available for free, unlocking features like codeSpark academy enrollment requires in-app purchases. Overall, it's one of the best coding apps for young learners.
Key features: 
Highly interactive learning activities
Offers personalized daily activities
Step-by-step creative projects
Intriguing puzzles 
Support 3 individual child profiles
Install: iOS and Android (Free, $3.99 for codeSpark academy enrollment) 
2. Hopscotch-Programming for kids
Learning becomes a joyful experience when there is plenty of fun elements woven into lessons. Hopscotch offers a wide range of games designed to teach the basics of programming through engaging gameplay. Through kid-friendly programming, the app gives complete freedom to children to code whatever they want. From games and stories to arts, they have the liberty to stretch their imagination to create something truly interesting.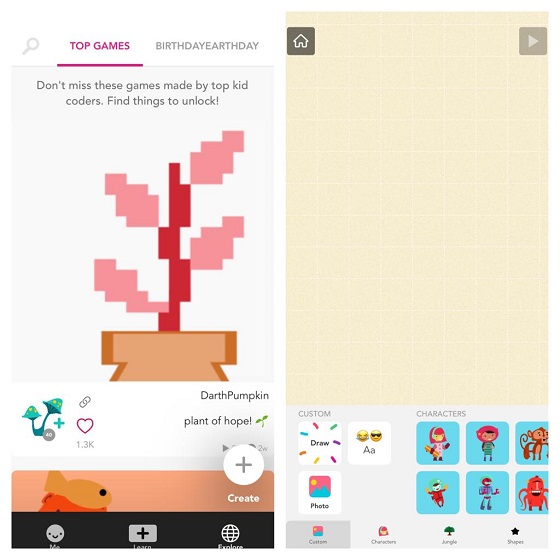 Notably, children can watch play-along video tutorials to make games like Agar.io, PokemonGo, Crossy Road, and more. As your kid goes ahead, the app will challenge them to make advanced games and apps.
Hopscotch is backed by a vast community where your child can publish his/her creations. Other children can play and learn from your kid's games. With millions of projects at the disposal, children will always have something out of the box to try. As thousands of new games are published every week, exploring the massive library will never fail to bring a ton of surprises.
What's more, it also allows kids to tweak and remix any project for a more personalized learning experience. Though Hopscotch is a free coding app for kids, you will need a $9.99 per month or $79.99 per year subscription to unlock all the features.
Key features: 
A massive library of games 
Play-along video tutorials
Kid-friendly programming
A vast community of young learners 
Option to tweak and remix any project 
Pleasing user-interface 
Install: iOS (Free, $9.99/month for the premium version)
3. Mimo
Mimo has long been a popular coding app among mobile users. So, there is no question of missing out on this one. What makes this app stand out is a solid library of science-based, game-like exercises. Each exercise has been thoughtfully designed to enhance specific skills.
Mimo can help you learn all the popular programming languages, including HTML, CSS, SQL, JavaScript, Python, and more. To ensure kids remain guided throughout the learning process, it provides immediate feedback. More importantly, the app acts as a true teacher, offering the much-needed tips to sort out the confusion and find ways to improve the overall performance.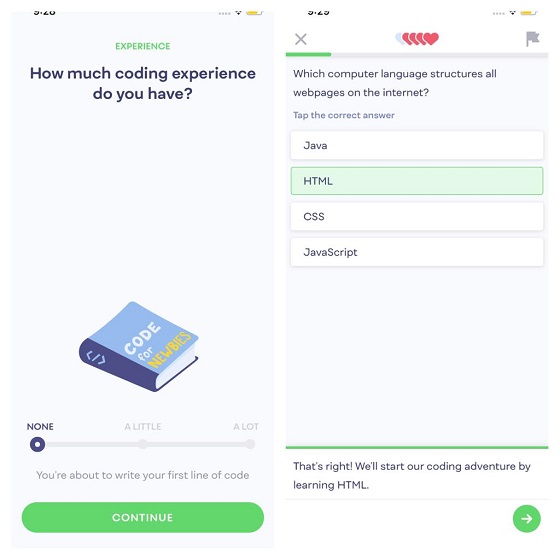 What's more, Mimo also creates fully personalized bite-sized exercises that children can solve at their own pace. Depending on their needs, kids can choose the preferred experience level – beginner and intermediate. The app also offers coding challenges to help kids progress and stay motivated during the learning process.
Along the way, children can monitor their progress and collect a lot of prestigious achievements and badges. Furthermore, there is a great community to interact and share thoughts with other coders. Like other coding apps in this roundup, Mimo also offers a limited free version and requires you to opt for a premium version to unlock all the features. Putting everything into the right perspective, Mimo deserves to be rated one of the best coding apps for iPhone and Android devices.
Key features: 
Teaches popular programming languages including HTML, CSS, SQL, JavaScript, Python, and more
A solid library of science-based exercises 
Creates fully personalized bite-sized exercises
Instant feedback
Install: iOS and Android (Free, $8.99/month for the premium version)
4. Google Grasshopper
If you are hunting for a top-notch yet completely free coding app for kids on iOS and Android, look no further than Google Grasshopper. The app offers a smooth-sailing headstart to beginners who want to have a good grip over coding without getting into complexity.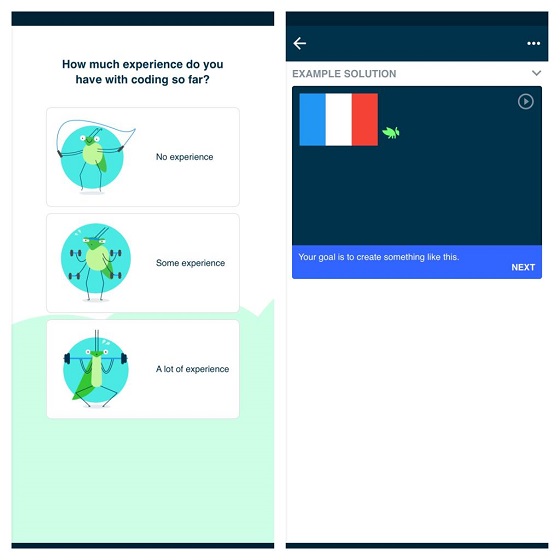 Grasshopper has a decent collection of coding games designed to teach how to write JavaScript. The app provides a series of challenging levels as you move ahead to ensure learning remains fascinating. Personally, I have found the visual puzzles quite interesting. They not only enhance problem-solving skills but also aim at clearing coding concepts.
Grasshopper also provides coveted awards to encourage learners and motivate them to give their best. Another feature that makes it a great asset for kids is the real-time feedback to guide and enable them to find the right answers to problems. In a nutshell, Google Grasshopper has got your kid fully covered as a free smart coding app.
Key features: 
Visual puzzles
A great collection of games 
Enhances a variety of essential skills, including problem-solving and tactical think
Provides coveted awards to encourage learners
Install: iOS and Android (Free)
5. SoloLearn
Claiming to have the world's largest collection of free courses to teach how to code, SoloLearn is a one-stop platform for kids to get a good hang of coding. The courses aim to teach your kid the fundamentals of Python, C++, JavaScript, Java, jQuery, machine learning, data science, and more. It also offers a certificate for each course that you complete.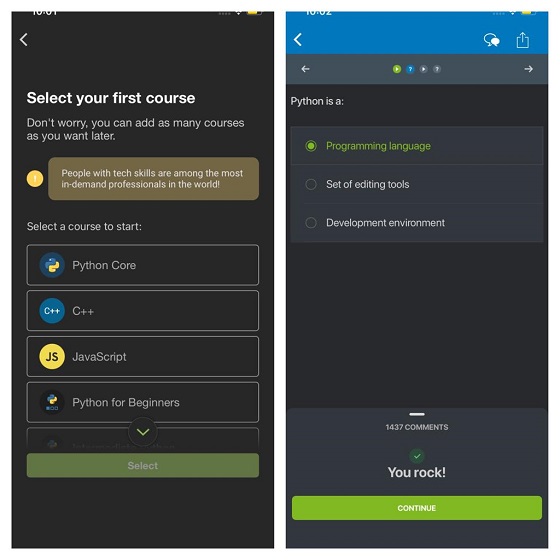 Apart from letting you choose from thousands of programming topics, SoloLearn also keeps you in the loop about the latest coding trends. So if you want to stay informed about the latest coding technologies and remain ahead of the curve, the app can prove to be super handy.
Another feature that makes SoloLearn a top pick for anyone willing to learn to code is the head-to-head competition designed to get the most out of you. The competition compels you to bring your best and also learn from others. That's not all. SoloLearn also has an ever-growing community of learners with whom you can interact and share your thoughts with like-minded people.
Key features: 
Thousands of programming topics
Head-to-head competition
An ever-growing community of learners
Offers a certificate for each course
Install: iOS and Android (Free, $6.99/month for the pro version)
6. Programming Hub
Programming Hub has managed to catch my attention for multiple reasons. First and foremost, the app provides bite-sized lessons that kids would enjoy taking on at their own convenient speed. Each lesson focuses on teaching a core concept in a pretty simple way. and with a game-like structure, the courses don't allow boredom to creep into the learning process.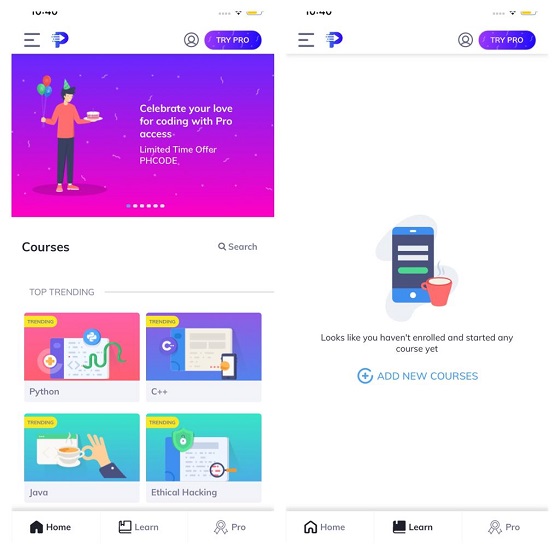 Boasting a massive collection of over 5000 programs and more than 35 courses, Programming Hub has got everything covered to be a complete learning resource. Kids can learn to code with HTML, Javascript, C, C++, C#, Swift, Python, R Programming, Java, Artificial Intelligence, CSS, etc. Interestingly, Programming Hub also allows kids to learn R programming, a programming language used for big data statistical analysis, reporting, and graphical representation. With the categorized view for programs, finding a specific program is hassle-free.
Thanks to the periodic updates, the app keeps adding new programs so that kids will never get bored with learning. Besides, it also provides the needed feedback and support from coding experts for guidance. Taking everything into account, Programming Hub is a comprehensive asset which children can use to learn programming and coding at their desired pace.
Key features: 
Over 5000 programs and more than 35 courses
Concept-based instructions 
Fully interactive learning experience 
Feedback and support from coding experts
Install: iOS and Android (Free, $6.99/month for the pro version)
7. Codeacademy Go
For kids who want a coding app to practice coding syntax extensively on their iPhone or Android device, Codeacademy Go is by far the best bet. The app focuses on teaching the core aspects of data science, web development, Python, JavaScript, and SQL. It offers daily flashcards that children can skim through in a breeze. Plus, there is also a better way to review everything that they have learned or are learning.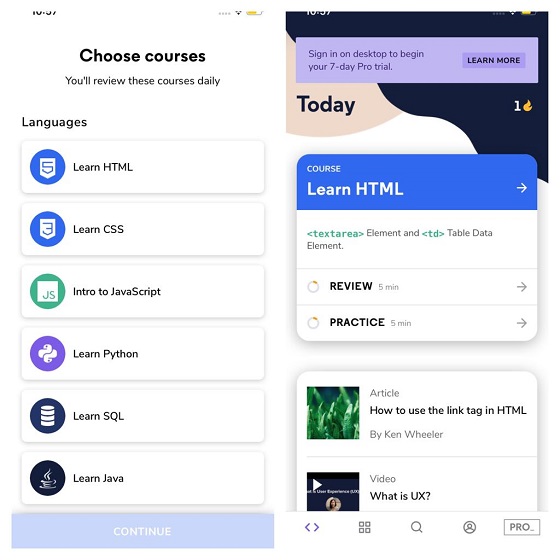 While it's easy to start learning something new, it's a bit hard to keep the tempo intact as you go ahead, largely due to the increasing level of challenges that come along. That's why Codeacademy Go motivates you to maintain your streaks and also track your progress. With detailed insight into your performance, the app allows you to figure out your kids' shortcomings and focus on enhancing their skills.
Codeacademy Go is another ideal option (apart from Google Grasshopper) for kids to learn coding on their iOS or Android device for free, without having to spend any money.
Key features: 
Offers daily flashcards
Easy way to practice coding syntax
Option to maintain streaks and track progress 
Detailed insight into your performance
Install: iOS and Android (Free)
8. Coding for Kids
Of all the coding apps for kids that I have tried, "Coding for Kids" has fascinated me the most. What has struck me the most about this app is the playful concept that teaches kids the fundamentals of programming with utmost ease. Packed with a great collection of over 200 exciting games like popping balloons, firefighting, playing a dentist, and more, it never fails to amaze.
Aside from offering a ton of joy, the games foster problem-solving and logical thinking skills. Besides, it also tries to boost memory through playful games. With over 1000 levels, children have a lot to take on. They need to recognize patterns to complete each level and also order actions in a logical sequence. With easy-to-follow instructions, the app makes learning how to code a pretty simple affair.
Coding for Kids is available for free with restriction, and you will need to subscribe to ($4.99/month or $29.99/year) the premium version to have access to all the features. Limited freemium version aside, it remains a highly recommended coding app for children.
Key features: 
Playful concept 
Collection of over 200 exciting games
Over 100 levels 
Easy instructions 
Install: iOS and Android (Free, $4.99/month or $29.99/year for the pro version) 
Top iOS and Android Coding Apps for Kids
There you go! So, these are the best free and paid coding apps for kids on Android and iOS. With so many interactive apps vying for attention, finding a more suitable coding app shouldn't be a big ask. But before you put your child on the learning path, be sure to let me know the name of the app that you picked and why. Besides, if there is any other coding app that deserves to be in this roundup, let me know in the comments section below. We will check out your suggestions and update the list right away.