Apple offers merely 5GB of iCloud storage for free, which is too little to accommodate all the photos and videos. Let alone backing up your entire iOS device. Of course, you can always upgrade to a premium iCloud storage plan (starts at $0.99/month for 50GB), but not everyone wants to buy a subscription. And this is where Google Photos becomes a viable alternative for those willing to store their entire photo library in cloud storage for better management and universal accessibility. If that's you, follow along to learn how you can backup your iPhone and iPad photos to Google Photos for free.
Backup iPhone and iPad Photos to Google Photos for Free
Below are the quick links to all the topics covered in this article. You can click on the links to directly go to the tutorial if you want.
What Happens When You Upload Your Photos/Videos to Google Photos
When you upload your photos/videos to Google Photos, they are automatically compressed to save space. For instance, if your videos are higher than 1080p, they will be resized to 1080p. Similarly, all the images that are larger than 16MP will be resized to 16MP.
A photo with 16MP or less (and a video with 1080p or less) may look close to the original quality. Be warned that some information like closed captions might be lost. So, keep these shortcomings in mind before going to use Google Photos' "unlimited free storage" feature.
What If You Want to Upload Original Quality Photos/Videos to Google Photos
You can choose to upload your original quality photos and videos to Google Photos. But do note that they will come under Google's limited free cloud storage plan. Right now, the search giant offers 15GB of free storage which is shared across Gmail, Google Photos, and Google Drive.
Google's storage plan starts at $1.99/month for 100GB.
Install Google Photos on Your iPhone or iPad
To get started, make sure you have installed Google Photos on your iOS or iPadOS device. To do so, head into App Store and then search for Google Photos. Next, install the app. It's available for free and requires iOS 11 or later.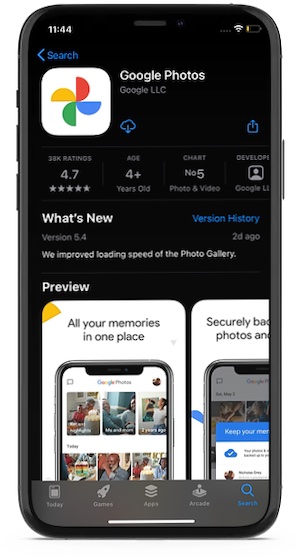 Backing Up iPhone or iPad Photos/Videos to Google Photos
1. Launch Google Photos app on your device.
2. Now, sign in using your Google account and then tap on Back up as (your Google account name).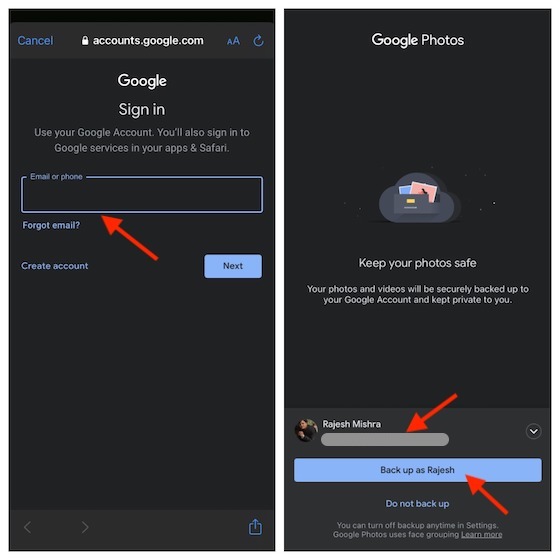 4. Next, choose the High-Quality option and tap on Confirm. Now, all of your iPhone or iPad photos will start backing up to Google Photos.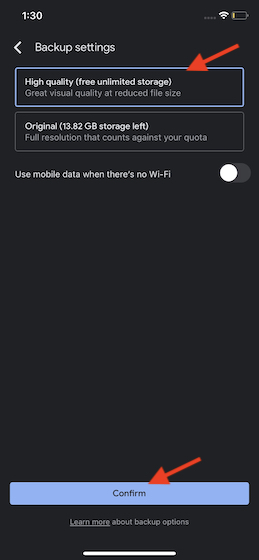 Note:
As mentioned, you also have the option to upload photos in original quality. Be sure to check out the available storage for your Google Account before choosing this option.
There is an option to "use Mobile data when there is no Wi-Fi". If you have enough bandwidth, turn on the toggle to ensure uploading of photos and videos doesn't come to a halt when Wi-Fi is not working or unavailable. 
Make the Most of Google Photos' Unlimited Free Storage
So, that's the way you can transfer your iPhone/iPad photos or videos to Google Photos. Of course, there are some caveats but the option to have unlimited cloud storage for free is great. What's your take on it? Shoot your thoughts in comments below.