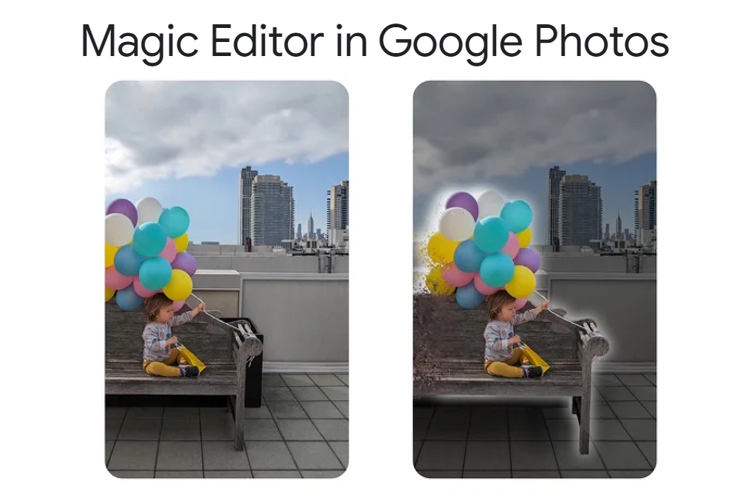 With ChatGPT and other similar AI tools being at the forefront of recent, you might have forgotten that Google has been using AI in its for the longest time. Google Photos is one such app that keeps adding new AI features from time to time. Magic Eraser is one of the features it received with the Pixel 6 back in 2021, and Google Photos is now getting a souped-up generative AI feature called Magic Editor. Let's learn what it is and how it works here.
Magic Editor in Google Photos Announced
Announced at Google I/O 2023 today, Google Photos will let you use generative AI to edit your existing images and reimagine them in a new light. What does this mean, you ask? The company gave a quick demo of the feature on stage at the event. And well, we will let the GIF in the tweet below do the talking.
As shown in the GIF below, the highlight of the Magic Editor feature in Google Photos is that it lets you "improve the overall composition of your photo by allowing you to reposition the subject of your shot to the best spot." You might have already noticed that the Photos app will fill in the gaps after you reposition the subject. Isn't that just bonkers?
Moreover, it lets you make edits to specific parts of your existing photo, such as the background, sky, and more, to improve its overall look. You can even adjust the lighting to give your photos that much-needed uplift.
In short, Magic Editor eliminates the need for users to be a Photoshop-whiz. As for when you can try it out, Magic Editor in Google Photos will be available in early access on select Pixel phones later this year. This sounds like the Pixel 8 might be the first Google phone to come with this feature out of the box.