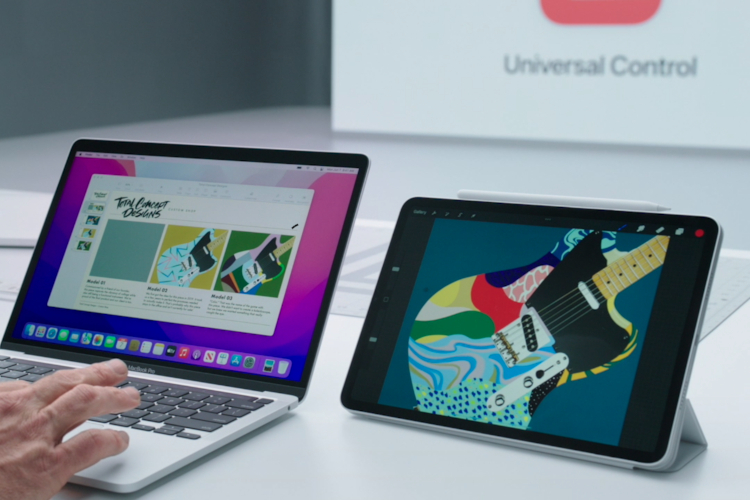 During this year's WWDC, Apple introduced the Univeral Control feature in macOS Monterey, which will allow users to control their Macs and iPads with a single mouse or keyboard. While this cool feature was expected to make its official entry by the end of this year on macOS Monterey, it still hasn't happened. Well, if you were waiting for the feature to arrive with macOS 12.1, it turns out that Apple has officially delayed the rollout of Universal Control to next year.
Universal Control Feature on macOS Monterey Delayed
It has been revealed that the Universal Control feature will now be released in Spring, 2022. The macOS Monterey page on the Apple website now has the updated launch timeline.
For those who don't know, Apple had announced that it will release the Univeral Control and SharePlay features before this year ends when it made the latest macOS version official. Although, SharePlay has officially made it to the Macs as part of the recent macOS 12.1 update.
While macOS users might feel a bit disappointed due to the delay, it probably feels right to wait. At least Apple is taking the time to ensure the Universal Control feature isn't buggy given that it is one ambitious feature that can help people multitask in a much, much better way.
To recall, the Universal Control feature will allow users to control a Mac or an iPad via one keyboard, mouse, or trackpad and will also let users connect multiple Macs and iPads. This functionality will help users see the output of one device on another. For instance, if something is typed on a Mac, users will be able to see those words appear on an iPad. Additionally, users will be able to drag and drop content from one Apple device to another.
The Universal Control feature, whenever it is released, will be compatible with MacBook Pro (2016 and later), MacBook (2016 and later), MacBook Air (2018 and later), iMac (2017 and later), iMac (5K Retina 27-inch, Late 2015), iMac Pro, Mac mini (2018 and later), Mac Pro (2019), iPad Pro, iPad Air (3rd generation and later), iPad (6th generation and later), and iPad mini (5th generation and later).
In related news, the latest macOS Monterey 12.1 update brings the SharePlay and screen facing feature in FaceTime, Apple Music's Voice plan, redesigned Memories in Photos, and more features and fixes.
---
Load More