If you are using a Mac or an iOS device, you must be pretty well aware of AirDrop, Apple's simple system to transfer files between its devices. While we quite like the feature, as it makes for a seamless and easy file sharing between iDevices, it's not without its flaws. Firstly, AirDrop has its fair share of issues, plus it uses both WiFi and Bluetooth to transfer files. Also, as you might have guessed, the feature is only available for Apple devices. So, if you are a Windows or Android user who wants a similar solution, we have you covered. Here are the 6 best AirDrop alternatives for Windows you can use:
1. Snapdrop
Snapdrop is the most simple yet arguably the best AirDrop alternative. Since AirDrop comes baked into iOS and macOS, you don't have to go through a set up process and it's the same with Snapdrop too. It's a simple web app that lets you share files over the same network. The working of the app is pretty simple, you can just open the Snapchat webpage on devices you want to share data with, share the file and it will be available for download. Also, it's free and there's no limit on the size of a file. However, since it works on the web browser, you will need an active internet connection.
There aren't a lot of configuration options here and you can only set the name of your device but it brings the same level of simplicity that AirDrop offers. If you are worried about security, Snapdrop is an open-source project and the developer claims that no data is shared with the server. Moreover, the app does not use cookies or a database.
Use: (Free)
Availability: Web
2. Xender
Xender is a pretty popular file sharing app, which is available for multiple mobile platforms for free (includes ads) but what makes it a great AirDrop alternative is the fact that it has a pretty cool web app. Connecting your phone to your PC or Mac is pretty simple with Xender. You can visit the personalized link that Xender offers or scan the QR code in Xender's web app. Once done, you will be able to see all the files on your phone. You can then go ahead and download files from your phone or transfer files from your PC to phone. It all works like a charm.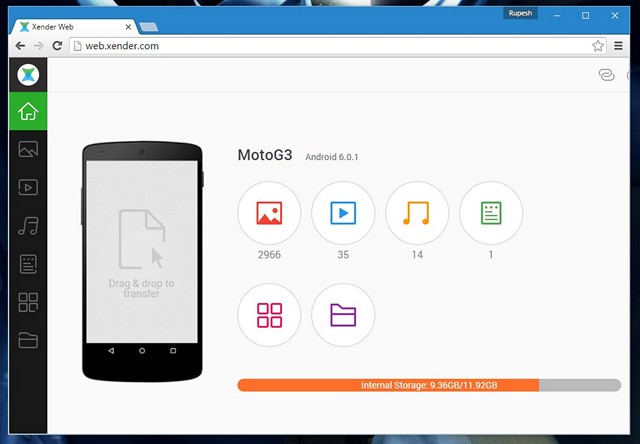 While the app is not as simple as AirDrop but the good news is, it works pretty well and transfers files very quickly without using your bandwidth.

Download: (Free)
Availability: Android, iOS, Windows Phone, Web
3. Instashare
Instashare is another great AirDrop alternative and that's because it's very similar to the Apple offering. After you have installed the app on your phone and PC, you can just hit the share button on a file and select Instashare. Then, the app will list the devices you can transfer files with. Select the device and the file will be transferred, just like AirDrop. The app supports all file types and there's no limitation on file sizes. It even includes a clipboard sync feature, so that you can share links or text easily. The app is available as a free trial for 7 days, after which you will have to pay $5.90 to use it.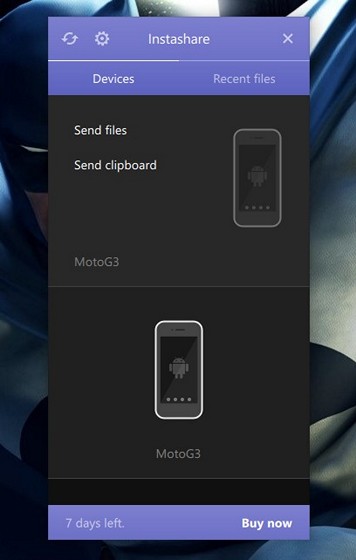 Download: (7-day free trial, $5.90)
Availability: Windows, Android, iOS, macOS
4. SHAREit
SHAREit from Lenovo is a fairly popular free (includes ads) file sharing application that works across almost all major platforms. The app lets you connect your smartphone to a PC or a Mac over the same WiFi network by scanning a QR code or by connecting to a WiFi hotspot, that the app generates. Once connected, you can send any file you want and there's also an option to send multiple files. It does not require an active internet connection and there are no limitations on size, so what's not to like. Sure, it lacks the simplicity of AirDrop but you'll certainly love it if you want to share larger files in a short duration.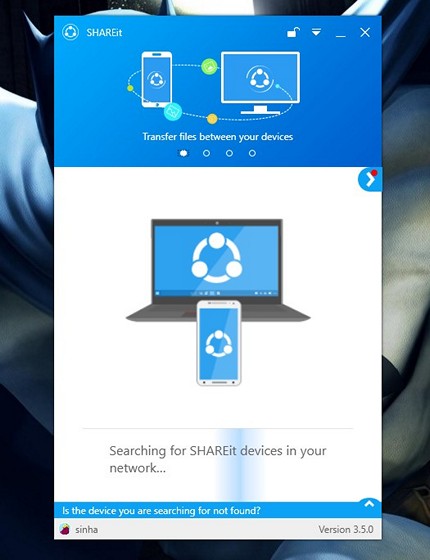 Apart from the file sharing features, SHAREit brings a host of additional features like the ability to control Powerpoint presentations on your PC from phone, browse PC files on your phone, back up photos and more.
Download: (Free)
Availability: Windows, Android, iOS
5. Zapya
Zapya is a very popular file sharing app, which is available on all platforms and even the web, which makes it a perfect AirDrop alternative. The free app (includes ads) lets you share all types of files from your phone to PC or PC to phone over the same network, without the usage of bandwidth. Also, it is pretty speedy (makers claim 200 times faster than Bluetooth) and there are no restrictions when it comes to file sizes. While the app is not as simple as the likes of Snapdrop or even Instashare, it works pretty well. You must be wondering, why get Zapya instead of Xender or SHAREit, well, Zapya offers something that both the apps are missing, a Windows client and a web app, respectively.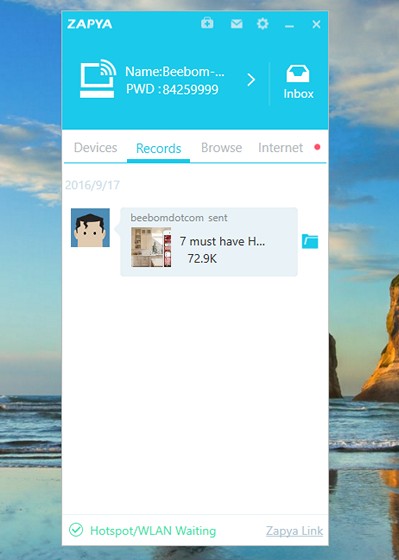 Download (Free)
Availability: Windows, macOS, Android, iOS, Web
6. Filedrop
Filedrop is a pretty simple offering, which lets you share files over the same network with ease. What works for the app, is its ease of use. Like AirDrop, the app lets you share a file or multiple files with just a couple of taps. Select the device you want to share files with, then select the files from a built-in file manager and you are good to go. While the UI is indeed pretty outdated and sticks out like a sore thumb, it's usable. Similar to other services in this list, Filedrop is available for free and there's no limit on file size when it comes to sharing.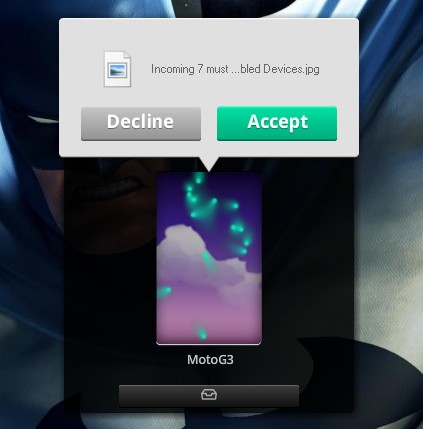 Download (Free)
Availability: Windows, macOS, Android, iOS
Bonus: Use Cloud Storage Services
With the advent of various cloud storage services, you can always use them to share files between your mobile and computer with ease. You can use Dropbox, OneDrive, Google Drive or any other cloud service you use on your phone as well as your Windows PC to share files easily. All you need to do, is upload your files in your cloud storage and the files will be available for you to see on any other device.
SEE ALSO:  How to Share Files Between Mac and PC Wirelessly
Use these AirDrop alternatives for Windows to share files with ease
Apple's AirDrop is certainly a great feature but if you are using Windows, the good news is, these AirDrop alternatives should be good enough. If you want a simple AirDrop alternative or if you want an extensive file sharing solution, we have you covered on both the fronts. So, try out these options on your Windows PC and let us know your thoughts in the comments section below.