If you are using a Mac or an iOS device, you must be pretty well aware of AirDrop, Apple's simple system to transfer files between its devices. While we quite like the feature, as it makes for a seamless and easy file sharing between iDevices, it's not without its flaws. Firstly, AirDrop has its fair share of issues, plus it uses both WiFi and Bluetooth to transfer files. Also, as you might have guessed, the feature is only available for Apple devices. So, if you are a Windows or Android user who wants a similar solution, we have you covered. Here are the 8 best AirDrop alternatives for Windows you can use.
Best AirDrop Alternatives for Windows in 2019
1. Windows Nearby Sharing
Windows Nearby Sharing is a built-in tool in the Windows 10 operating system which has been introduced with the April 2018 update. Depending on your region, you might have received the update a little later than the original launch date. The feature basically allows users to transfer files between nearby Windows devices using Bluetooth and WiFi. The feature can either be accessed from the Settings app or the quick settings in the Notification panel. If you cannot see the feature on your device, it might be that you have not turned it on. You can turn it on by going to Settings -> System -> Shared Experiences and clicking on the toggle below "Nearby Sharing" option.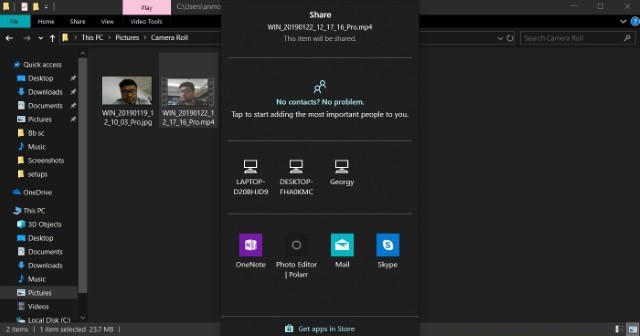 The feature works a lot like AirDrop and is very easy to use. That said, in my testing, the speed of transfer was nowhere as fast as what I get using AirDrop on Apple devices. I hope that the Windows team will work on this feature and improve the transfer speeds in the future. Despite its shortcomings, its great to see Windows having a native AirDrop alternative and you should definitely try it out.
Availability: Windows 10
2. Send Anywhere
Send Anywhere is a powerful file transfer tool which is a little different from most of the other file transfer tools that you are familiar with. While most other file transfer tools only allow you to transfer files between nearby devices, Send Anywhere allows you to send files, well, anywhere in the world. The way it works is that Send Anywhere uploads the files to its server and gives you a link which you can share with others. What differs Send Anywhere from a cloud storage provider such as Dropbox is that it never compresses the size of your file and you don't have to wait for the upload to finish to download the file.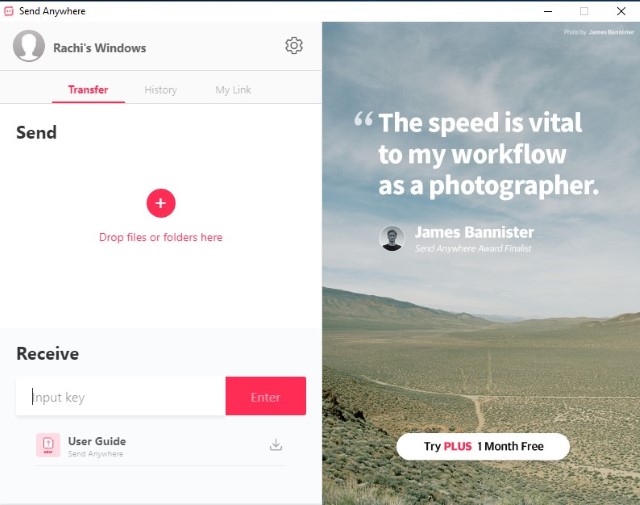 In fact, you can share the six-digit code with the file receiver and they can instantly start downloading the file while it's being uploaded. The file transfer although dependent on the network speed is quite fast.  The software has both a free and a paid version. The free version restricts you to 10GB of max file size which should be enough for most users. If you want more you can buy the paid plan which also offers extra advantages such as premium servers for faster transfer speeds, customizable expiration time, and more. This in my opinion is one of the best if not the best AirDrop Alternatives for Windows that I have used.
Use: Free, $5.99/month
Availability: Windows, macOS, Linux, Android, iOS, and Kindle
3. Microsoft Photos Companion
Microsoft Photos Companion came out of the famed Microsoft Garage project which creates apps for Android and iOS devices. Since we don't have Windows phones anymore, it's important for Microsoft to make Windows more open to other mobile operating systems. The Photos Companion app is a step in the same direction as it allows users to transfer photos from their Android or iOS devices to Windows machine over WiFi using the Windows Photos app. That means you will have to install the companion app on your smartphone while you will be using the built-in photos app on your Windows device.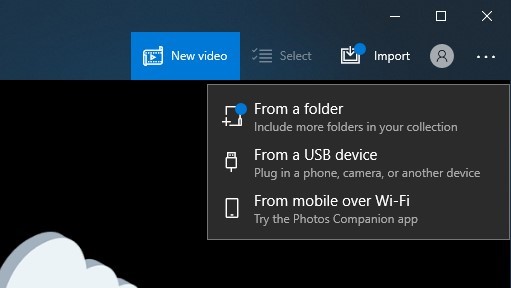 You can access this feature by launching the Photos app and then clicking on the "Import" button. The transfer speeds are really fast and I was quite happy with the service when I was testing it. The only obvious problem with this app is that it only works with images. Still, as far as AirDrop alternative for Windows go, I quite like this one as I use it on almost daily basis.
Use: Free
Availability: Windows, Android, and iOS
4. Snapdrop
Snapdrop is the most simple yet arguably one of the best AirDrop alternatives. Since AirDrop comes baked into iOS and macOS, you don't have to go through a set up process and it's the same with Snapdrop too. It's a simple web app that lets you share files over the same network. The working of the app is pretty simple, you can just open the Snapchat webpage on devices you want to share data with, share the file and it will be available for download. Also, it's free and there's no limit on the size of a file. However, since it works on the web browser, you will need an active internet connection.
There aren't a lot of configuration options here and you can only set the name of your device but it brings the same level of simplicity that AirDrop offers. If you are worried about security, Snapdrop is an open-source project and the developer claims that no data is shared with the server. Moreover, the app does not use cookies or a database.
Use: Free
Availability: Web
5. Xender
Xender is a pretty popular file sharing app, which is available for multiple mobile platforms for free (includes ads) but what makes it a great AirDrop alternative is the fact that it has a pretty cool web app. Connecting your phone to your PC or Mac is pretty simple with Xender. You can visit the personalized link that Xender offers or scan the QR code in Xender's web app. Once done, you will be able to see all the files on your phone. You can then go ahead and download files from your phone or transfer files from your PC to phone. It all works like a charm.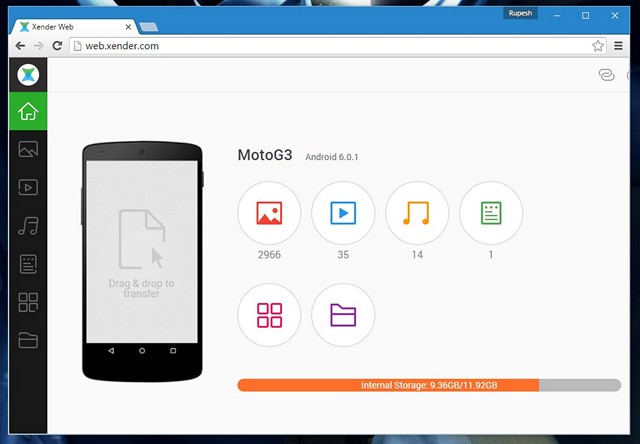 While the app is not as simple as AirDrop but the good news is, it works pretty well and transfers files very quickly without using your bandwidth.

Download: Free
Availability: Android, iOS, Windows Phone, Web
6. Instashare
Instashare is another great AirDrop alternative and that's because it's very similar to the Apple offering. After you have installed the app on your phone and PC, you can just hit the share button on a file and select Instashare. Then, the app will list the devices you can transfer files with. Select the device and the file will be transferred, just like AirDrop. The app supports all file types and there's no limitation on file sizes. It even includes a clipboard sync feature, so that you can share links or text easily. The app is available as a free trial for 7 days, after which you will have to pay $5.90 to use it.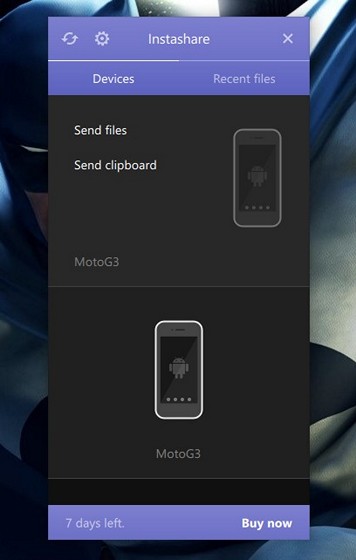 Download: 7-day free trial, $5.90
Availability: Windows, Android, iOS, macOS
7. SHAREit
SHAREit is a fairly popular free (includes ads) file sharing application that works across almost all major platforms. The app lets you connect your smartphone to a PC or a Mac over the same WiFi network by scanning a QR code or by connecting to a WiFi hotspot, that the app generates. Once connected, you can send any file you want and there's also an option to send multiple files. It does not require an active internet connection and there are no limitations on size, so what's not to like. Sure, it lacks the simplicity of AirDrop but you'll certainly love it if you want to share larger files in a short duration.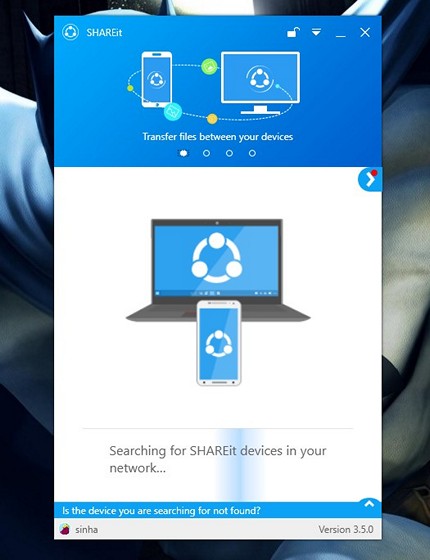 Apart from the file sharing features, SHAREit brings a host of additional features like the ability to control Powerpoint presentations on your PC from phone, browse PC files on your phone, back up photos and more. I have used SHAREit a lot in the past and can recommend this to anyone who is looking for AirDrop alternatives for Windows PC.
Download: Free
Availability: Windows, Android, iOS
8. Filedrop
Filedrop is a pretty simple offering, which lets you share files over the same network with ease. What works for the app, is its ease of use. Like AirDrop, the app lets you share a file or multiple files with just a couple of taps. Select the device you want to share files with, then select the files from a built-in file manager and you are good to go. While the UI is indeed pretty outdated and sticks out like a sore thumb, it's usable. Similar to other services in this list, Filedrop is available for free and there's no limit on file size when it comes to sharing.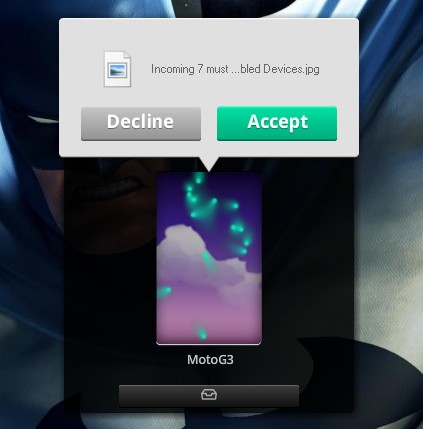 Download: Free
Availability: Windows, macOS, Android, iOS
Bonus: Zapya
Zapya is a very popular file sharing app, which is available on all platforms and even the web, which makes it a perfect AirDrop alternative. The free app (includes ads) lets you share all types of files from your phone to PC or PC to phone over the same network, without the usage of bandwidth. Also, it is pretty speedy (makers claim 200 times faster than Bluetooth) and there are no restrictions when it comes to file sizes. While the app is not as simple as the likes of Snapdrop or even Instashare, it works pretty well. You must be wondering, why get Zapya instead of Xender or SHAREit, well, Zapya offers something that both the apps are missing, a Windows client and a web app, respectively.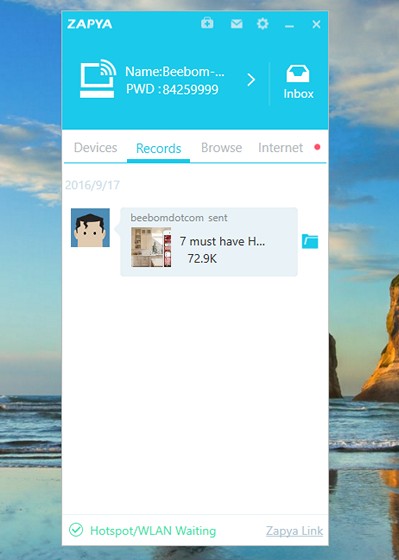 Download: Free
Availability: Windows, macOS, Android, iOS, Web
Cloud Storage Services
With the advent of various cloud storage services, you can always use them to share files between your mobile and computer with ease. You can use Dropbox, OneDrive, Google Drive or any other cloud service you use on your phone as well as your Windows PC to share files easily. All you need to do, is upload your files in your cloud storage and the files will be available for you to see on any other device. I understand that these services are not strictly AirDrop alternatives, but still, they are worth mentioning here as they do serve as a file transfer system without needing cables.
SEE ALSO:  12 Best Backup Software for Windows PC in 2019
Use These AirDrop Alternatives for Windows to Share Files with Ease
Apple's AirDrop is certainly a great feature but if you are using Windows, the good news is, these AirDrop alternatives should be good enough. If you want a simple AirDrop alternative or if you want an extensive file sharing solution, we have you covered on both the fronts. So, try out these AirDrop Alternatives on your Windows PC and let us know your thoughts in the comments section below.