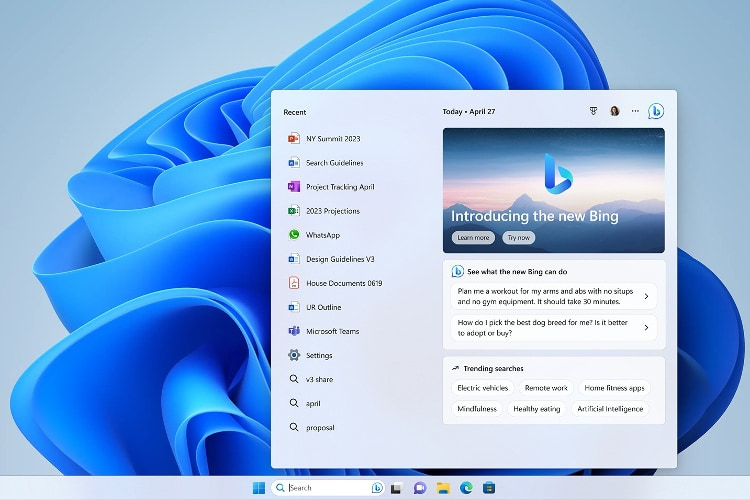 After the major Windows 11 22H2 update in October 2022, Microsoft is back with a significant new feature drop called "Moment 2". The new February 2023 Windows 11 update (KB5022913) brings a host of new features and has packed some surprising additions too, which were not expected to ship this early. The new features are not just part of Windows Update, but you can get new tools from app updates through the Microsoft Store. Learn everything about the new Windows 11 Moment 2 update.
Windows 11 February 2023 Update: What's New?
AI-powered Bing Comes to Windows 11 Taskbar
Microsoft is shipping features at a breakneck pace and it has not lost any moment to integrate the new AI-powered Bing into the Windows 11 Taskbar after recently bringing it to mobile. You can now use the new Bing from the taskbar itself and search your queries, chat with the Bing AI, ask questions, and generate content right from the Taskbar (see featured image). Do note that it does not answer questions in the search pane, instead, it takes you to Microsoft Edge where you can continue your chat and get answers quickly. The search bar is now typable.
Phone Link App for iOS
You can now connect your iPhone to Phone Link (previously known as Your Phone) on Windows 11 and it supports iMessage as well. Bear in mind, iPhone support has been added to the preview build of Phone Link which is currently available to Windows Insiders only. While Intel Unison supports iPhones too, this is a welcome new addition by Microsoft since you get iMessage integration as well.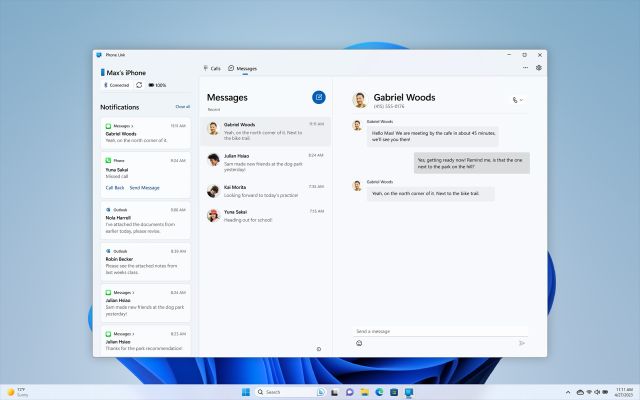 You can check and reply to your messages (not group messages), and access contacts and calls right from your PC. Apart from that, Samsung users can now easily turn on hotspots through the Phone Link app and can access recent websites from their smartphones.
Snipping Tool Gets a Built-in Screen Recorder
For years, Windows users have been waiting to get a native screen recording tool and finally, Microsoft has officially added a built-in screen recorder to the Snipping Tool with the Moment 2 update. Earlier, we had written a tutorial on how to get screen recording in the Snipping tool in Windows 11, but with the latest update, you don't have to try any workarounds. You can simply update the app from Microsoft Store and you can access the new Snipping tool with screen-recording functionality.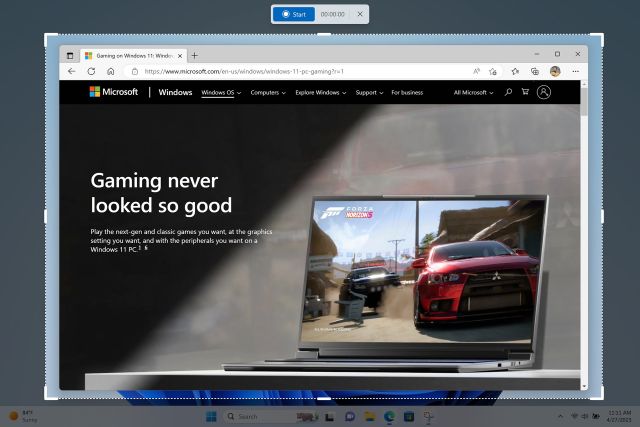 Windows Studio Effects Arrives on Windows 11
Now with the latest Windows 11 February 2023 update, you get Windows Studio Effects, which sits right into the Quick Settings panel. To enhance your look and sound during a video call, you can change some key camera and microphone settings. For example, you can enable portrait blur, turn on the eye contact effect, automatic framing, and voice focus. This will improve your video calling experience on Windows 11 and it supports all video conferencing apps.
Tabs in Notepad
With the release of the Windows 11 Moment 2 update, you can now navigate multiple Notepad files easily with tabs support. Similar to File Explorer tabs, you have the tabs feature in Notepad. This will allow you to keep your data organized and will let you switch between multiple notes in the same instance. To get the new Notepad, simply update it through the Microsoft Store.
Third-party Widgets are Finally Here
The latest Windows 11 update also brings third-party widgets to the Widgets panel. Currently, you have a small number of third-party widgets including Xbox, Spotify, Facebook Messenger, and Phone Link. You can check your Facebook messages right from the Windows 11 Widgets panel and Spotify allows you to access your playlists right there.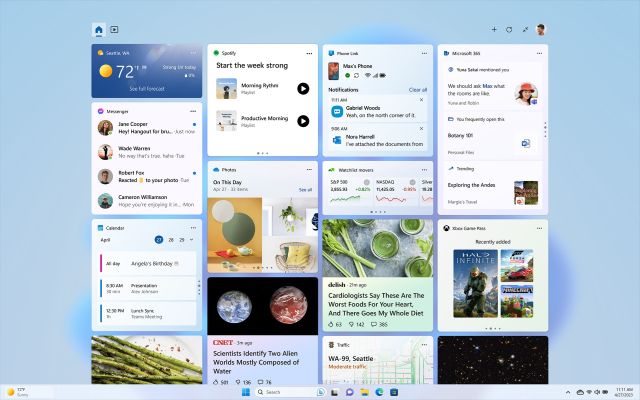 Windows 11 Taskbar Enhanced For Touchscreen Devices
In a bid to make Windows 11 a more universal platform for both mouse and touchscreen devices, Microsoft has completely optimized the taskbar. It's now more responsive to touch and you can also collapse the taskbar for a larger screen real estate. When you connect your keyboard, the taskbar automatically slides up, and you can use it like a normal taskbar. And when you detach the keyboard, the taskbar instantly slides away.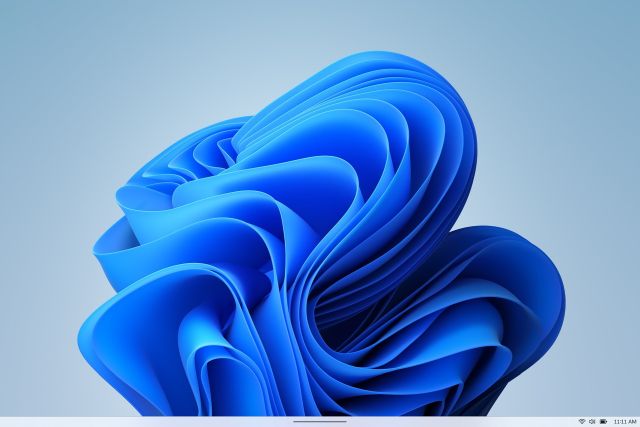 Improved Voice Access and New Accessibility Features
In an effort to improve the accessibility experience on Windows 11, Microsoft has added some new tools along the way. You can now use Voice Access on a number of Microsoft apps including Microsoft Word and File Explorer. In addition, Natural Narrator now supports more Braille displays. It's now much easier and seamless to switch between Narrator and Braille displays with screen readers. This will help people who are blind to interact with Windows 11 in a convenient and cohesive manner.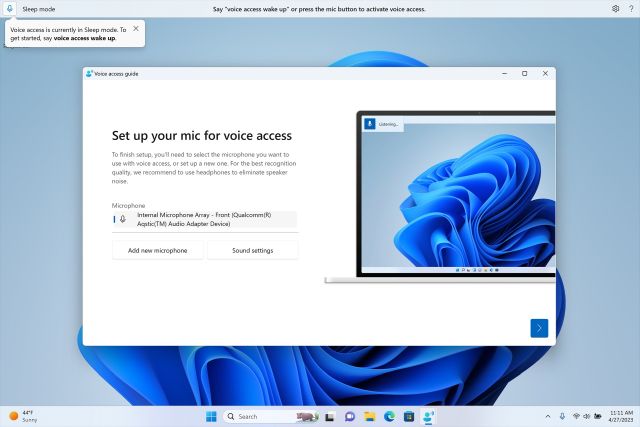 Energy Recommendations is Now Live in Windows 11
Microsoft has added Energy recommendations to the Settings page of Windows 11 to reduce carbon footprint. You can now change key Windows settings that lower the power consumption and as a result, reduce your carbon footprint. There's the option to change the power mode, adjust the screen brightness, turn off the screen after a few minutes, and do a lot more. You can find the settings under System -> Power and battery -> Energy recommendations.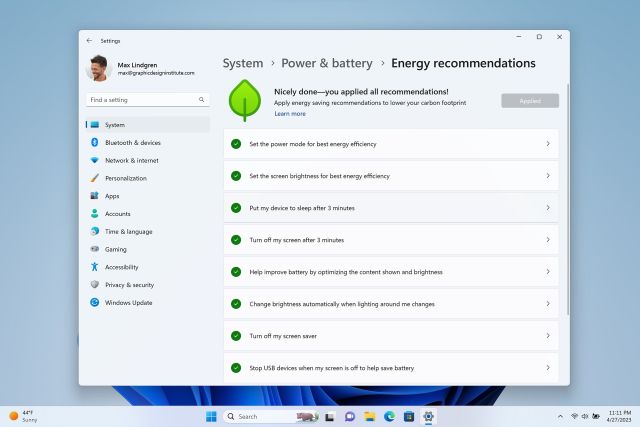 Access Cloud PC With the Windows 365 App
To make it easier to access your cloud PC, Microsoft has developed a Windows 365 app that can be downloaded from the Microsoft Store. With this app, you can switch between your local PC and cloud PC within seconds. For IT administrators and employees with SSO login, this is a frictionless solution offered by Microsoft.
All these new Windows 11 features are now available for users via the Windows Update section under Settings. If you download it, do share your experience with us in the comments below!
---