When it comes to music player applications, Winamp is a name that needs absolutely no introduction. A staple of just about every PC back in the days, the legendary software introduced many of us (including, yours truly) to the whole concept of enjoying music on our computers. Fast forward to the present day, and it has been superseded by a number of great music player programs. The developers of Winamp has also shown no interest in releasing regular updates which had me looking for apps that can act as Winamp alternatives. So, if you are also someone who is ready to ditch Winamp for a better and regularly updated music player applications, here are the 10 best Winamp alternatives for Windows you can install in 2020.
Best Winamp Alternatives for Windows in 2020
If you are still not onboard with music streaming services, these apps will help you curate and listen to your offline music collection. All of them support a wide variety of formats so no matter which file format your music library is in, they will work for you.
1. MediaMonkey
Looking for not just a music player, but also a powerhouse media organizer application? MediaMonkey is just the Winamp alternative you need. It can easily manage media collections spanning hundreds of thousands of songs, both local and network stored. Advanced functions let you sort & organize music based on genre, artist, and things like that.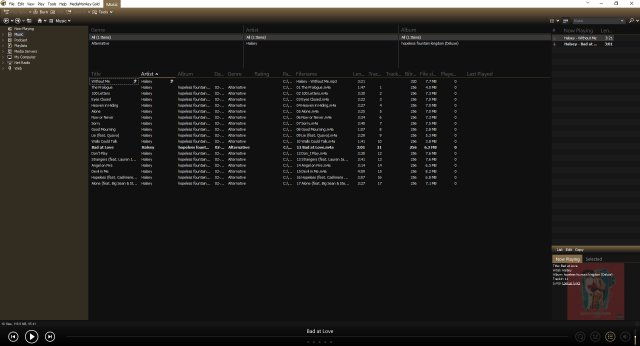 MediaMonkey supports nearly all music formats (e.g. MP3, FLAC, AAC), and thanks to its syncing prowess, it can backup and sync media with numerous Android, iOS and Windows devices. And if you're still not impressed, it even lets you share media with UPnP and DLNA compatible devices like TVs. Oh, and let's not forget the various add-ons available for it, which help MediaMonkey speak song title, stream music over the web, and do lots of other cool things.
Platform Availability: Windows 10, 8 and 7 (Desktop); Android (Mobile)
Price: Free, $24.95
2. Winamp by Radionomy
Well, one of the best alternatives of Winamp is a slightly tweaked version of Winamp. In case you are unaware Winamp has made a comeback but under the umbrella of a different company. What started by Nullsoft in 1997 came to the hands of Radionomy in 2014 and now they have released a beta of Winamp with full compatibility on Windows 10, 8, and 8.1. Earlier, the beta was leaked on the internet, but seeing the unprecedented demand, Winamp chose to make the Winamp beta available to everyone through the official channel. The current version is 5.8 and Radionomy has announced that Winamp 6 is coming in 2020 with podcasts and other online integrated services. The best part is that the new Winamp will also make its way to Android and iOS in the coming days so that is awesome.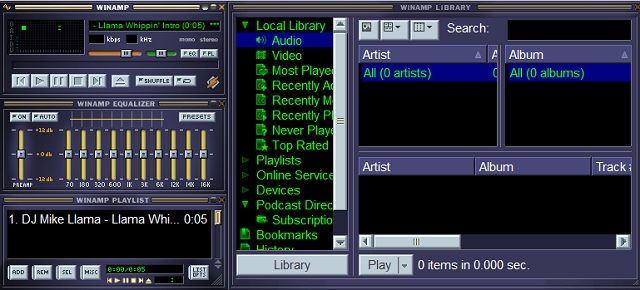 In addition to that, Radionomy has made it clear that you will still have access to all sorts of skins and plugins for which Winamp was so popular. While you don't have an active repository now, you can get old skin packs and plugins from Winamp Heritage. I did test the latest Winamp 5.8 on my Windows computer and it worked really well. You can still apply the classic theme that lets you reminisce about the 90s days. So if you are looking for a Winamp alternative, I would say to make peace with the modern version of Winamp itself.
Platform Availability: Windows 10, 8.1 and 8
Price: Free
3. Foobar2000
Developed by a former freelance contractor for Nullsoft (the company behind Winamp), Foobar2000 is probably the most flexible and extensive music player out there. Sure, its UI looks pretty dated, but underneath that, it hides tons of features. Foobar2000 has a highly modular design and you can completely customize which modules (e.g. playlist manager) are shown. (For example, the companion screenshot below shows the latest version 1.3.10  displaying the Album art, Track info, Playlist, and Spectrogram modules).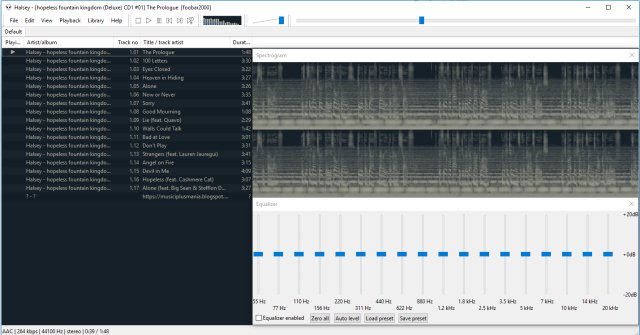 It can rip Audio CDs and convert media in numerous different formats. Foobar2000 can even read media files stored in archives such as ZIP and RAR. Other features include customizable keyboard shortcuts, portable installation, and an extensive SDK that allows features like playback stats, UPnP streaming etc. that can be added to the software.
Platform Availability: Windows 10, 8, 7, Vista, and XP (Desktop); Development for all major mobile platforms planned, via crowdfunding support.
Price: Free
4. MusicBee
MusicBee has always been one of the most popular Winamp alternatives. And now, we have a new version of the software which brings some major improvements to the table. Much like the original version, the updated MusicBee software can play all popular formats, and supports gap-less playback as well. There's built in tag editor, which lets you easily edit or add ID3 tag information to songs, and the same can be fetched online too.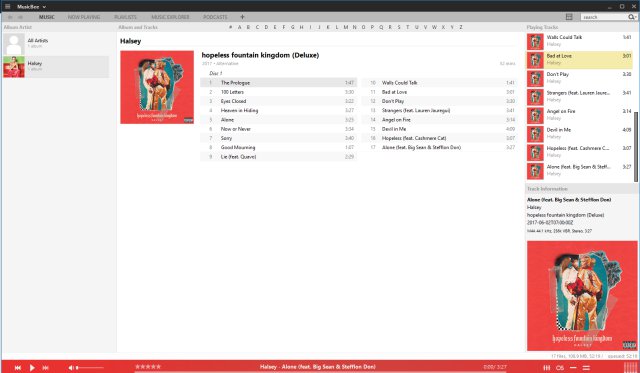 MusicBee's Auto DJ mode lets you automate music playback, complete with configurable settings like library sources, similar artist track playback etc., which can be saved as custom filters. Oh, and the Music Explorer module can be used to browse the top charting artists, albums etc., thanks to MusicBee's integration with the Xbox Music service. Also, the plug-in support (including those of Winamp) lets you add extra features (e.g. device syncing) to the software.
Availability: Windows 10, 8, 7, Vista, and XP.
Price: Free
5. Winyl
Winyl is a lightweight music player app with a simple UI, rich audio codec support, and a whole lot more. It is an easy-to-use music player that can handle pretty much any audio file you throw at it. The app also has a dedicated radio section, with which you can tune in to your favorite shows on air.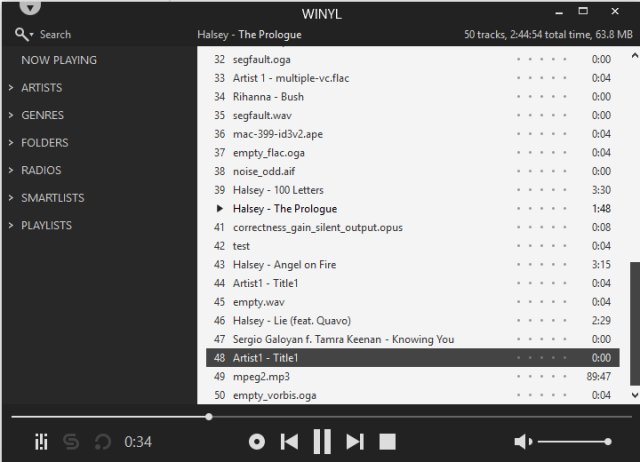 In addition to that, you also get 'Smartlist' feature', a feature which automatically creates playlists for you based on 25 most played tracks. Besides the fact that Winyl can handle various file formats like WMA, M4A, MP3, OGG, MPC, APE, FLAC, etc., Winyl also supports audio output in standards like WASAPI and ASIO.
Availability: Windows 10, 8, 7, and Vista.
Price: Free
6. AIMP
For those wanting a straightforward music player application that packs a healthy balance of features and simplicity, AIMP is the Winamp alternative to go for. Just load up your music library, and enjoy it with AIMP's 32-bit audio processing for a great experience. It comes with a number of audio effects, such as Flanger and Voice remover, and can even record Internet radio to standard audio files.
However, perhaps the most unique feature of AIMP is that it can load the currently playing track (up to 250 MB) into the RAM, thus resulting in a more seamless playback. And that's not all. AIMP's feature list includes configurable global hotkeys, automatic shutdown, and support for numerous plug-ins.
Platform Availability: Windows 10, 8, 7, and Vista (Desktop); Android (Mobile)
Price: Free
7. iTunes
iTunes is yet another software in this list that needs no introduction. This particular music player from Apple has been making rounds around the internet ever since it came out, and it's proven to be one of the best music players.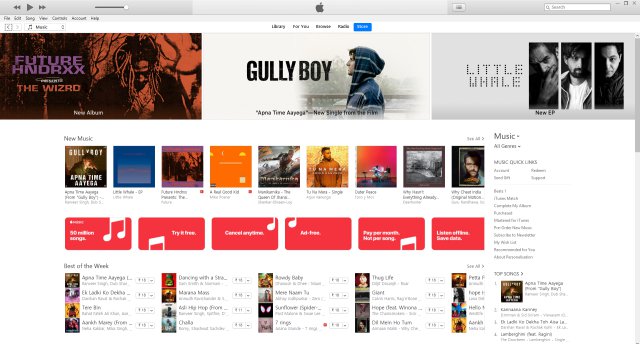 Now, there's a common misconception that iTunes can only be used with an iOS device. But that's not really true. Even if you don't own an iOS device, you can still use iTunes as your default music player on Windows. In addition to importing your own library of songs, you can also search of tracks and albums online on Apple iTunes store. We're talking of Apple's rich library of songs which includes millions of songs. Of course, they're not available for free, but it's still nice to have a library when you need it.
And if you are afraid about the future of iTunes since Apple has deprecated it on macOS Catalina, our list of iTunes alternatives is here to help you out.
Availability: Windows 10, 8, 7, and Vista.
Price: Free
8. Bread Player
Bread Player is the only paid app in this list, however, we truly think that it's worth the asking price of $0.99. It's one of those music players that'll catch your attention the first time you use it. Much like every other suggestion mentioned in this list, Bread Player also supports a wide array of audio codecs like MP3, M4A, FLACa, and more.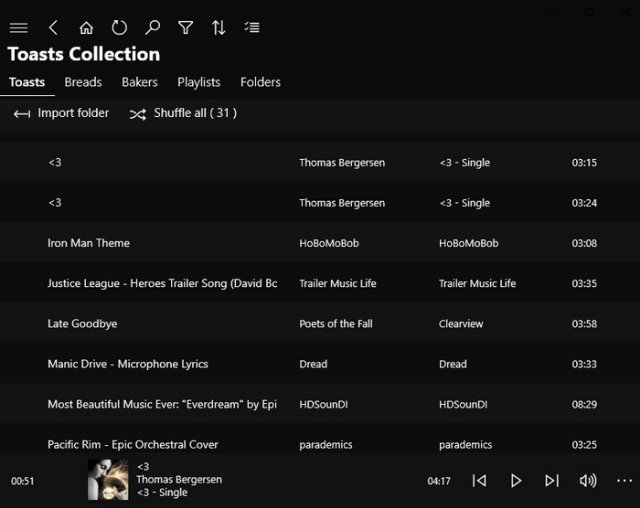 You can also rely on Bread Player to automatically import the tracks and albums that are saved in your PC. Additionally, the player also comes with support for synced lyrics. which is definitely handy. Heck, Bread player also takes care of missing artist details of a track. Awesome, right? Well, the Bread player is packed with a lot of other interesting features like, so be sure to check it out.
Availability: Windows 10
Price: $0.99
9. JetAudio Basic
JetAudio is one of the few music players that looks and behaves very similar to Winamp. It's mostly because both the products were launched in the 1990s and have maintained the classic look since then. While JetAudio has shelved its full-fledged app, the Basic version has taken the center stage, and guess what, the features are packed to the brim. You can, of course, play both music and video files, but its features are not just limited to that. You can edit metadata of media files, rip and burn CDs, convert media file formats, record audio, and a lot more. Further, you can also integrate internet radio broadcasting services to the media player.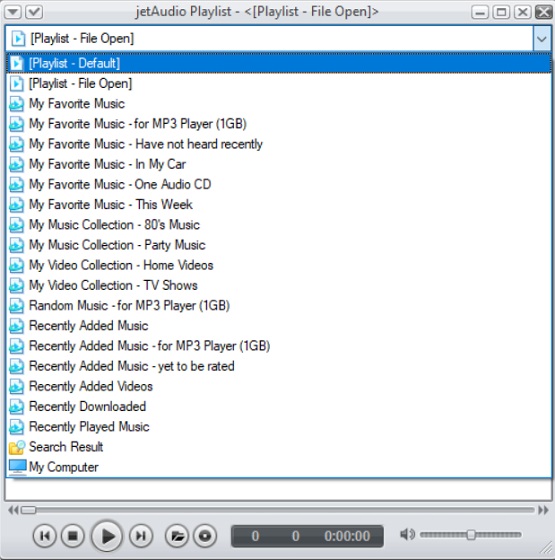 But the best part about JetAudio Basic is that it supports plugins and skins just like Winamp. In fact, it's compatible with most of the Winamp plugins and you can use them interchangeably. How cool is that? Moving to sound enhancement tools, well JetAudio Basic features a BBE algorithm that improves the sound output based on the music genre. There is also support for wider media file formats so that is great. Considering all the points, I would say JetAudio Basic is truly a Winamp alternative and you can't afford to miss it.
Platform Availability: Windows, Android, and iOS
Price: Free
10. Dopamine
Dopamine is a relatively new media player and is nowhere near Winamp's popularity, but it's quite capable and feature-packed. For Winamp fans, let me tell you, it does not look anything like Winamp and does not offer a mini-mode, but you would get everything that Winamp offered in a slick, fluent design language. The songs, artists, albums, labels– all are neatly laid down on the home page itself giving a distinct and clean look. The music player is built on the FFmpeg project so you are well sorted on the performance front too as you have the largest suite of libraries for handling audio, video, and other media files. As for file formats, you have a wide range of support for WAV, MP3, FLAC, WMA, M4A/AAC, etc.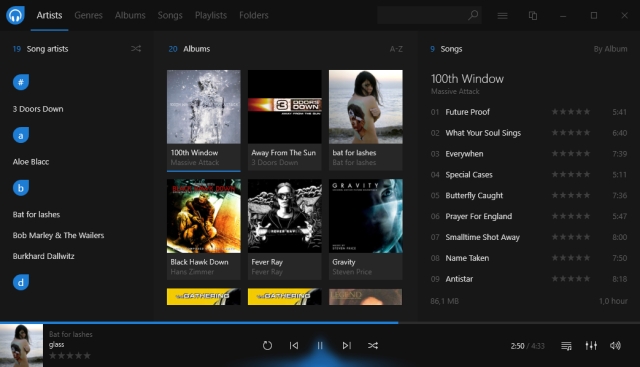 Coming to audio enhancements, you have several options to control the sound output using mixers and various sound tables. The best part is that Dopamine also offers audio latency controls which is really helpful if you don't want even a microsecond of delay in sound output. Not to mention, you can integrate online services from MetroLyrics, LyricWiki, and pull lyrics from the internet for a particular song. All in all, Dopamine is not the perfect alternative to Winamp in terms of look, but it's surely a well-designed music player and I think you are going to love it.
Platform Availability: Windows
Price: Free
Lots of Great Winamp Alternatives
Winamp has always been (and still is) one of the most feature laden and popular music player applications. And while it'll be surely awesome if it was not left to the dust, we cannot change its fate. So, check our list of apps and let us know which app is replacing Winamp for you. Also, share with us your favorite offline music players in the comments below.