Hello there, fellow quarantined people. Life feels weird right now, doesn't it? We're home all day — which is normally something I'm okay with — and we're not allowed to leave. Personally, I spend most of my free-time binge-watching Marvel movies, or TV shows like Friends — which is why I earlier wrote an article about the best movies to stream during this lockdown. However, movies aren't always the most accessible things. So, if you need to do some household chores, and not get bored while you're at it, here are the 10 best podcasts to listen to during the Coronavirus lockdown.
Note: I'm breaking this article down into categories, so you can quickly check out the podcasts you might be more interested in. Also, while I personally recommend every one to try out Pocket Casts on Android (download), and Overcast on iOS (download), feel free to use the podcast app of your choice, or check out our article on the best podcast apps for iPhone and for Android.
Best Comedy Podcasts
1. Conan O'Brien Needs a Friend
Who doesn't know Conan O'Brien, the talk show host with his roots in the famous Saturday Night Live, and The Simpsons. His podcast is based on the premise that he needs some real friends in his life. Every week he interviews a celebrity on the podcast with the aim of become actual friends.
As expected, the interviews result in hilarious anecdotes, witty improv, and just a laughter filled podcast. This is one of my favourite podcasts of all time, and I recommend you listen to it to get some much needed laughs in these trying times.
Personal note: Don't skip the ad-breaks in this podcast, Conan does them hilariously well.
2. Ron Burgundy Podcast
After listening to Conan, I'm sure you'll be left wanting more comedy in your life, and the Ron Burgundy podcast is a solid way to get more doses of comedic podcasts in your week. The podcast is hosted by Will Ferrel who reprises his role of Ron Burgundy. The podcast is slightly rough around the edges, and some episodes have issues with volume levels, as I have noticed, but overall this is a fun podcast to listen to.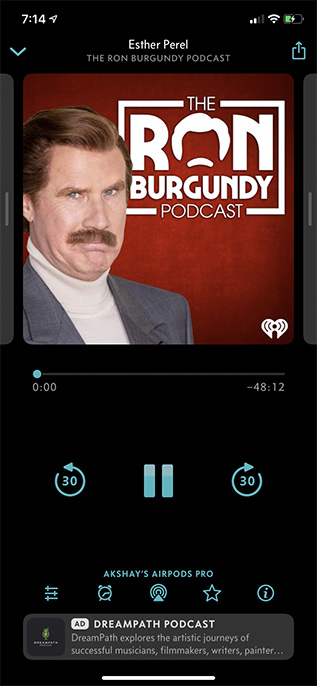 3. Office Ladies
Fans of The Office, this one is for you. Office Ladies is a podcast hosted by The Office co-stars Jenna Fischer and Angela Kinsey. This is perfect if you're binge-watching The Office, because this is a re-watch podcast where Jenna and Angela go episode-by-episode and also give some exclusive behind the scenes stories!
Best Science Podcasts
4. Science Rules! with Bill Nye
Bill Nye the Science Guy is here with his own podcast, and here you'll get answers to all your science related questions from the man himself. This a great podcast for anyone looking to learn new stuff. Plus, his latest episode talks about the Coronavirus.
5. 60-second Science
If you have an interest in science, this podcast is a good entry-podcast into learning more. Presented by the Scientific American, you get nice little bit-sized 60-second (almost) episodes talking about the most interesting developments in science.
If you like this one, you should also check out the Scientific American's "Science Talk" podcast which is a full-length podcast.
Best Music Podcasts
6. Song Exploder
People who follow music deeply and with a passion, this is a great podcast for you guys. Unlike most music-related podcasts which either talk about new music, or simply interview famous artists, this one has a new musician every week taking apart their own songs and explain how they wrote it, what thinking went into the song and more.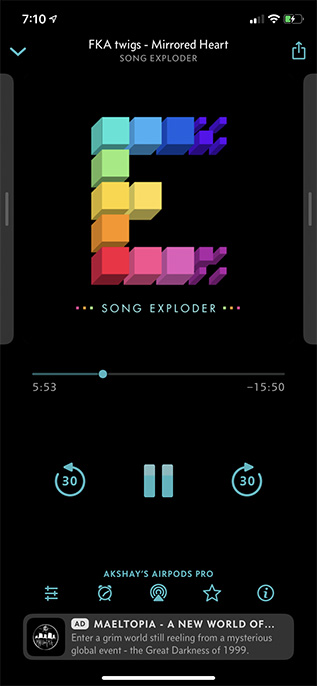 If you're looking for a deeper-than-usual dive into the world of songwriting, composing and everything else, you should check this podcast out right away.
7. All Songs Considered
All songs considered is a nice music podcast which will help you discover new music every week, and I'm not just talking about the billboard chart toppers, because you could've found those anywhere. This podcast brings new music discoveries and interviews with emerging artists, so you may as well find your next favourite musician or band through this podcast.
Best Pop Culture Themed Podcasts
8. The Quibbler: A Harry Potter Podcast
I know this podcast has Harry Potter in the name, but this isn't something you should have your little kids listen to. As the name suggests, this podcast is a Harry Potter book club, so you'll be reading the books along with our hosts, and you'll get a deep look at the books, including their thoughts and opinions on various plot points, characters, and more.
It's hilarious, sometimes dark, and always fun.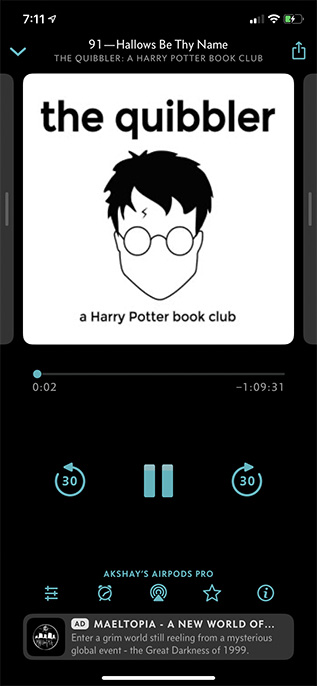 Personally, I love this podcast because it makes me look at one of my favourite book series of all time in a more critical light, something I didn't really do as a kid reading it.
Bear in mind, the podcast contains spoilers, adult themes, and cursing. Also, it might not sit well with you if you're the kind of Potter fan who can't listen to any criticism of the series.
9. The Prancing Pony Podcast
If you're more of a Tolkein person, The Prancing Pony will transport you straight to Middle Earth. The podcast consists of a lot of humorous discussion about J.R.R Tolkein's works and they are currently discussing the second book in The Lord of the Rings, so you have a lot of content to consume.
10. Star Wars Minute
I am a Star Wars fan, and Star Wars Minute is like a deep, deep dive into the Star Wars movies. Honestly, it's really deep. The podcast takes the Star Wars movies minute by minute and analyses it. It may sound boring (and sometimes it is slightly boring), but most of the time it's a lot of interesting Star Wars discussions and some humour thrown in.
These are the Podcasts You're Looking For
Yeah, I couldn't resist making that Star Wars reference there; but the point is, these are some of the best podcasts for passing the time during this lockdown. I have tried to include podcasts from a variety of topics including comedy podcasts, science podcasts and more. However, if you know of a podcast that should be on this list, drop its name in the comments along with why you like it, and I'll check it out.