Twitter has been testing its transient tweets that vanish after 24 hours feature for quite some time now. Dubbed as "Fleets", this feature allows you to create a tweet that doesn't go on your main timeline. If you have ever used Snapchat Stories feature that was later adopted by Facebook, Instagram, and WhatsApp, you already know what Fleets look like. That being said, Twitter has not just copied the "Stories" feature, rather it has implemented its take on it. In this article, we are going to discuss everything you need to know about Twitter Fleets and how you can use it on your profile.
What Is Twitter Fleets
As mentioned, Twitter Fleets are a response to the popular "Stories" feature that we have seen on other social media platforms. According to Twitter, Fleets are for sharing fleeting thoughts that you want to disappear and don't want to see on your timeline. Like on other services, Fleets on Twitter disappear after 24 hours. Fleets are perfect for posting something casual and less permanent.
What Differentiates Fleets from Stories?
The biggest thing that differentiates Fleets from Stories is the ability to share clickable links. If you have used Instagram Stories before, you know that you cannot share clickable links on stories, unless you are verified or have 10,000 followers. I am happy to see that Twitter is not going down the same path. There are other creative differences as well, but this is the biggest and most advantageous difference that Fleets have over Stories.
How to Create Twitter Fleets
Creating Twitter Fleets is easy. On your profile, there's a Fleets carousel at the top. Apart from showing Fleets from people that you follow, it shows your profile picture with a "+" icon at the beginning.
1. Tap the icon to open the compose window.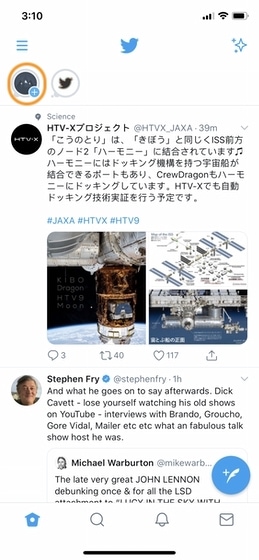 2. Here, you can type your thoughts and paste links. Just like normal Tweets, you can post fleets up to 280 characters.
3. You can also add hashtags and mentions. Just type '#' or '@' followed by the text and it will show you suggestions, as shown below.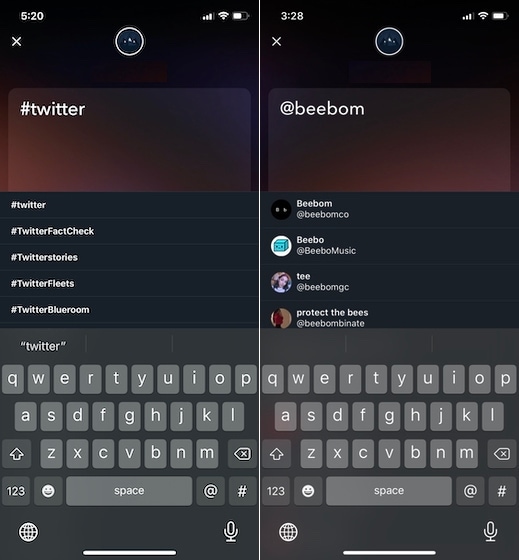 4. Tap on the "camera" or the "picture" button to add images and videos.
5. Tap on the "Aa" button at the top-right to add text over your photos and videos.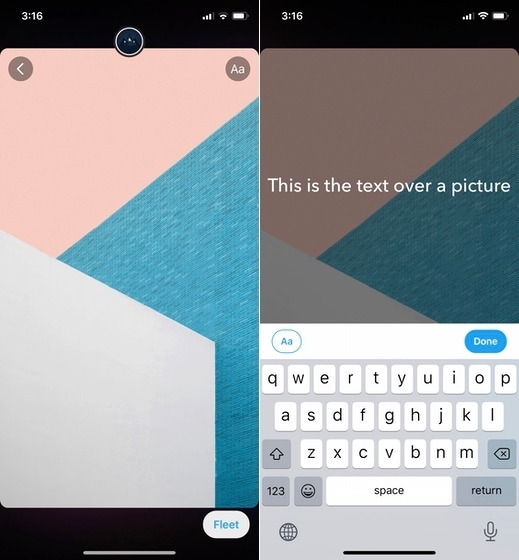 6. Similarly, you can add gifs by tapping on the "GIF" button. It will open a window where you can search for gifs. Note that you cannot add text on top of gifs.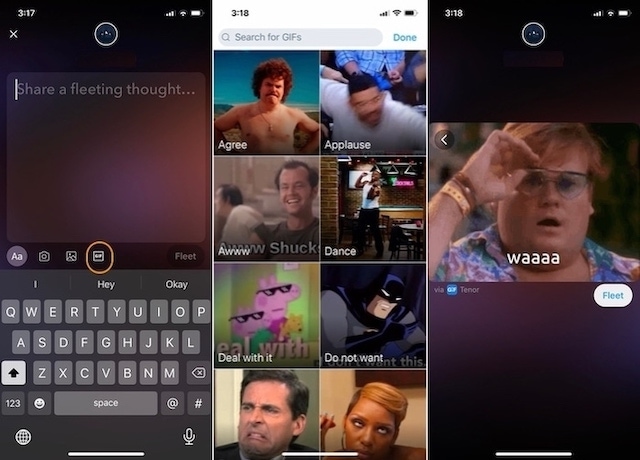 How to View Fleets
If someone you are following has access to Fleets and has shared a fleeting thought, then you will see it in the carousel at the top of the home feed. You can also find fleets by visiting someone's profile. If they have shared a fleet, you will see a circle around their profile picture. You can tap on it to reveal the button to open the Fleet.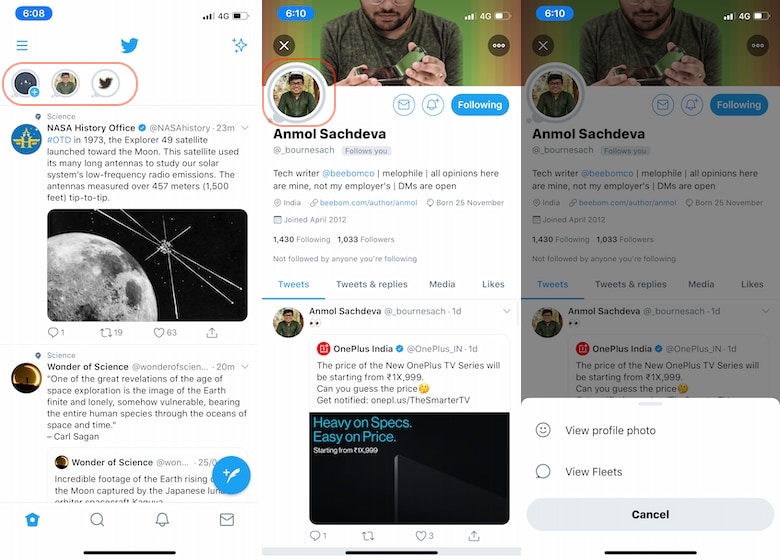 Interacting with Fleets
When you tap to view a Fleet, you will notice that Twitter has adopted a slightly different approach. The Fleets scroll vertically on swiping up and down or tapping, instead of moving horizontally. They also don't scroll automatically which is the case with most other apps with Stories. I hate the auto-scroll feature on other apps as I have to hold down a story to keep it from moving. That's not the case here and I love it. That being said, my colleague (@_bournesach) Anmol, found it cumbersome. So, I guess it depends on person to person.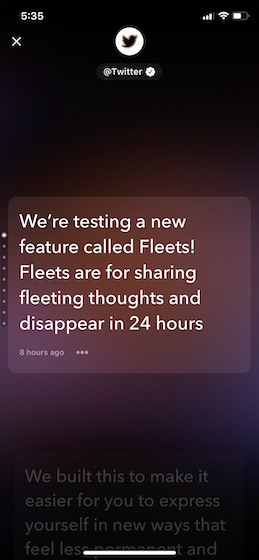 Since Tweets are ephemeral and vanish after 24 hours, Twitter does not allow you to publicly like, retweet, or reply to fleets. You can react to Fleets with emojis or reply via Direct Messages. If you are DMs are open, anyone can send a reply to your fleet, but if they are closed, only the people you follow can send a reply.
You can still screenshot someone else's Fleet and share it on your timeline or Fleet – similar to Instagram Stories. The user won't receive a notification of the screenshot, which is sad, and sort of beats the purpose of ephemeral tweets. You will, however, be able to see who all have viewed your Fleets.
Shortcomings and Bugs of Twitter Fleets
As Twitter Fleets are right now in the testing phase, there are not a lot of features. You can add text, images, links, videos, and gifs, and that's about it. There's no support for stickers and there are no text styling options. Also, while you can add hashtags and mentions in text fleets, you cannot do so in Fleets with photos and videos, which is a bummer. This gives Instagram Stories a leg above Fleets right now.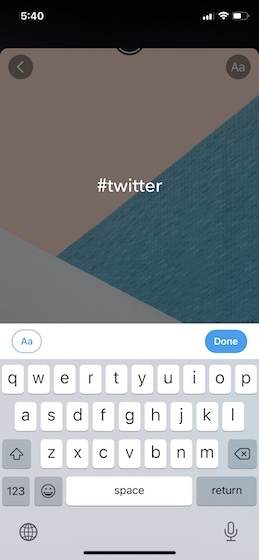 Another thing that I don't like about Fleets is that the Fleet carousel is half-sticky. What I mean by half-sticky is that it disappears when you scroll down your timeline but comes back as soon as you scroll up. It doesn't wait for you to get to the top of your timeline. And that is just annoying.
Talking about the Bugs, I encountered a few when testing Fleets. I tested Fleets on both Android and iOS devices. On iOS, when uploading a video, I was restricted to 30 seconds. But on Android, I was able to upload videos of length up to 1 minute 40 seconds. Similarly, when recording a video on Android, I was restricted to 1 minute while the feature flat out didn't work on the iPhone.
Twitter Fleets – Conclusion
Twitter Fleets is good additions to existing Twitter features and I can see myself using it. However, Twitter needs to fix the bugs before releasing this service world-wide. I can wait for the new features, but bugs (like the inability to record video) need to be squashed. Well, that's all from me. Check out Twitter Fleets if it's available in your country and let us know your thoughts in the comments below.
---
Load More