Twitter is one of the most widely known social media platforms. With its massive 330 million monthly user base, the micro-blogging platform is one of the primary locations for the community to gather and converse. Twitter has become quite an attraction of late, thanks to the actions of certain individuals and some uncanny changes to the platform. Its potential has only further been fanned by regular users and influencers who've stuck by the micro-blogging platform from the very start. While Twitter is a social media platform, the Twitterverse is different than Facebook or Instagram and users want more out of their time spent on the micro-blogging platform. So, here are 15 Twitter tips and tricks that will put you in front of other users in no time:
Best Twitter Tips and Tricks To Use
1. Segmented Topic-wise Lists
If you're following a hoard of individuals (or brands) on Twitter, your feed could become one huge clutter of information. You'll possibly lose track of important stuff in this chaos. But you can simplify your social life by creating topic, interest or influencer-based Twitter lists.
To get started with the process, click on your profile icon at the top right and "select the Lists option" from the drop-down menu.
Click on the "Create new list" button. Enter a name and short description for the list and select a privacy option. Hit "Save List" to create the list.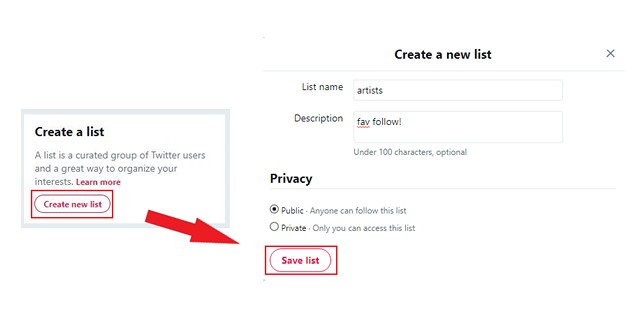 Note: If you want that anyone can follow your lists, set it to Public. But if you're planning to keep track of something in secret (such as rival brands), create a private list.
Now you can search and add Twitter accounts to this list. Just click on the three dots next to a profile's follow button, select "add or remove from lists" and choose the lists you want to add a profile to. You can keep track of list members and subscribers from the list's timeline.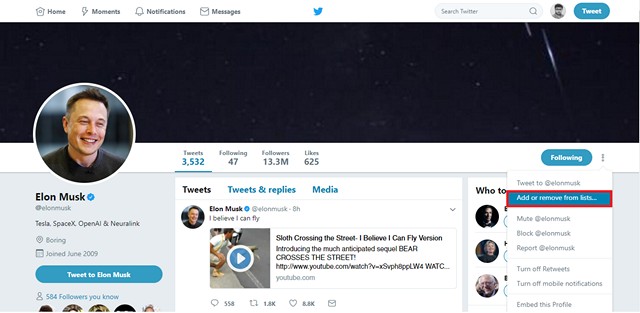 If you want to check up on the Twitter lists you've created or been added to, you can navigate to your profile page and click the "Lists" option right next to your Likes.
2. Understanding Your Audience
Twitter is considered the top-most place on the internet to voice your thoughts and engage in a community-focused conversation. However, sometimes your tweets can get lost in a void if you don't understand your audience and post when your followers may be inactive.
To simplify this process, Twitter provides you actionable information about your tweets in the Analytics section. You can learn the total impressions, engagement or link clicks your tweet received over a certain duration of time.
You can check your Twitter Analytics by tapping on your profile icon in the top navbar and selecting "Analytics" from the drop-down menu.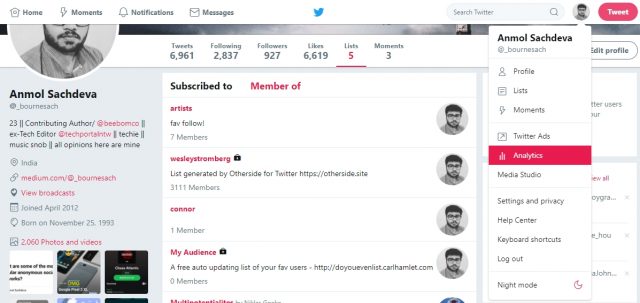 The homepage shows you how your tweets performed over the last 30 days whereas if you click on "Tweets" to see more detailed information of your tweets until date.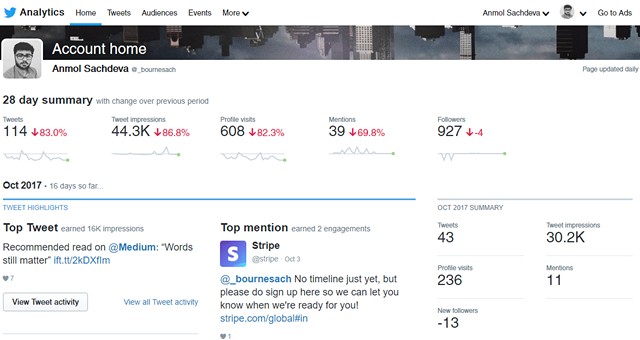 The "Audience" option, on the other hand, tells you more about your followers. You can check out their top interests, geo-location, age & gender categorization and even more.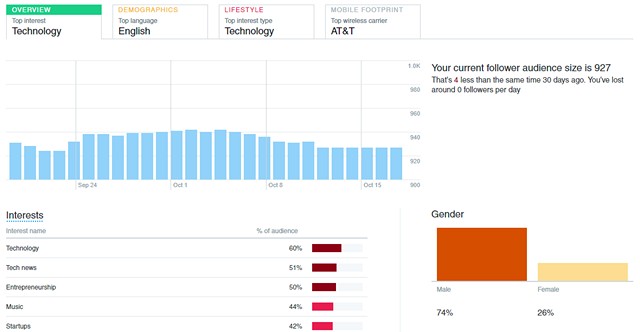 While Twitter Analytics tells everything about your followers (even in comparison to the total Twitter userbase), one cannot decipher the right time to tweet using this data. This task can, thus, be performed by third-party tools such as Tweriod or Audiense.
3. Schedule Tweets
Now that you'll be able to know the right time periods to send out tweets, you would want to be able to schedule them in advance. And Twitter doesn't allow you to schedule tweets from its web platform.
But did you know there's a workaround for the same? The microblogging platform makes the scheduling functionality available to advertisers and you can sign up to avail it for free.
Navigate to Twitter Ads and follow the initial sign-up process (select your country and time zone) to get the advertiser account up and running. Hit "Let's go" once you are done.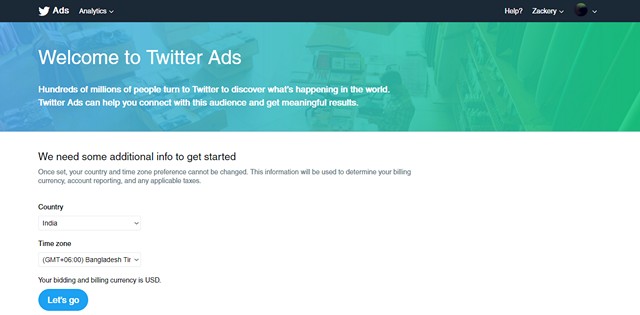 Note: To activate the 'Creatives' option required to schedule tweets, you'd need to add your credit card details to the ad account. It is safe to add the card details, you won't be charged until you promote your tweets or set up any of the available campaigns.
Click on your Twitter name on the top right to open the drop-down menu. Select "Add new payment method" to open the form to enter your card details.

Now, enter your credit card details, postal address, check-mark the advertising terms and click on "Proceed to confirmation" to save your card details for future use.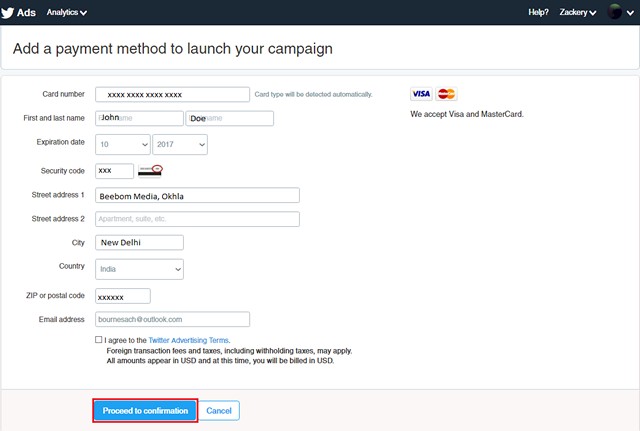 Note: Once you've saved the card details, you'll notice the navigation bar now includes new options to help you better handle your advertising needs. But, we're only concerned with the Creatives heading.
Click on "Creatives" to reveal a drop-down menu, where you need to click on the very first option, i.e Tweets.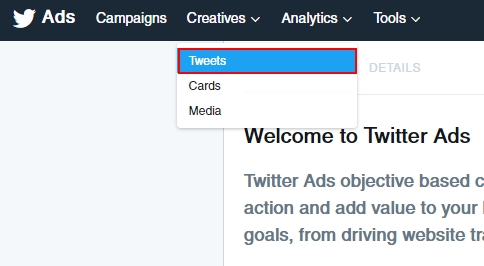 This interface will enable you to schedule tweets. Click the "New Tweet" button to the right and you'll notice the scheduling tab under the compose box. Click the scheduling tab and select the "Custom" radio button to input the time and date details for when you'd like your tweet to go live. Click "Tweet" to schedule the same.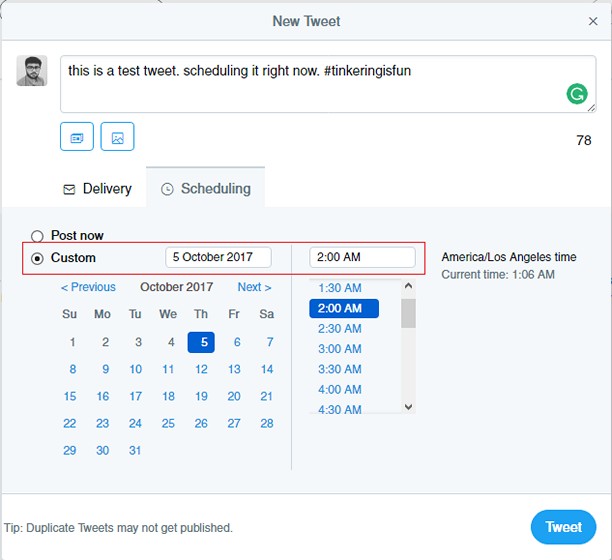 You can check if your tweet has been scheduled by clicking on the "Promoted-only Tweets" drop-down menu and select the Scheduled Tweets option. Here you will see the scheduled tweet. Have fun.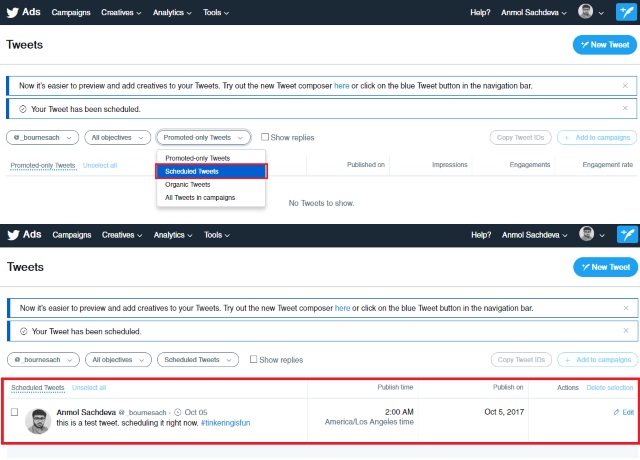 4. Save Tweets By DMing Them To Yourself
While scrolling through the feed, there are times you come across some hilarious tweets or articles you'd want to save but can't due to the lack of such a functionality on Twitter. You can do the same with extensions such as Pocket, but we have an easy workaround. All you need is the integrated Direct Messages feature of the platform to build your own little read later functionality. Here's how you can send tweets/links to yourself via the web and mobile app.
On the web, you can simply click on the "message" icon underneath individual tweets to open the DM dialog box.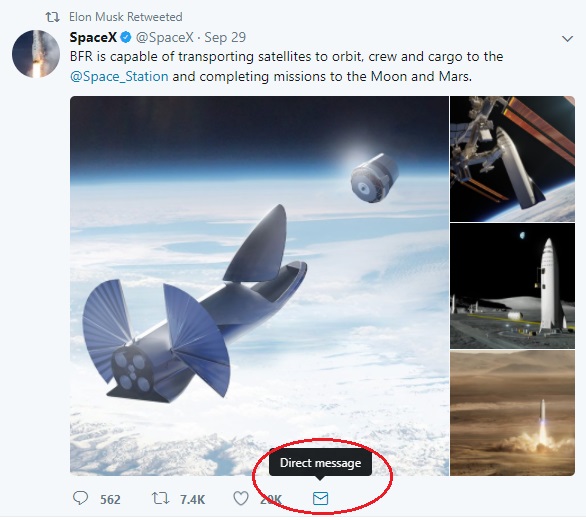 Search your Twitter username, select it and hit "Next" to see that the tweet has already been attached to the message. Type a message, if you have any, and press "Send".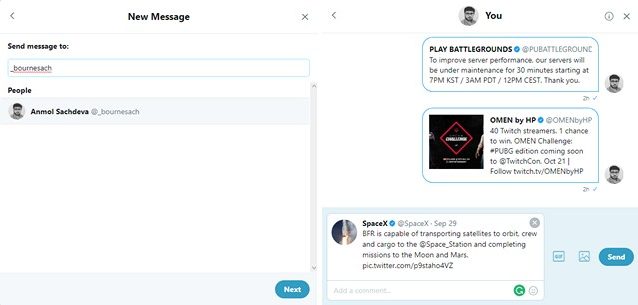 Note: Your username will now start appearing in the DM box. You can use the same to easily share other tweets or links with yourself.
On the mobile app, you can follow the same procedure as above to save tweets from other users. But, saving a link you've opened via the app is even easier if you are using the in-app browser.
Open a link via the in-app browser and click the three-dot menu at the top right to open the menu. Select "Share via Direct Message" and you will know what to do next. The following steps are the same as described above.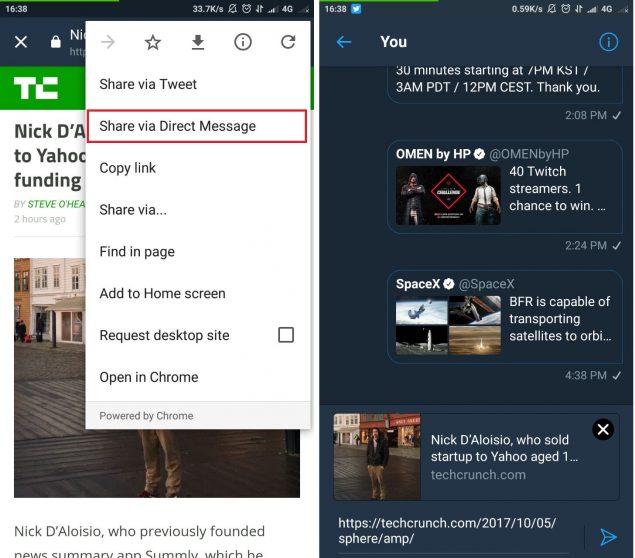 5. Activating And Creating Moments
Twitter Moments, for those unaware, are curated stories that showcase what's happening on the platform. This feature released in 2015 but is still not widely available to all. Every Twitter user can create a Moment but the tab showcasing the stories is limited to only 12 countries. There is, however, an easy way to activate it for yourself.
Head over to the "Settings and privacy" page by clicking on your profile icon at the top right of the navigation bar up top.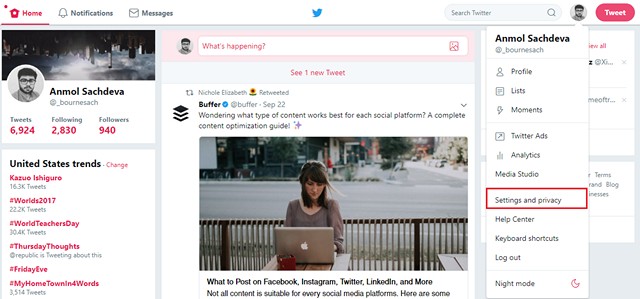 Under Accounts > Content section, change the country from the current one (let us say India, for me) to the United States. Hit "Save changes", enter your password and confirm the same.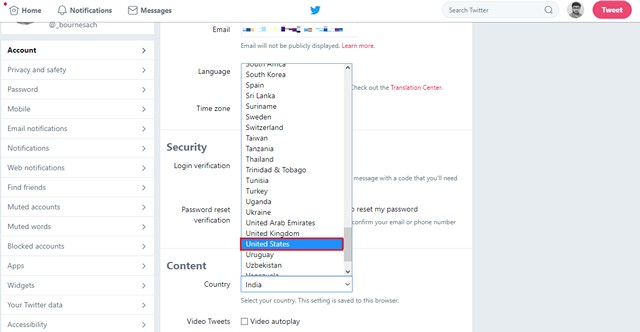 The website will refresh and you'll see a new Moments tab before Notifications in the navigation bar. This will give you access to the day's news highlights as well as a quick look at other Twitter user's perspective.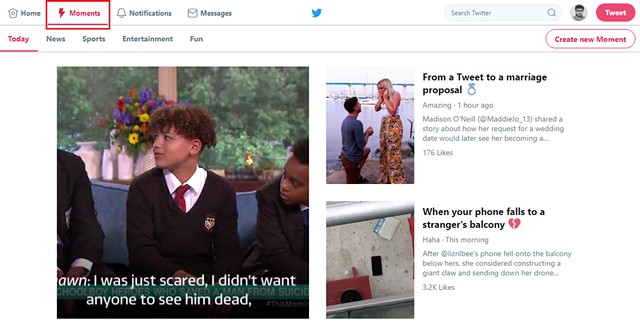 Note: This change is stored in the browser, so you'll need to change this setting again if you clear your browser's cache.
For the creation of Moments, you can navigate to the Moments tab and click the "Create New Moment" button. Add a title, description and cover image, followed by tweets from the platform to highlight the topic.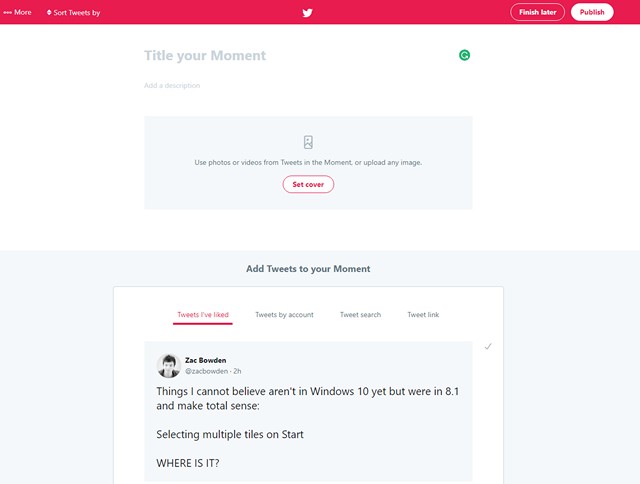 Here's a sample Twitter Moment I had created to sum up the launch of Google's Pixel 2 XL: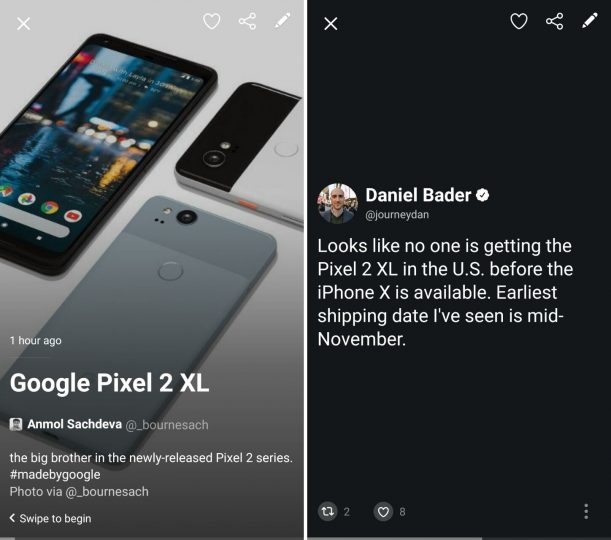 6. Advanced Twitter Search With Operators
While it is true that you can search for users or trends by typing their names or hashtag in the search bar but you can also narrow the search using operators. A special character or a combination of characters can be utilized to improve the search results.
For example: If you're searching for what the users think of Trump on Twitter, you can type "Donald Trump" in quotes to search for tweets with that exact phrase. You can then add the near: operator to find every tweet sent out from a particular location, such as "Donald Trump" near:"Las Vegas"
Here's a list of operators one can use in the Twitter search bar. You can either download the picture or see the list on Twitter's Search homepage.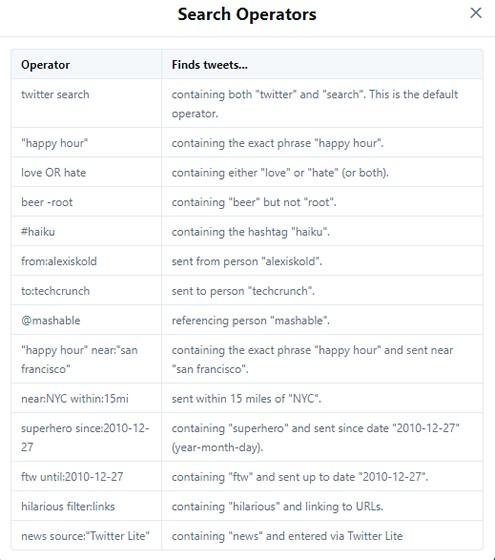 If using operators to refine your search queries seems like a chore, then you can directly use Twitter's advanced search engine to input specifics of what you're looking for. You can input the user, date range, location, as well as hashtags.
7. Learn and Use Keyboard Shortcuts
Did you know Twitter integrates a host of keyboard shortcuts? They can help simplify your social interaction across the platform as you'd no longer require clicking around. There are two ways to access the list of keyboard shortcuts, which had been hiding under your nose all this time.
Navigate to Twitter and press '?' (shift + /) button to view the complete list of keyboard shortcuts, as seen underneath: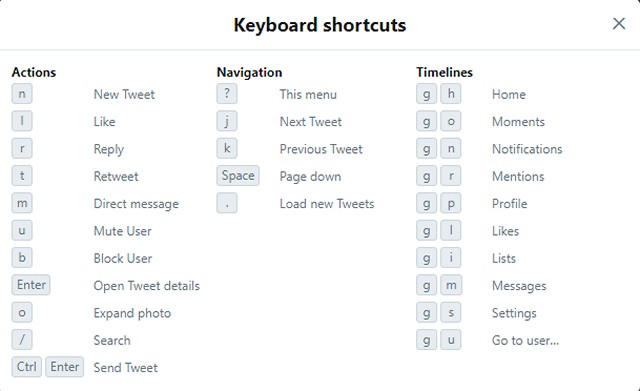 You can also click on your profile icon on Twitter's web platform and select the "Keyboard shortcuts" option from the drop-down menu.
8. Add Interactive Stickers To Your Photos
Twitter not only allows you to edit your photos before tweeting them, but it also provides you with a collection of interactive stickers to add to them. To add stickers to your photos, follow the following steps:
Tap on the floating "new tweet" button at the bottom and select the photo you want to share with your followers.
Once you've selected the photo, you'll notice two icons at the bottom right of the photo itself, i.e a smiley and edit icon. Tap the smiley one to check out the sticker collection and place them on the photo.
You can hold to drag the sticker around to determine its position on the photo. You can then also pinch on the sticker to vary its size. You can again "tap the smiley icon to add more stickers" to the photo in the tweet.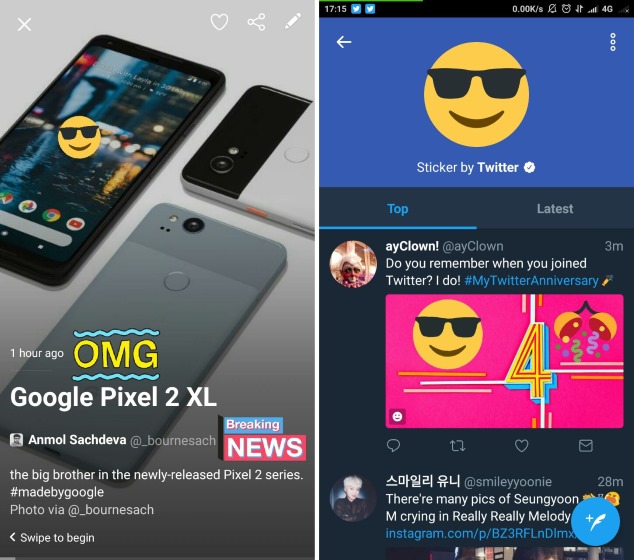 On opening the photo attached to a tweet, the stickers are highlighted and anyone can tap a sticker to access a feed of other tweets that used the same sticker to jazz up their photos.
9. Social Media Highlights
For the ease of users, who are not a part of the Twitterverse, the company has made the social highlights of the day available on the home-page of the platform. This means even when you're not signed up/logged in to Twitter, you can gain access to world happenings through the various news feeds, such as featured, sports, entertainment and more on the home page of the platform.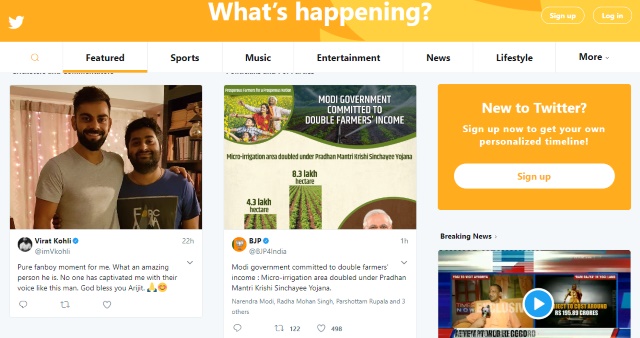 10. Provide Team Members Access To Your Account
If you're a brand or influencer, there is a huge possibility that you've hired a social media manager to take care of your activity on Twitter (and other social platforms). This means you'll have to make the tough decision to tell them your password. Well, no longer.
Using Tweetdeck (a souped-up Twitter client owned by Twitter), you can now grant access to your account to any number of individuals without sharing your password with them. You can use Tweetdeck to add them as team members to your account and they will have access to your Twitter. Follow these steps to add a new team member to your Twitter account:
Navigate to tweetdeck.com, you'll notice that your account is already logged in. This is because the service is directly connected to Twitter, you don't need to authorize it.
In the sidebar on the left, click on "Accounts" to see Twitter accounts currently added to Tweetdeck.
Here you'll notice a "Manage Team" option under your account name. Click on the same and enter the username of the person that you want to handover access for your Twitter account.
Once you've typed in the username (or Twitter name), hit enter to send the request to add them to your account. You'll now have to click "Authorize" to confirm their access.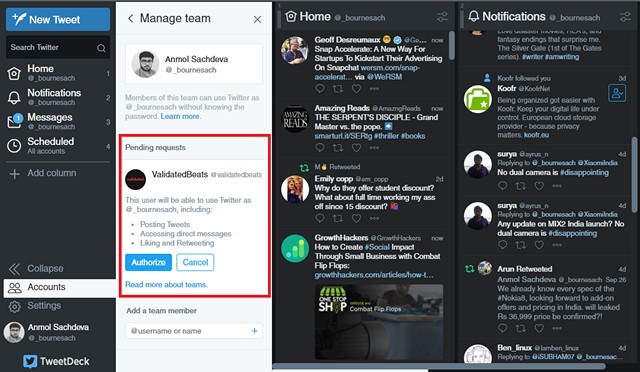 This means you've now added another person as a contributor to your Twitter account, without having to divulge your login credentials.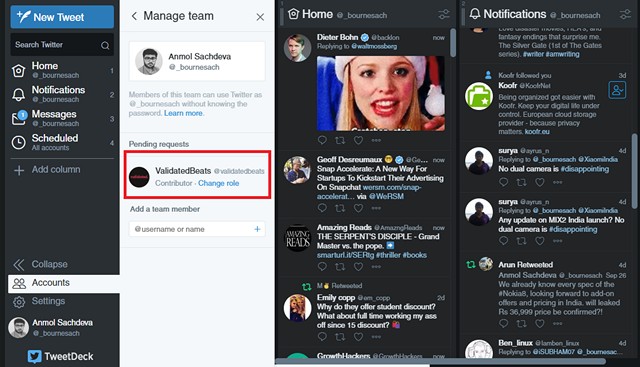 11. Mute accounts, Keywords and Hashtags
Being the widely accepted spot for community discussions, there can be times when you're looking to keep away from certain individuals or words. The most prominent example of the same can be a TV episode spoiler or the dark world of online harassment.
To save you from such instances, Twitter provides tools to mute keywords, accounts as well as hashtags. You have the option to either mute (a temporary banishment or lifetime) or block inappropriate accounts from appearing in your timeline.
To mute certain keywords/hashtags, go to Settings and privacy > Muted Words and click "Add" to append new words to suppress from appearing in your timeline.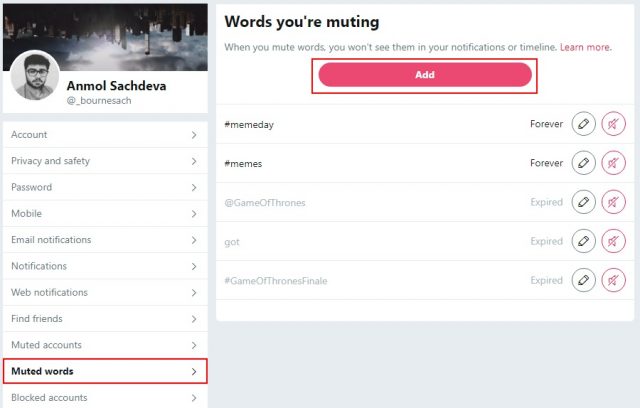 To mute a Twitter account, go to the person's profile and "click on the three dots next to the follow button." Here you'll find the mute @username option. Click on the same to stop seeing their tweets and receiving push notifications for their account.
To see the accounts you've muted, go to Settings and privacy > Muted Accounts and see the complete list. You can unmute accounts from right here.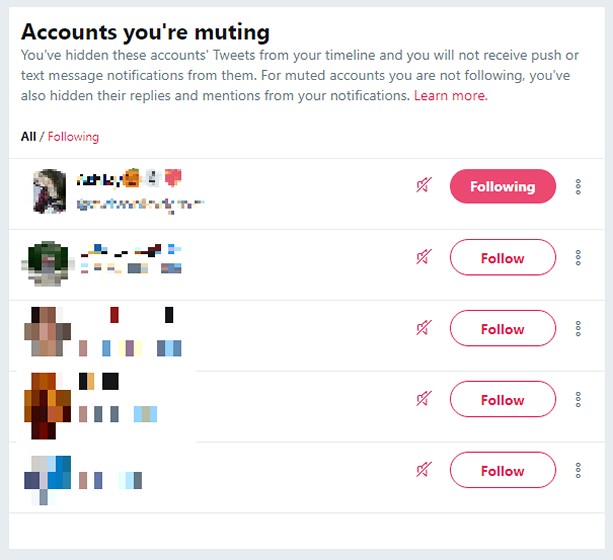 For example: You can mute words and accounts relating to Game of Thrones on Sunday or Monday to save themselves from the insistent flow of reviews and spoilers across Twitter. It can also be helpful in muting accounts or words you'd not like to see in your feed, either for a fixed duration or forever.
12. Add Image Descriptions For The Visually Impaired
While catering to the general populace (who get how Twitter works), the company has also added a handy setting to make their platform accessible for visually impaired users as well.
Twitter is now allowing users on the web and mobile to add descriptions to images to make it easier for visually impaired users to understand what they represent. However, you need to follow the following steps to toggle this setting and add a description to your images.
Navigate to Settings and privacy > Accessibility and checkmark the empty box next to "Compose image descriptions" and hit the 'save changes' button.
Open the "New Tweet" compose box and add an image to the tweet to notice that the option to "Add description" to the same is now available for use.
Once you've added a description to an image in your tweet, impaired users using the phone in 'Talkbalk' mode will be able to listen to the same when they open the image from their Twitter feed.
13. DND: Mobile Notification 'sleep' Settings
This Twitter setting will come in extremely handy for influencers and brands who don't want their phone to keep ringing with notifications at night. If a phone number had been added to your Twitter account, then you can adjust the time duration for which the platform shouldn't deliver you mobile notifications.
Navigate to Settings and privacy > Mobile by clicking on your profile icon at the top right. Add and verify your phone number if you haven't already.
Enter your phone number and hit "Continue," followed by the verification code that you've received on your mobile. At last, click "Activate phone" to add your number to the Twitter account.

If you've already linked a phone number to your account, you can go ahead and adjust the Sleep settings as seen under. You can select the start and stop time for when you don't want to receive any notification on your mobile.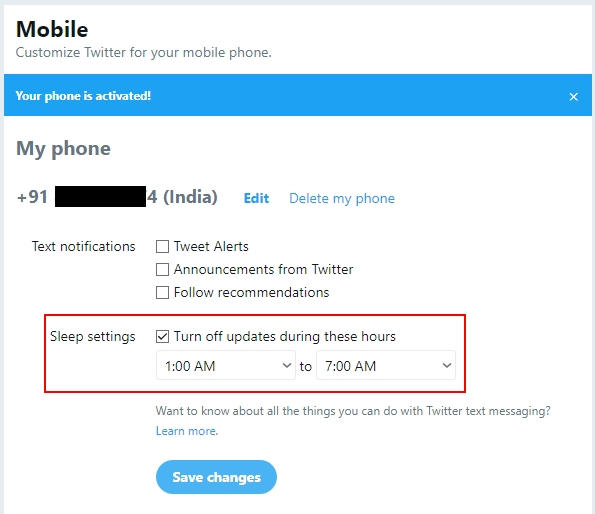 Set the time duration for which you don't want to receive notifications and hit the "save" button to stop any and all notifications from reaching you. This is a great alternative to your phone's "Do not disturb" ringer settings, which enables you to have a sound sleep instead of listening to beeps-boops.
14. Account Access History
As you all may understand, Twitter is an important part of our social ecosystem and we're even using our accounts to access third-party apps. Thus, it becomes extremely important to keep track of your account activity on the regular. Follow these steps to know how:
Navigate to Settings and privacy > Your Twitter data and enter your password to authenticate access as you're going to access sensitive information about your Twitter account.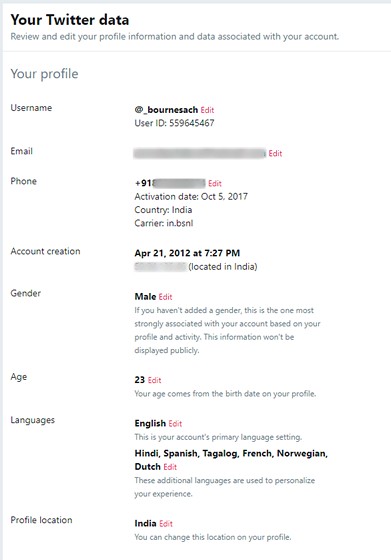 Here you'll be able to see the highlights of your account, including a heading that will provide you access to your Account access history.
If you're a new Twitter user, the access history may be pretty scanty but for a regular user like me I can check out the last 50 login attempts for my account. Here's a brief look at what my login history looks like: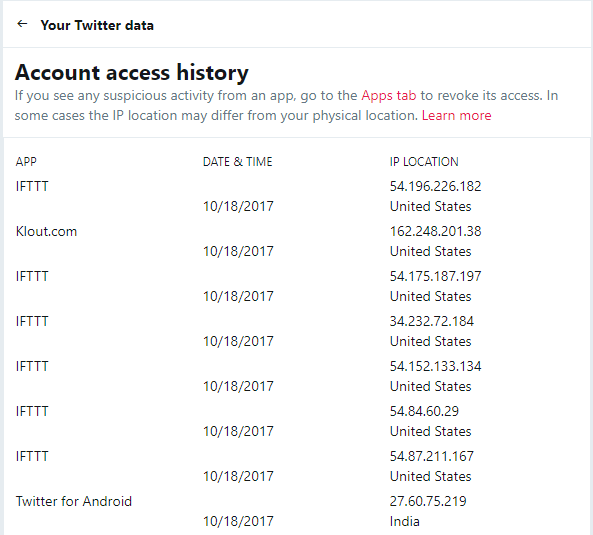 If you spot anything fishy, you can just follow the steps mentioned in the next trick to secure your social information.
15. Keep Track Of Connected Apps
Since Twitter allows you to sign up for third-party apps using its login gateway, it provides you the option to know about all the apps you've logged into using your account.
To check out apps you've authorized to access your Twitter credentials, go to Settings and privacy > Apps and see the list right there.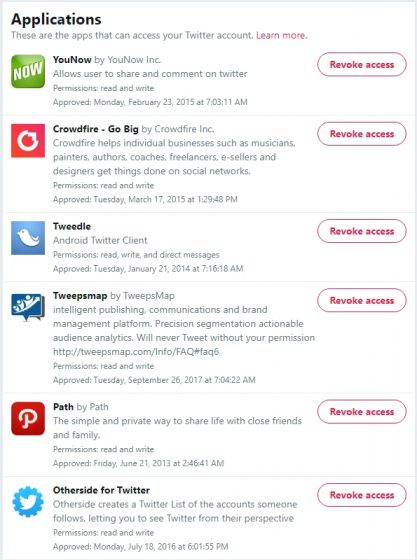 As you can see in the screenshot attached above, Twitter gives you the option to revoke access to any of the apps you've authorized in the past. Click on "Revoke Access" to no longer share your Twitter credentials with that third-party app.
This Twitter trick can come in super-handy in times of online attacks. If you've logged into a vulnerable service using your account, you can simply revoke its access from the settings page on Twitter. Your credentials will no longer be shared with that platform and you should now change your password to safeguard your social profile.
SEE ALSO: How to Post 280-Character Tweets on Twitter on Android
15 Tricks To Get The Most Out Of Twitter In 2017
Twitter is not the simplest format of social media interaction to get acquainted with in the nick of time. It definitely takes some getting used to but once you become a part of the Twitterverse, these tricks will not only help you take better control but also be valuable for building your brand on the internet.
If you even adopt a fraction of these Twitter tips and tricks in your routine, you've upped your Twitter game as compared to the average user. Comment down below if you have any Twitter tips of your own to share with us.