Google Docs offers a robust set of tools to easily create professional documents and manage them but that's not everything it has to offer. Not many people are aware of the fact that Google Docs supports third-party add-ons that bring additional features, which is one of the reasons why many similar online word processing tools can't compare to it. There are hundreds of add-ons available for Google Docs that make editing documents a whole lot easier. Well, wonder no more, as we are listing down 10 best Google Docs add-ons that will surely enhance your Google Docs experience and help you create professional documents with ease.
1. Table of Contents
Table of contents is the most important part of any long document. It gives a quick glance of what the document features, so that you can easily navigate to the desired location. With the Table of Contents add-on, you can create a complete table of contents of your document and also add direct links to the headings in a snap.

The add-on shows you the contents in the right sidebar and anyone can click on the headings to quickly access them. You will have to format the document properly for Table of Contents to work, like specify proper heading names (heading 1 or heading 2) to each heading. Additionally, Table of Contents also work a little slower on very large documents. In my testing. it took 2-3 seconds to move to a heading location in a 4000+ words document.
2. SAS Writing Reviser
SAS Writing Reviser's job is to help you revise your document and make it more impactful. It is not some tool to help non-native English users write better without grammatical mistakes. Instead, it helps you find different types of words and phrases that may make the document better or worse. You can use these suggestions to make your document better. Of course, this tool requires a good understanding of rules of the language.
It can identify passive voice, repeated words, vague words, weak verbs, unnecessary words. parallelism, simple sentences, transitions, fragments and more. The add-on brings you quick overall statistics to give you an idea of how well written a document is. With access to so much knowledge, you can easily revise a document and fix things that need fixing.
3. Highlight Tool
Although Google Docs comes with a built-in highlighter tool, that lets you highlight text in different colors, it is fairly limited. Highlight Tool add-on makes highlighting very easy and adds tons of features to give you total control. Apart from the ability to highlight text in different colors, you can also give names to the highlights, so that you know what each highlight color means. Furthermore, you can also export all the highlighted text to another document, perfect for quickly moving random text from a document.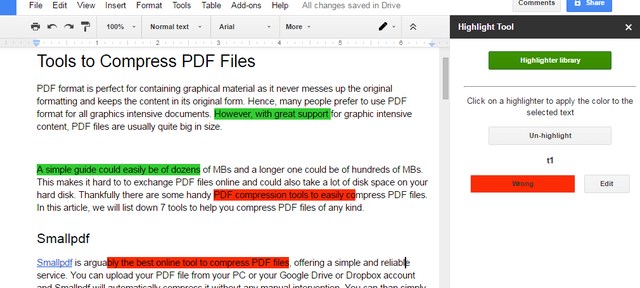 You can create multiple highlights and save them in Highlights Library for future use. On top of that, all the created highlighters can be shared with other people, so they can use them as well.
4. Translate
As the name suggests, this add-on lets you translate text in a document to another language with just a few clicks. Translate is powered by Google Translate and lets you translate content from the right sidebar. All you have to do is highlight the text that you would like to translate and it will automatically detect the language and provide supported languages to translate into.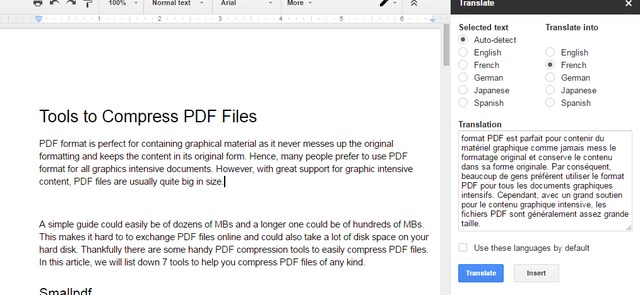 Just click on "Translate" and all the text will be highlighted in the sidebar to easily see the translated text. You can then copy/paste the translated text anywhere you like, or click on "Insert" button below to replace the original text with the translated text. Unfortunately, the add-on only supports 5 languages, English, French, German, Japanese and Spanish. Although Google Translate supports over 100 languages.
5. Pupil Pref
Google Docs has a built-in option to change the background of your document to make it easier on the eyes. Pupil Pref add-on lets you use the same feature of Google Docs, but with focus on making the document easier to work on. Pupil Pref offers 16 different color to choose from that are based on Prof Arnold Wilkins research that are proven to be lighter on the eyes, thus making your work easy.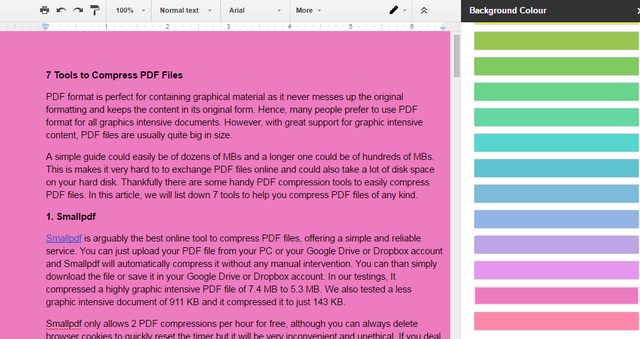 All the colors are listed in the sidebar and you can quickly switch between the colors. You can also switch back to the default white color by clicking on the "Remove Color" button. The colors listed here are all light colors and if you are looking for a dark background color for darker environment, you will have to stick with the Google Docs' default background color changer.
6. DocSecrets
Not all of the document's content is meant to be revealed to everyone reading it or to be lying around for anyone to hack. Documents may contain passwords, account IDs, confidential information and other types of sensitive data. DocSecret lets you add encrypted content inside your documents that can only be opened with a passphrase that only you will know (or the people you share it with).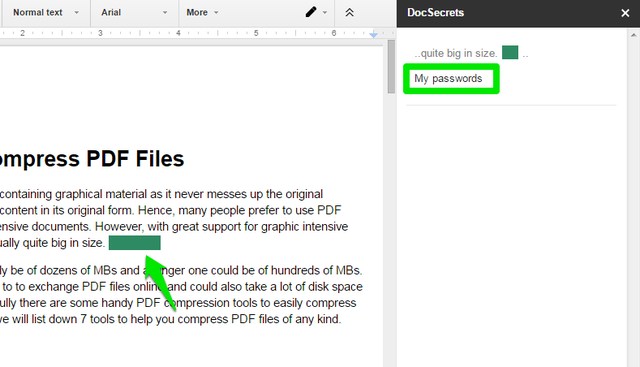 Just create a phrase and start writing sensitive content inside DocSecrets' sidebar. When you will click on "Insert" the phrase will be inserted at the cursor's location. The encrypted content will be added and randomly colored to differentiate. You can only see the content text inside the DocSecrets panel. Do note that there is no way to recover encrypted content if you forget the passphrase.
7. Wolfram Alpha
Wolfram Alpha is actually a computation based search engine that brings information to queries that can be computed. This add-on lets you add all the computation power of Wolfram Alpha into the sidebar of Google Docs. If you search for something here, the add-on will show you computable results such as size, weight, distance, radius and other similar data. This should come in handy if you are looking to add computable details in a technical document.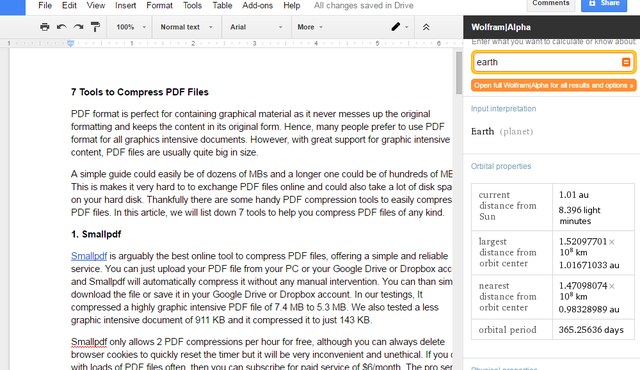 For example, if we search for "Earth" in it, instead of telling what earth is; it shows distance between sun and earth, orbital period, mass and age, etc. All of this information is now in your hands thanks to the Wolfram Alpha add-on for Google Docs.
8. ezNotifications
The ezNotifications add-on is still in beta phase but it already seems really promising. The add-on brings you notifications for all the edits made by other collaborators in a document. You can set schedules for when you want to be notified with the minimum option being once every hour. There are also "Owner options" section, that allows you to configure whether other collaborators (including editors and viewers) should get notifications or not.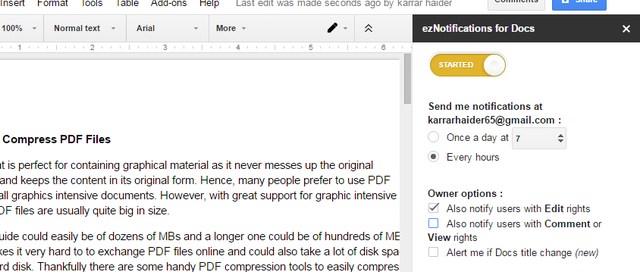 The add-on is free for now, but "Owner options" will be locked behind a paywall after the beta phase. Instant notifications for title changes has been already added and I believe instant notification for other edits will be added soon as well.
9. Extensis Fonts
If you haven't noticed, it's quite hard to access all the fonts available in Google Docs. You need to click 2-3 times and then go through the fonts, as they take at least a second to scroll and open new ones. If you use different fonts extensively, you should get the Extensis Fonts add-on that makes the process very easy. It will open all the 1200+ fonts offered by Google while making it very easy to navigate and apply the required fonts.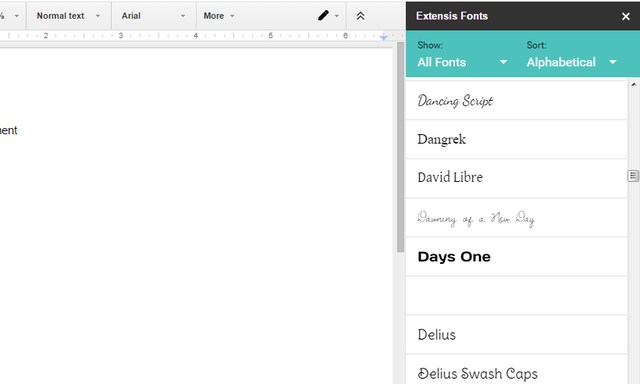 You can see fonts by category and also sort them by date, popularity or alphabetically. The preview size can also be adjusted if need be.
10. Lucidchart Diagrams
Diagrams play an important role in most detailed documents. If you need to create and add a diagram in Google Docs, then Lucidchart Diagrams is the best tool. Once added, it will let you create different types of diagrams, including Venn, Flowchart, Org Chart, Floorplan, Mind Map, Android, Circuit and more. The diagram templates will open in Lucidchart editor and you can easily edit them by dragging and dropping items.
Some of the templates are locked in the free version and you are only allowed to add 60 items. You will have to upgrade to paid packages starting from $4.95/month to access all the features. All your created diagrams will be saved in Google Drive and can be accessed using the Lucidchart Diagrams add-on.
SEE ALSO: 10 Google Drive Tips and Tricks to Increase Productivity
Enhance your Google Docs functionality with these add-ons
Add-ons are the best way to boost your productivity on Google Docs. We have tried to cover some of the most useful Google Docs add-ons and most of them are free to use as well. I will personally recommend you to try out SAS Writing Reviser for its amazing revision capabilities, and Pupil Pref if you have to stay glued to the screen while working. If you know any other cool Google Docs add-ons, do share with us in the comments section below.