Google Docs is definitely dominating when it comes to online office services. It provides all the required tools and makes it very easy to collaborate with other people on a document. However, that doesn't mean you should not try other online office suites.
Google might be able to fulfill needs of most, but it can't satisfy everyone. Furthermore, Google Docs can be a bit buggy as well, one more reason to look for an alternative. If you are one of the few who are not satisfied with Google Docs and looking for some good alternative, then we got you covered.
Although, there is no superior service than Google Docs yet, but still there are some other options that do provide some unique features. We are going to list down 5 Google Docs alternatives with unique features that may help you decide what you should use for your online office needs.
1. Office Online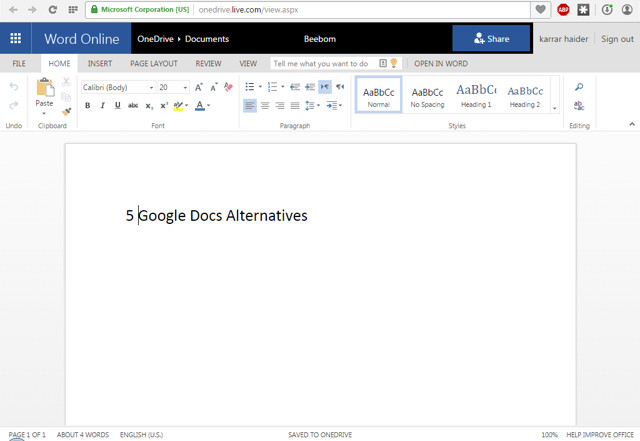 If we step down from Google docs, Office Online definitely deserves the first mention. It is Microsoft's answer to Google Docs and it provides all the basic to average features of Google docs. The only difference comes at advanced features. They both offer some unique advanced feature to each other, so the competition stays at advanced level.
For example, Google offers drawings tool in its office suite, but Office Online offers OneNote with a complete note taking app. Microsoft Office Online also comes with "Tell Me" feature that will let you ask the Office online itself if you get stuck and want to know how to do something. The feature is amazing all you need to do is type what you want to do and you will start seeing answers (quite precise as well).
Now the question holds, why you should move to Office Online from Google docs? Well, both are quite strong right now, and deciding what you should use completely depends on your needs. If you are a Microsoft Office (the Desktop app) user, then you will find Office Online to be very similar, making it easy to adapt to. All your documents are saved in Microsoft OneDrive, just like Google docs saves documents in Google Drive.
Furthermore, if you are a big fan of Microsoft Office Suite, but didn't wanted to pay for the expensive suite. Office Online can be considered as a completely free alternative to it, as it offers almost same features with a bit limited advanced features of Microsoft Office Suite. It should be noted however, that Office online will only work with an internet connection, unlike Google docs that let you edit offline as well.
2. Quip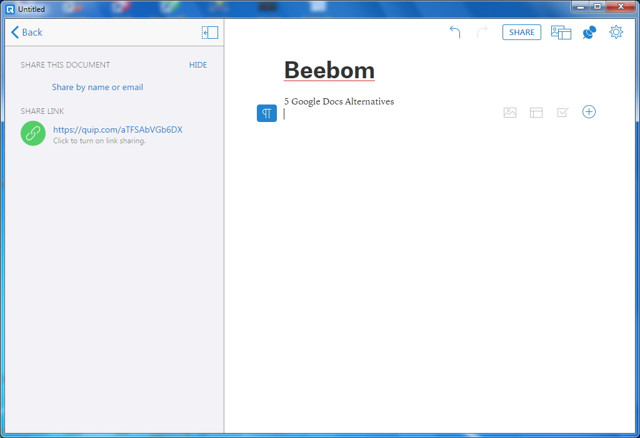 Unlike other Online Office suits, Quip doesn't offer all the advanced document editing features. However, if you are looking for a free tool that offers some robust collaboration features on all your devices, then Quip is the answer. Its interface is very intuitive and collaborative on all devices like smartphones, tablets and PC, unlike others that work best on a PC.
All documents come with a chat section where you can easily discuss about the document. This is especially handy on Smartphones, making it simple to chat and interact with both document and the chat. You can easily edit documents both online and offline and discuss the topic (online) on the go.
It also has a news feed feature that lists all the changes to the documents, so you could keep up with the changes. Few things that even Google documents lacks. However, the editing features it offers will not help you create some complex documents like manuals, etc. It offers basic formatting and writing features and will let you insert pictures and tables at max. Although, these tools should be good enough for writing some quick posts, articles and any document that doesn't require much formatting.
The main reason why you may want to try out Quip is for its vast collaboration power and ability to easily sync acros all devices. If you don't have to write complex documents and want to make sure you get the best interface for collaborating with your colleagues on the go, then Quip is the answer.
3. ONLYOFFICE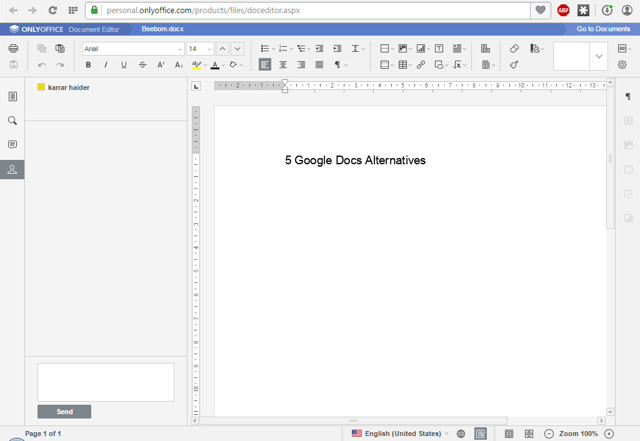 ONLYOFFICE is another great substitute for Google Docs. It offers all the average editing and collaborating tools Google Docs has to offer with an interface similar to Office Online. It comes with a Paid version with a free 30 trial targeted towards small to medium businesses and a free online office suite for personal use only.
This list is for Google Docs alternatives, so we are only going to review the free version that can replace Google Docs. The free version is only for personal use, if you are a big company then you will have to opt for paid version that includes all the tools required by a company, such as mail servers, domain and CRM tools.
With ONLYOFFICE you can create Documents, Spreadsheets and Presentations. You can add comments to a document and also live chat right on the document. This helps you remain focused and prevents you from changing between different apps while working on a document, just like in Quip.
The best part is that, you can attach a cloud storage account with ONLYOFFICE to save your work at one place. You can connect Google Drive, DropBox, OneDrive, Box and OwnCloud. Right from the main interface, you can download, move, delete and share documents, making it very easy to interact with documents.
You should go for it, for the superior collaboration it offers and the ability to add different cloud storage accounts. It is more of a beefed up version of Quip on PC, you get all the standard editing tools of Google Docs and collaboration ability of Quip in one place. However, it is only available for Windows and Linux.
4. Hackpad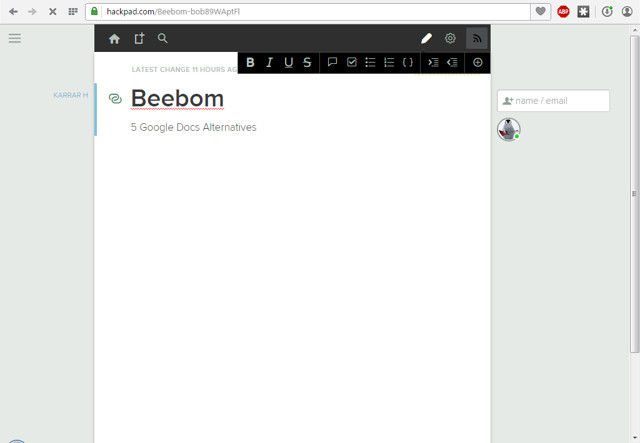 Hackpad is more of a Wiki creation suite, instead of an Online Office Suite. It was acquired by DropBox about 2 years ago and is currently being backed by it. Hackpad offers all the basic tools for wiki creation and also offers some extra tools to spice things up. However, it will only let you create documents, you cannot create spreadsheets or presentations.
The collaboration tools Hackpad offers is just amazing and makes it perfect for any business to take advantage of. The editing tools it offers can be similar to Google docs, although not as robust, but good enough for basic to average editing.
Now, why you should use Hackpad instead of Google Docs? If you only need to create some average documents and you are looking for a full featured collaboration tool, then Hackpad is the way to go. Unlike other wiki creation tools, Hackpad offers real-time editing and collaboration tools. All edits made by people are properly marked with the editor's name, so you will always know who edited what.
Furthermore, it shows changes to documents with a time stamp so you may know when it was edited. You can easily add people to join you and edit with you and list of people who made any kind of edits in the document is listed on the right panel.
If we look at Hackpad with business collaboration in mind, then Hackpad is far superior than Google Docs. Only because it makes collaboration very simple without any confusion of who edited what. Furthermore, it is completely free to use, another reason to try it out.
5. Zoho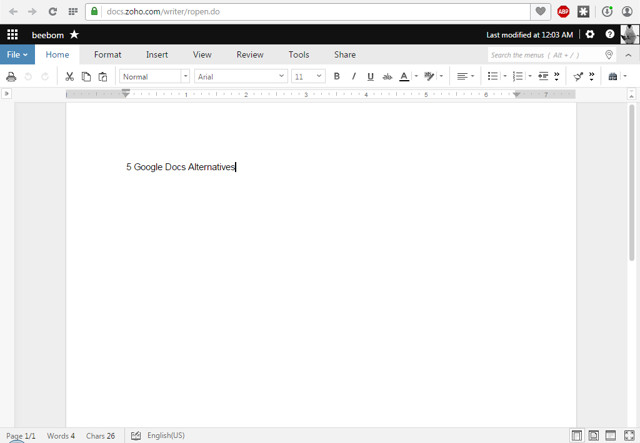 Zoho is actually a big software company that creates softwares that cater to needs of businesses. It has quite good reputation with over 2500 employees and has a robust list of business oriented softwares, with software for almost every business need. Zoho Docs is one of them offering ability to create, documents, spreadsheets and presentations.
Zoho Docs offers features similar to Office Online, but still it is unique enough to ditch both Google Docs and Office Online.
To start with, it comes with both desktop and web based apps which you can use for both online and offline access. Everything edited on any of the platforms will be automatically synced. Best of all, Zoho Docs creates a separate folder in your PC and every document added there will be synced with Zoho, that includes documents from other sources as well.
Collaborations tools are similar to Google Docs, so there isn't much we can say. Why you should go for Zoho? The reason is simple, if you like Office Online over Google Docs then you might want to checkout Zoho first. It has almost all the features Office Online has to offer, even a similar "Tell me" feature named "Search the menus". However, it offers offline working capability and a separate desktop app, making it a better choice than Office Online.
SEE ALSO: 10 Best Google Search Alternatives
The above alternatives might not be as good as Google Docs, but they all offer something unique to target different people. Have you ditched Google Docs for any other Office Suite? Do let us know in the comments.