Google Drive is one of the most used cloud storage services, partly due to the fact that it is automatically integrated with every Google account. The service offers some really nice features, both for file storage, and for creating shareable, cloud hosted documents, spreadsheets, slides, and a lot more. While Google Drive is used by a lot of people, not everyone might not know all the great features that are offered by the cloud service, and the plethora of add-ons that are available for it.
In this article, I will discuss the coolest Google Drive tricks, how to use them, and how they can help in increasing your productivity on the service. Read on to explore all the cool Google Drive tricks:
1. Web Clipboard
One of the cool features that Google Drive offers in its Docs and Sheets web-apps, is the web clipboard. The web clipboard is capable of storing the things that you copy to it. So, how is it different from the clipboard in our devices? Well, there are two key differences between the clipboard on a device (such as a Mac), and the web clipboard offered in Google Drive:
Web Clipboard is capable of holding multiple number of copied items, while the standard clipboard in a device usually always just holds the last copied item. This means that you can use the web clipboard to copy a large number of items and then simply paste them wherever you want (within Google Drive).
The Web Clipboard is also capable of copying and pasting data between different sheets. So you can copy some text off a sheet, and then paste that text into a different sheet. That's absolutely amazing.
However, copying text using keyboard hotkeys such as "Ctrl+C" does not work. To copy text to the web clipboard, you will have to select the text, go to Edit -> Web Clipboard -> Copy selection to web clipboard.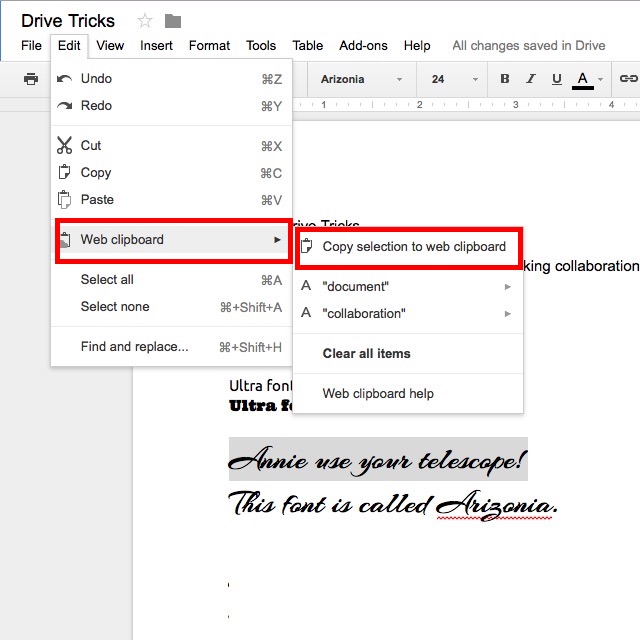 2. Voice Typing
When you are creating a Google Docs file, you can use Google's in-built speech to text system to type using your voice. It works surprisingly well, too. Even better, the speech recognition tool can also understand commands such as "newline" and "period", and it responds to them by creating a new line, or by inserting a period into the text.
Unfortunately, this feature doesn't work on Safari (because Safari doesn't support WebRTC), but it works on most major browsers, including Google Chrome, Firefox, Edge, etc. To use Voice Typing, you simply have to go to Tools -> Voice Typing in a Google Docs file.

3. Add links to Documents Without Leaving the Web App
Having to constantly search for things on the web, copying their links, and adding them to a document can quickly get annoying and tedious. Google Drive fixes this as well. You can simply select the text you want to create a hyperlink on, and press "Cmd+K" or "Ctrl+K". This will open up a small dialog box just below the selected text, where you can search for keywords and choose the appropriate link, which will then automatically get hyperlinked in the document.

4. Publish Files to the Web
Google Drive also offers a feature to publish Docs files, Sheets or Slides to the web. This bypasses the need to share links to the doc with people. Items published to the web using Google Drive can be shared via a link, or they can be embedded into a webpage. The best part about using Google Drive's "publish to the web" feature is that you can set it up to be updated whenever you make changes to the file. This means that the published content will automatically get updated whenever you make an edit to the original file.
To publish a file to the web, you can simply open the file in Google Docs and go to File -> Publish To The Web.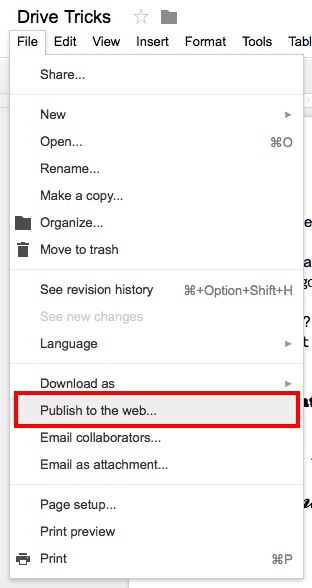 5. View Google Drive Keyboard Shortcuts
If you are anything like me, you prefer using the keyboard to navigate as much as possible around your devices. Using keyboard shortcuts is not only easier, but also ends up saving a lot of valuable time. If you're not convinced, consider what is easier: copying text using "Ctrl+C" or by right clicking, and selecting "Copy"? This applies to almost everything that we do on our devices, and Google Drive is no exception.
If you are looking to expand your knowledge of the keyboard shortcuts that work inside Google Drive's web app, you can simply press "Ctrl+/" and you will be shown a card with all the different keyboard shortcuts that are available in Google Drive.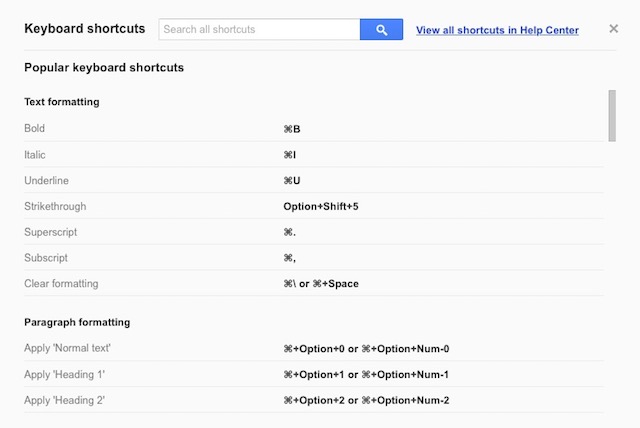 6. OCR on Images and PDFs
Google Drive also has a rather neat OCR feature hidden away inside the web app (and the Android app, unfortunately not in the iOS app). This feature can recognize the text inside your images and PDFs and create an editable, searchable Google Docs file. Isn't that awesome? The limitation of this method is that the text should be neatly written, and should preferably properly contrast with the rest of the image, or the OCR might not be able to recognize the text properly.
Also, OCR on Google Drive doesn't keep formatting intact when it converts the document into a Google Docs file, this means that any formatted text will be recognized as normal text, without any formatting.
To use OCR on your images or PDFs, simply upload them on Google Drive. Then, right click on them and select "Open in Google Docs", and Google Drive will convert the image/PDF into an editable "text-only" file.
I tested the OCR capabilities of Google Drive by creating a sample JPEG consisting of text, a table, formatted text, and some text in calligraphy fonts.
This is in no way the best recognition you can get on an OCR, but it will work for your basic needs. If you need an OCR software that can flawlessly recognize and extract text, data and formatting from your documents, you can check out our article on the best OCR software.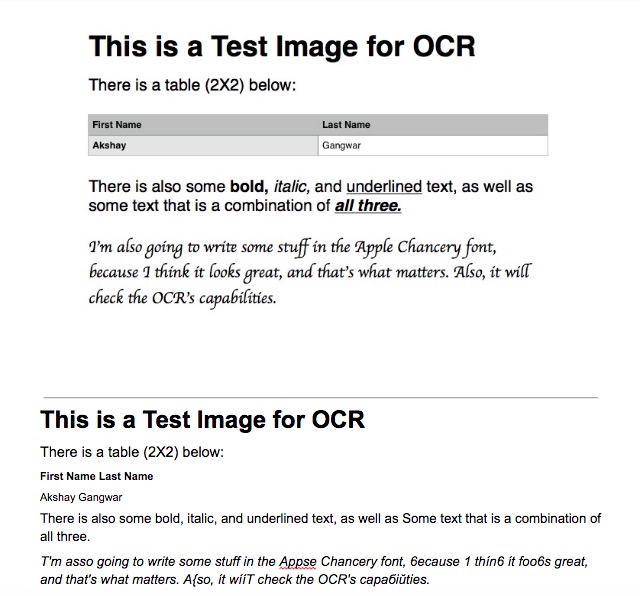 7. See your Files Sorted by Size
Google Drive sorts uploaded files and folders by the "Latest Modified First" rule. This can be useful as it ensures that the files you uploaded the most recently are present at the top, for easy access. However, if you are running low on available space on your Google Drive account, you might want to sort the files by their size, in order to figure out where you can save space the most.
While there isn't directly a way to do this, you can still get Google Drive to arrange files by size, by following the steps below:
On the Google Drive homepage, hover your mouse on the "Upgrade storage" option on the bottom of the left panel.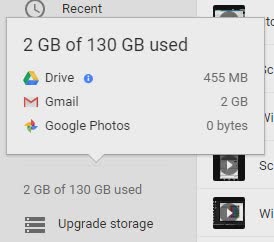 This will bring up a window with the breakdown of your usage, click on "Drive", and Google Drive will sort all your files by Size.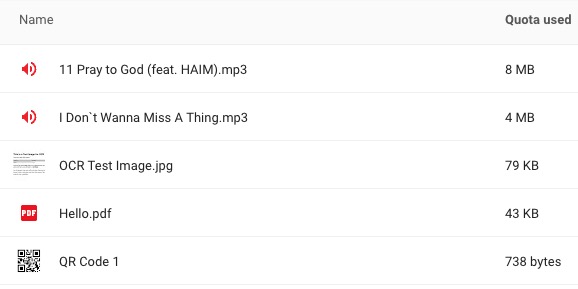 8. Check your Write-up For Plagiarism and Grammatical Errors
Google Drive has a lot of add-ons available that can greatly increase the productivity and effectiveness of using Google services such as Google Docs, Sheets etc. One such add-on is called ProWritingAid, and it is a tool that can check your document for grammatical mistakes, spelling mix-ups and plagiarism, among a lot of other features.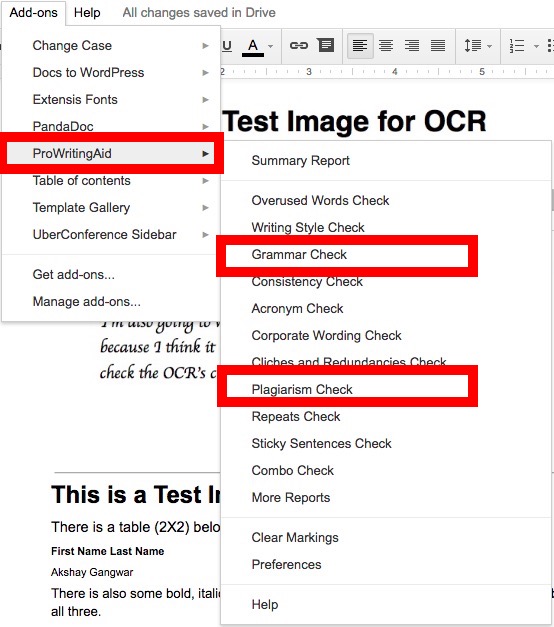 The tool itself is paid (starts at $40 for a year), but it offers a 14 day trial, so you can try it out before spending any money on it.
9. Automatically Save Emails and Attachments to Google Drive
Another add-on for Google Sheets, called Save Emails and Attachments, does exactly what its name implies. You can define rules based on factors such as the sender's email ID, the subject, message size, attachments etc, and the add-on will run every hour automatically, and sync emails from your Gmail email account into a spreadsheet. It also saves a copy of the email as a PDF inside Google Drive, along with any attachments in the email.
The add-on can also be run manually if required, by going into Addons->Save Emails and Attachments -> Manage Rules -> Run Manually
10. Add Multiple Rows and Columns to Google Sheets
Google Sheets is a pretty well rounded tool, and it provides almost every spreadsheet capability that someone might need. Combine that with the plethora of add-ons available for Google Sheets and you will see just how incredibly powerful it can get. However, the one drawback of Google Sheets is that it doesn't allow users to multiple add rows and columns in the sheet. It only allows adding rows and columns one-by-one, but this can get tedious if you need to add multiple rows and/or columns to the spreadsheet. To fill this glaring gap in functionality, you can use an add-on called "Add Rows and Columns". This add on allows you to add multiple rows and columns in Google Sheets with ease.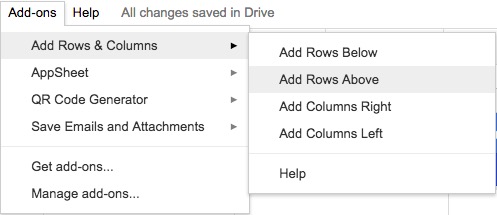 SEE ALSO: Google Drive Vs. Dropbox: Which One You Should Choose?
Become a Google Drive Ninja!
Now that you know about these tricks, and functionality increasing add-ons for various Drive services like Docs, Sheets etc., you can incorporate them into your daily workflow to become more productive and efficient while using Google's cloud service. Google Drive has a lot of additional functionality that can be unlocked by using add-ons and chrome apps that work with it. There are a number of other add-ons and apps that you should check out from the Chrome Webstore, and from within Google Docs, Sheets and Slides.
If you know of an Google Drive add-on, trick or a Chrome app that you think we might have missed in this article, feel free to let us know about it. We would also like to hear about the ways you use Google Drive to be more productive, both personally and at work. Share your experiences with Google Drive, and thoughts about using it, in the comments section below.