Ever since Google debuted its "Now" feature with Android 4.1 Jelly Bean, we have loved it. The search giant enhanced things further with the "Now on Tap" feature that debuted with Android 6.0 Marshmallow last year. For people unaware, Google Now on Tap basically scans whatever is on the screen and brings contextual results and information based on it. So, if you've been using Now on Tap, you'd know that it is pretty handy and Google has made sure to add a number of new capabilities to it since its release. However, we won't blame you if you haven't been able to keep up with the new Now on Tap developments. Like always, we are here to help you and thus, here are 8 unique ways to use Google Now on Tap:
Note: If you haven't been using Google Now on Tap, you will first have to enable it on your Android (6.0 or above) smartphone. To enable it, go to Settings->Google->Search & Now->Now on Tap and turn it on. Once done, you can simply press hold the home button anywhere to get info from that particular screen.
1. Use it as a dictionary
Google Now on Tap's new feature lets you use it as a dictionary, so when you are reading an article and you want to know the meaning of a word, you don't have to jump to another app to get the meaning. You can simply select a word in the article or in an app, email or chat and Google Now on Tap will instantly bring the definition along with other informative links. Pretty cool, right?
2. Get details of an image
You can now even do an image search with Now on Tap and it works pretty well. For instance, if you don't know where you took a particular image, you can just use Now on Tap to bring you the location of the image and other details through the image search. To do it, you can just open a picture and activate Now on Tap and it should show you whatever details it can gather from the image.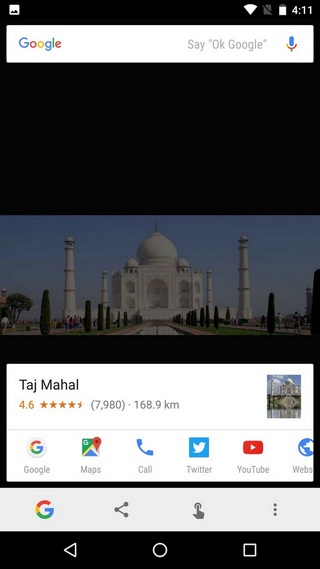 3. Search via Camera in real time
If you are travelling somewhere and you are curious about an object or monument you don't know about, you can now use Now on Tap with the camera to bring you info in real time. You can simply fire up the camera, aim at the thing you want to know about and initiate Now on Tap and it will bring you whatever info it can find from your camera viewfinder.
4. Take a screenshot
If you feel too lazy to take a screenshot by the power lock button combo or if you want to share a screenshot quickly, you can use Google Now on Tap to take a screenshot. All you need to do is go to the page of which you want the screenshot and activate Now on Tap. Then, hit the share button at the bottom left of the Now on Tap window and the screenshot will be taken. Once done, you can easily share the screenshot through different apps or you can upload it to Google Photos to save it.
5. Get flight status and track packages
There are times when we want to check the details of a flight quickly. However, doing a Google Search of the flight and then getting details isn't the most quick way. Well, why worry, when you have Now on Tap. As long as the flight number is mentioned on the screen, in an app, chat, email etc. you can use Now on Tap to get all the details on the flight, its departure & arrival time, the gate where it'll land at the airport and more. If you always tend to get late for flights, Now on Tap can be quite handy.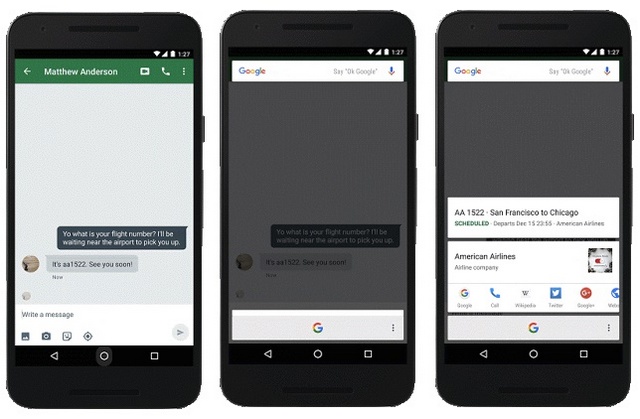 Along with flight status details, Now on Tap also lets you track shipments with ease. If you have the shipment details on the screen, you can just activate Now on Tap to quickly check where your package is.
6. Create Calendar events and set reminders
If you are planning for a trip with your friend on a messaging app or email or any other app, you can use Now on Tap to easily add a date to the Calendar and create a event for a trip. To create a calendar event, there needs to be a date on the screen.
You can also create a reminder by activating Now on Tap when someone's asking you to remind them about something. So, no more manually creating calendar events and reminder.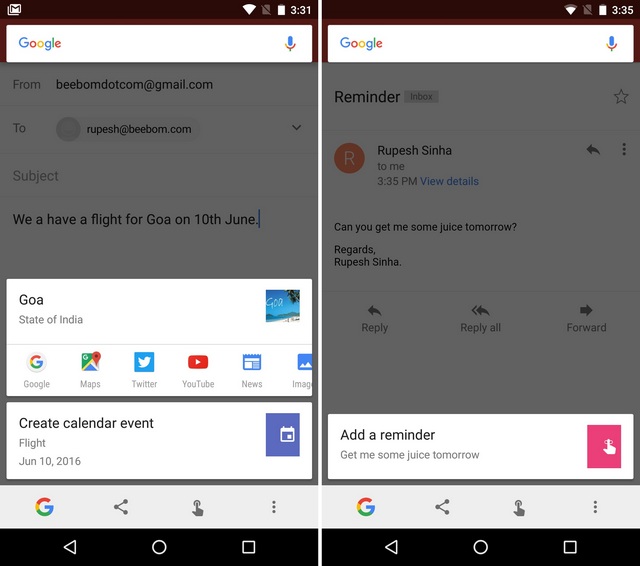 7. Get details of the movie, music or video
We love discussing movies, so if you are at a forum talking about a movie and you want to know more about the movie, you can use Now on Tap to get the movie's IMDb rating, news and other links.
The same goes for music or videos too, as when you activate Now on Tap while watching a video or playing a music, it brings you details around the song or video, the artist and other details. So, if you just discovered a song on Spotify and want to know more about it and its artist, Now on Tap has you covered.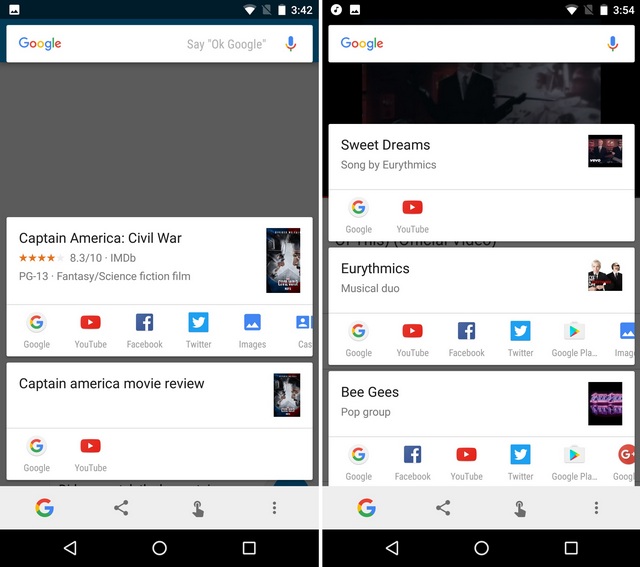 8. Get details on almost anything
As we have mentioned, Now on Tap brings details about almost anything that is relevant from your screen. So, basically you can do a lot with it. For instance, if you are talking about a place, you can use Now on Tap to look up its location, ratings, closing time. Another example is, when you are reading a news article and want to read more related to the topic, you can use Now on Tap. Moreover, you can use your voice to get more results from within the Now on Tap page.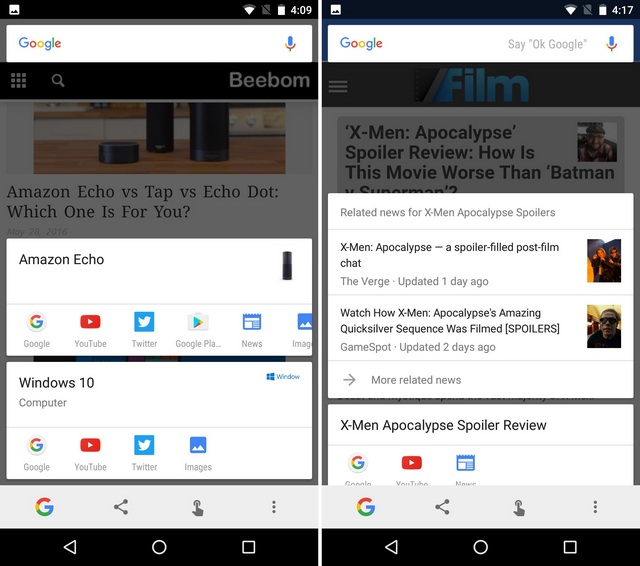 Well, the point is, you can use Google Now on Tap to get  plethora of information for almost anything, as long as it's on the screen. So, use it at your will and explore different uses of Now on Tap.
SEE ALSO: How to Add Custom Voice Commands to Google Now
Ready to use Google Now on Tap extensively
If you have given Now on Tap a miss, we are sure the aforementioned points would have made you interested in the cool Google Now feature. With Android N and the new Google Assistant upcoming, we can expect things at Now on Tap to get even more better and more chatty, I guess. So, how are you using Google Now on Tap? Tell us what you love to do with it in the comments section below.
---
Load More