The Jon Snow versus Ramsay Bolton saga in the HBO smash hit 'Game of Thrones' might have reached a predictably brutal and gruesome end, but much like the ongoing tussle between Flipkart and Amazon in the Indian e-commerce market, the battle between Ola and Uber for supremacy in the country's taxi market is becoming a prolonged and stretched-out saga with no apparent end in sight. Not that consumers should complain, though. Until not so long ago, the idea of an on-demand cab service was almost unheard of, and one had to rely on the notoriously unreliable auto-rickshaws or traditional cabs to get from point A to point B. With the advent of Ola, Uber and other services like Meru and the now-defunct Taxi For Sure, hailing a ride in a relatively clean, air-conditioned vehicle became as easy as apple pie. Although pricing started off a bit on the higher side, fierce competition has ensured that these services today are a lot more affordable than they were 4 to 5 years ago.
However, concerns about customer safety and complaints about billing, driver behavior and poor routes have often plagued these cab aggregators, forcing government agencies in various cities to step in from time to time to regulate these companies that have, for the most part, avoided any serious regulatory restrictions up until now. While no app-cab operator is perfect, many of us have gotten so used to these services that it would become well-nigh impossible for us to imagine going back to chasing regular cabs or flagging down auto-rickshaws and haggling with them over fare. So, with app-cabs like Ola and Uber providing the path of least resistance, are there any significant advantages of using one over the other? Or are they two sides of the same coin? In order to better understand these services and see if we're missing out on something by preferring one over the other, let's take a detailed look at some of the advantages and disadvantages of using Ola and Uber in India:
User interface and Ease of Use
Both Ola and Uber are available on multiple platforms, so whether you use an Android device, an iPhone or even a Windows-based handset, you will be able to download and use both apps on your device. Once you install them on your phone, though, the first thing you'll need to remember is that you'll absolutely need to switch on 'Location Services / GPS' on your device for the Ola app to work. While Uber also once needed the GPS to be turned on, the big update rolled out to the app last year now means you can actually hail a cab without giving away your current location, which is certainly a good thing from the privacy point of view, provided, you're game enough to manually type in your pick-up address every time.
On opening up the Uber app, you'll land on a page denoting your location on the map of your city (provided you have the GPS turned on). The aforementioned update, which was rolled out in the U.S. late last year and in India earlier this year, has made the booking process really easy, insofar as you don't even have to type-in your pick-up address anymore. The GPS will pin-point your current location, and you'll just need to fill in your destination in the big white box at the top of the page that simply says "Where to?" As you start typing in, you'll be presented with various options to choose from, and once you see the option you're actually looking for, just tap on that, and the app will show you the fares for cabs in each category after a quick calculation.
At the most affordable end of the spectrum, you've got the UberPool service that needs you to share your cab with strangers in exchange for a pocket-friendly fare, while on the other, there's the most exorbitantly-priced UberBlack service that comes with many of the bells and whistles that you may not necessarily need, at least not on a daily basis. Currently, the other categories on offer in Delhi include UberGO, UberX, UberXL and UberHire. It's worth remembering, though, that the categories vary quite a bit depending on region and even the time of day, so what's offered as an option in one city may not necessarily be available in another. Also, Uber lets you schedule cabs for later.
As far as the UI is concerned, you get a 'hamburger menu' (three little lines) at the top-left corner of the app's landing page, tapping on which brings out an overlay that shows you your rating and, lets you contact support, claim refunds, register complaint and, access your account settings. Overall, it's a pretty intuitive user interface that has only gotten better with the recent revamp. As for the white-on-grey design, it looks classy and sophisticated, if a tad boring. The company also rolled out "location-sharing" and a few other novel features with the aforementioned update a few months back, all of which we covered just last month.
It's pretty much the same story here as well in terms of seeing your own location literally pinpointed on the map, but unlike Uber, you'll have all the available cab categories displayed at the bottom of the landing page itself, and you'll need to pick one to get your estimate. Ola offers a mind-boggling array of options, which can, frankly, get a bit confusing if you're a new user. Even experienced users need to navigate the app carefully so as not to pick wrong options. Available categories include Share, Micro and Mini, as well as three different flavors of its most expensive 'Prime' tier, including Prime Sedan, Prime Play and Prime SUV. The company also offers an exorbitantly-priced 'Lux' category in Bangalore, but I haven't had the privilege of checking that out having only lived in Kolkata and Delhi since the onset of the app-cab era.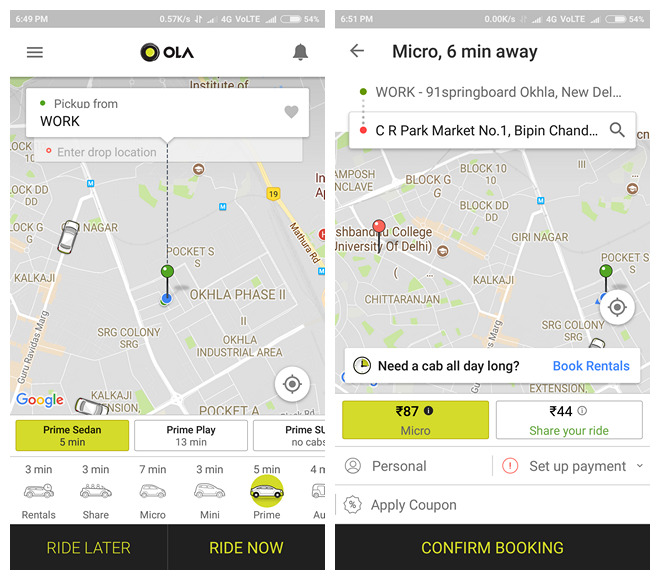 Interestingly, with the Ola app, you can hail not just cabs, but also autos, e-rickshaws and until recently, even traditional taxis! Ola also offers an 'outstation' service, a 'shuttle' service (in Delhi) and a 'rental' service. With so many options jostling for your attention, you'll have to remember to set the category manually every time because, 'Ola Prime', one of the more expensive offerings, is selected by default. So in case you're only looking to book Micro, Mini or Share, you'll end up paying a whole lot more if you forget to choose your preferred option right at the get-go. Like Uber, Ola also lets you pre-book or schedule a cab for later using the "Ride Later" option.
In terms of the user interface, Ola also has a 'hamburger menu' on the top-left corner of the app's home screen, just like its San Francisco-based rival. You can tap on that button to see your ride history and other information like promotions, notifications and payments etc. Overall, its a well-designed app that's lightweight and definitely less of a resource-hog than Uber. As for the design, to each their own, but personally, I find the white-on-yellow design sunny and cheerful without being garish or loud. There's nothing really to choose from between the two apps per se, but I do hope that Ola will clear up the clutter a little and make its interface a little less confusing for seniors and people who are new to smartphones.
Note: You can also book an Uber right from your computer. To do that, you need to go over to a dedicated sub-domain that Uber set up for the purpose. You'll only need to provide your mobile number and password for this method to work. While we did manage to book an Uber this way, it just didn't seem as intuitive as the standard method.
Ola also has an 'offline' booking mode that allows people without internet access to book a cab, although, you'll still need to use the smartphone app for this method to work. You'll get that option automatically if you open the Ola app on your phone without either mobile data or Wi-Fi turned on. Unfortunately though, in our case, repeated attempts at booking an Ola using this method failed miserably.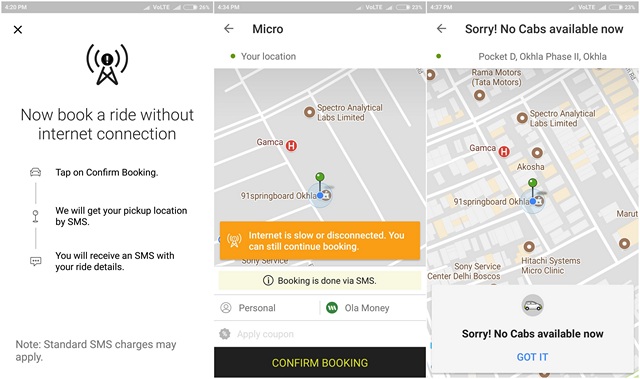 Availability and Pickup
From personal experience, Uber almost never refuses a ride to a customer because of unavailability of vehicles, especially, if you're looking to book one of their cheaper services like Pool or Go. In several years of using the service in Kolkata and a few months in Delhi, I've very rarely failed to find a cab, although, the prices quoted at rush hour are often not for the faint-hearted. Another problem with trying to accommodate everybody is seemingly unique to UberPool. The company often matches you with riders who're traveling in a completely different direction, which means UberPool rides often take extremely long and convoluted routes, typically leading to longer ride-times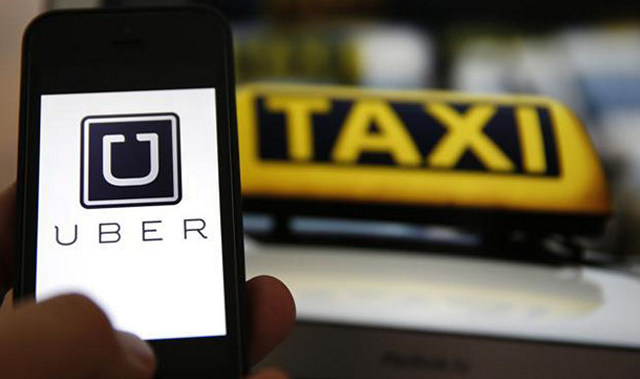 Unlike UberPool, Ola Share passengers are generally matched with fellow riders going in the same general direction, so nobody has to take a long detour. That being the case, trying to book Share rides during rush hour can be a bit of a pain, as the company often rejects ride requests (at least in Kolkata and Delhi) because other cabs on share duty in the region aren't traveling in the same direction. While this differentiation isn't applicable if you're looking to book UberGO or Ola Micro (or higher), you're still more likely to get a 'cab unavailable' message from Ola than Uber, irrespective of the category you're looking at.

There are another couple of crucial differences between Ola and Uber when it comes to the pickup experience. Firstly, there's the ETA that's given to you at the time of booking. While Ola almost always understates the time needed to wade through congested city traffic, Uber is a generally bit more realistic with its ETAs, although, as anyone who's used the services extensively will tell you, you'll be lucky if your cab actually manages to arrive on time irrespective of which one you've booked.
Secondly, Ola issues an OTP to the rider every time a cab is booked, irrespective of the category. As a rider, you need to mention this to the driver, who enters it in their app to be verified by the Ola servers. While it is an extra step that could be a bit of pain sometimes, it's is actually a great innovation as it significantly reduces chances of a mix-up and Uber would do well to introduce something similar, at least, in countries with chaotic traffic, like India.
Professionalism of Drivers & Cleanliness of Cars
What's even more disconcerting than having to wait longer-than-expected for your cab to arrive, is the fact that drivers, having accepted the trip request, will often call you up to know your destination, and promptly cancel if they think that the trip won't be profitable enough for them. Actually, they'd very often ask you to cancel so as to avoid the penalties for cancelling rides. While Ola and Uber both charge riders a nominal 'cancellation fee' in these cases, you can get them back more often than not, but more on that later. While this problem affects both Ola and Uber, I have personally found that Ola drivers are more likely to call you up unnecessarily than Uber drivers, either to guide them with navigation or to know your destination.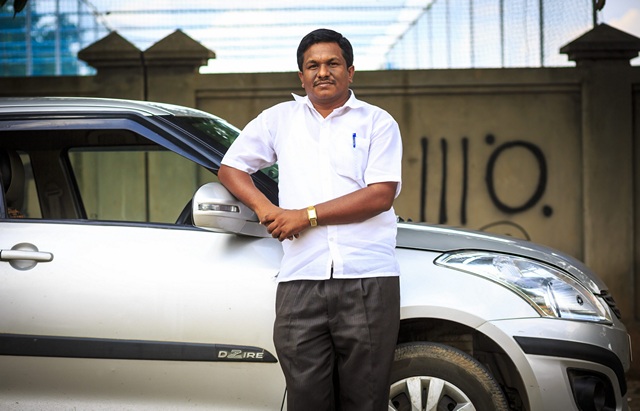 Professional ethics aside, drivers on both platforms also lack proper training to navigate, although, the ones that have been on the platform for long generally do a better job of it than the newbies. If you really want to split hair, I'd say Uber drivers are only slightly better trained to use GPS navigation than their Ola counterparts going by my own personal experiences and those of my friends, relatives and colleagues.
While most drivers on Ola and Uber are relatively more courteous than traditional taxi and auto drivers, the two companies would still do well to educate them on how to converse in polite society. Having said that, going by personal experience and anecdotal evidence collected from various online forums, message boards and social media, Uber seems to have a slightly higher standard than Ola when it comes to hiring drivers, although, your mileage may vary.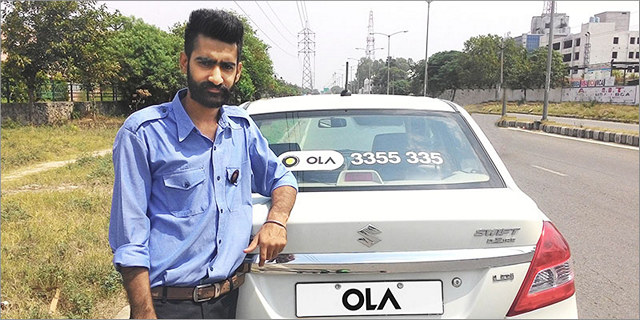 While I've found most Ola and Uber cabs to be relatively clean, Ola vehicles, whether in Kolkata or Delhi, consistently look worse for the wear compared to their Uber counterparts. While you do expect the vehicles to suffer a few scratches and dings on our unruly roads, Uber vehicles generally look better-maintained than the Ola ones. As for the vehicles themselves, I personally dread having to board the Indicas and the Indigos, as they are the worst of the lot in terms of their NVH (noise, vibration and harshness) levels, but the Dzires, Xcents and Wagon Rs hold their shape much better over longer periods of time.
Fares and Payment Options
Let's face it. While all of the above are important, the critical factor for many of us is the fare. Personally, I open both apps on my phone and compare the fares on the two platforms before actually going ahead with the booking. For penny-pinchers like myself, it's almost always the service that's asking for the lower fare that wins out in the end. While Ola Share is generally cheaper over shorter distances (at least in Delhi), the picture changes completely with the increase in distance. Typically, UberPool and UberGO are significantly cheaper than Ola Share and Ola Micro respectively over distances longer than 6kms, but only as long as you don't get the dreaded "Fares are higher due to increased demand" message.
Fares
As mentioned earlier, Ola offers Micro, Mini, Prime Sedan, Prime Play and Prime SUV categories alongside Ola Share, which comes with flat, upfront fares based on the distance. For micro, the company charges Rs. 6 per Km till 15 Kms, after which, the fare increases to 12 per Km. Additionally, you also pay Rs. 1.5 per minute as 'Ride Time Fare'. For Mini, the charges increase to Rs. 8 per Km and Rs. 16 Per Km respectively, while ride time charges increase to Rs. 3 per minute. Prime Sedan and Prime Play both cost Rs. 10 per Km for the first 15 Kms, and increases to Rs. 16 per Km after that. Prime SUVs start at Rs. 15 per Km. While Ola Share fares are typically lower than UberPool over shorter distances, they tend to be significantly higher over longer distances.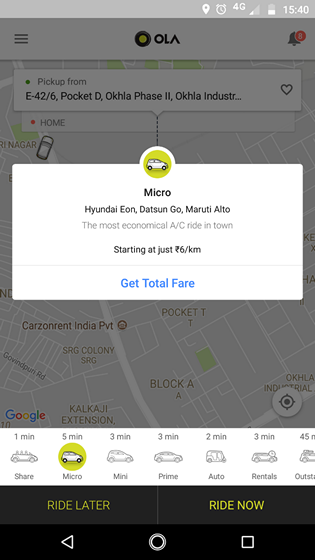 Uber doesn't advertise its fares officially anymore, very likely because of the controversial 'surge pricing' methodology that often leaves people scratching their heads about the exorbitant rates the company comes up with in times of high demand. However, after the recent rate-hike implemented earlier this year, the company's fares have seen a steep increase. Generally, fares are comparable with Ola for the most part, although, as mentioned already, I've found UberPool and UberGO to be consistently cheaper than Ola Share and Ola Micro respectively (at least, over longer distances). Until late last year, though, the company did announce its per Km rates publicly, and charged Rs. 7 per Km for UberGO, Rs. 9 per km for UberX, and Rs. 14 per Km for Uber Black and Uber SUV. As for UberPool, it also charges a flat fare just like Ola Share.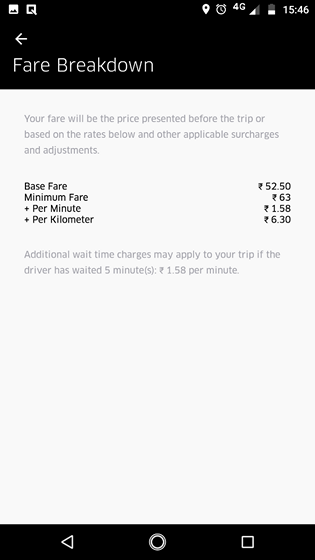 Note: If you're an Uber user, you'll have noticed that the company offers a lot of promos and coupons that reduce your fare by quite a bit. Often, you'll get coupons that reduce your fare by as much as 50-75%, although, the upside is capped at Rs. 50-75. As I speak, I'm currently using a coupon code that's cutting my commute costs by "50% up to Rs. 50", so I'm only paying about Rs. 35-40 instead of the Rs. 70-80 that it normally costs. Ola, on the other hand, doesn't offer as many coupons, but regular users can buy a 'SharePass' that reduces costs significantly. While Uber coupons are often applicable to all its services, SharePasses are only applicable to Ola Share rides, so you'll still have to pay full fare if you need the whole cab.
Payment Options
Ola has three modes of payment: Ola Money, credit or debit cards and of course, cash. Unfortunately for many regular users, though, the company doesn't accept payment via any third-party e-wallets, like PayTM or Mobikwik, although, individual drivers with PayTM accounts do sometimes accept PayTM payments, so you'll need to check with drivers individually about that. Personally, I am still sticking to good 'ol cash, but I can see the appeal of digital wallets, as it's a real pain having to fiddle with cash day and night.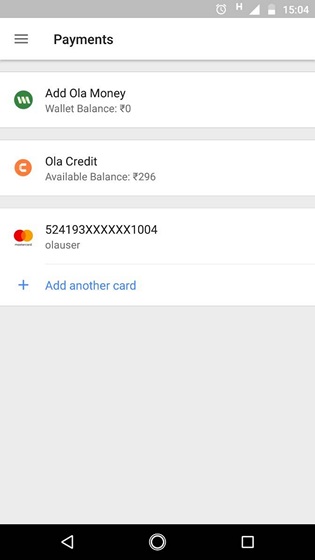 Uber accepts cash as one of the three modes of payment in India unlike in many Western markets. The company also accepts credit and debit cards, as well as PayTM, which is more versatile and accepted at many more merchant locations in the country than Ola Money. It's also more user-friendly, and lets you do recharges in much lower denominations than Ola's own e-wallet, which is another major positive for infrequent users. Uber has also recently started accepting UPI Payments, so you can check out our comprehensive guide on how to enable it.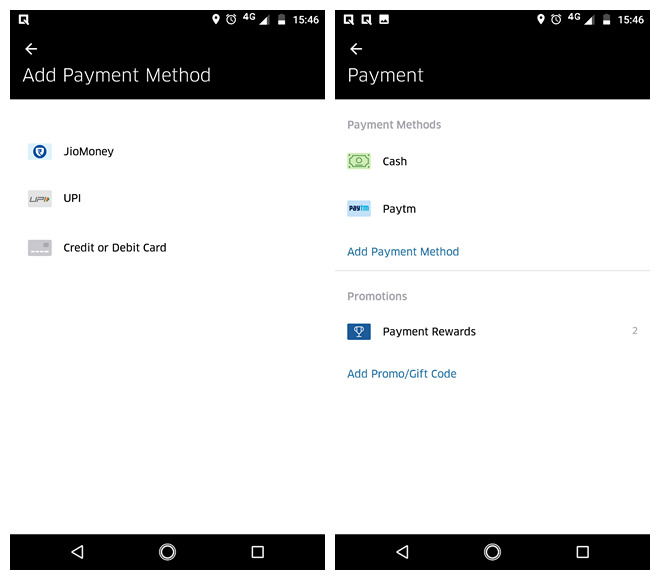 Cancellation Fees and Refunds
As mentioned already, drivers on both platforms have the propensity to cancel after calling you up and asking you about your destination, even though, it seems to be a bigger issue with Ola than with Uber. As a customer, you're often saddled with a cancellation fee that ranges from Rs. 25 on Ola Share to Rs. 100 (plus service tax) on UberXL and UberHire. I've had the misfortune of being on the wrong-end of the stick on both Ola Share and UberGO, but got the charges waived on both platforms because, on each occasion, I was either asked by the driver to cancel, or, was cancelled on by the driver without any input on my part.
Recently, though, Uber has developed a weird way returning your cancellation fee for cash-only users. The company returns the money as Uber Credit, but charges the extra amount on your next trip nonetheless, before deducting it from the following trip. Yes, it's as confusing as it sounds, and not half as intuitive as Ola's straightforward waiver, but works. Kind of.
Customer Service
Having used both Ola and Uber extensively in Kolkata and Delhi and, having spoken to many who've used both services frequently, it seems that both companies have a lot of room for improvement in terms of customer satisfaction, although, going strictly by anecdotal evidence, Uber seems to be slightly ahead of Ola in this department. While I haven't personally had to deal with the Ola customer-care reps up until now, I did need to contact Uber last year because a promo code they kept texting me just wasn't being accepted by the app. After a couple of mails either way, I received an apology for my troubles, and the correct code was texted to me, which worked just as advertised.
SEE ALSO: 12 Cool Uber Tricks You Should Try
Uber vs Ola: Do We Have a Winner Here?
Depends on who you ask. There are many who've had a terrible experience with one platform or another, while others have sworn off all app-cabs after having bad experiences with both. Yet others vouch for one service over another for reasons best known to them. Sure, frequent stories about drivers misbehaving with women passengers don't help matters, but the fact still remains that even with the bare minimum background checks that these guys have to undergo, you're still probably safer in an app-cab in the middle of the night than you would be in an auto or a traditional taxi, whose drivers rarely go through any background checks whatsoever.
In a market that has effectively become a duopoly for Ola and Uber, I personally don't really have any great preference for one service over another, although, I did prefer Uber in Kolkata, as the cars were spiffier, the drivers more courteous, and fares, almost always lower. In Delhi, however, my experience with Uber has been soured by a couple incidents, while Ola has been steady and solid. Sure, there have been those ubiquitous cancellations and terrible navigation, but generally well-behaved drivers, decent cars and lower fares mean Ola has been my preferred mode of transport here but for a few stints here and there with Uber because of cheaper promotional fares.
So do you prefer Uber over Ola? Or is it the other way around? Or like me, do you have different experiences with the two platforms in two different cities? What do you think needs to be done to make these services safer, more reliable and more affordable? Do let us know about your experiences with Ola and Uber in the comment section below.