Sleep tracking is a notable addition to the already robust Apple Health that boasts a wide range of health and fitness features including the ability to check headphone audio level in real-time and automatic reduction of loud headphone audio. So far, I have loved using the built-in sleep tracker to keep a track of sleep and also improve it. However, some users have reported that it's unable to track the sleep accurately. If you have run into the same problem, try out these tips to improve sleep tracking in iOS 14 on your iPhone.
Tips to Enhance Sleep Tracking on iPhone Running iOS 14 or Later
So, what could be preventing the built-in sleep tracker from recording data accurately? From what I can tell after taking a close look at how the sleep tracking feature works and used it to keep a tab on my sleep ever since it was available in the iOS 14 beta, it could be due to a miscellaneous glitch or too many distractions.
Besides, I won't completely rule out the possibility of a rare bug that may be hindering the sleep tracker. Taking all these things into account, I have suggested solutions that could prove to be helpful in troubleshooting the mess.
Force Restart Your iPhone
The very first solution that I would suggest you try is to hard reset your device. More often than force restart works in fixing random issues that seem to crop up out of nowhere. So, it would be wise to give it a shot first up.
If you have iPhone 8 or later, press and quickly release the volume up button. Then, press and quickly release the volume down button. Now, hold down the side button until the Apple logo appears on the screen.
On iPhone 7/7 Plus, you need to hold down both the volume down button and the side button at once until the Apple logo appears on the screen.
If you have an iPhone 6s or 6s Plus, hold down both the home button and the power button at once to force restart your device.
Now, let a sleep session to complete to find out if sleep tracking has improved or not.
Perfectly Customize Sleep Tracking
If the first solution has not fixed the sleep tracking issue, ensure that you have ideally customized it. Health app offers you the needed flexibility to fine-tune sleep tracking as per your needs. So, make sure it's in line with your goal.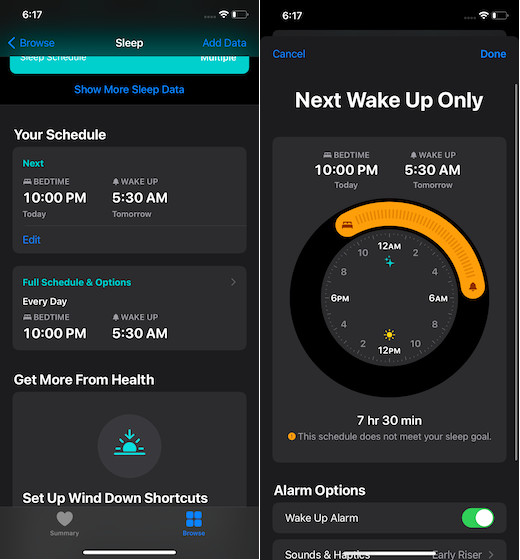 Open the Health app on your iPhone and tap on the Browse tab. Now, choose the Sleep option. After that, tap on Edit under the Your Schedule section. Next, customize your sleep schedule and tap on Done at the top right corner of the screen to finish.
Note: 
If you tend to get distracted by incoming alerts during your sleep or often get late, turn on the Sleep Mode and Wind Down can prove to be pretty helpful. Wind Down alerts you to wrap your work and head to your bed on time, sleep mode ensures distractions remain at bay. Tap on the Get Started under the Set Up Wind Down Shortcuts and then set it up. 
Also, make sure to add Sleep Mode to the Control Center (Settings > Control Center) so that you can turn it on or off with ease. 
Just in case you want to go for a fresh start by wiping out all the previous sleep tracking data, follow this guide to remove all the recorded sleep tracking data on your device. 
Add Sleep Tracking Data Manually
Though there is no denying the fact that the built-in sleep tracker works quite well in tracking the sleep, I don't think it's flawless. So, just in case you don't find it up to the mark in terms of recording your sleep information accurately, take advantage of the option to add sleep data manually.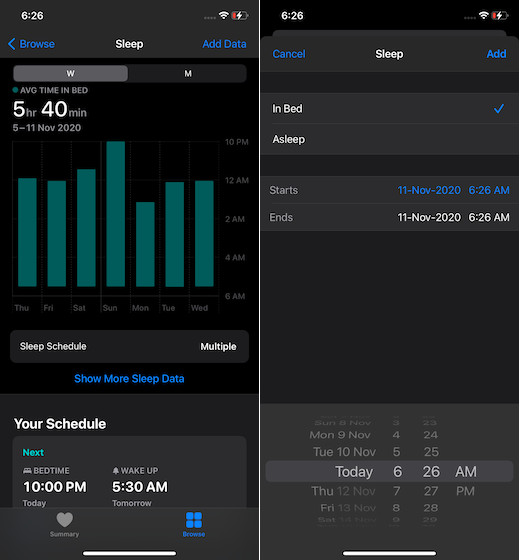 To do it, launch the Health app on your iPhone -> Browse -> Sleep -> Add Data. Now, enter the sleep data and then make sure to tap on Done at the top right corner of the screen to finish.
Update Software on Your iPhone
If the sleep tracker just doesn't seem to work as expected, there is no harm in updating the software. I guess the problem could be due to a rare bug that might be preventing it from working properly.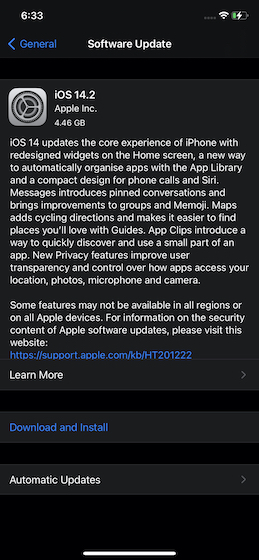 As software update often fixes random/miscellaneous issues, you can count on it to sort out this problem as well. To do it, launch the Settings app on your iPhone -> General -> Software Update. Now, hit the Download and Install option to update the software on your iOS device as usual.
Improve Sleep Tracking on Your iPhone in iOS 14
Hopefully, these tips have helped the sleep tracking feature to work normally on your iPhone. If they have, let me know the trick that fixed the issue. Besides, if there is any other solution that works well in terms of sorting out this problem, I would be glad to know that as well.
Though Apple Health looks quite complete thanks to the presence of a series of health and fitness tracking features like Cycle Tracking and Hearing Health, it can't claim to excel in each aspect. What are the new features and the notable changes you want to see in it? Do not forget to share your two cents.