After a long wait, Apple has finally introduced Sleep tracking with iOS 14 and watchOS 7. And while you need an Apple Watch to get accurate data, you can set it up on your iPhone to get the sleep tracking going. You no longer have to depend on third-party sleep tracking apps. In this article, I am going to show you how you can set up sleep tracking on your iPhone in iOS 14.
Set up Sleep Tracking on Your iPhone Running iOS 14
Of all the features of iOS 14, Sleep Tracking is one of my favorites. I love the new features like home screen widgets, picture-in-picture mode, the new iMessage improvements, and more. But none of them have the potential to impact my health positively. With Sleep Tracking, Apple has introduced a way to help you end your day in such a way that your body and mind are relaxed.
Sleep tracking brings features like the Wind Down mode that dims your screen brightness, disables notifications, and gives you access to a simplified lock-screen, so you are not disturbed when you are preparing to sleep. It also lets you set goals and track your progress over time. You can see the quality of sleep you are getting and make better changes to improve it.
Sleep tracking was a much-needed feature and I am happy that Apple is finally bringing it. With all that said, let's see how you can set it up:
Steps to Set up Sleep Tracking on Your iPhone
1. Open the Apple Health app, select the Discover tab, and tap on "Sleep". Here, tap on the "Get Started" button under the "Set up Sleep" section.
2. On the next page, you will see a splash screen that will show you information about this feature. Tap on "Next" to continue.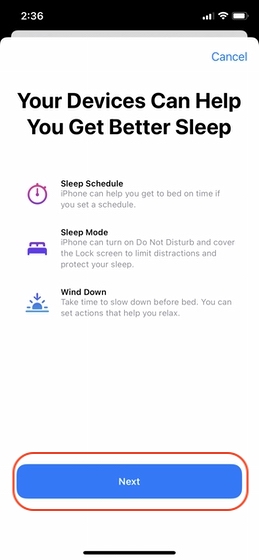 3. Next, we will set up our sleep goal. By default, it's set to 8 hours. Tap on the minus (-) and (+) button to increase or decrease the goal. Tap on "Next" to continue.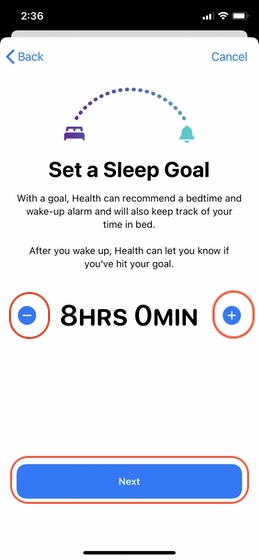 4. Now, we will create a schedule. You can select the days along with the wake-up and sleep time. Once you have made the changes, tap on the "Add" button at the top-right.
5. On this page, you can add another schedule if you want (helpful if you want to create different schedules for weekdays and weekends). Click on "Next" to continue.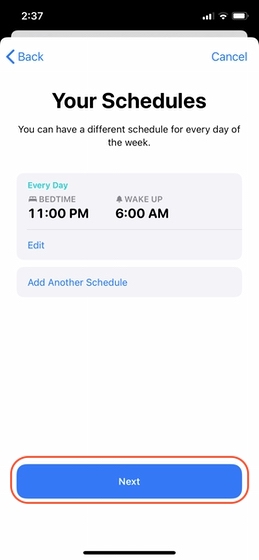 6. Here, you can choose to enable "Sleep Mode". If you enable this feature, the phone will show a simplified lock screen and automatically turn on the do-not-disturb mode on schedule. Tap on "Skip" if you don't want to enable this feature.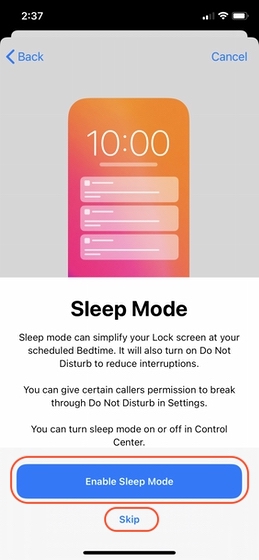 7. Wind Down mode is like "Sleep Mode". The only difference is that it activates before your sleep schedule. Apple has included this to allow you to prepare for sleep without any distractions. You can either choose the duration of sleep mode and enable it or skip it.
8. Finally, you will see the screen where the Health app will show all your configurations. If you want to make any changes tap on the "Back" button at top-left. When you are happy with all the settings, tap on "Done" to finish the setup.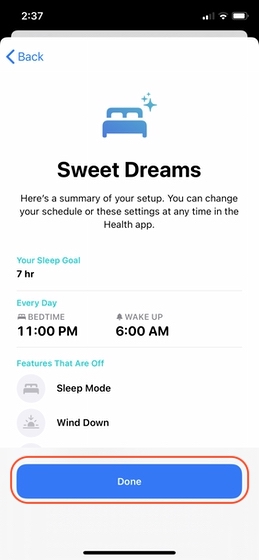 If you ever want to change the settings in the future, repeat the same steps, and make the changes where required.
Take Care of Your Health by Tracking Your Sleep
Sleep is a huge metric when it comes to determining your overall mental and physical health. If you are not getting a good night's sleep, you won't be able to perform at your best. Make sure to enable this feature to form a good sleeping habit and track your sleep so you can make the right changes. If you have any questions about this tutorial, ask your questions in the comments below.
---
Load More