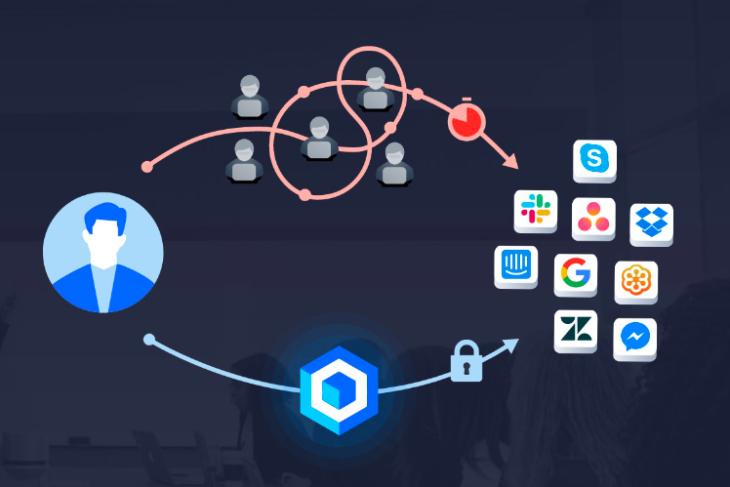 One of the biggest problems when managing and growing a big team is sharing login credentials for different services that your company uses daily to get the work done. Not only it's a high-security risk, but sharing login credentials with every new employee is also time-consuming and frustrating. Then there's the pain of managing per-app permissions and removing access of anyone who is leaving the company. All in all, it's a problem that every manager can live without. If only there was an easy way to securely share logins & access within teams without jumping through hoops. Well, today we are going to share a service that does just that. Teamstack is a cloud identity and access management platform that provides your workforce with secure, convenient access. In this article, we are going to take a look at all its features to see what it brings.
Key Features
In this section, we are going to take a quick look at all the key features of Teamstack so you know what to expect from the service.
1. Secure Cloud Directory
Teamstack's Cloud Directory allows you to manage users, groups, authentication methods, and permission levels in an intuitive, secure web interface. All your users are synced in real-time so you can keep an eye on all the genuine users and even identify fraudulent activities. Finally, the cloud directory also lets you easily manage user status (for example: active, inactive, etc.).
2. One-Click Provisioning
My favorite feature of Teamstack is the one-click provisioning feature. With a single click, you can add or remove users from all of your applications. No more sharing of passwords one-by-one or keeping track of which team-member has access to which applications. Also, once someone leaves your team, you can remove their access from all your applications with just one-click. This feature is an answer to prayers of all the admins who have to manage the onboarding and offboarding of team members.
3. Single Sign-on
Teamstack is also great from your user's perspective. As a user, you don't have to sign into dozens of applications individually. Users are only required to enter their Teamstack credentials once and they will gain access to all the applications. Teamstack is integrated with more than 500 popular applications so no matter what your team is using, you will be able to grant them single sign-on privilege using Teamstack.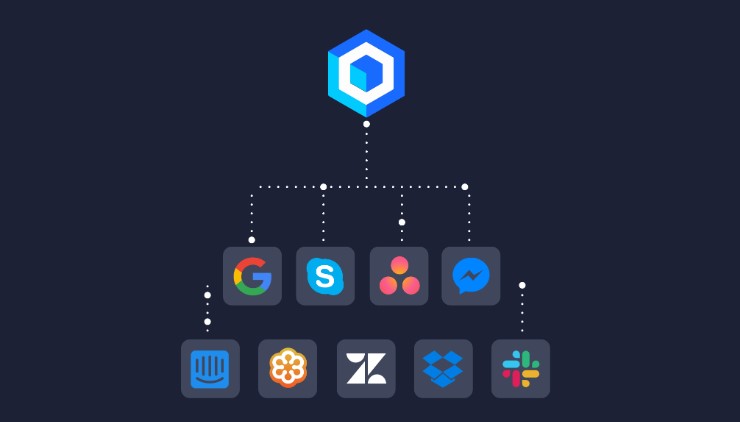 4. Multi-Factor Authentication
Teamstack is not all about ease-of-use. Although it's main aim is to make the process of onboarding and offboarding team members buttery smooth, it doesn't do that at the cost of your security. It makes your system more secure. Apart from enhancing security by providing one-click provisioning and single sign-on capabilities, Teamstack also provides other features such as multi-faction authentication or MFA. You can apply different authentication factors ranging across different security levels across your whole organization.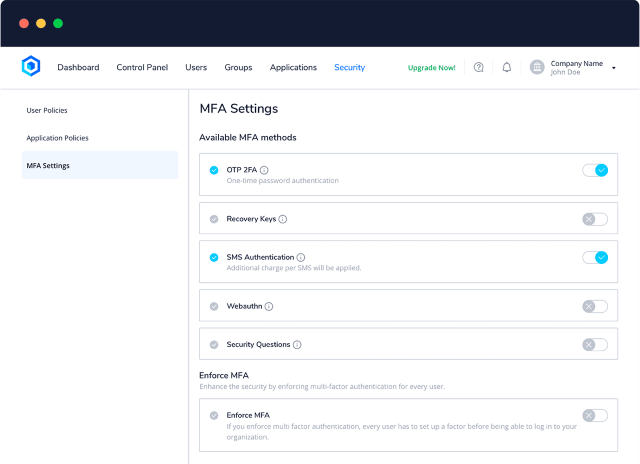 You can also enable policy-based MFA enforcement for sensitive apps so not all users can access the information. You can restrict access to files and apps to only those who need it. When it comes to MFA, Teamstack supports several popular methods, including WebAuthn (Touch ID on Mac, Windows Hello, FIDO2), TOTP (Google Authenticator), SMS Codes, and more.
5. Form-Based Applications
Another great feature of Teamstack is it allows users to easily login and access all their form-based applications with single sign-on using the Teamstack browser extension. Admins can disable users' ability to view the credentials thus reducing risks of stolen credentials. Even mobile support is coming soon for both Android and iOS devices.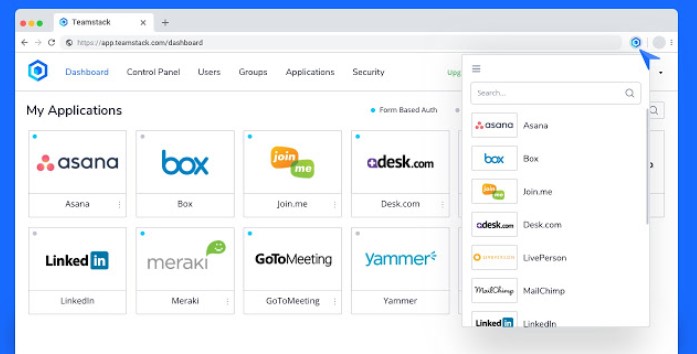 User Interface and Ease of Use
I have been testing Teamstack for a few days now and considering what it does, the app is pretty simple to use. Once you register with the service and log into its web app, you are provided with a simple task list. The web app guides you through all the steps and you are set up and running in no time. The first step is to add the applications that you want to share across the team. The list contains more than 500 applications so you can find most if not all applications that you use here.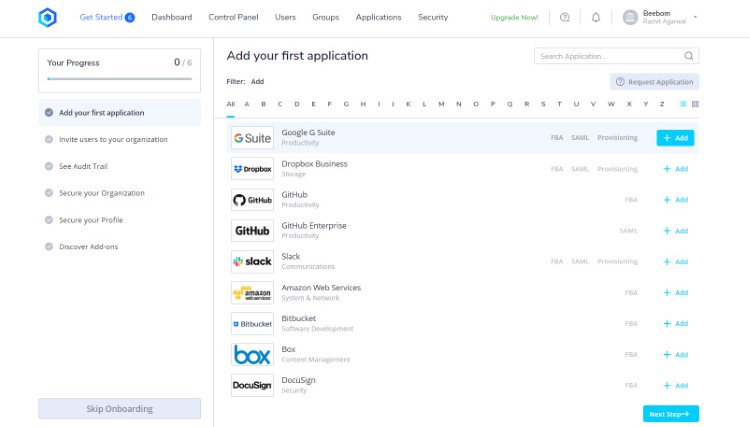 Once you have added all the applications, you can invite users that you want to add to Teamstack. Then you can move onto the next steps that will help you secure your accounts, add add-ons for extra functionalities and more. I like how Teamstack displays all the major elements of the software in the top navigational menu so that you are never lost. You can click on "Dashboard" to see the status of users and accounts, use Control Panel to manage users, notifications and tasks, and so on.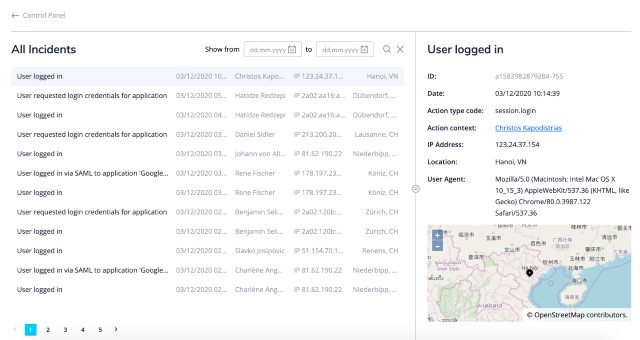 You will learn more about the app as you start using it. I love that it starts with the basics and doesn't overwhelm you with features. You discover and learn features as you need them. Overall, I like Teamstack's user interface and found it quite easy to navigate and use.
Pricing and Availability
Teamstack is a web-app so you can use it regardless of your operating system. Plus the company is also releasing support for form-based applications on mobile (Android and iOS) shortly. When it comes to pricing, the company offers a free plan that includes five users, 1 SAML application, and 4 FBA apps. While this is not enough for any team, it's a good place to start and check out the service before buying it. The basic paid plan starts at $3/user/month. There's also a professional plan that costs $4/user/month. You can check the details of these plans in the image attached below. If your needs are even bigger, you can contact the company for its Enterprise plan which they will customize for your needs.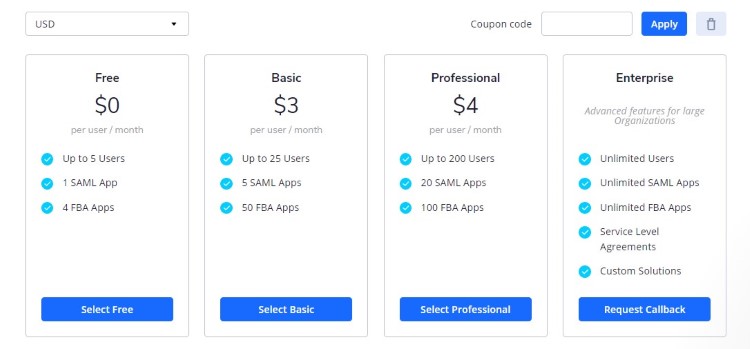 But that's not all. Teamstack is offering an excellent opportunity for our readers. If you use the code "beebom" while checking out, you will get 6 months of free basic plan along with all the add-ons. How great is that. So, remember to use the code and grab your free six months or click on the link below to directly visit the offer page.
Teamstack: Provide Your Workforce with Secure Convenient Access
That ends our article on this awesome cloud identity & access management platform. For teams that need to share login credentials for tens of apps to dozens of members, Teamstack is a no-brainer solution. The service offers a free plan so click on the link above and check them out. And let us know if it helped your team solve the onboarding and offboarding problems.