We have been extensively using smartphones since a long time to surf the web, use different apps but only recently have we started to pay attention to our security. That can be attributed to various reports suggesting that our internet activities and information online is tracked by various agencies and even our governments. These has resulted in us taking security measures to secure our online activities and that's where VPN apps & services have helped us out.
Some people use VPN to access geo-blocked content, while some use it for security purposes and some use it to go anonymous on the internet. Like Android, even the iPhone features a plethora of great VPN apps. However, if you want something simple and straightforward, we'd like you to suggest Rocket VPN.
We have already talked in detail about Rocket VPN for Android, so why leave the iPhone version behind, right? So, let's get into the details of Rocket VPN for iPhone, shall we?
Get started with Rocket VPN on iPhone
Setting up the Rocket VPN app on an iPhone is as simple as it gets. When you first open the app on your device, the app will prompt you to grant the app permissions. Select "Ok" to move forward. Once done, you can choose a virtual location and tap on "Connect". Rocket VPN will them prompt you to allow it to add a VPN configuration.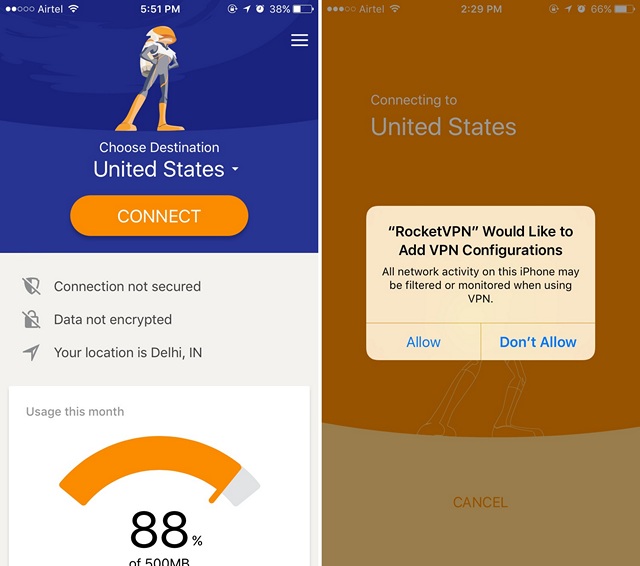 After you select "Allow", you will have to use TouchID or enter your Apple ID password to confirm it. When it's done, the VPN connection will be made and you will see a VPN icon in the status bar to suggest the same. Pretty easy, right?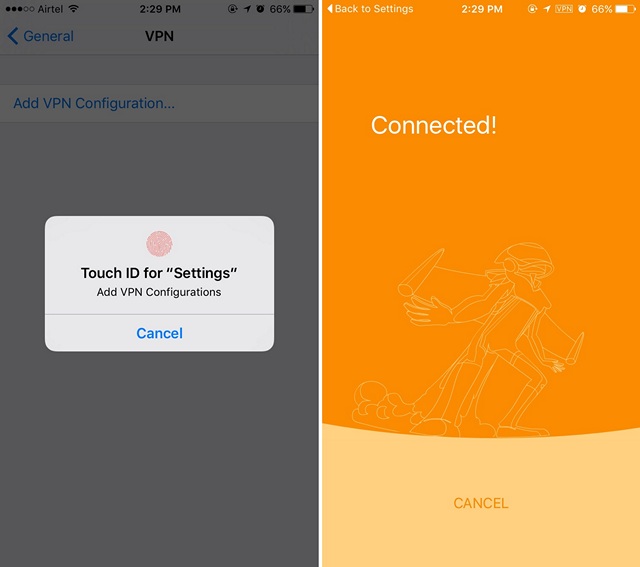 User Interface
We have reviewed a few other apps by Liquidum and they all have one thing in common: a simple yet beautiful UI. Well, Rocket VPN on iOS is no different. Rocket VPN's UI will please people who don't like useless fancy transitions and plethora of options. As we said, it keeps hings simple with a single page interface. The top section of the homepage features the "Connect" button as well as the option to choose the virtual location for VPN. Scroll down below and you will find sections showing your monthly usage and your current or virtual location.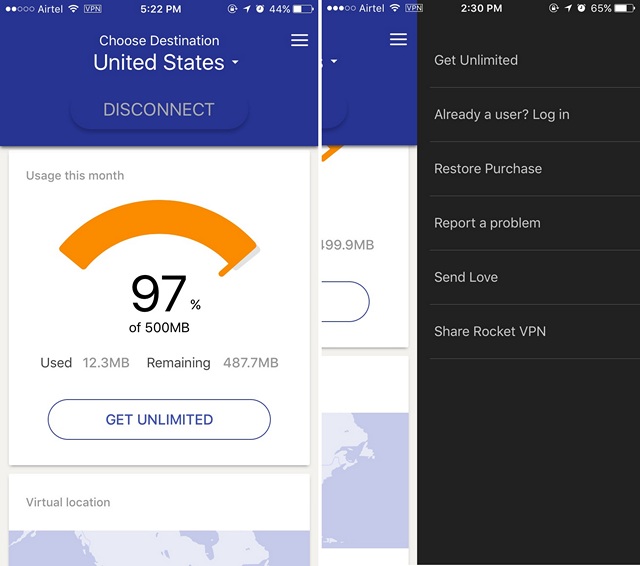 The app also features a hamburger menu at the top right, which is unusual but okay, considering it does not feature any important options or settings. It features the options to get Rocket VPN's unlimited subscription, log in to your account, restore purchase, report problem, send love and share the app.
Key Features
VPN apps are supposed to bring security to your online activities and that's what Rocket VPN offers. The VPN app makes sure that you browse the internet connection as anonymous, so that companies and third parties cannot spy on your online activities, identity or location. The app also keeps your personal info safe against hackers, when your iPhone is connected to a public WiFi network.
Access Restricted Content
Rocket VPN offers a number of virtual locations including the likes of United States, Great Britain, Australia, Japan, France etc., so that you can use one of these to access content not available in your country. For instance, say Spotify is not available in your country, in that case you can simply fire up Rocket VPN and connect to a virtual network like US, where Spotify is available and you should be able to use the music streaming service on your iPhone.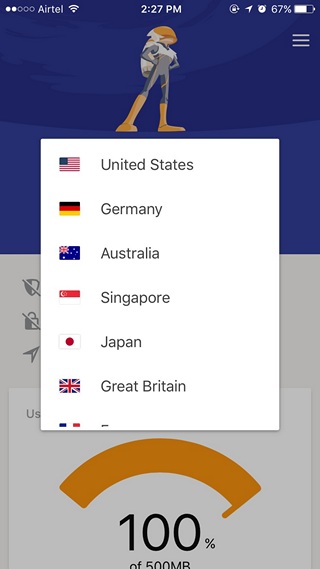 Speed Test
VPN apps might bring a lot of value in terms of  security but they also cut down your usual internet speed. That's because all the network activity on your device is filtered through these apps. We tested the internet speed through the Speedtest.net app and found that Rocket VPN does drop your internet speed quite drastically.
The results of the speed test are from the free version of Rocket VPN and you can expect better speed if you purchase a premium subscription of the app. Having said that, if you plan on using the free version of Rocket VPN, be prepared for a slower internet connection.
Performance and Usage
In our testing of the Rocket VPN app, we found the app's performance admirable throughout. You can just open the app, tap connect and expect the VPN connection to work smoothly. We did not experience any hiccups or hang-ups, which is certainly impressive. Also, it's all so easy to use. The app does not feature any advanced options or settings, which would confuse a layman user. 
Free and Unlimited Plans
Rocket VPN is available for free in the App Store but the free version only offers 500 MB of data usage every month, which isn't really enough. The app offers an Unlimited subscription plan, available for $3.99/month or $23.99/year. The Unlimited plan offers unlimited data, better speeds and removes ads.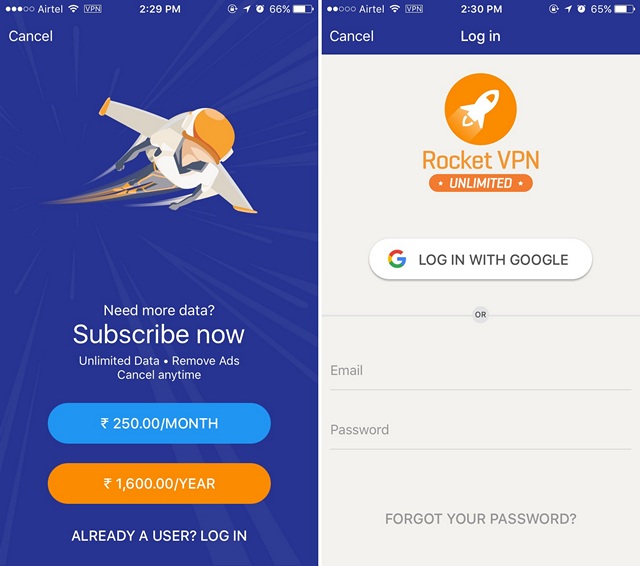 Pros:
Simple, functional UI
Snappy performance
Easy to use
Cons:
Not as feature rich as its Android counterpart
No advanced features
SEE ALSO: 7 Best Ways to Share Files Between iPhone, iPad and Mac
Want a simple VPN app for iPhone? Get Rocket VPN!
Make no mistake, Rocket VPN is not for you if you want complex, advanced features in your VPN app. However, most of us just want a VPN app that works without having to go through the hassle to set up things. Well, that's where Rocket VPN shines, as it just works out of the box. So, what are you waiting for? Install Rocket VPN on your iPhone and let us know about your experience with the app in the comments section below.
Install Rocket VPN (Free with monthly subscription for Unlimited version)