Today, the entertainment industry is being dominated by streaming services. Whether you are listening to music on Spotify or catching the latest shows and movies on Netflix, you are constantly streaming. This approach is great when you are at home where you have high-bandwidth unlimited WiFi but not so much when you are traveling. And while all these services allow you to download media on mobile devices, there is no way to download them on your laptops. I still like to watch movies on the big screen of my laptop rather than on my iPhone. That's where Audials One comes in. It is a service which allows you to capture movies, shows, and songs from streaming services and take it offline on your desktop.
Not only that, Audials One also allows users to access more than 100,000 radio stations around the world and record live programming so you can listen to it at your leisure. In this article, we are going to take a deep dive into the program and see what it brings to the table.
Key Features
Audials One 2019 brings a number of interesting features to the table. However, before we take a deep dive into the features, let us first talk about the legality of the things. While recording shows, movies, and songs for offline viewing using services that you are already paying for is not strictly illegal, you should know that Audials One doesn't have official tie-ups with the services that it supports.
Note: So, it would be better if you are familiar with the copyright laws in your country. Also, this is strictly for personal use. Sharing of any media that you record is completely illegal (unless it's free and not protected by any copyright) no matter which part of the world you live in. With that said, let's take a look at all the features that Audials One has to offer us.
1. Record Radio Stations and Songs
My favorite feature of Audials One is the ability to record radio stations all over the world. This allows me to catch up on my favorite shows and music when it suits me. Audials One makes it very easy to record shows and music playing on radio stations. Just click on the "Radio tab" and search for the station that you want to record. Hover your cursor over the radio and you will find both the listen and record options.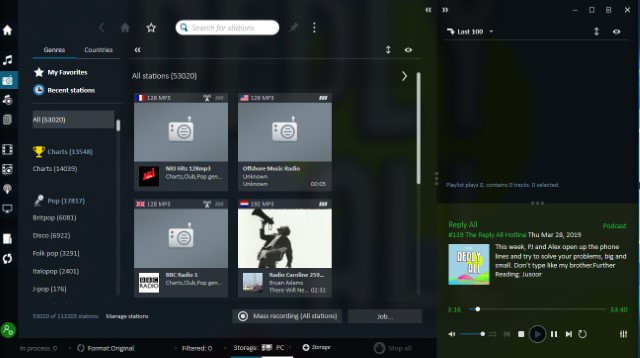 Using Audials One you can also record songs from various streaming services like Spotify, Pandora, and more. Note that you will need to have a paid subscription to these services if you want to be able to record songs. You can't record songs using the free version of music streaming services like Spotify as it is illegal. Audials One just gives you a way to take your music offline on your laptop, something that you cannot do with native apps.
2. Stream and Record Podcasts
I am still baffled by the absence of good podcast players on desktops. Both Windows and Mac lack a good podcast player which allows users to download podcasts. Audials One solves this problem by allowing users to both stream and download podcasts. The podcasts are categorized into different categories which makes it easier to discover new podcasts. If you want to download a specific podcast, you can just search for it by name using the search bar at the top. You can access all the old episodes and download them with one click. It's pretty easy to use.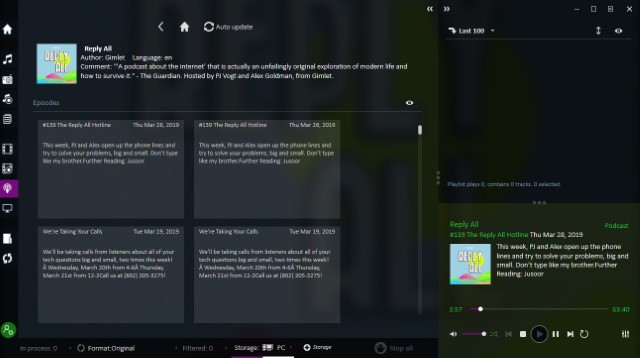 3. Record Movies, Shows, and Videos from Streaming Platforms
Audials One also allows users to record videos for offline viewing. None of the videos streaming platforms like Netflix, Hulu, YouTube, Vimeo, DailyMotion, and more offer native desktop apps. Moreover, the web apps of these streaming services don't offer any offline viewing capabilities. This is a big issue for me as I want to keep a directory of downloaded movies and shows that I can consume when I am offline. Audials One solves this problem by allowing me to record shows, movies, and videos quite easily. You can either use its browser extension or just copy and paste the link of the video in the app to start recording video content.
4. Media Converter
A powerful feature of Audials One is its media converter which allows you to convert audio and video files to any format that you want. Just head over to the "Convert" tab and import the files that you want to convert. The best part of using Audials One to convert files is that you can use batch processing. So, if you have a folder full of WMV files and you want to convert them to MPEG4, you can do that with just a few clicks.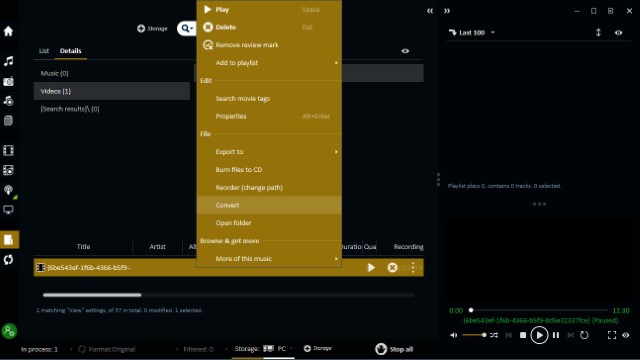 5. Other Features
We have only broadly touched the main features of Audials One. The software offers a plethora of tiny features that make it stand out from the crowd. For example, it can record songs in high-quality formats. It supports more than 100,000 radio stations. It supports almost all media streaming services. All recorded media is automatically tagged.  It automatically normalizes the volume of all radio recordings to a uniform level. You can either record shows and songs one by one or you can record an entire season with one click. There are many such features that you will discover when you are using the app. In the meanwhile, you can visit its website to know more.
Pricing and Availability
Audials One is available for both Windows and macOS operating system and can be downloaded from its website. The apps are free to download but require a paid license key if you want to access most of its features. It also offers iOS and Android apps with limited features. When it comes to pricing you can either get the Gold subscription for $3.99/month ($39.99/year) or use a one-time payment of $59.99 which will cover all the updates till the end of 2020. There are also cheaper options available with fewer features.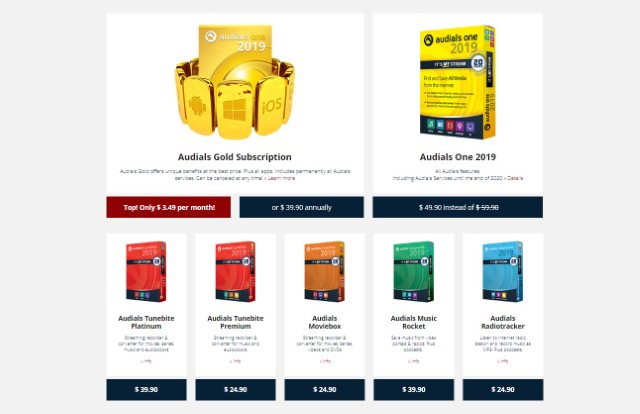 Check Out Audials One: ($3.99/month)
Take Your Media Offline with Audials One
If used judiciously, Audials One can prove to be a great resource for taking your favorite songs and shows offline. However, you have to be careful that you are not infringing on any copyright laws. If you can use it with restraint, you should definitely check it out. I have never used any piece of software as good as Audials One when it comes to taking media offline.