To err is human and therefore, we always make sure we have some sort of fail safes to watch our steps. There are some errors that you can easily rectify but then there are the other types from which you might not recover. Take a document you were working on for months as an example. Press the delete button while the wrong file was selected, and everything you did for months is gone in a whoosh. It is especially problematic on Android as there is no official recycle bin app support. That's where recycle bin apps can save you. The recycle bin apps for Android help you recover accidentally deleted files. I believe every Android users should use these apps. So, if you are interested in such apps, here are the 7 best recycle bins apps for Android you can use in 2020.
Best Recycle Bin Apps for Android in 2020
1. Dumpster
Dumpster is one of the best options for people who are looking for a good recycle bin app for Android. The app claims to recover and restore your deleted image and video files in seconds and it does just that, albeit erratically. In my testing I found that the app managed to recover most of the images that I'd deleted, which is definitely a good thing. That said, it did fail on some occasions so there's a chance it might not be able to recover something that's really important to you. The app also features a 'Deep Scan Recovery' feature, that should alleviate the problem for some extent.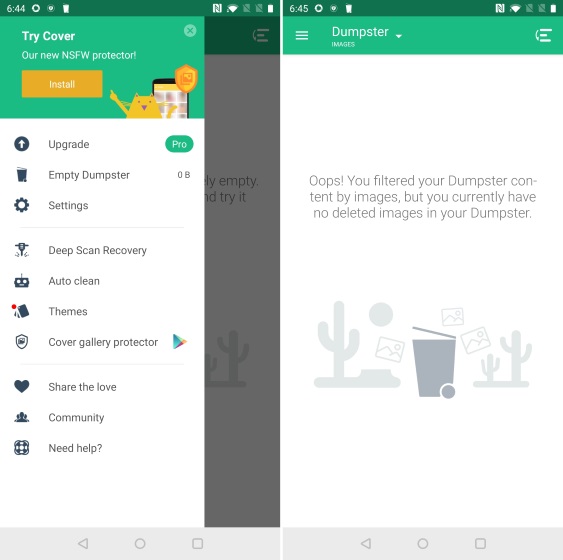 You can give Dumpster a shot but make sure you've made copies of any files that you test it with. Other than the recycle bin feature, the app also comes with an 'auto clean' feature that permanently removes deleted files from your device, support for 14 languages and cloud storage capabilities to allow you to safely store your important documents on the internet.
Get it on the Google Play Store: (Free with in-app purchases)
2. File Commander
File Commander is a handy file manager app for your Android device that comes with a recycle bin feature. The feature works for almost all file types and can really come in handy if you accidentally delete an important file from your device.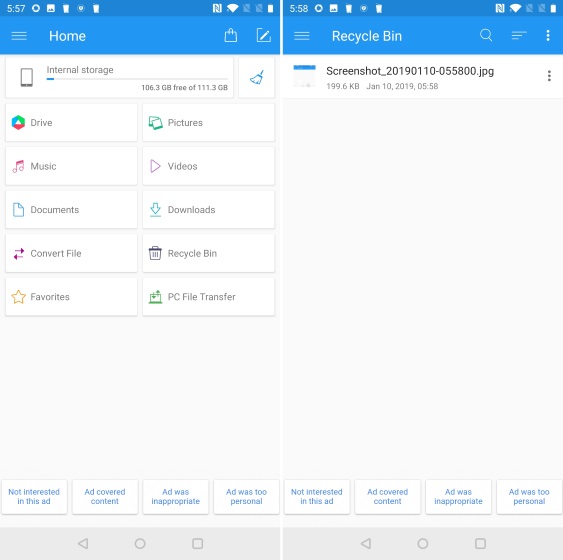 The feature can be found on the app's home page and lists all of the recently deleted files in a convenient list from where you can restore whichever files you need or permanently delete the files you don't need. Once again, the recycle bin feature on File Commander only works with files that are deleted from within the app and not on files that are deleted elsewhere.
It's worth noting that even though a majority of File Commander's features are available for free, the recycle bin feature isn't and is only available on the premium version of the app that can be purchased from within the free version.
Get it on the Google Play Store: (Free with in-app purchases)
3. Simple Gallery
As the name suggests, Simple Gallery is not an outright Recycle Bin app, but it does come with an excellent recycle bin feature. As you can notice, on Android, it's nearly impossible to keep track of every file and folder deleted from other apps unless you have root privileges. And with stricter storage permissions on the latest Android version, it has become even tougher for any app to offer a full-fledged recycle bin. In such a scenario, what you can do is use a gallery app as your default photo management app. Whenever you will delete a photo from Simple Gallery, it will be moved to Recycle Bin within the app. This way, you will always err on the side of caution.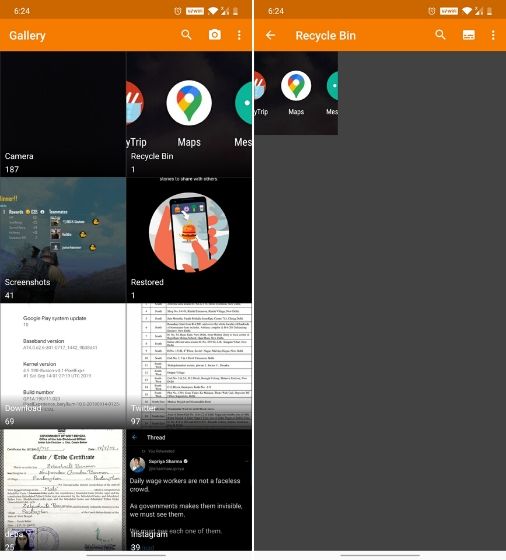 Having said that, among the many Android Gallery apps, I have chosen Simple Gallery for two particular reasons. It's as simple as a photo gallery app can get. And there is no ad, no bloatware, no cloud-linking, nothing. It just shows your media files in chronological order and that is about it. If you delete an image or video from the app, it goes to the Recycle Bin folder located on the top. If you wish to move the Recycle Bin folder to the bottom, you can do so from the Settings page.
Get it on the Google Play Store: (Free)
4. Recycle Master
Looking for recycle bin apps for Android that takes a backup of everything that you delete and allows you to easily restore important files? Then the Recycle Master app is your best bet. The app functions pretty much like the recycle bin on your Windows PC, storing all your deleted files in one convenient location.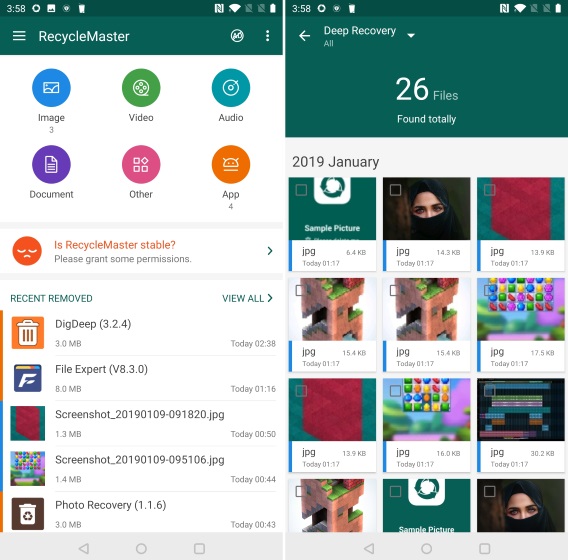 If you accidentally delete an important file, the file is added to Recycle Master's home page under the 'Recent Removed' section, allowing you to restore the file with a single tap. However, in case you're not able to find a specific file, Recycle Master also offers a 'Deep Recover' feature with which you can scan your smartphone's internal storage and locate the missing file. The app works well for all file types and it even takes backups of uninstalled apps, which is an added benefit.
Do note that in order to ensure that Recycle Master successfully backs up all your deleted files, you'll need to permit the app to run in the background and also prevent it from being killed accidentally by locking it in the recent apps menu. Granting these permissions might have an adverse effect on your smartphone's battery life and might increase background data usage.
Get it on the Google Play Store: (Free with in-app purchases)
5. DiskDigger
DiskDigger is another one of easy to use recycle bin apps that you can download. It is especially good in case you have a rooted Android device. Even though the app does work on non-rooted devices, it's only able to recover deleted photos from your internal storage as it can just perform a 'limited' scan. On rooted devices, however, you can use DiskDigger to perform an in-depth scan which can be used to restore both photos and videos.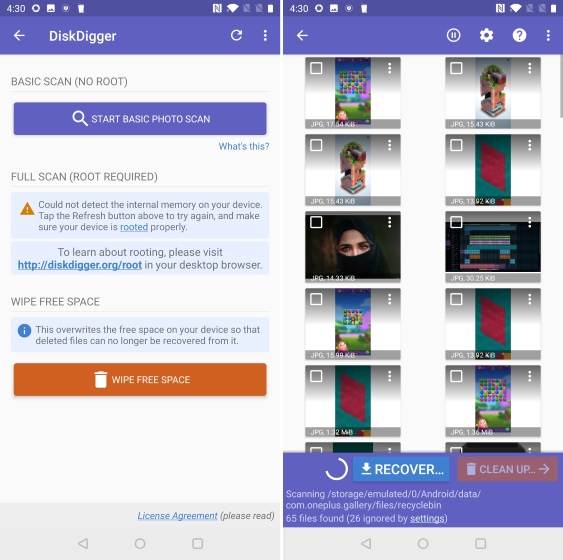 Once you're done recovering your file, DiskDigger also gives you the option to conveniently delete all other unnecessary files with a single tap, which will completely remove them from your phone's storage. But make sure you've restored all your important apps before tapping on the 'Clean up' button as you won't be able to recover any files deleted using this method.
Another unique feature about the app is that it gives users the option to choose where they wish to restore the deleted file, be it on a cloud storage service of their choice or a particular folder in their smartphone's root directory. However, in my testing I noticed that if I restored an image file to my local storage, it doesn't appear in the gallery and can only be accessed using a file manager app. Also, if you want support for more file types, you can opt for DiskDigger Pro, which is also available on the Google Play Store for $2.99.
Get it on the Google Play Store: (Free) 
6. MiXplorer
MiXplorer is again an Android file manager, but it features the Recycle Bin which is our area of interest in this article. You can use MiXplorer in addition to Simple Gallery to make a complete solution against the lack of a full-fledged recycle bin on Android devices. Simple Gallery can take care of all your images, videos, and GIFs. Whereas, MiXplorer can handle all your deleted files and folders, be it a PDF file or a song.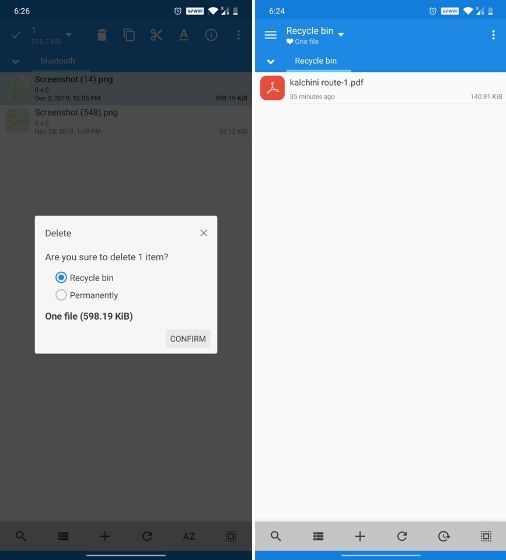 MiXplorer has the "Undo" feature which you can enable from Settings (3-dot menu -> Settings -> More Settings) and that will enable the Recycle Bin. Now, whenever you will delete a file or folder, it will ask whether you want to move the file to the Recycle Bin or permanently delete it. It works very similar to what we have on Windows and you can access the Recycle Bin under the hamburger menu. Overall, MiXplorer is a capable file explorer and it will bode well for both your Recycle Bin needs and file management.
7. Cx File Explorer
Cx File Explorer is a feature packed file explorer for your Android device which comes with a recycle bin feature built in. The feature works for all files and safely stores them in a recycle bin from where they can be restored. The recycle bin feature on Cx File Explorer is also conveniently located on the app's home page and allows you to restore accidentally deleted files with a single tap or delete them altogether.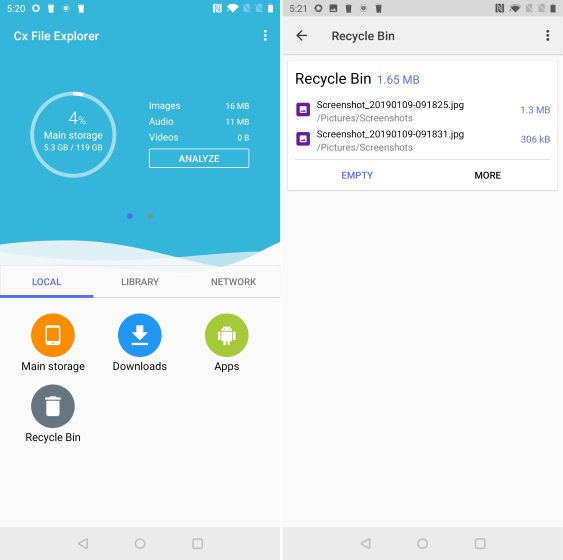 A good thing about this app is that the recycle bin feature on Cx File Explorer doesn't need to be enabled and works as soon as you install the app. Once again, however, while the feature works well with almost all file types, it will only work if you delete the files from within Cx File Explorer and it won't register files that were deleted while using a different app.
Get it on the Google Play Store: (Free) 
Bonus: Google Photos
If it's just your images and videos that you care about, then Google Photos is another great option you can explore. While it isn't a recycle bin app per se, it has a handy little feature that allows you to keep your recently deleted images/videos safely in a 'Trash' folder from where you can restore them if you so please.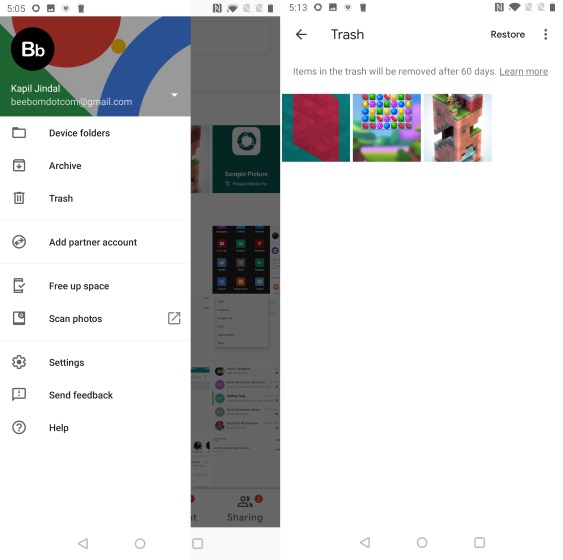 The feature can be accessed by tapping on the hamburger menu button in the top left corner of the app and selecting the 'Trash' tab from the slide out menu. The tab lists all the images/videos deleted over the last 60 days, giving you the option to restore them back to your main gallery or delete them permanently.
Do note that this feature only works for images/videos deleted from within the Google Photos app and won't work if you delete the files using another gallery app or file manager. Also keep in mind that images/videos in the 'Trash' tab will be automatically deleted 60 days after being removed from the main gallery, so it would be best for you to restore them while they're still available.
Get it on the Google Play Store: (Free)
Try Out Best Recycle Bin Apps for Android Right Now
The aforementioned recycle bin apps for Android will definitely have you covered in case you accidentally delete an important file. There are quite a few other apps on the Play Store that claim this functionality, but in my testing I found that most of them didn't work and were riddled with ads. The apps listed above are your best bet if you're looking for app that will let you easily recover deleted files on your Android device.