To err is human and therefore, we always make sure we have some sort of fail-safes to watch our steps. There are some errors that you can easily rectify but then there are the other types from which you might not recover, or even if you were to recover, it may take quite a few days. Take a document you were working on for months as an example. Press the delete button while the wrong file was selected, and everything you did for months is gone in a whoosh.
Luckily, if it was your personal computer, the Recycle Bin would have acted as your failsafe and you could have easily recovered the file without any issues. Just a right-click and select the restore option. But what if it was your Android phone from which you deleted your file?As there is no fail-safe mechanism on Android, it would have been too hard for you to redo the entire work.
So you see, how important it is to have a backup option and as there is no default option provided in Android, we are going to show you how you can get the recycle bin option on your Android. Well, not just one, but three apps that will cover everything, your media, videos and documents and make sure that you can easily revert back from errors.
1. Google Photos
For what I believe, Google Photos is the best thing that ever happened to phone gallery. You get unlimited online backup storage along with ease of finding a photo. The animation, effects, auto movies and stories makes things even better and if you are a Google Photo user, you can be sure that Google will always have your back when it comes to photos and videos.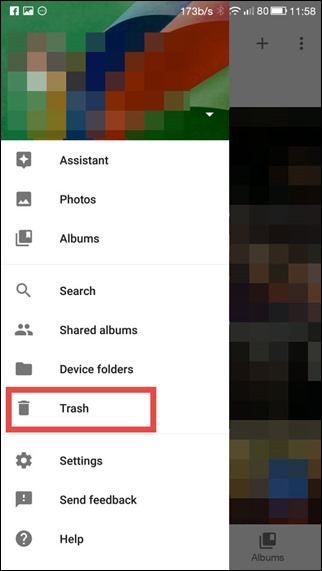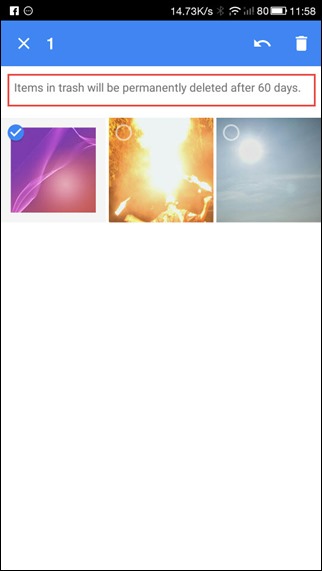 The photos that are backup up to the Google server never get deleted directly when you select the particular option. Instead, they are moved to trash where they stay for as long as 60 days and then get deleted permanently. If in these 60 days you make up your mind that you wish to restore the photos, it can be done easily. The one thing you should note here is that the photos which are backed up to the Google Servers are moved to trash. The photos that are on your device get deleted automatically.
2. ES File Explorer
So that was how you can safeguard your photos and videos. Let's now have a look at how to create a fail-safe recycle bin for other file type and for that, you will have to install a 3rd-party file manager called the ES File Explorer. The app is a full-fledged file manager and there's so much that you can do with it. When compared to the default file explorer, the ES File Explorer comes with a lot of features and recycle bin is one of such options.  The Recycle Bin option can be enabled from the left sidebar and once enabled you are covered.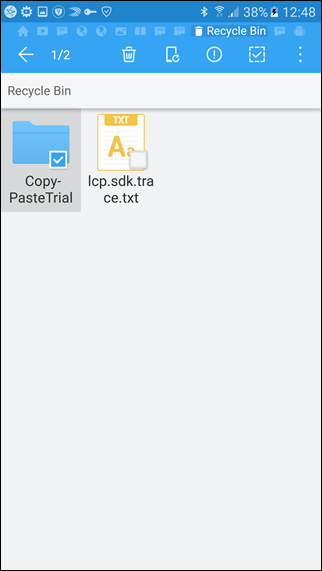 Any file you delete using the ES File Explorer will be moved to the Recycle Bin before it's deleted permanently after a few days. If required, you can tap on the recycle bin option and restore these files to the previous location. The option works for any file type but only works as long as you are using ES File Explorer. ES File Explorer is a great file manager but might give you a lot of hidden ads in the form of app recommendations. If you really like the app you can buy the ad-free pro version for $2.99.
3. Dumpster Image & Video Restore
The above two apps require you to delete files using the particular app in order to be able to restore them. But then there is this app called Dumpster that works throughout your Android and collects the deleted files in the recycle bin of the app. The Dumpster works on  images, videos, audio, pdf, zip, mp3, mp4, ppt, doc, avi, mpg, jpg, rar and all common file types.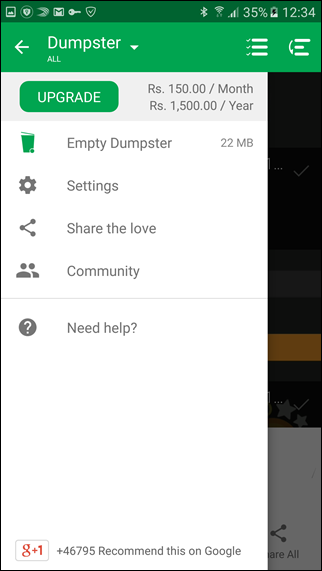 You can also preview the media files straight from the dumpster before recovering them just so that you can see that you restore the correct file. The files in dumpster can be set to auto-clean in 1 week, 1 month or even 3 months, but make sure you delete them or you will never have free space even after deleting files on your device.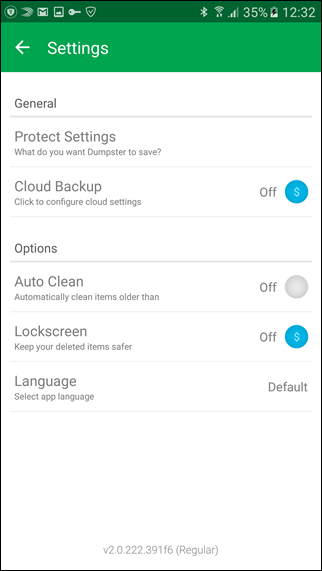 The newer version also supports apps and lets you recover any apps that you have accidently uninstalled. The app will not have the data associated, but then you won't have to download it again from the Play Store. The pro version of the app gives you an ad-free experience and also let your backup the files to the clouds.
SEE ALSO: How to Record Time Lapse Videos on Android
These Apps Got You Covered
The three apps will got you covered on Android and make sure that you can revert back easily by accidentally deleting any important files. Now there might be some apps that might claim to work as recycle bin on the Play Store, but I have rested almost all of them and these three are the best you can get at the moment.