Before Google killed it, Google Picasa was one of the best digital image management and editing service on the market. Not only the service let you organize and manage all your photos but it also allowed users to perform some basic photo editing. One of my favorite features of Google Picasa was the ability to organize images based on folders, tags, and more which allowed me to categorize my images and find them quickly whenever I needed to. While Google Photos, which came out from Google Picasa offers a ton of similar features, it never felt as intuitive and easy to use as the latter. Thankfully, there are tons of new and old services out there which provide almost all the features that made Google Picasa such a great image management service. In this article, we are going to take a look at all those services as we tell you the 7 best Google Picasa alternatives that you should use.
Best Google Picasa Alternatives in 2019
1. Windows Photo Gallery
Windows Photo Gallery is an application that will make you feel right at home. It has one of the most straightforward and easy to use layouts you will find on any photo editing app. It does not offer you the storage solution that Picasa does, but it works great if you are looking to manage all the pictures on your desktop.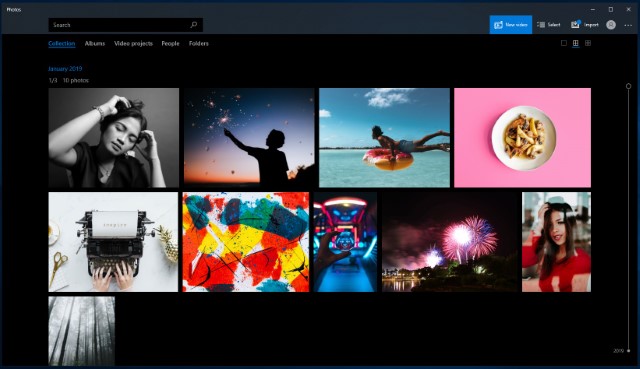 Its photo editing features are fairly decent, and it allows easy uploading to OneDrive, Facebook, YouTube, Flickr and Vimeo. Apart from basic editing, you can also add captions, make collages, slideshows, panoramas, photo fuses and movies. One feature that makes it stand out is its ability to save the names of the people tagged and geo-tag information directly to the metadata of the file.
2. Adobe Lightroom CC
Adobe Lightroom CC is probably the best digital image management and editing program on the market right now. If you are ready to pay the subscription price, Adobe Lightroom CC will give you all the features that you need right at your fingertips. My favorite feature of Adobe Lightroom CC is its DAM or digital Asset Management library which allows users to import all their images in the program and then categorize and organize them based on their preferences. One of the best things about Adobe Lightroom CC is that all your photos are saved on the cloud so no matter which device you are using, you can get access to all your photos. This also means that you won't lose your photos even when your primary machine fails.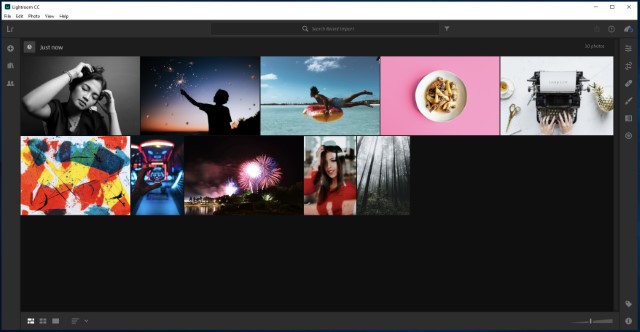 When it comes to editing, Adobe Lightroom CC is second to none. You get access to all the photo editing tools that you need. From brightness to contrast to color correction, all tools come with easy to use sliders which makes Adobe Lightroom CC a good option even for beginners. Lightroom also comes with both Android and iOS apps allowing users to access and edit photos even on the go. Another good feature of Lightroom is the ability to create and share shareable links allowing users to easily share photos with friends, clients, or family. The only thing that holds it back for me as a past Google Picasa user is its pricing. As I said, if you are okay with Adobe's pricing, Lightroom CC will bring everything that can ask from an image management service.
Install: Free trial, $10/month
3. Photoscape
Using Photoscape can be a fun experience, whether it is for editing, enhancing or creating something special. It boasts a vast array of features that include basic editing and fixing, batch editing, making collages, making gifs using multiple photos, screen capture and splitting photos among other things.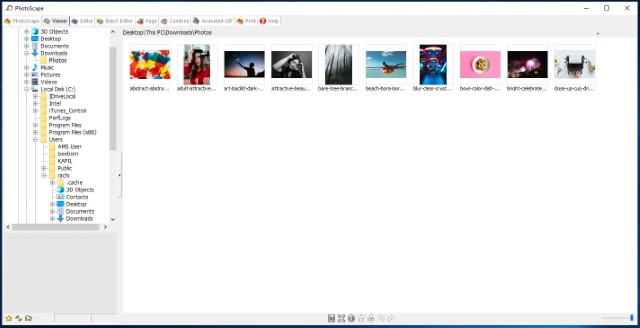 It does not offer the same cloud storage that Picasa does, but it is one of the most versatile photo editing application there is. It is a down to earth photo editing app more than anything else.
Install: Free
4. Phototheca
Phototheca is one of my favorites free image management software for Windows. While it also comes with a paid plan, I think the free plan will be enough to fill the needs of most users. One of my favorite features of Phototheca is its extensive image organizational features which allow users to not only import images but also organize them using folders, smart searches, tags, and more. I also love that Phototheca allows me to create shared folders. This feature is great for sharing photos with friends and family where you are not the only contributor. Since all the photos imported into a shared folder are available to all the parties, no matter who uploads the pictures, it is made available to all the users.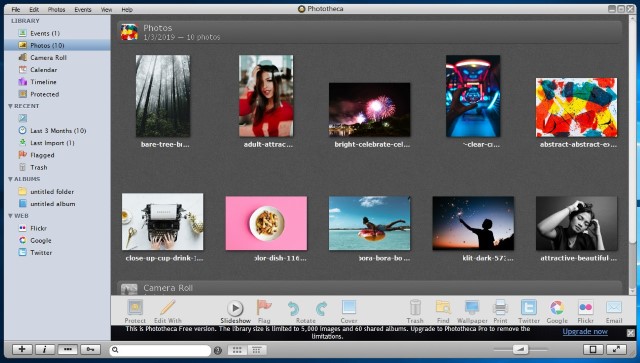 Phototheca also supports extensive search capabilities allowing users to search for images in seconds. You can search for photos using names, tags, description, location, and other metadata elements. Another good feature of Phototheca is its seamless integration with services such as Flickr, Google Photos, and Twitter, allowing users to easily share photos with their followers. Other cool features include duplicate detection, photo vault, dual view, and smart albums, among other things. I love Phototheca and in my view, it is a worthy Google Picasa alternative.
Install: Free, $39.95
5. FastStone Image Viewer
Despite what its name suggests, FastStone Image Viewer is more than just a photo viewing application. You can use it to organize your photos easily; you can add tags, move photos to desired folders, or even add folders to favorites. It allows you to make basic edits like cropping, adjusting the light, colors, curves and adding effects, etc.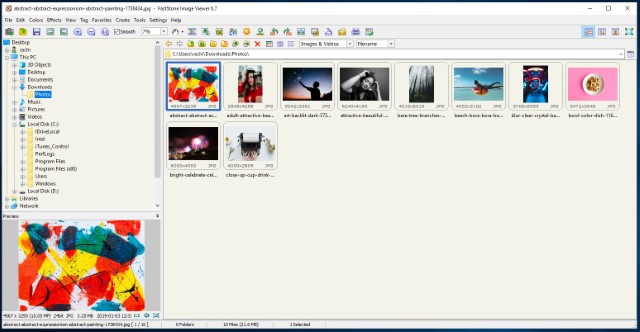 Though if you are not satisfied with its editing capabilities FastStone itself provides you with an option to use an external editing program, talk about being too modest.
Install: Free
6. Flickr and Amazon Prime Photos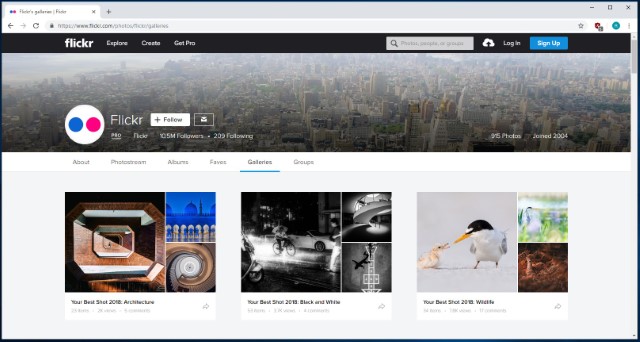 For those of you looking specifically for a storage solution Flickr and Amazon Prime Photo are your best bet. Flickr is one of the best photo management and sharing applications in the world, and it is fairly simple to use. Once you are signed up you can explore Flickr to understand how incredible a service it really is. It provides its users with the ability to save 1000 photos for free after which the service is chargeable. You can create your personal collections and albums and share the same with your family and friends. Flickr is also available as an app for Android and iOS and you can use the same account on all your devices.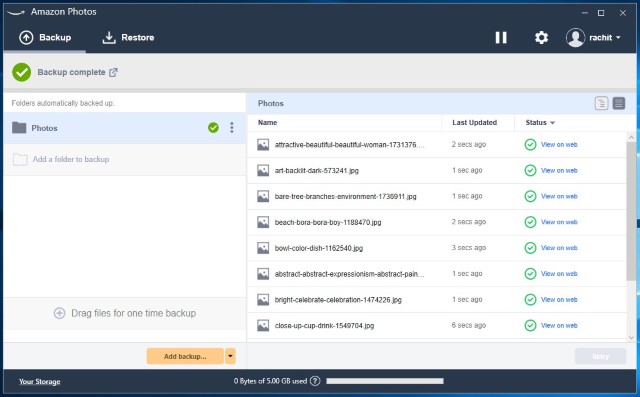 Amazon Prime Photos is also a service identical to Picasa and Flickr in terms of storage. Just like Picasa uses a Google account and Flickr uses a Yahoo account, Amazon Prime Photos uses an Amazon account. With an eligible Prime membership, you receive free storage for all of your photos in Amazon Cloud Drive, as well as an additional 5GB of free storage space for personal video and document storage. You can download the Amazon Prime app to add photos from your Android or iOS device or install the Cloud Drive application for PC and Mac to add photos from your computer.
Visit: Amazon Prime Photos (Free, $11.99/month) / Flickr (Free, $5.99/month)
7. IrfanView
IrfanView is a free photo viewer and organizer for Windows which happens to be very light both in size and resource requirements. This makes it a great software for users who are using older generations of Windows PC and want something lean and light. Coming just at 3 MB, IrfanView doesn't take any space on your computer and can run on any device. One of the biggest benefits of using Google Picasa was that it was easier on the resources, and in that regard, IrfanView excels quite a bit.
While IrfanView is a bit lighter on the features, it does bring all the important features to the table. It lets you easily view your entire library in thumbnail form, open any image, supports almost all the image formats, allows you to convert and optimize images for sharing, and supports batch processing of images. All these features in a package which is just 3 MB in size and totally free to download and use. I mean, what's not to like here.
Install: Free
SEE ALSO: 12 Royalty Free Stock Photo Websites (2019)
Which Google Picasa Alternatives You Chose?
That ends our article on the best Google Picasa alternatives that you can use. All the apps mentioned here has been tested personally by me so I can vouch for them. Depending on your personal requirements, one piece of software on this list will serve you better than the others. For example, if you are just looking for storage, Amazon Prime photos is a great option, however, it is not meant for editing. On the other hand, apps like Fastone and IrfanView are great for on device organization but don't offer a cloud storage. There's also Adobe Lightroom which does everything but costs a lot. So you see, you have a lot of options to choose from. Once you have found your favorite Google Picasa alternative, let us know in the comments section below as to which one you went with.