About eight months ago Google released a photo and video sharing and storing service known as Google Photos. It quickly gained popularity and was hailed as one of the best services of its kind. Since its initial release, Google Photos had been closely compared to Google's pre-existing photo editing and storage service, Google Picasa. Questions were raised about the future of Picasa since Google photos offered a very similar service and rumors kept floating about the reign of Picasa coming to an end. Surely enough on Friday, 12th February 2016 Google released an official statement that made it very clear that Picasa would soon be retired to focus entirely on Google Photos
Support for the Picasa desktop app will be stopped on March 15th, and the rest of the changes will be rolled out on May 1st. While some had seen this coming, there will now be many looking for an alternative to move on to from Picasa. But before we get into anything else, let us first tell you a little about Google Photos since it is the default alternative provided by Google.
Google photos is a cloud storage service very similar to Picasa. It offers you with an unlimited storage space for photos and videos at high quality and also functions as a decent photo editor. You can also download the app version of the service on your desktop or smartphone which will allow you to backup photos easily. The backing up part is simple, all you need is a Google account for it. With the desktop app, you can assign specific perimeters to allow automatic backup from specified devices and folders.
As for those looking for something other than Google Photos, here we are going to list a few alternatives to sufficiently quench your Picasa thirst.
1. Windows Photo Gallery
Windows Photo Gallery is an application that will make you feel right at home. It has one of the most straightforward and easy to use layouts you will find on any photo editing app. It does not offer you the storage solution that Picasa does, but it works great if you are looking to manage all the pictures on your desktop.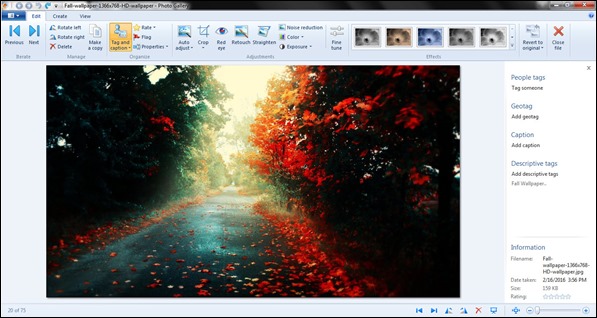 Its photo editing features are fairly decent, and it allows easy uploading to OneDrive, Facebook, YouTube, Flickr and Vimeo. Apart from basic editing, you can also add captions, make collages, slideshows, panoramas, photo fuses and movies. One feature that makes it stand out is its ability to save the names of the people tagged and geo-tag information directly to the metadata of the file.
2. Photoscape
Using Photoscape can be a fun experience, whether it is for editing, enhancing or creating something special. It boasts a vast array of features that include basic editing and fixing, batch editing, making collages, making gifs using multiple photos, screen capture and splitting photos among other things.
It does not offer the same cloud storage that Picasa does, but it is one of the most versatile photo editing application there is. It is a down to earth photo editing app more than anything else.
3. FastStone Image Viewer
Despite what its name suggests, FastStone Image Viewer is more than just a photo viewing application. You can use it to organize your photos easily; you can add tags, move photos to desired folders, or even add folders to favorites. It allows you to make basic edits like cropping, adjusting the light, colors, curves and adding effects, etc.
Though if you are not satisfied with its editing capabilities FastStone itself provides you with an option to use an external editing program, talk about being too modest.
4. Flickr and Amazon Prime Photos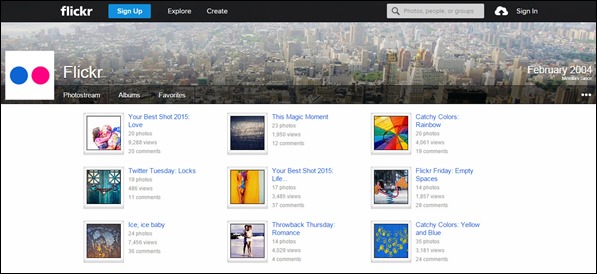 For those of you looking specifically for a storage solution Flickr and Amazon Prime Photo are your best bet. Flickr is one of the best photo management and sharing applications in the world, and it is fairly simple to use. The first thing you will need to use Flickr is a Yahoo account; you will need this account to sign up for Flickr. Once you are signed up you can explore Flickr to understand how incredible a service it really is. It provides its users with 1TB of free space and offers a simple interface for editing, managing and sharing photos. You can create your personal collections and albums and share the same with your family and friends. Flickr is also available as an app for Android and iOS and you can use the same account on all your devices. With Flickr , our photos really do travel with you.
Amazon Prime Photos is also a service identical to Picasa and Flickr in terms of storage. Just like Picasa uses a Google account and Flickr uses a Yahoo account, Amazon Prime Photos uses an Amazon account. With an eligible Prime membership, you receive free storage for all of your photos in Amazon Cloud Drive, as well as an additional 5GB of free storage space for personal video and document storage. You can download the Amazon Prime app to add photos from your Android or iOS device or install the Cloud Drive application for PC and Mac to add photos from your computer.
Now, if you are in need of a good editing platform while using Flickr or Amazon Prime Photos you can always turn to Ribbet.
Ribbet is an online photo editing platform that requires no downloads, no sign ups or anything. You can simply visit the website and start editing. Even the option to edit a photo is right there, its probably going to be the first thing you see when you visit the site. To edit a photo you can upload it from your computer or connect it to your Facebook, Google or Flickr account. It doesn't get simpler than this.
SEE ALSO: Top 10 Photo Sharing Sites
Conclusion
Hopefully, by now you must have found yourself a worthy Picasa alternative. Windows Photo Gallery, Photoscape, and FastStone for your editing needs and Flickr and Amazon Prime Photos for your storage needs. You can use them as you like. Of course, if you are looking for a more advanced photo editing software you can always try out the likes of Adobe Photoshop and CorelDraw.
Even though Google Picasa was once one of a kind and offered a unique experience, it will soon be taken over by its successors after its inevitable retirement. Here's hoping that the void left by Picasa is filled by these alternatives with ease.