Though the upcoming Pixel 3 series has leaked extensively in the past month, we don't know a whole lot about what else Google plans to unveil at its event rumored for next month. However, there have recently been rumors that Mountain View is also going to launch a wireless charging dock dubbed the Pixel Stand.
Well, the Pixel 3 lineup just passed through FCC and their wireless charging capabilities have been confirmed – adding fuel to the existence of the Pixel Stand. The entire glass build already had our palms twitching but we may now have a slight confirmation.
We first heard about the Pixel Stand back in July when a Google app teardown included hints pointing towards a Pixel-brand accessory codenamed 'dreamliner'.
There is no mention of the design, aesthetics, or charging capabilities of the Pixel Stand. We don't know whether it will support fast charging or not.
The Pixel Stand will be just like any other ordinary wireless charger, but is expected to feature Google Assistant integration. We had previously learned that users will have to grant trust to the charging dock for the Assistant to be activated. It will then offer the users personalized suggestions even when a device is locked and charging merrily.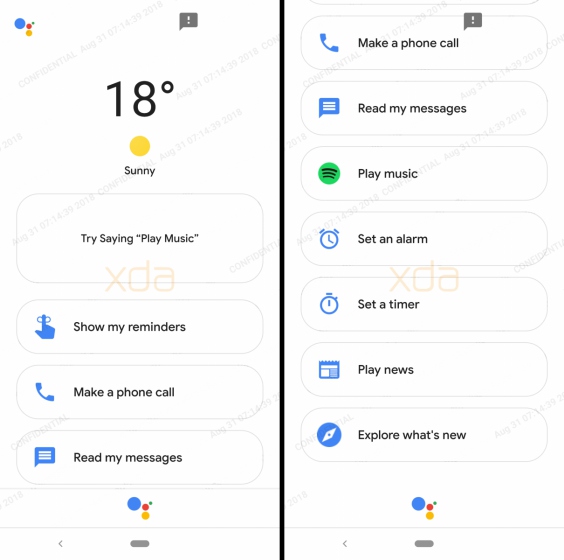 Well, thanks to Kieron Quincy (via XDA Developers), we have our first look at the new Google Assistant UI that will show up on the display on docking the Pixel 3 device. The recognized developer activated the new UI by sending a special intent while enabling a certain flag in the latest Android beta.
This was done by sending a special intent to the Google App with the "launched_by_dock" flag set to true.
As seen in the screenshots above, the new UI looks pretty similar to Google app's 'Visual Overview' screen that hosts the weather, along with your daily routine and commands you can spew at the Assistant to get your work done or answers to queries.
There's been no leaks related to the Pixel Stand wireless charging dock to date, which means there's at least one thing we should look forward to and be excited for. It'll be exciting to see how Google pushes its AI voice assistant to new avenues by turning its latest flagships into smart displays themselves.
So, are you looking forward to Google's souped-up wireless charger? Let us know in the comments below.
Image Courtesy: YouTube/ One Berry