Google has launched a Pixel 3 referral program called the Pixel PowerUps in India which offers a discount of Rs. 7,000 on Google's latest flagship and also grants an e-gift card worth Rs. 2,000 to the person generating the referral code. The Rs. 7,000 referral discount will be applied on top of other offers that are available on the Pixel 3 and the Pixel 3 XL on Flipkart.
How to Generate Pixel 3 Referral Link?

The Pixel 3 referral program is only available for existing users of a Pixel or Nexus smartphone. To generate a Pixel 3 referral code, one has to install the Flipkart app on their smartphone and log in to their Flipkart account.
Once users open the app, they have to tap on the Pixel 3 referral banner highlighting the 'Pixel PowerUps' offer that will open another page whether they can see details of the referral program.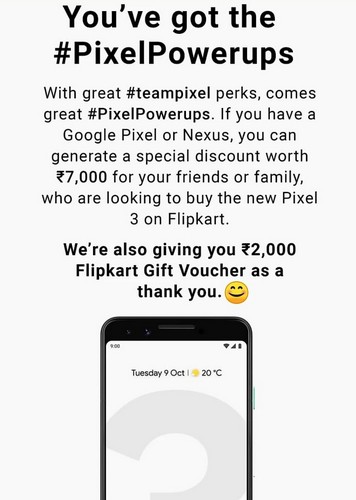 On this page, the Pixel/Nexus user will have to enter their linked email ID on which they will receive a message from Flipkart containing the unique Pixel 3 referral link which can be shared with the anyone. The referral link can also be used by the user himself to get a discount worth Rs. 7,000 on the Pixel 3 or can be shared with others to get an e-gift voucher worth Rs. 2,000.
But do keep in mind that the referral codes can be generated only till December 20, and they must be used before December 24. Also, only one Pixel 3 referral link can be shared per user.
How To Use The Referral Link?

Once the referral link is generated, users have to click on it that will redirect them to a page where the referral code will be validated and added to their Flipkart account to be used at the time of checkout. The referral discount of Rs. 7,000 will be applied on top of any other discount, banking or exchange offers currently available on the Pixel 3 duo. The image above shows the price breakdown if you take advantage of the Pixel PowerUps program and also avail other offers on the Pixel 3.