Google has started sending out the December security patch update to its Pixel devices, not just limited to the latest Pixel 3 and 3 XL but also the first and second generation devices. Besides patching the security issues, the update addresses a number of performance issues on the Pixel 3 and other smartphones.
Perhaps, the most vital of these (now-fixed) issues on the Pixel smartphones is that of poor RAM management on the latest Pixel devices. This would prevent apps running in the background from being shut down abruptly. While we are yet to test this out extensively, the Pixel 3 XL in the office seems to be more accommodating and now easily lets more than 10 apps stay in the background.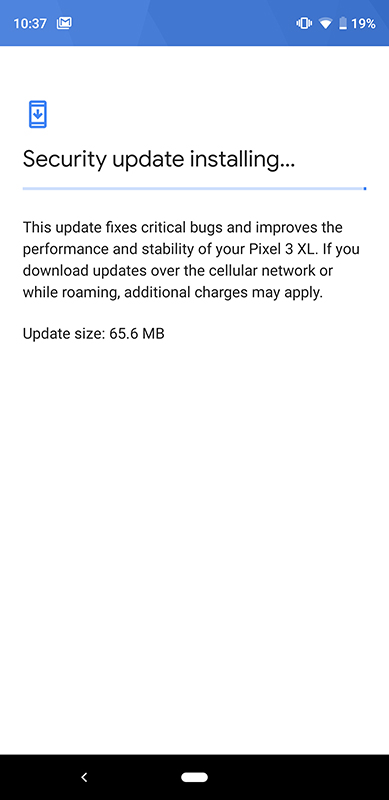 The update also improves camera performance on the Pixel devices. While Google does not specifically mention the nature of these problems, the Pixel 3 camera now has "improved camera capture performance" which possibly means that the fault concerning images disappearing from the gallery momentarily has been repaired. Besides this, the camera app on Pixel 3 and 3 XL gets improved autofocus and "shutter performance".
Other than these two major fixes, the update also brings some improvement related to the Pixel Stand including better detection of the "OK Google" and "Hey Google" hotwords when the Pixel 3 is docked. The detection seems to have improved, especially while the phone is playing audio through the loudspeakers. Google also says that notification visibility while using Pixel Stand has been improved but I did not spot anything new or unusual.
Lastly, there have been improvements in terms of Smart Lock functionality, USB-C audio accessory detection, and Android Auto functionality have apparently been improved, too. This update is likely to be rolled out in a phased manner. We have already received the update on our Pixel 3, Pixel 2, and OG Pixel devices available in the office, and since the update is only about 50MB, we expect it your device to get it soon too.
---