This is the time of the year when sensational leaks and incessant rumors surrounding Apple's upcoming operating systems for iDevices start breaking the internet. Though Coronavirus outbreak has sort of brought the entire tech industry to a standstill by forcing tech titans to cancel their much-anticipated events and it's just a matter of time before the pandemic will even put WWDC 2020 on the backburner, nothing seems to deter passionate leakers from nailing down the secret codes. So, after wrapping up some of the coolest iOS 14 leaks, I think it's the perfect time to talk about the most interesting watchOS 7 features that are likely to roll out this fall.
watchOS 7 Features Roundup: Long-Awaited Features May Finally Arrive
While I believe in holding back excitement until all possibilities turn into reality, I feel like changing the norm this time around. As you could sense my feelings, 2020 might just be the year of watchOS thanks to the arrival of a host of long-awaited features. And I wouldn't be surprised if even the biggest critic of watchOS turn into a loyal Apple Watch wearer. Long story short, Apple is going to answer most of your Apple Watch questions (if not all) this fall – including the demand for more independence from iPhone.
1. Sleep Tracking
While the rumors about the built-in sleep tracking feature for Apple Watch have been doing the rounds for several years, watchOS 7 could finally bring this long-awaited feature into reality. Though there are several pretty good third-party sleep tracking apps including Pillow (Free, with in-app purchases) and AutoSleep ($2.99), a stock sleep tracker that can seamlessly integrate with the Health app has been on top of my wishlist for long. And going by the demand, I'm not alone who has been calling for it.
Since Apple's sleep tracking feature will be deeply integrated into iOS and watchOS, it will be able to derive more health-related data and that too with much-improved accuracy than its third-party counterparts. Needless to say, being an integral part of the Health app, the app can perform sleep tracking seamlessly across iPhone and Apple Watch that's not always the case with third-party offerings due to restrictions.
2. Detect Blood Oxygen Saturation
According to code snippets found in iOS 14, Apple is getting ready to introduce a new Apple Watch feature that can detect blood-oxygen levels. For the uninitiated, the blood oxygen level is the measure of the overall oxygen the red blood cells have. Though blood oxygen saturation keeps fluctuating, drastic variations can lead to serious health issues. While 95-100% oxygen in the blood is said to be normal, anything below that level could be a clear indication of grave respiratory and even cardiac problems.
As you may have already guessed, the Apple Watch will immediately alert the user whenever the blood oxygen saturation drops below a certain threshold. In terms of functionality, it will be akin to the already existing heart rate notifications.
Again, rumors about the introduction of a watchOS feature that detects blood-oxygen levels have been blowing hot and cold ever since Apple Watch forayed onto the scene back in 2015. Besides, iFixit had also discovered back then that the smartwatch had sensors that were equipped to monitor blood oxygen levels. Hopefully, the tech giant finally breaks this long jinx this fall.
"Apple's heart rate monitor is actually a plethysmograph—it looks and acts like a pulse oximeter, but Apple isn't claiming it can measure your blood oxygen level. Why? Beats us."
3. Share Specific Watch Face Configurations
Ever created cool watch face configurations and wished to share them with your buddy only to find out that watchOS lacks this feature? If yes, you would be really glad to get it in the upcoming watchOS version.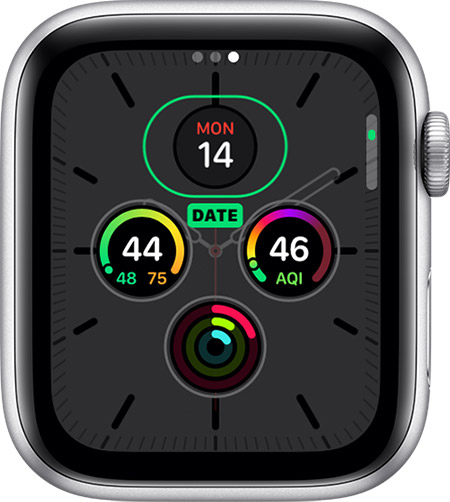 Customizing Apple Watch faces with eye-catching configurations (aside from good-looking accessories) has always been one of my top picks. It's one of the better ways to keep the monotonous feeling away from the watch screen. Now that the watchOS will allow sharing specific watch face configurations with others, there will be a ton of nice-looking options to choose from.
Even if you aren't good at fine-tuning watch face configurations, chances are pretty high that your inability will never stop you from decking up your watch face elegantly.
4. Parental Controls
If you have gifted an Apple Watch to your kid, you may have wished for better control over the smartwatch at some point or the other so that your child doesn't overuse the device. In what could be like music to your ears, watchOS 7 might just fulfill your wish. As per reports, the upcoming watchOS will allow users to control the paired Apple Watch using the iPhone.
Depending on your needs, you can set the downtime, restrict access to offensive content, and even keep a track of the overall usage of the watch with detailed reports delivered to you. From what I can tell it could be a step in the right direction for introducing kids-friendly Apple Watches.
5. Schooltime
Yet another feature that would bring smiles to many parents is "Schooltime". With this new watchOS feature, you can manage which apps and complications can be available for use during certain hours. Perfect for the times when you want your kid to fully focus on the study, instead of overusing the smartwatch. Heck, even if your job doesn't involve invigilating kid's Apple Watch usage, it can come in handy especially when you want to keep noise at bay while concentrating on your work or resting in bed.

Other watchOS 7 Features that Are Also Doing the Rounds
Apart from these top five much-awaited features, there are a couple of other notable features that have caught my eyes. According to reports, watchOS 7 will come with an Infograph Pro watch face featuring a tachymeter, which you can use to compute a speed based on travel time. Talking about watch faces, Apple will also likely include flag watch faces for more countries. Currently, it only offers a flag watch for the US.
Apple is also likely to bring some much-needed improvement into the architecture. For a change, the next iteration of watchOS won't be based on extensions anymore. That means, your Apple Watch apps will no longer have an extension base on other devices, which can play a vital role in making them function more independently.
Top watchOS 7 Rumored Features to Keep a Track of
So, these are the best watchOS 7 features that have been doing the rounds. Of course, it's still a few months left before the introduction of the next-gen watchOS version, so you can expect the trails of leaks to get more intensified as we get close to the big day. By the way, which are your favorite leaked watchOS 7 features? Sound off in the comments below.