Not just the smartwatch industry but the entire spectrum of wearables seems to be in the firm grip of Apple Watch – with Apple's smartwatch alone accounting for lion's share (55%) of the global market as of Q1 2020. Speaking of Apple Watch Series 5, I love the always-on display that shows time like a traditional watch. Moreover, the wearable device has also packed in a more powerful 64-bit dual-core S5 processor that makes the watch more efficient and snappier. If you have got this brand new smartwatch and are hunting for matching accessories, you've hit the right post. So, let me take you through the best Apple Watch Series 5 accessories that you can buy right now!
Best Apple Watch Series 5 Accessories to Buy in 2020
From elegant bands, sporty/classy straps, to durable covers, I have put together a variety of accessories designed for the Apple Watch in 2020. Plus, there are also a few wildcards that may appeal to those who like to pair the smartwatch with an equally adorable companion.
One thing worth noting upfront is that all the accessories mentioned in this lineup are available for both the 40mm and 44mm Apple Watch Series 5. Due mainly to similar form-factor, most of them are also compatible with the older models of the smartwatch.
How to Choose the Best Apple Watch Accessory?
There are three notable features you must keep in mind while choosing the best Apple Watch accessory: Design, Durability, and High-Quality Material. If an accessory checks off all of these boxes, it will be considered to be top-grade.
Talking about price, you should look at it from your budget perspective. If you can stretch your budget in favor of high-quality material and built quality, be sure to do it from a long term perspective. However, if your budget is a bit tight, find the accessory that seems to pack a solid punch despite having a competitive/cheap price tag.
Best Apple Watch Series 5 Screen Protectors and Cases
1. LK Screen Protector
Putting protection on the forefront, I would like to kickstart this roundup by choosing an LK screen protector. Considering how delicate the touch screen is and more significantly; the high screen repair cost, it's better to install a protective screen guard.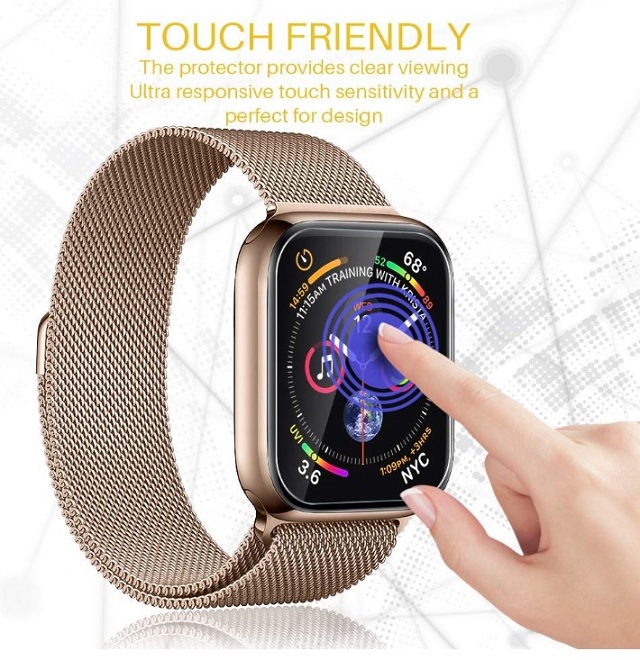 LK offers screen defenders for both the 40mm and 44mm Apple Watch Series 5. They are completely bubble-free and provide full-coverage to the screen. The company says that the screen guards deliver 99% HD clarity and are pretty responsive to the touch.
Moreover, you can also choose this screen protector in a six-pack with a lifetime warranty.
Reason to Buy/Avoid 
LK screen guard is highly protective and delivers 99% HD clarity.
If there is any shortcoming, the cutouts could be more precise. 
Buy from Amazon: $11.99 for 40mm and 44mm Apple Watch Series 5
If you wish to explore more screen guards for your Apple Watch, head over to our extensive roundup of Apple Watch Series 5 screen protectors.
2. Spigen Rugged Armor Pro
Should you want to go for an uncompromised safeguard for your Apple Watch so that the smartwatch can fight out even nasty bumps, Spigen's Rugged Armor Pro would be the right way to go. This Apple Watch Series 5 case comes with a shock-absorbent layer to resist impact.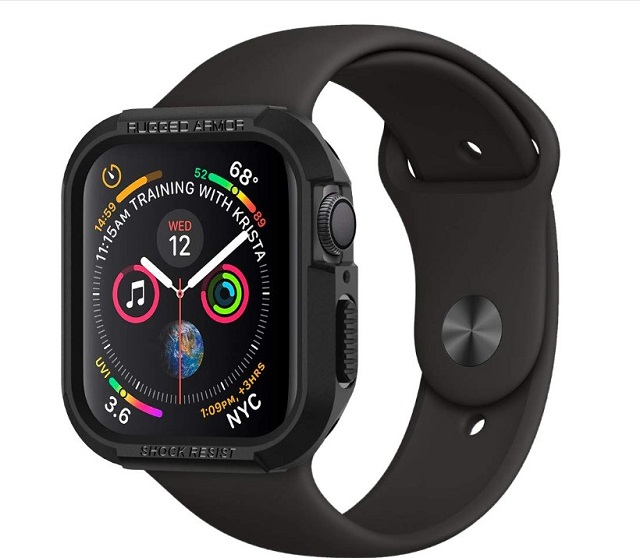 With the raised bezel, it also offers additional protection to the watch display. Beyond protection, Rugged Armor sports a smooth finish that enhances its look and comes in four nice-looking colors: black, charcoal gray, and military green.
Reason to Buy/Avoid 
If durability is on top of your high priority, Spigen Rugged Armor is for you. 
Design-wise, the Rugged Armor looks a little old-fashioned.
Buy from Amazon: $19.99 for 40mm and 44mm Apple Watch Series 5
3. GBPOOT
If you're planning on buying both a case and a band for your Series 5, you should check out GBPOOT's awesome case-cum-band. The band here is a milanese loop style design with a strong magnetic clasp, and it comes in multiple colors so you can bling out with the gold case and band, or stay stealthy with the black color option.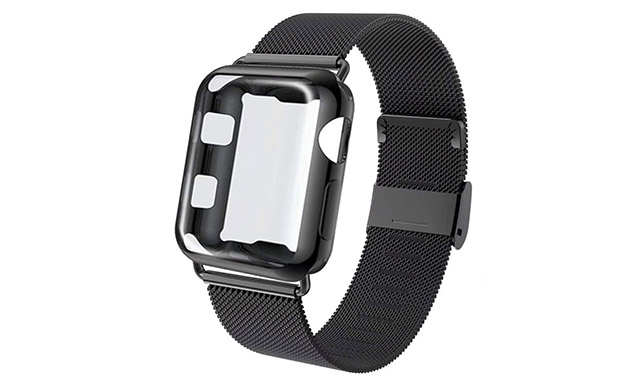 What's more, it's a solid option to not only completely transform the way your Apple Watch looks, but also keep it safe and protected from nasty bumps and scuffs. That's not all, the watch comes in several color variants including gold, silver, black, and more.
Reason to Buy/Avoid 
The watch band sports a modern-looking design and makes a nice pair with the Apple Watch Series 5.
As for the downside, the screen protector seems to be a bit obstructive.
Buy from Amazon: $14.99
Apple Watch Series 5 Bands
1. WFEAGL
If you want to add some aesthetic appeal to your Apple Watch, a genuine leather strap like this offering from WFEAGL would be a great pick. Carved out of top-grain leather, the band sports classy design thanks largely to a precision finish coupled with visible stitching. Not to mention the matching adapter that further enhances its overall look.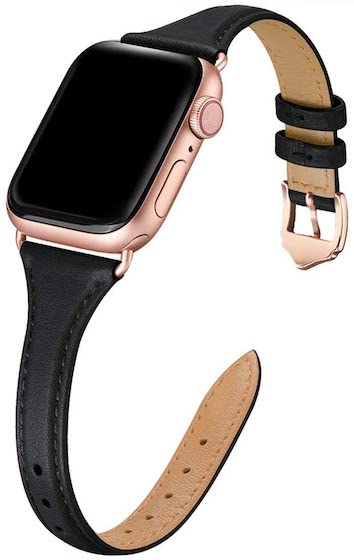 What's more, WFEAGL leather band is available for both the 40mm and 44mm Apple Watch and comes in more than 35 color variants so that you can find a befitting pair for your smartwatch. Bring on the vintage charm!
Reason to Buy/Avoid 
WFEAGL Apple Watch band features an aesthetic design that makes a good-looking pair with your device.
The adapter seems less durable. 
Buy from Amazon: $16.99
2. Hermès Leather
For the folks who are willing to pick a premium leather band, Hermès Leather bands are simply the best. They are handcrafted from calfskin leather and feature top-of-the-line workmanship. Courtesy, the rich leather texture, the band feels pretty comfy to wear.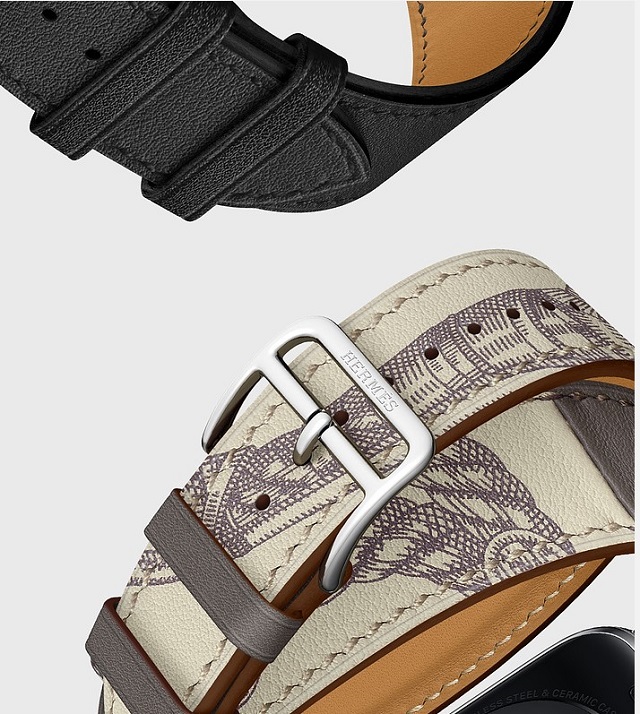 As for price, these bands start at $339 and go all the way up to $530 which is really expensive and may not fit everyone's budget. However, when it comes to quality and class, they are clearly a cut above the rest.
Reason to Buy/Avoid 
What makes Hermès Leather a top pick is a top-of-the-line craftsmanship. 
The downside of this leather band (if any) is the top-tier price tag. 
Buy from Apple: $339-$539
3. Bravely klimbing
Times when you would like to be at the top of your game while running, hiking, camping, or swimming, a sports band becomes the go-to option. Why only during adventurous times? You can also wear it regularly as it's pretty comfortable and soft.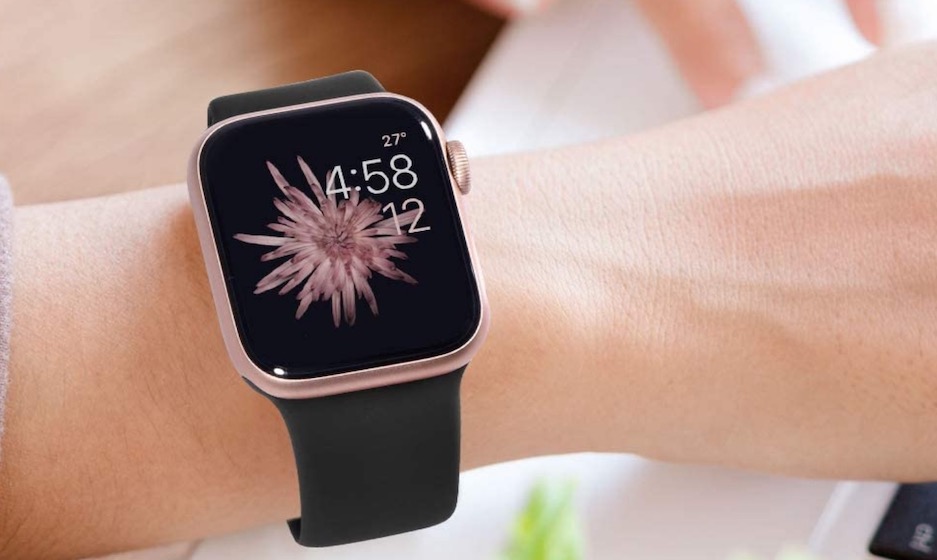 Made of high-quality silicone material, it's quite flexible and comes with air holes so that your wrist can breathe easily. What's more, Bravely klimbing features a secure band connector and comes in a ton of stylish colors so that getting an elegant match for your smartwatch isn't a big deal.
Reason to Buy/Avoid 
Bravely klimbing is lightweight and features a sporty design which makes it a good pick for the folks who prefer simplicity. 
As compared to other silicone cases, it is comparatively expensive. 
Buy from Amazon: $29.99
4. Nike Sport Band
Nike's Sport Band stands out of the rest when it comes to comfort and flexibility. The fluoroelastomer with compression-molded perforations enhances breathability. Thus, you can wear a sport band for hours without any itching.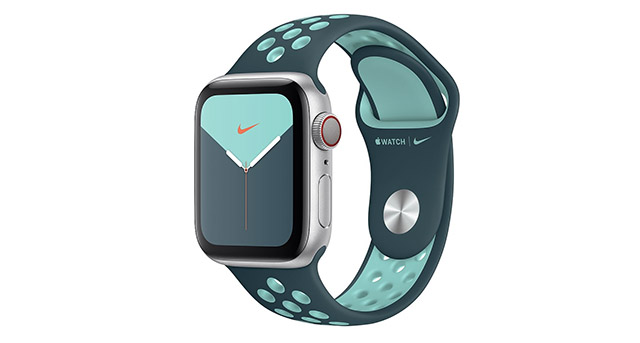 Aside from the super comfy design, Nike Sport Band is also very durable and comes in multiple colors such as black/pink, royal pulse/black, platinum black, and more. In short, it looks bang on for the fitness freaks who like to make full use of the Series 5's amazing fitness features like the heart rate recovery feature.
Reason to Buy/Avoid 
What sets Nike Sport Band apart from the rest is the high-quality fluoroelastomer material which improves breathability. 
Over time, it may lose the original color 
Buy from Apple: $49.99
5. Nike Sport Loop
Without mincing my words, I would say that Nike offers the best Sport Loops for Apple Watch Series 5. And if you are in the market to get one for your smartwatch, you should give them serious consideration. The flexible nylon weave with reflective thread gives the loops a stylish look.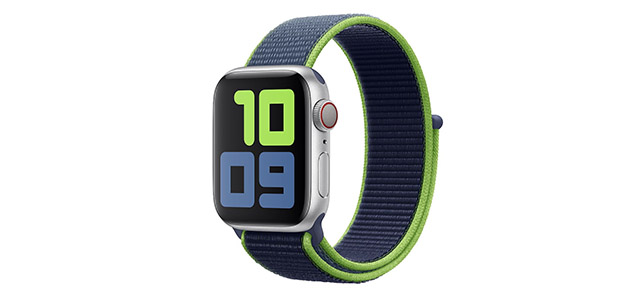 Being very lightweight and comfortable, they are designed to match your Apple Watch – and of course your spirited outing. As for colors, Sport Loop doesn't disappoint there either and offers many unique colors like pink blast/true berry, desert sand/volt, summit white, and more so you can match it up with your favorite Apple Watch faces as well.
Reason to Buy/Avoid 
Nike Sport Loop showcases a premium look and feel.
The adapter seems weak. 
Buy from Apple: $49.99
6. Apple Stainless Steel Band
At times, I do like to pair my Apple Watch with a stainless steel band as it seems to raise the style quotient of the smartwatch. If you would like to get a nicely designed stainless steel band, I would recommend you check out Apple's offerings.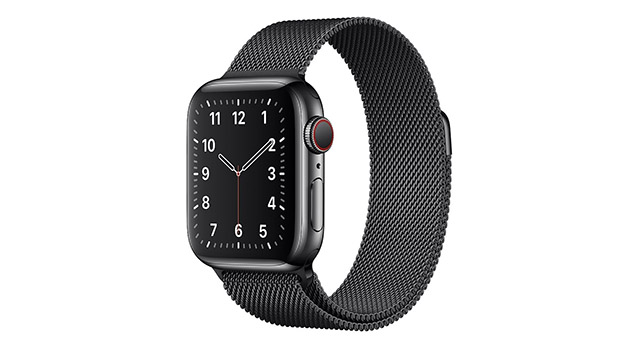 Should you prefer elegance, choose to go with the gold Milanese loop. But if you wish to go for a sophisticated look and feel, I think the black link bracelet would be an excellent pick.
Reason to Buy/Avoid 
The high-grade stainless steel design with refined finish gives it an edge over other similar brands.
It is relatively expensive.
Buy from Apple: Starting price $99
7. YC YANCH
Apple's stainless steel bands are really impressive but they are way too expensive. Just in case you are looking for a cheaper stainless steel band for your Apple Watch Series 5, YC YANCH's bands can fill up the void admirably. Made of high-grade mesh stainless steel, these mesh loop bands look adorable.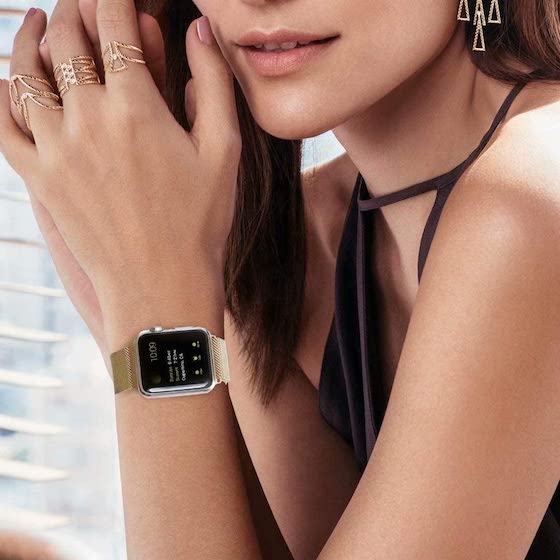 Besides, they come with a strong magnet clasp design and don't require a buckle. Aside from appreciable design, YC YANCH can also safeguard your smartwatch from scratch. As for colors, you can pick these mesh loop bands in nine hue options like black, rose gold, red, space gray, and more.
Reason to Buy/Avoid 
If you are looking for a relatively affordable yet fairly good stainless steel band, YC YANCH could be a better choice. 
The workmanship could be better.
Buy from Amazon: $13.99
8. deBeer
If a handsome-looking stainless steel watch band is what you are hunting for deBeer could be worth taking a look at.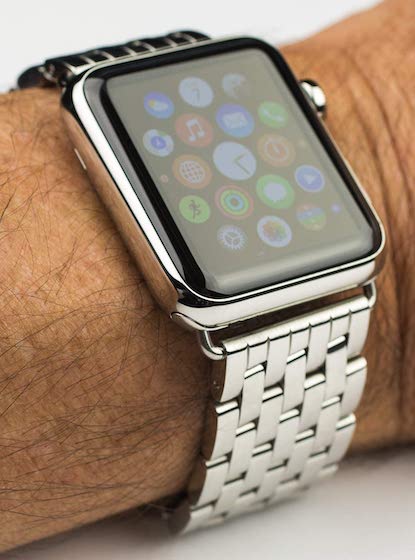 Crafted from the high-grade 304 stainless steel, the watchband looks premium. The silver finish further enhances its appearance. For much-improved security, it features a fold-over clasp that prevents it from falling off. Moreover, it has six removable links and four micro-adjustment holes to fit your wrist.
Reason to Buy/Avoid 
The high-grade 304 stainless steel with silver finish make deBeer look premium.
The 80 price tag seems a bit expensive.
Buy from Amazon: $79.95
To explore more impressive Apple Watch Series 5 bands, jump over to this separate roundup. 
Apple Watch Series 5 Wireless Earphones
1. AirPods Pro
By far the most obvious choice for wireless earphones for an Apple Watch owner, the AirPods Pro brings all of the good things about being a part of the Apple ecosystem to your ears. The AirPods Pro delivers a seamless experience, switching effortlessly between all your Apple devices including your Apple Watch and your iPhone.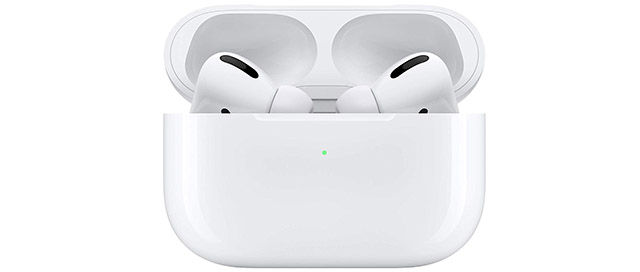 They come with Active Noise Cancelation, and pressure-sensitive stems, so you won't find yourself tapping on your ears as you would with other earbuds (even the regular AirPods).
The AirPods Pro comes with Apple's H1 chipset which means you get the same easy set-up experience that you would with the AirPods, and hands-free Siri activation as well. Plus there's a lot more in the way of technology packed into these tiny little earbuds, and they are bang for the buck.
Reason to Buy/Avoid 
AirPods Pro boasts active noise cancellation and works seamlessly with iDevices including Apple Watch and iPhone. 
For all the notable features, AirPods Pro seems comparatively expensive. 
Buy from Amazon: $199.99
2. AirPods
More than the impressive sound and the vox-pop culture, the best part about AirPods is the seamless experience that they deliver. Whether you are using an iPhone, getting your task done through iPad, rocking Mac, or flaunting Apple Watch, AirPods are your top bet for streaming music.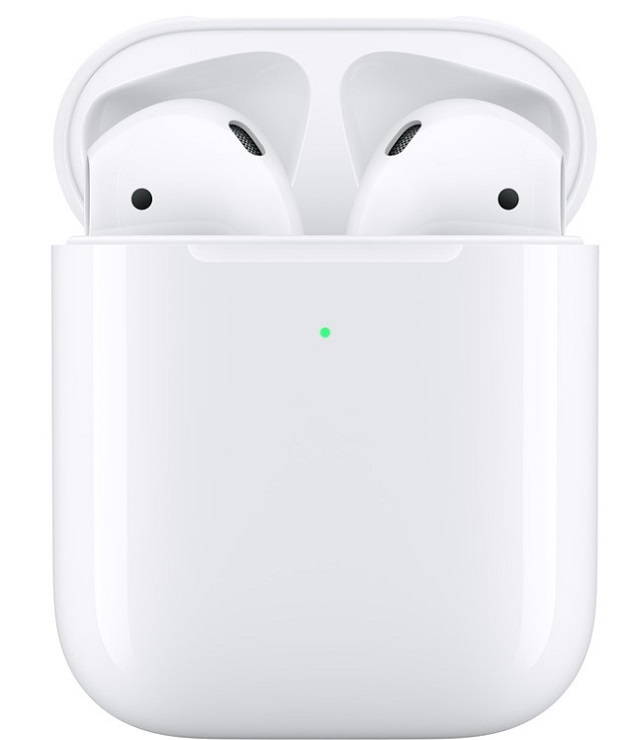 That's why I think Apple's popular wireless earphones deserve to be considered one of the coolest accessories for the Apple Watch Series 5. The second-gen AirPods come with the H1 chip and offers voice-activated Siri access.
While the earphones with the standard charging case come at $159, the wireless charging equipped version is available for $199. That said, you can always find them at a great discount on Amazon using the links below.
Reason to Buy/Avoid 
When it comes to delivering a top-notch wireless experience, AirPods are ahead of the curve. 
Lacks an ergonomic design.
Buy from Amazon: $129 for AirPods with charging case (wire) / $159.99 for AirPods with wireless charging case
3. LETSCOM
While AirPods are undoubtedly great wireless earphones, they are not perfect. Well, they lack an ergonomic design and also don't feature noise-canceling technology. Not to mention the high price tag that not everyone can afford. Just in case you are looking for a pair of much cheaper yet pretty good wireless earphones, LETSCOM would be a smart pick.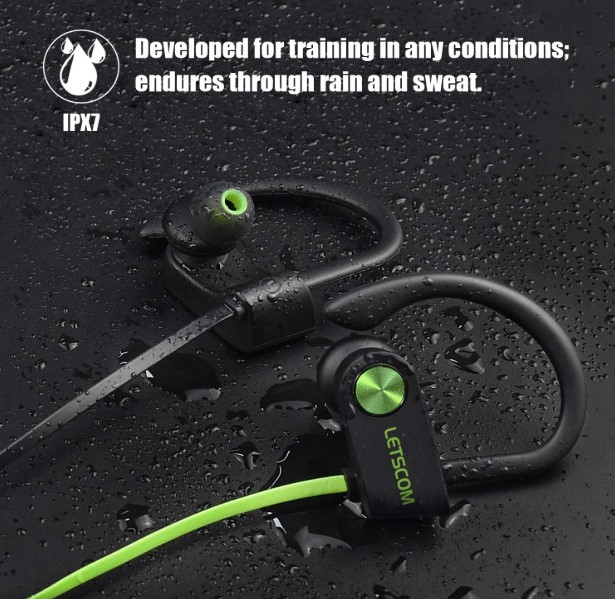 The Bluetooth earphones deliver up to eight hours of battery life and decent sound quality. Besides, they also sport ergonomic design and come with reliable noise-canceling technology. And with a trusted IPX7 waterproof rating, they are equipped to be your favorite sports earphones.
Reason to Buy/Avoid 
LETSCOM wireless earphones pack a solid punch despite having a cheap price tag. 
Less impressive sound quality 
Buy from Amazon: $19.98
4. Jabra Elite Active 75t
Jabra earphones are known to deliver top-notch sound quality. So, if you wish to have impressive sound quality, you shouldn't fail to check out Jabra Elite Active 75t.
Elite Active sports an ergonomic design and features a grip coating which helps it fit comfortably in the ears. Just like AirPods Pro, it also has active noise cancellation to keep the background noise at bay, while still being fully aware of what's happening around.
On top of all, Elie Active 75t is IP57-rated which makes it sweatproof. As for battery life, it's more than capable to deliver up to 24 hours of battery life with the wireless charging case.
Reason to Buy/Avoid 
Jabra Elite Active 75t not only delivers high-quality sound but also comes with active noise cancellation technology. Besides, it's got one of the best fitting earphones in the market. 
The battery life isn't always consistent. 
Buy from Amazon: $149.99
Apple Watch Series 5 Docking Station, Charging Stand, and Wireless Charger
1. Satechi USB-C Charging Dock for Apple Watch
Even though Apple does ship a charging cable with the Apple Watch, using it can be quite a hassle, and carrying it around can be even more annoying. Moreover, it comes with a USB-A cable, which just won't plug into any of the new MacBooks. Thankfully, Satechi's dock solves that issue.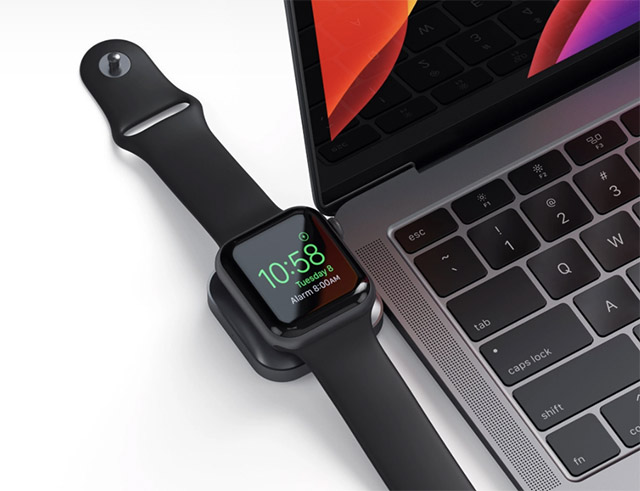 This USB-C dock for the Apple Watch is tiny. In fact, there's no wire at all. You just plug it into the USB-C port on your MacBook, or any USB-C equipped laptop, place your watch on the magnetic charging cradle, and viola, your Apple Watch is charging.
It helps that the dock also looks rather cute, and doesn't take up a lot of space. It's perfect for people who are often on the go.
Reason to Buy/Avoid 
Satechi USB-C charging dock is pretty compact and delivers safe charging 
The pricing seems to be a bit on the expensive side
Buy from Satechi: $39.99
2. Portable Charger for Apple Watch
Having a power bank handy for your gadgets is a good idea, and if you're into traveling a lot, this wireless charger and power bank specifically made for the Apple Watch might be a good investment for you.

The power bank charges itself through a USB-A port, and stores 1,000mAh of charge inside. You can just place the watch on the cradle up-top (compatible with all Apple Watch models) and top-up your watch's battery.
The MQOUNY charger also comes with built-in overcurrent, overvoltage, overheating, and short circuit protection, so you can rest assured that your Apple Watch can safely charge using this charger.
Reason to Buy/Avoid 
The portable charger is highly efficient when it offering fast and secure charging to the Apple Watch. 
Needs improvement in terms of durability 
Buy from Amazon: $19.99
3. Spigen S350
Spigen's S350 is a compact charging stand for Apple Watch Series 5 (work with all Apple Watch models). You can use this charging dock to easily power up your smartwatch. With the non-slip base, the dock stays stable while holding your watch.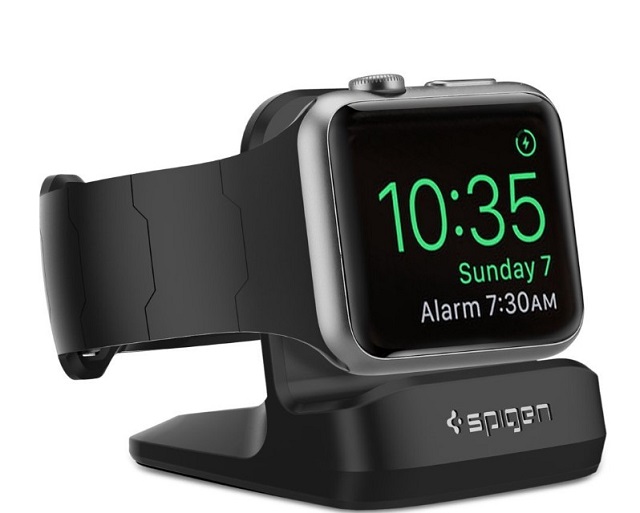 Thanks to the smooth design, it also offers the needed comfort to the device; so you shouldn't worry about scratches. That's not all, S350 is priced at just $10.99 and comes in multiple colors including black, pink sand, white, etc.
Reason to Buy/Avoid 
Spigen S350 is a compact charging stand that not only powers your smartwatch securely but also offers an enhanced viewing angle.
Needs improvement in terms of charging efficiency 
Buy from Amazon: $10.99
4. Belkin Boost Up
Both in terms of offering fast and secure charging, Belkin Boost Up is the best wireless charging dock for your Apple Watch Series 5. The dock has a modern-looking design that can get along nicely with a home or office environment.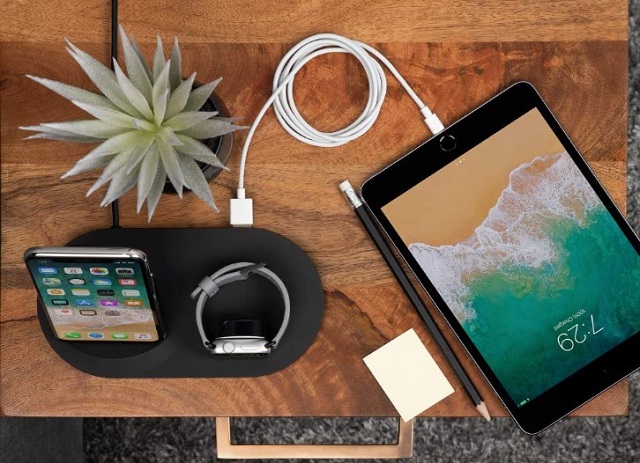 As for charging speed, the Boost Up charges your iPhone at 7.5W and Apple Watch at 5W speed, which is up to the mark. Besides, it also has an extra USB port to let you charge another device.
Reason to Buy/Avoid 
Belkin Boost Up can charge Apple Watch at up to 5W speed, which is a big plus.
Price-wise, Boost Up is quite expensive. 
Buy from Amazon: $134.93
5. Press Play ONE Dock
What about choosing an Apple Watch dock that can do much more than just charging your smartwatch? With Press Play ONE Dock, you can juice up your Apple Watch and iPhone at one go. Plus, the dock also features two additional USB ports to let you charge multiple power-hungry devices.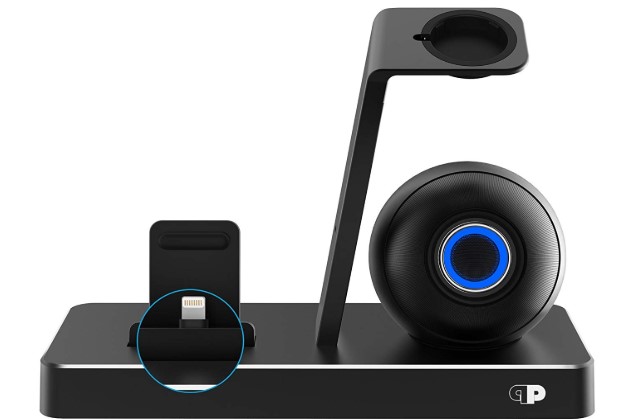 But what has caught my eyes in ONE Dock is more than a decent speaker. That means, apart from securely charging your devices, it can also entertain you by playing your favorite music.
Reason to Buy/Avoid 
The ability to charge multiple devices at a good speed and also works as a decent speaker makes Press Play ONE Dock stand out. 
The speaker tends to distort at high volume. 
Buy from Amazon: $49.99
6. ZHIKE Wireless Charging Stand
Just in case you are hunting for a comparatively affordable charging stand for your Apple Watch, this offering from Z ZHIKE could be a fine contender. The wireless charging stand is well-built and can let you power up not only your Apple Watch but also iPhone and AirPods.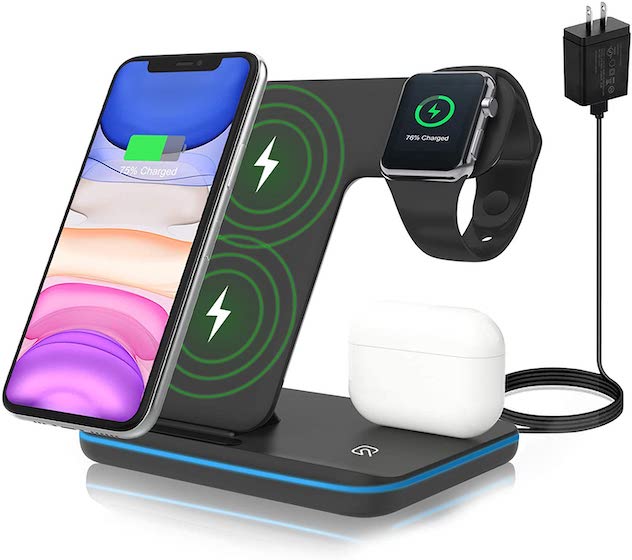 Notably, the Qi-charger can charge supported devices with up to 15W charging speed, which puts it in line with the best in the business. Apart from delivering fast charging, it also lives up to the mark when it comes to offering the much-needed shield against threats like over-current and overcharging.
Reason to Buy/Avoid 
It's the 3-in-1 functionality coupled with the affordable price tag that makes Z ZHIKE a good buy. 
The charging area feels a bit slippery.
Buy from Amazon: $34.99
7. elago W3
This one looks primed for Apple's die-hard fans who love to relive the blast from the past!  Sporting a striking similarity with old Apple monitor, elago W3 stand is a unique Apple Watch charging stand.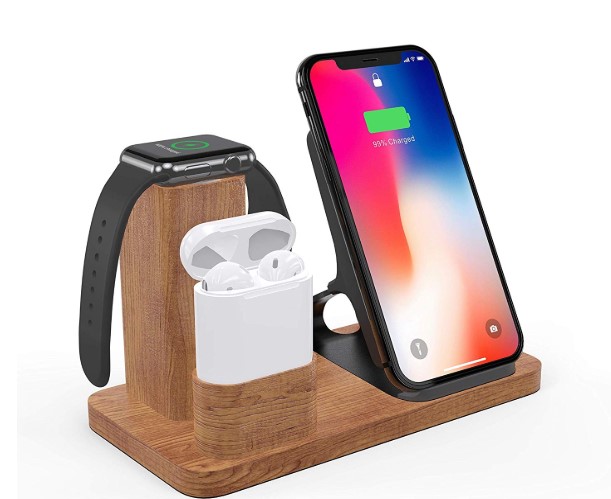 Beyond the vintage design, the W3 stand is made of soft silicone material so it won't scratch your smartphone. With the support for Nightstand Mode, it turns your watch into a handy time-telling device. Overall, it is one of the best accessories for your Apple Watch Series 5.
Reason to Buy/Avoid 
It's the striking similarity with the iconic Macintosh that makes W3 unique in its own right. 
Less durable construction 
Buy from Amazon: $9.99
Frequently Asked Questions
What Apple Watch accessories do I need?
A protective screen guard, an impact-resistant case, and a suitable watch band are some of the essential accessories for the Apple Watch.
What cool things can Apple Watch 5 do?
Though Apple Watch 5 is not a major upgrade, it has got the features to warrant a notable upgrade. From tracking your activity to monitoring your heart rate to letting you control your smart devices, it can do quite a lot of cool things.
What is the best material for Apple Watch 5?
If you want pretty lightweight material, the aluminum Apple Watch is the way to go. However, if you wish to amp up the fashion quotient, the brushed titanium Apple Watch would be a better choice.
Does Apple Watch 5 scratch easily?
Both the casing and screen of the Apple Watch are made of durable material to resist scuffs. Though they aren't scratch-resistant, they aren't vulnerable to scratches either.
Should I put a screen protector on my Apple Watch 5?
Yes, you should. If you put protection on the forefront, make sure to put a screen protector on your Apple Watch 5.
What is the most popular apple watch face?
Among plenty of cool watch faces, the one that is considered to be the most loved choice is "Infograph".
Get the Top Accessories for Your Apple Watch Series 5…
As I have already revealed all of my cards, it's your turn to let me know your favorite Apple Watch accessories. I would also be glad to know your feedback about the 2019 Apple Watch and whether or not it has lived up to your expectations.
Though I would have been a bit happier had Apple made the smartwatch play with Android devices, I'm more or less content with what the device has got. Do let us know your thoughts in the comments section below.