Dropbox recently dropped a bomb when it announced that it's shutting down Mailbox. Come February 26, 2016, Mailbox will cease to exist. The popular email client app on Android & iOS gained popularity thanks to its intuitive swipe interface and email management features. Its cool Inbox zero concept made sure it garnered quite a fan base. The app even went on to popularize the swipe interactions, which are now implemented in most email apps.
Sadly, all good things come to an end and we will surely miss Mailbox but thankfully, there are some great apps that can replace Mailbox. Well, you must check out these Mailbox alternatives:
Best Mailbox Alternatives
Microsoft's Outlook email app has been gaining a lot of rave reviews ever since the app arrived and deservedly so. While it's not the same as Inbox, it's most certainly the most solid alternative. Outlook incorporates the same swipe gestures to archive and snooze that we have come to know from Mailbox. The app makes managing your email easier by dividing your emails into "Focused" (important emails) and "others". Moreover, the app integrates various services like Office apps, Calendar and various cloud storage services for attachments.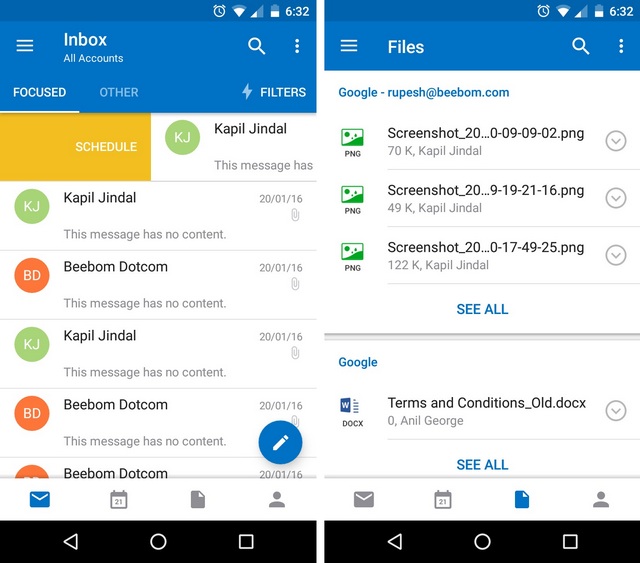 The best thing about the app is certainly its clean & easy to use interface and unlike Mailbox, which supported only Google & iCloud accounts, Outlook supports most of the popular email services including Yahoo, iCloud, Google, IMAP and of course Microsoft accounts.
Availability: Android, iOS, Windows, OS X, Web (Free).
Inbox by Gmail brings a very similar approach to Mailbox. The functionality, including the swipe gestures are very similar, although we liked Mailbox's interface more. It packs most features we loved from Mailbox like snooze, reminders and adds unique features like "Bundles", which groups email together to make handling emails a lot easier especially the ones such as social, promotions, movie tickets, etc. The Gmail client also has a "highlights" feature, which shows you the most important emails up front. While the app's cluttered interface, lack of a unified inbox and only Gmail support may bug some, it is still a great Mailbox alternative since it makes email management easy.
Availability: Web, Android, iOS (Free).
Spark is our favourite Mailbox alternative and that's due to its innovative features and gorgeous interface. Spark app is the only one to include Mailbox's both short & long swipes and you can customize these swipe actions to suit your needs. The iPhone only app also implements Mailbox's Inbox zero concept, with badges telling you the whole unread count. It also includes "Smart Inbox" which is a unified inbox with categorized emails along with other cool features like pinning, sidebar, 3D Touch support, widgets and more.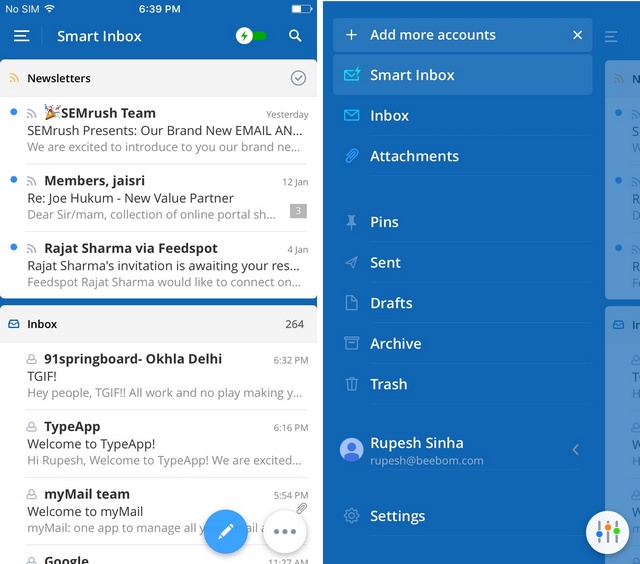 The popular email client also features calendar integration, cloud services support and read receipts. Unlike Mailbox, Spark supports most of the popular email services. Well, you should definitely give Spark a try and you might even like it more than Mailbox.
Availability: iOS, Watch OS (Free).
Boxer is very similar to Mailbox but with some added bonuses of its own. The app includes customizable swipe actions, bulk actions, to-do lists along with features like Smart Folders, which remembers where you like to put your emails and works accordingly. The app lets you send attachments through various cloud storage services along with ability to store emails as notes through Evernote. It also integrates your calendar & contacts, so that you can manage everything at one place.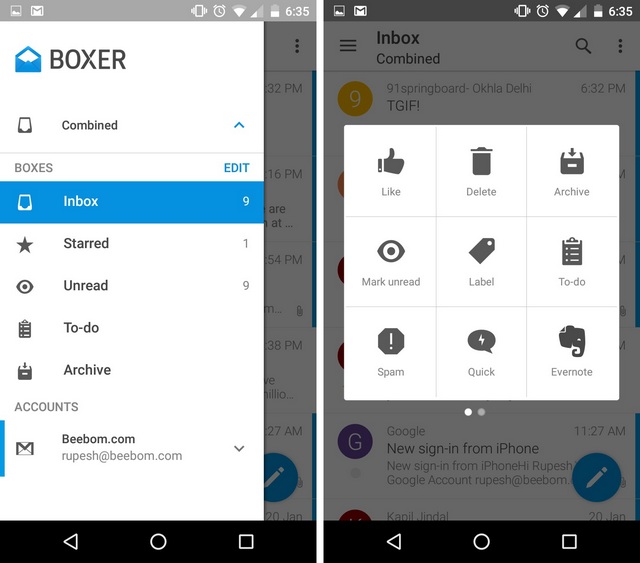 Moreover, Boxer supports all popular email clients we know of including Gmail, Outlook, iCloud, Yahoo, IMAP etc. Boxer is available in a free version but it's limited and the Pro version brings multiple accounts, custom quick replies and custom quick signatures.
Availability: iOS, Android. (Free, Pro $9.99).
CloudMagic is a popular email app and while it's not very similar to Mailbox, it works as a solid email offering. The app makes handling multiple accounts a breeze, as it presents a unified inbox while the navigation bar on the left lets you switch accounts with ease. It also adds separate colors for different email accounts and email types, which makes going through mails easy. There are various other cool features like custom folder sync, team contacts, reminders, schedule mails, passcode lock, sync across devices etc. The app takes the email accounts already in the system rather than having to enter manually and it also lets you download attachments in the background, which can be handy.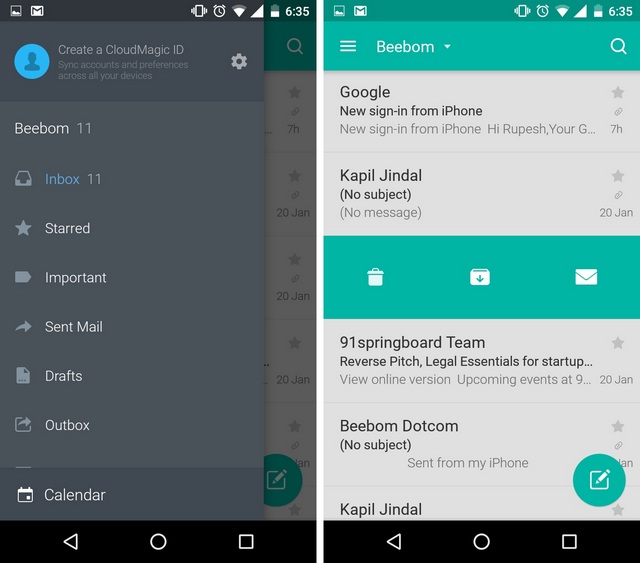 Furthermore, CloudMagic includes support for most email providers along with integration with cloud storage services for attachments. It also lets you save emails to third party services like Wunderlist, Todoist, Evernote, OneNote and more. While the app does not adhere to Mailbox's Inbox zero concept, the app works as a powerful email app.
Availability: Android, Android Wear, iOS, Watch OS, OS X (Free).
myMail is another very popular email app and its clean, flat interface makes it more appealing. The email app is similar to Mailbox, considering both of them aim at making email management on mobile easier. The app includes swipe actions (although non-customizable) and brings a unified inbox. Its navigation bar on the right lists down all the folders and lets you easily switch between different email accounts. Other features of the app include ability to create custom signature, browse files directly on the app for attachments along with support for notification controls, ActiveSync protocol, filters, pin protection, address book etc. While the app supports most email providers, it does not support Microsoft Office Exchange accounts.
Availability: Android, Android Wear, iOS, Watch OS (Free).
TypeMail has an iOS-like interface that looks busy but it's functional and beautiful in its own way. The interface is highly customizable too, with configurable menus, custom swipe actions and more. There's also a very cool picker interface on top, which lets you toggle between different accounts & filters easily. It also adheres to Inbox zero, as it lets you know about unread messages through badges. There are tons of other cool features like conversations/clusters, snoozing, rich text signature, color coding, quick filters, encryption support and more.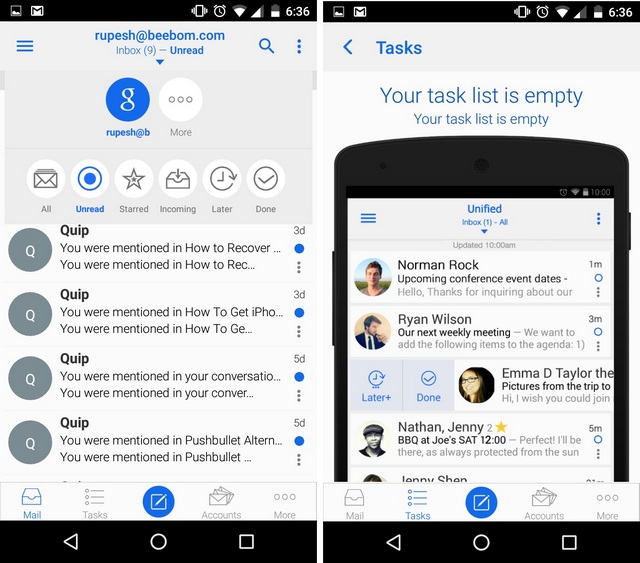 Moreover, the app supports most email providers including the bigwigs like Gmail, Outlook, Yahoo, iCloud, AOL to comparatively smaller ones like Yandex, RediffMail, GMX, Zoho, Comcast along with any other IMAP/SMTP or Exchange account. It also has an identical sibling Blue Mail, so if you are using that already, you are using the same app.
Availability: Android, Android Wear, iOS, Watch OS (Free).
SEE ALSO: 8 Alternative Email Apps for iPhone
Replace Mailbox with these great alternatives
Emails might not be everyone's priority but they sure remain important till date. Mailbox was a great email app but these alternatives should make sure you don't miss it that much. So, give them a try and let us know the one you like the most. Sound off in the comments section.