With macOS on your MacBook, you get a very, very capable browser out of the box, the mighty Safari, and for most users, that will be all they will ever need. However, on a Mac, there are a number of other browser choices available that you can use should you wish for a different experience, or have a need that is not catered to by Safari. So, here are our picks for the best browsers for macOS.
Before we get to the actual list, a small disclaimer: you will find a lot of common names in this list, which might even prompt you to ponder why. The reality is, it's hard to name the best macOS browsers without these big names, but since they all have their merits and demerits, we will discuss them all one by one.
7 Best Browsers for macOS Users
1. Safari
The Safari browser comes pre-installed with macOS and it's a browser many people love. In fact, Safari has been the best native browser on macOS for more than a decade. It is highly optimized for Apple's desktop operating system and is jam-packed with all of the necessary features that would make it your browser of choice out of the box.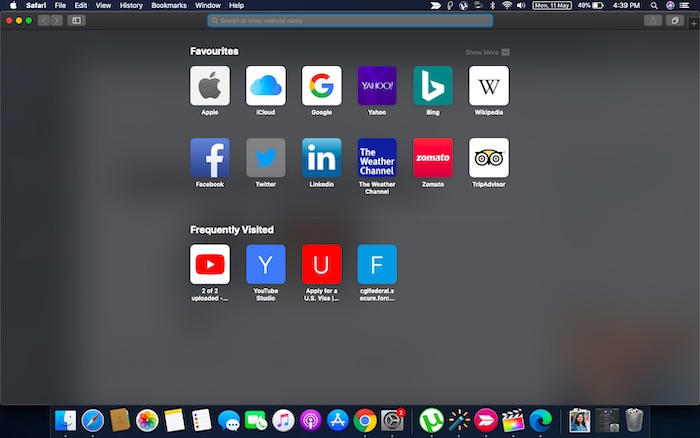 Safari has gotten minor revamps over the years, is pretty fluid, and optimized to be the least power hungry browser for macOS. It grabs the top spot on this list because of the nifty integrations and features that are only accessible via this browser. There's a well-rounded reading list, a Reader View, Enhanced Tracking Protection for ad blocking and tracking, access to Keychain password management system, and no autoplaying videos – which is a boon.
While all may sound rosy, there's one major department that sees Safari lag behind. It surely is extensions support as the collection here is not at par with Chrome and Firefox, for that matter. You'll find that Safari covers the basics, but doesn't go too far. Overall, Safari is the best browser for macOS users as it can be opened out-of-the-box without any regrets.
Pros:
Lightweight and power-efficient
Built-in tracking protection
No autoplaying videos
Cons:
Engine: Webkit
License: GNU LGPL
Comes pre-installed on macOS
2. Google Chrome
I know a lot of you would already be familiar with Google Chrome because it's the most popular web browser and there's no denying it. Chrome has always been a prominent alternative to Safari and it still is because of the familiar experience across devices, data syncing via a Google account, and obviously the abundance of extensions on the Chrome Web Store.
Google Chrome still operates the same way, using a multi-process approach and received a facelift with new Material Theme elements some time back. It places a ton of focus on security and highlights non-secure websites, includes a native ad-blocker for giving you respite from annoying or intrusive ads – not all of them, and has site isolation in place as well to load each website as a separate process for better security. It will see that a website is not able to steal data from another website.
The highlight here, however, has to be the Google ecosystem – all of the apps that keep you tied down and offer a smoother experience. This is coupled with a wide collection of apps and extensions that further elevate its functionality. This is topped off by Chrome's pretty solid set of developer tools and inspection console that gives you a detailed look at any page.
Though the beautiful material design and extensive set of features make the picture look rosy, Google Chrome has a major pitfall and that is its power usage. I've tried out Chrome on my MacBook Air in the past and while the power consumption may sure have gotten better than we last checked it but it still drains your battery quicker than Safari. I can vouch for that.
This means Google Chrome isn't really the best browser of choice for media consumption on macOS, however, it's still ahead of many of its competitors for the ease of use and all the new features that are added regularly.
Pros:
Powerful and feature rich
Lots of extensions
Great developer tools
Built-in protection against harmful websites
Cons:
Power hungry
Not very resource-efficient
Engine: Chromium (Blink)
License: Freeware (GNU LGPL v2.1)
3. Microsoft Edge Chromium
Microsoft recently turned its Edge browser to the open-source Chromium engine to win back some market share from the likes of Chrome and Firefox and well, this new browser from Microsoft has been fairly successful. The new Microsoft Edge browser brings plenty of interesting features and combines them with great performance. Talking about the features first, there are a lot of them but the ones that stand out have to be the "Read Aloud" feature, which reads articles for you, the "Reading Mode", "Collections" to save any webpages that you want, and the "Apps" feature to turn any webpage into a web app you can run separately. Also, since it's Chromium based, you get Chromecast support and support for Chrome extensions.
All of these features are great but I like the fact that Microsoft Edge is very privacy focused. You get the ability to block intrusive ads, set tracking prevention to "basic", "balanced" and "strict". Plus, in my usage, Microsoft Edge has offered great performance. The browser isn't a resource or power hog like Chrome but even on a MacBook Pro, it performs almost flawlessly, which is a huge boost.
Look, Microsoft Edge on macOS is great, in fact, a lot of people including Akshay from our team have made the switch to Edge but it's not perfect. Not all extensions are guaranteed to work, and there are some rough edges here and there but if you ask me, I think Microsoft Edge Chromium is definitely one of the best macOS browsers out there.
Pros:
Feature rich and speedy performance
Easy to switch from other browsers
Lots of extensions
Support for Chrome Extensions
Privacy focused approach
Cons:
Not all extensions work well
Default search engine is Bing
Engine: Chromium (Blink)
License: Freeware (GNU LGPL v2.1)
4. Firefox Browser
Well, here's yet another familiar name from the world of browsers, Mozilla Firefox. Well, Firefox has gone through a number of upgrades over the years. Mozilla released Firefox Quantum with a number of new technologies on board, a couple of years back, but now, the browser has matured to just being called Firefox Browser, and well, it's definitely a great browser for macOS. First of all, Firefox adopts a multi-process approach similar to Chrome (i.e a new and more powerful engine) to reduce the burden on your system, making Firefox faster than before and I like the fact that even though Firefox is a powerful browser, it's still lighter than Chrome and definitely not a resource hog.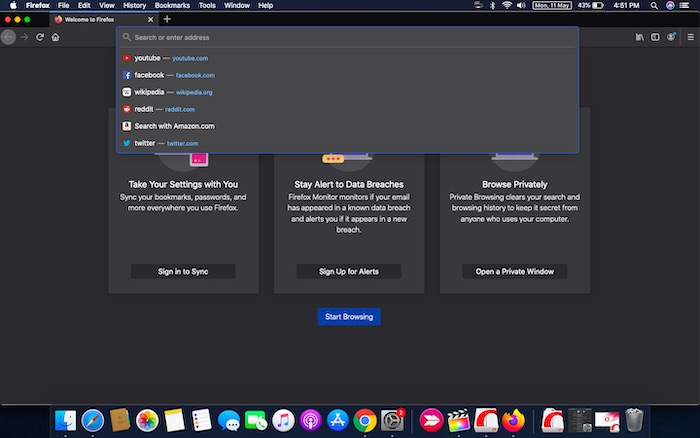 Another reason for Firefox's long-running popularity isn't just stability but also the easy availability of themes and extensions that help perk up the user experience. You're handed down the power to customize the browser to your liking but the one feature I'll appreciate the most would have to Firefox's fast-loading, tracker-free private browsing that would stop websites from collecting your data. It's also great when it comes to privacy. Firefox is open-source, collects very limited data, and it blocks ad trackers.
The browser also supports all of the regular features like bookmark management, web-form management, a competent editing console, spell checking and site-based security configurations, to name a few. Firefox is available across a number of platforms and it's you who can benefit by creating a Mozilla account and using that for a smooth browsing experience across the board.
Pros:
Fast performance, quick page load times
Power and memory efficient
Wide selection of themes and extensions
Great for privacy
Cons:
Doesn't always play well with heavier websites
Engine: Gecko, Quantum, SpiderMonkey
License: MPL 2.0
5. Opera
While Opera may have faded into the background a couple-odd years ago, not offering any new and standout features that would attract users, that has now changed and I too have become a regular user of Opera on my MacBook Air over the past year. This can be attributed to its snappy (but sometimes finicky!) performance, which is expected as it is based on the Blink rendering engine; same as Chrome, and treats you with features you wouldn't really find in other browsers.
Opera has been a prime competitor in the browsing community for years and used its own proprietary Presto layout engine until 2013. It now has the same underlying technology as Chrome and allows you to use any Chrome extension but you'll first need to install another extension for the browser. There's no hiccup in this process and I've been able to install all my widely used extensions with ease.
This is, however, not the highlight of the Opera browser as it has definitely got the basics down but instead, it's the add-on features that has made me stick to it. You get a sidebar where you can pin your favorite chat messengers, the Opera Flow feature that allows you to send/receive info between desktop and mobile, Instant search (the name says it all), a personal news feed, and snapshot tool.
The privacy features include a built-in ad blocker which blocks any and all ads, a native VPN feature (offering unlimited access), as well as safeguards against malicious web miners. The only major shortcoming I notice on a regular basis is that Opera slows down and crashes under heavy workloads. There are no battery life complaints from me here as Opera's inbuilt battery saver feature takes care of the same.
Pros:
Snappy performance
Can run Chrome extensions
Impressive add-on features
VPN built-in
Cons:
Can be finicky under heavy workloads.
Engine: Chromium (Blink)
License: Freeware
6. Brave Browser
Brave is a fairly new desktop browser and in a short period of time, it has surely grabbed some eyeballs and that's mainly due to the performance it packs and the privacy features it offers. The highlight here is the "Brave Shield" feature that block all the trackers and ads that aim to identify you but that's not all, "Brave Rewards" lets you opt into privacy-respecting ads and help publishers with their revenue, while using the rewards for things like premium content. Brave even has Tor built into its browser, so you can use it for even more private browsing.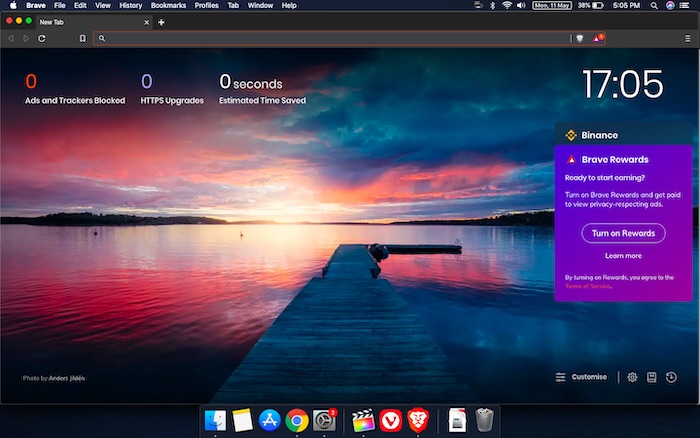 All that is great, but what also matters is the performance, and having used Brave Browser, I can tell you that it's one of the fastest browsers I have used. It's based on the Chromium Blink engine, the same as most browsers on this list, and since it blocks most of the ads and trackers, the webpage loading is speedy. Sure, some websites don't play well with Brave Shield but that's probably a compromise you're going to have to make.
Apart from that, Brave Browser comes with most of the features you expect in a modern desktop browser, including support for Chrome Extensions, so ya, this is a browser you should check out.
Pros:
Powerful privacy features
Speedy performance
Light on resources
Cons:
Some websites don't play well with privacy features
Some features yet to make it to all platforms
Engine: Chromium (Blink)
License: Proprietary reeware
7. Vivaldi
Though I wanted to recommend a lightweight browser for you and searched the Internet for the same, I came to the conclusion that Safari is a good-enough for users looking for something similar. Instead, I'm recommending Vivaldi, which is designed for power users who're looking to get a little extra out of their browser.
There's a possibility that you've never heard of Vivaldi but it's one of the most feature-rich browsers and was founded by the co-founder of Opera. It uses the same underlying technology as Chrome, which means you'll get a snappy performance but it all boils down to features at the end of the day. And there certainly are many exclusives here as well.
I have used Vivaldi in the past, prior to Opera, and my experience with it has been pretty awesome. The browser offers you a ton of customization options and its powerful tab management features, which allow you to stack multiple tabs and see its contents solely by hovering over them, is wonderful. The sidebar also allows you to open websites and see your Instagram or Twitter feed without disrupting your workflow.
Some of the more interesting features of Vivaldi for macOS will, however, have the ability to change the color of Philips Hue lights based on your tab, pen down notes for individual websites, built-in screenshot tool, and cloud sync features. Vivaldi's sole weakness would have to be the same as Opera, it gets weak in the knees when a lot of tabs are open.
Pros:
Brings great features for power users
Snappy performance
Powerful tab management
Cons:
Finicky performance under heavy workloads
Engine: Chromium (Blink)
License: Proprietary Freeware
7 Best macOS Browsers You Can Use
We've listed the best browsers you can choose to run on your macOS-powered machine, with their feature sets, to help you make a decision. If you're someone who casually wants to check e-mails or watch YouTube videos, then Safari would suffice your needs. However, a user with heavier workloads or desires for a load of different features, you will surely find a suitable pick among our remaining four picks.
So, which browser are you currently running on your macOS machine? Are you looking to make a change? Also, do you think you have a suggestion that we should include here? If so, let us know in the comments section below.
---
Load More