One of the most convenient new features introduced for the iPhone over the past couple of years has to be MagSafe wireless charging. The addition of MagSafe on the iPhone made it possible for users to not only snap their phones to a wireless charger with ease but also opened up new opportunities for accessory makers. Now, you have MagSafe wallets, power banks, stands, and whatnot. However, if you have just joined the Apple ecosystem with the purchase of an iPhone 14 Pro (or any of its siblings), you must get yourself a case or cover that comes with MagSafe support. Why, you ask? The answer is convenience. If you want the convenience to protect your costly new iPhone and have the power to magnetically latch it to wireless chargers, then check out the 10 best MagSafe cases for iPhone 14 Pro you should get in 2022.
iPhone 14 Pro MagSafe Cases and Covers (2022)
In this listicle, we have included a MagSafe case for almost every type of iPhone 14 Pro user. You will find clear cases, silicone cases, floral cases, as well as wallet folio cases with magnetic wireless charging below. And if you want a premium leather case with MagSafe, we have an option for such users too. Check out the list below:
Mkeke Clear Case with MagSafe
Key Features
Anti-yellowing TPU case
Strong 2600Gs magnetic force
Raised bezels; corner bumpers
If you are looking for an affordable and durable MagSafe case for your iPhone 14 Pro, Mkeke has the perfect offering. For under $20, you are getting a transparent TPU case with precise cut-outs and anti-yellowing properties. Plus, the clear cases from Mkeke come in a variety of color finishes, so you get a fair bit of choice too. And one thing I like about Mkeke is that it carries the Climate Pledge Friendly badge on Amazon and is a best-seller with good ratings.
Coming to the most essential aspect, this Mkeke case comes with MagSafe wireless charging support, much like Apple. The difference here is that Mkeke uses stronger N52SH magnets, which offer 2600Gs magnetic attraction. The magnetic force is 7x stronger than ordinary magnets, ensuring your iPhone won't come loose and drop off the wireless charger. Also, the Mkeke case is compatible with all Qi-certified MagSafe chargers, car mounts, etc.
Further, the Mkeke clear case provides ample protection to safeguard your iPhone 14 Pro against scratches and accidental drops. The clear case includes raised bezels around the screen and the camera as well as shock-absorbing airbags at the corners. So yeah, if you are looking for a stylish and protective MagSafe case for your iPhone 14 Pro and 14 Pro Max, Mkeke should be your first choice.
Apple Silicone Case with MagSafe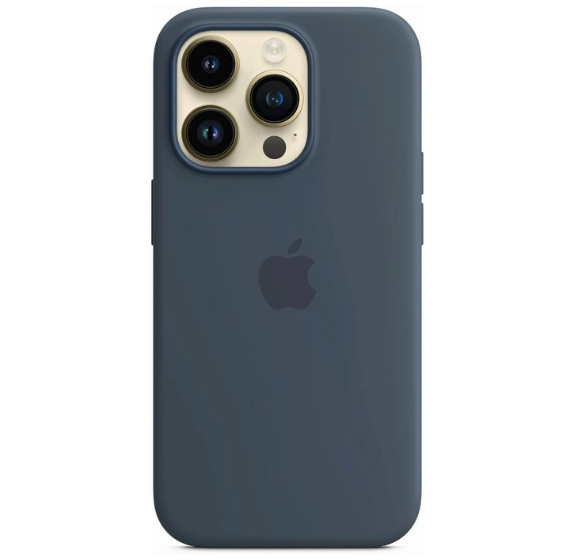 Key Features
Soft touch outer finish
Microfibre inner lining
Protects against drops
When talking about the best MagSafe cases for the iPhone 14 Pro, we cannot leave out the exquisite but expensive Apple Silicone case. It is priced a smidge under $50 and delivers a soft-touch silicone exterior with a microfiber lining on the interior. While the outside will protect your phone against drops and impacts, the microfiber inside will safeguard your device against scratches.
The more important function of the Apple Silicone case will, however, have to be the ease it offers when aligning a MagSafe charger to your iPhone. The built-in magnets offer a snappy experience with MagSafe-certified chargers, mounts, or any other Qi wireless charger. So yeah, those with no budget restrictions can for this official MagSafe case from Apple for their iPhone 14 Pro and Pro Max.
ESR Classic Hybrid Magnetic Case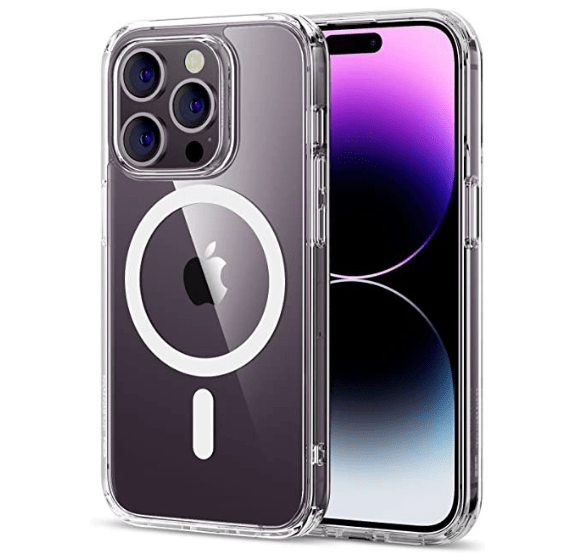 Key Features
Crystal-clear acrylic back
1,500g magnetic holding force
Military grade drop protection
ESR is another popular iPhone accessory maker and makes one of the best MagSafe cases you can buy for your iPhone 14 Pro. For budget-centric users, the ESR Classic case comes as a boon. It not only offers you a clear acrylic case with precise cutouts but also built-in magnets for easy wireless charging. You no longer need to worry about the phone placement and let the 1,500 g of magnetic holding force do the job for you.
This MagSafe case supports any HaloLock (ESR's accessories) or MagSafe accessory. Further, you get scratch resistance via raised corners on the front and back, along with air-guard bumpers on the corners. Finally, the ESR clear case comes in three other colorways, including black, purple, and frosted black. But the colored finishes cost an additional $5 on the asking price. So take your pick accordingly.
Spigen Mag Armor Case
Key Features
Textured TPU case
Air cushion protection
Slim design; tactile buttons
Another well-known accessory maker among Apple users is Spigen and our next recommendation is the Mag Armor case for the iPhone 14 Pro. Apart from the integrated magnets that enable MagSafe wireless charging in this case, the Spigen Mag Armor counts its slim profile as one of its key features.
Further, like any other case, the Spigen iPhone 14 Pro MagSafe case comes with a patterned back, textured edges for extra grip, and tactile buttons. There's also the use of air cushion technology on the edges to protect the phone against shocks and cracks during drops. So if you are in search of a cool-looking MagSafe case at a decent price, then Spigen's offering offers all that you need.
Sonix iPhone 14 Pro Floral MagSafe Case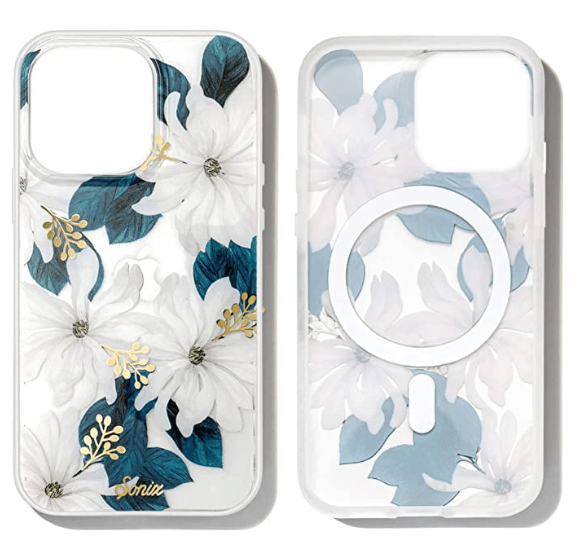 Key Features
scratch resistant TPU case
unique flowers design
10-foot drop protection
For users who want a beautiful-looking MagSafe case with floral designs for their iPhone 14 Pro, Sonix has you covered. It delivers a 100% TPU case with several unique designs and gold-foiled details on the case. Further, the case supports raised bezels around the screen and camera. The Sonix case will protect your device against scratches, accidental drops up to 10 feet, and impacts with reinforced corners.
And as the name implies, the Sonix floral case supports MagSafe charging on your iPhone 14 Pro and 14 Pro Max with built-in magnets. The company does not share how strong the magnets are or any more details, but it seems like they would get the job done when using Qi wireless chargers.
TORRAS UPRO Matte Case with Stand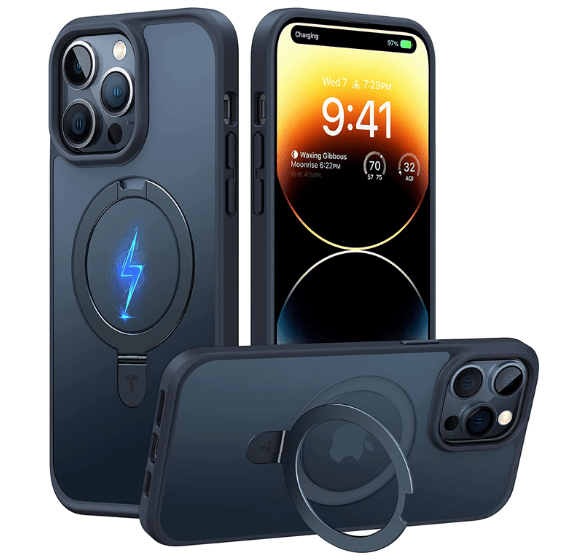 Key Features
Includes built-in ring stand
Supports Halbach magnets
3x Military drop protection
For Gen Z users who like pop-sockets or users who travel around a lot, you should check out this MagSafe case with a built-in stand for the iPhone 14 Pro. If you didn't know, all magnetic iPhone cases include a circular magnetic array on the back to enable users to snap MagSafe chargers. TORRAS has smartly used this design to include a built-in magnetic ring that doubles as a stand (opening up to 120 degrees).
As for the magnetic ring itself, TORRA's iPhone 14 Pro MagSafe case includes Halbach magnets that offer 5x stronger absorption than your normal magnets. So you can easily use this case with all your MagSafe devices, including Qi-compatible wireless chargers, car mounts, wallets, and more. This case also delivers military-grade protection, offering shock absorption and drop protection up to 10 feet.
UAG Pathfinder MagSafe Rugged Cover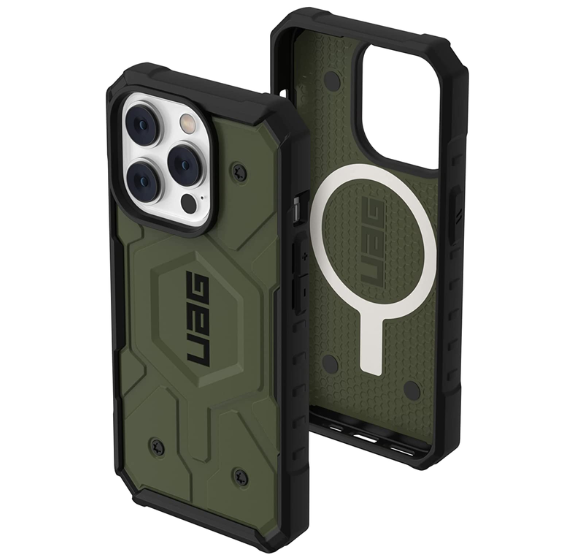 Key Features
Hard outer armor shell
Impact-resistant soft core
MIL STD 810G Drop proof
Looking for not only the best rugged case for your iPhone 14 Pro but also the best MagSafe case, look no further than this beast from UAG. The UAG Pathfinder iPhone 14 case might look bulky, but the accessory maker boasts a feather-light composite construction. You have an impact-resistant soft core on the inside and a hard outer shell making us this case.
Further, this UAG rugged case also includes enhanced TPU corner protection and a traction grip running around the perimeter to ensure your iPhone 14 Pro doesn't slip off. And even if it does, you have military grade drop protection up to 18 feet (MIL STD 810G). Finally, we shouldn't miss out on the most essential aspect – the built-in magnetic module. Yeah, this rugged case from UAG comes with MagSafe charging support but costs a pretty penny.
Caseology Nano Pop Mag Silicone Case
Key Features
Dual-tone colorways
Silicone case; raised edges
Integrated magnets
While listing the best clear cases for iPhone 14 Pro and 14 Pro Max, I mentioned that I quite like the dual-tone design offered by Caseology cases. Well, the same trend continues here with the "Caseology Nano Pop," a silicone case that boasts lint and dust-free protection for your iPhone 14 Pro. It comes in a variety of dual-tone colorways, including Black Sesame, Avo Green, Blueberry Navy, and Burgundy Bean.
Apart from the design, the Caseology case comes with magnets built-in to keep your iPhone aligned and securely attached to an Apple MagSafe charger. There's no marking to show the same on the outside, but there's one inside. Further, the case boasts a raised camera ring design and military-grade protection, which is common in most cases and covers on this list. The price is another thing that may compel a lot of users to go for this case.
LONLI Classic Napa Leather Case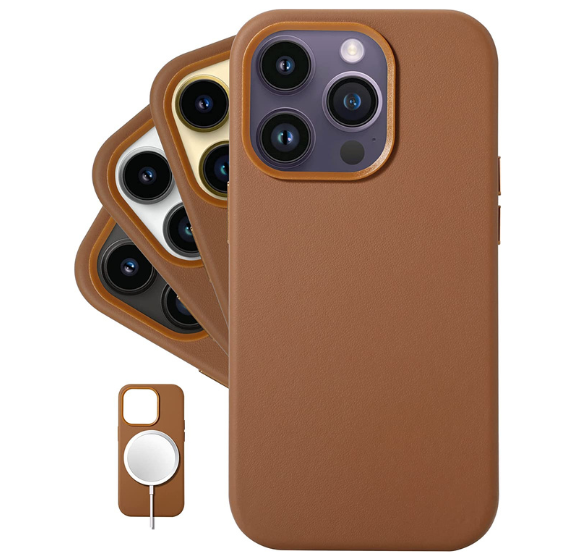 Key Features
Uses natural Napa leather
Soft microfiber inner lining
Compatible with MagSafe
No iPhone cases and covers list is complete without a leather case. Yeah, you can even buy a leather MagSafe case for your iPhone 14 Pro if you would like. With excellent ratings on Amazon, we recommend the LONLI Classic case that's made using Italian Napa leather. And that makes it look stunning!
As LONLI mentions in its product listing, the case is created using natural and full-grain leather, which will feel dry at first touch. However, the outer case will become soft to the touch with regular use. Moreover, the inside of the case has a soft microfiber lining, much like the official Apple case, and integrated magnets to support MagSafe wireless charging on the iPhone 14 Pro series.
There's raised edges and drop protection here as well, similar to any other case. But it's the sub-$30 pricing that caught my eye, which is an amazing deal for an iPhone leather case.
Case-Mate Wallet Folio iPhone 14 Pro Case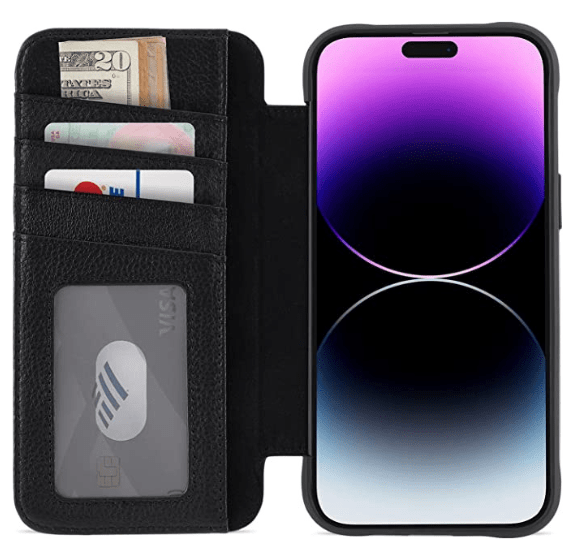 Key Features
Pebbled Genuine Leather
Pockets to store cards, cash
MagSafe Wireless Charging
Rounding up the list of iPhone 14 Pro MagSafe cases, we have a folio-style case from the house of Case-Mate. Yet another popular accessory maker, Case-Mate delivers a mix of protection and style with this case. While the silicone case shields your phone against scratches and any accidental drops, there's a premium pebbled genuine leather wallet on the front. Our biggest focus is on the built-in magnets that make the attachment and charging process simpler for regular users.
The company further boasts that its leather wallet can withstand daily use with its abrasion-resistant properties, which is great. But that's not all. Case-Mate Wallet Folio, as the name implies, also includes pockets to store up to three credit cards, 1 ID card, and cash. And since you have the option to store credit cards, the case supports RFID shielding technology as well.
So yes, you are not only getting protection from scratches and drops, but also additional wallet space and magnetic charging, all in a single case. You do have to spend a couple of bucks shy of 50 dollars to buy the case, though. So make your choice wisely.
iPhone 14 Pro Max MagSafe Cases Worth Buying
So yeah, we hope this guide helps you pick a suitable case with MagSafe wireless charging for your iPhone 14 Pro series. We can vouch for the clear cases from Mkeke, the dual-tone cases from Caseology, and the rugged brick-like covers from UAG. What type of case do you like to use with your iPhone? Do let us know in the comments section below.