Apple's iTunes on Mac might be good for many purposes but playing your local music is not one of them. It has become a bloated software which someone uses only when they have to. A music player needs to be light, fast and should make accessing one's music library easy. It should also be able to easily organize music library, create custom playlists, set preferred audio profiles, support multiple audio formats, deliver the best quality of audio, and have an intuitive and good looking interface. We tested numerous music player apps for Mac and then ranked them based on the above-mentioned qualities. So, here are the 7 best music players for Mac you should try:
1. VOX Music Player
This is hands down the best music player you can get for your Mac. It hits all the right boxes. The layout is minimalistic, with an intuitive and easy to use interface. You can create playlists and collections to organize your music. When you are playing a certain playlist you can just drag and drop songs to queue them. You can also connect your SoundCloud account and sync your music across both the platforms. It supports most of the audio formats including high-res formats like FLAC. In fact, the main focus of VOX is to provide the best quality and lossless music listening experience to its users.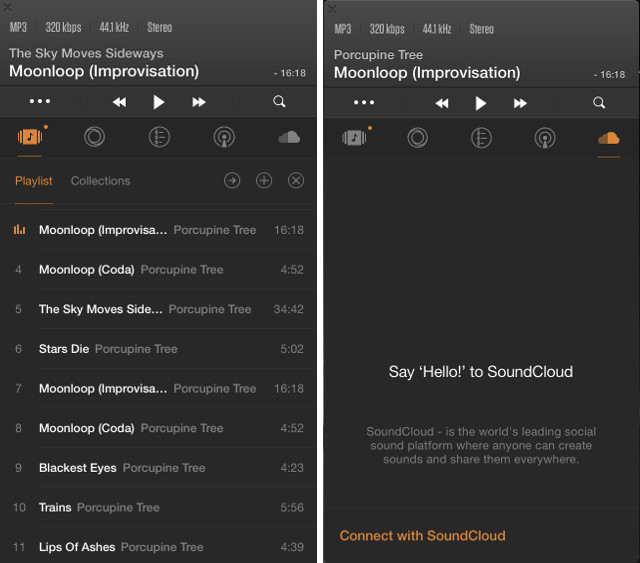 The above-mentioned features were enough to make VOX our first choice, but this one goes above and beyond. If you opt for the monthly subscription, it gives you unlimited cloud sync with high res streaming capabilities. It means you can upload your own music to its cloud and stream via any of your Apple devices including iPhones and iPads. You can unlock more than 30,000 radio stations running across the world and listen to them right in your living room. The features are just endless. If you are thinking of getting a music player for your Mac, look nowhere else.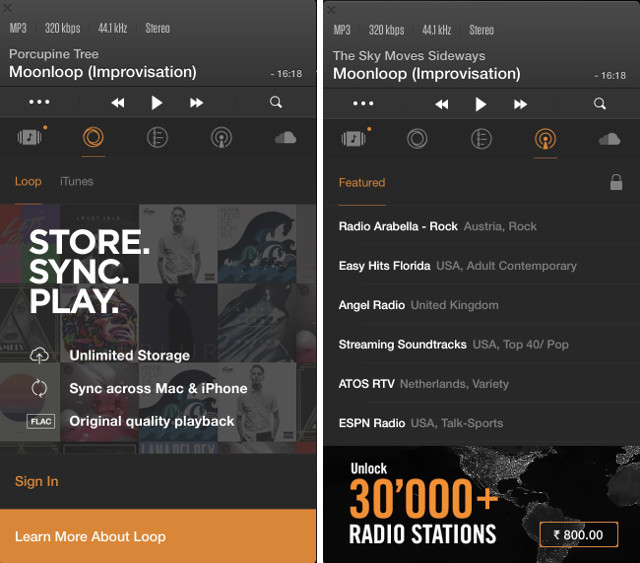 Install: (Free, with in-app purchases)
2. Audirvana Plus 3
Audirvana Plus 3 touts itself as a music player for Mac, made for audiophiles. It puts an emphasis on delivering high-quality music to your ears. I am not an audiophile myself so I cannot comment on that but what I can comment on is its amazing syncing and organisational ability. The sync is almost instantaneous. As soon as you add or remove music files from your folder, it is instantly reflected in the app. Personally, I like its organisational structure more than VOX. You can create multiple folders and playlists. The UI looks a little dated but is very intuitive and easy to understand.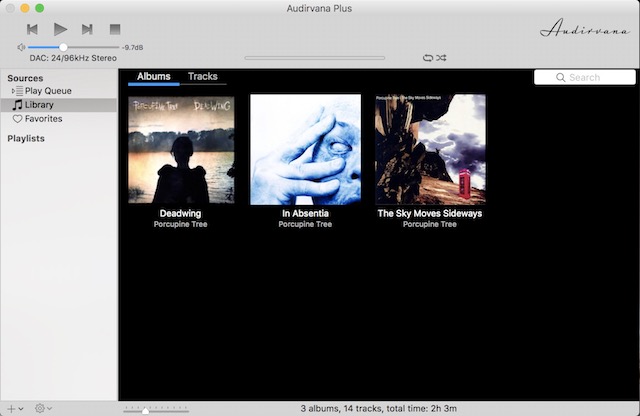 It also supports all the high-res music formats. You can even sync your TIDAL and Qobuz account, if you do not keep music locally on your Mac. However, it does not support popular music streaming services like Spotify and Apple Music, as they stream music at lower quality. One neat feature is that it also has companion remote app for iPhone and iPad. The app gives you the ability to remotely control the music playing on your Mac. The only reason it is at the second place is its pricing. In my opinion, it does not add that much value above VOX to justify its price. However, it has a trial period and you can check it out to decide for yourself.
Install: (Free trial, $74)
3. Clementine
Clementine is a feature packed open source music player which acts more than just your music player. You can sync your music from multiple sources such as Google Drive, Dropbox, Spotify, SoundCloud, etc. Apart from Apple music, it seems to support every other platform I have used or even heard of. For me, the best part is that not only it plays your music, it can also provide addition information about the song, like its lyrics and the artist's info. It also has a remote app for Android phones allowing you to control your music from a distance. All in all, it is a pretty good software for a free one.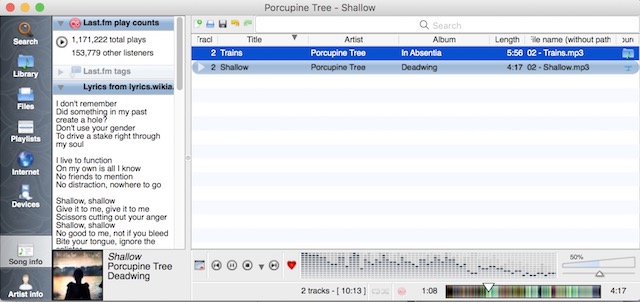 Install: (Free)
4. Tomahawk
This is the only app which exists on all the platforms, including macOS, Windows and Linux, and Android. But that is not the only reason it is on our list. Tomahawk is a pretty different music player app and brings its own unique ability to the mix. First of all, it is the only app which automatically scans your Mac's hard drive and add music to its library. It does take some time to this though. However, the main focus of Tomahawk is to become a one-stop solution for all of your music needs.  It has plugins for every existing music streaming service provider. You can even listen to music directly from YouTube and other video sharing platforms. Also, it is an open source app which is totally free.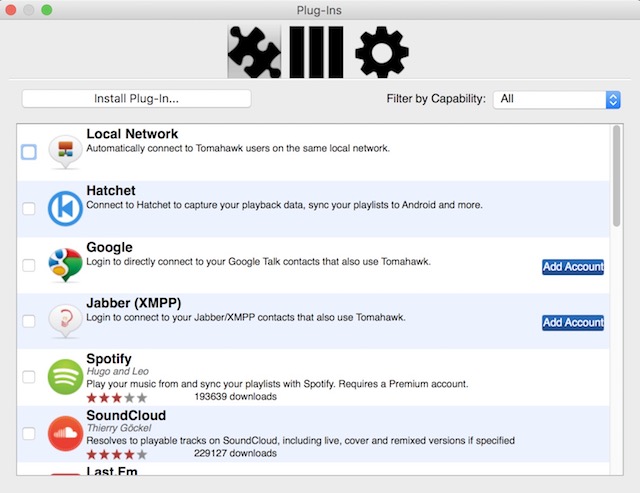 Install: (Free)
5. Swinsian
Swinsian is a good and full-fledged music player app for your Mac. It supports the majority of the audio formats, has good organisation structure and is not heavy on resources. It can manage even the biggest of music libraries comfortably. If you listen to podcasts, you will appreciate the inbuilt podcast player that comes with the app. I also love its smart playlist feature. You can create filter based on titles, artists, albums, composer and much more. It gives more granular control to users when creating a smart playlist than any other app on the list. It is a solid music player which you should try. It has a trial version that lasts 30 days.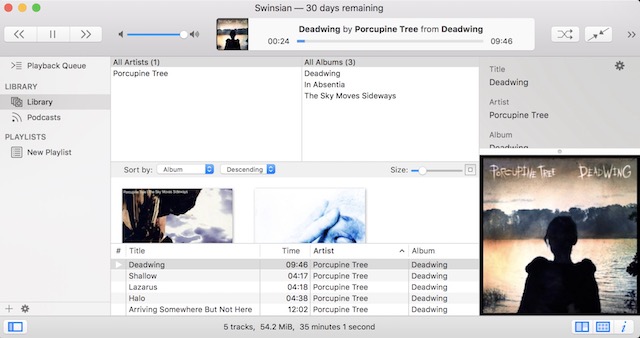 Install: (Free trial, $19.95)
6. Musique
Musique is another great music player for Mac, which has a simple and modern UI. The controls are pretty simple and easy to get around. The best part about Musique is that it is a very light software and does not gobble up much of your Mac's resources. It is also available for multiple platforms including Windows and Linux. One thing I like about Musique is its information tab. When you are playing a song, it will give you information about the band and the album to which the song belongs. It will also display the lyrics of the song. It is totally free to download with an option to donate to developers if you want to.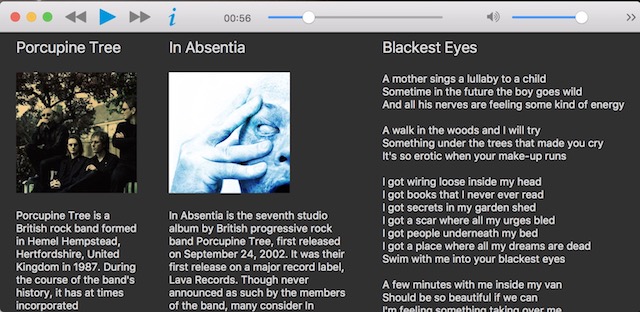 Install: (Free)
7. Pine Player
Pine Player is a pretty simple music player app for your Mac. It is free to download and use. It supports a number of audio file formats and has features like crossfade and gapless playback. It allows you to drag and drop songs to rearrange them in a queue. Creating a playlist is very simple and effortless process. The UI is pretty minimalistic and displays album art with a list of the songs. It also displays the type of file its playing which is a pretty neat feature if you have an eye for those details. It is free and you can get it from Mac App Store.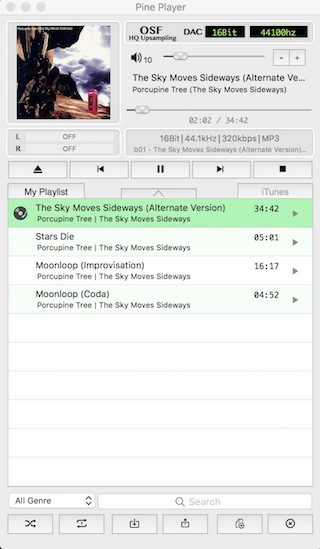 Install: (Free)
SEE ALSO: 10 Best iPhone Music Player Apps You Can Try
The Best Music Players for Mac For A Better Music Experience
Everyone knows that the days of iTunes as a music player app on Mac are over. We tested the best alternatives and created this list for you. Whether you are a casual music listener or an audiophile, there's a suitable app for everyone in this list of the best Mac music players. While some of them are free, the paid ones have a free trial, so be sure to check them out and select the one which best suits your needs. Do tell us in the comments if we missed an app which you think should be on the list.