Apple introduced a new feature with the new iPhone 6s and 6s Plus this year dubbed "Live Photos", which are basically GIF images with sound. While this feature has been present on Samsung, HTC and Microsoft/Nokia devices for a while now, it's missing on most other Android devices. As with every other feature Apple introduces as their very own innovation, Live Photos cannot be ignored. Some might feel the feature is gimmicky but honestly, it can come in handy while taking snaps of children or a funny reaction.
We are pretty sure we will see an implementation of Live Photos on all Android devices soon but till then, you can make do with these apps that let you capture Live Photos with ease. As we mentioned, Live Photos are nothing but GIF images with audio, so we are including apps that let you create GIF images with audio. So, here's how you can get Live Photos on Android:
Apps that bring Live Photos feature on Android
Phogy is one of the best apps if you want to recreate iOS' Live Photos with an original twist. Phogy captures Live Photos and adds an innovative 3D twist to it. The app captures the animations along with the surroundings and the images move with your smartphone's movements. Capturing a 3D live image is simple, you just need to focus and move your smartphone while capturing. Sadly, the free version of the app limits the movements to 3 seconds.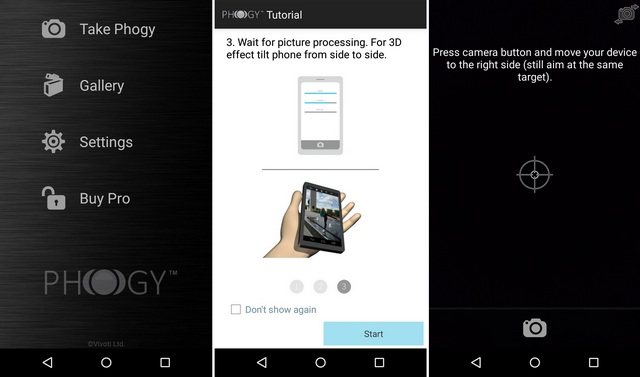 Phogy also lets you optimize an image's geometry, swap direction, rotate and check out details. You can also edit brightness, contrast, hue, blur, sharpen the images and add oil painting. However, the free version is very limited and creates images that can only be viewed in the Phogy image viewer. The Pro version of the app is available via an in-app purchase and it brings unlimited captures, ability to create short mp4 videos, high quality GIF images, set phogies as live wallpapers and more. It also brings additional settings such as HD photo resolution, exposure times, more GIF resolution etc..
Install: (Free with in-app purchase for Pro version)
Compatibility: Android 4.0 and up.
At the onset, let me tell you that GIF Camera does not have the most beautiful user interface among Android apps but it does what it's supposed to. GIF Camera not only lets you capture GIF images with ease, it also lets you discover funny GIFs from across the internet. The viewfinder for taking an image is pretty simple with not many manual controls. Once you click the capture button, it captures the image for a few seconds or you can choose to stop it early. After the image is taken, you can choose the portions of the picture you want in the GIF. You can also alter the speed or frame/sec and there's also ability to reverse play it. You can then click on the save icon to save the picture.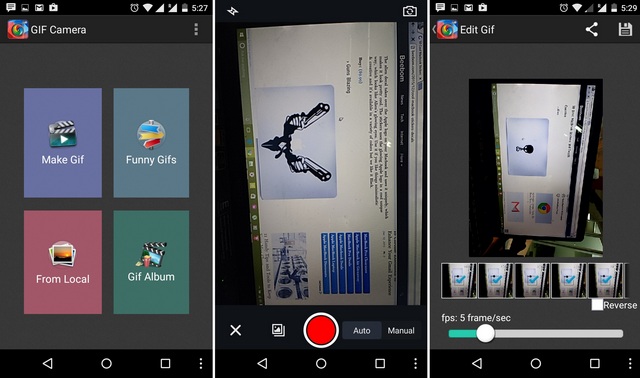 Moreover, the images taken from GIF Camera is supported by Android's stock Gallery and any other Gallery apps there are. There's also ability to edit the image's frame rate and the animations that are part of the picture. You can also share the GIFs captured through the app on Facebook, Twitter, WeChat, Moments and China's Sina Weibo. The app might be a little unattractive for some but if you simply want to create some GIFs, GIF Camera should not disappoint you. Take a look at a GIF image we captured featuring our very own Chief Business Officer, Devinder at Beebom headquarters.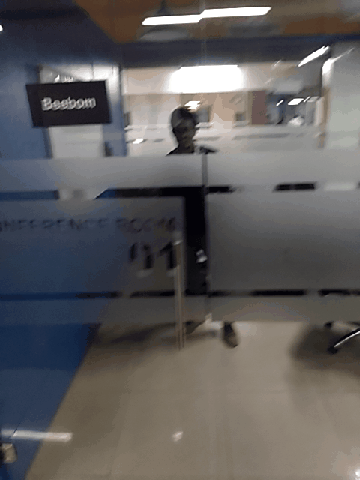 Install: (Free)
Compatibility: Android 2.3 and up.
Fyuse is similar in functionality to Phogy, as it brings live photos with 3D effects. It lets you capture live 3D photos with ease. You just need to press hold and move the camera in a single direction for a while to give the live image a 3D effect. The camera viewfinder is simple with options to turn on Selfie mode, flash toggle along with a button for helpful tips. There's also a button to lock focus, lock focus + exposure etc.. There are also some modes like Selfie, Panorama, Portrait, Pets, Fashion, Cars etc.. Once you capture an image or Fyuse, as the app likes to call it, you can trim the effect, add filters and change brightness, contrast, sharpness and more. You can then share your cool live 3D image to Facebook.
The app also works as a social media platform, where people share a lot of cool Fyuse 3D pictures. You can also discover new cool images based on various categories like Fyuse of the day, Popular, Trending, Featured, Beauty, Travel, Cute etc.. You can also create a profile of your own, follow other people and like their images as well. While the app does what it's supposed to, there are bugs in the app which kind of ruin the experience. We hope the developers fix the bugs and make the app more smoother. You can still give it a try, as the app is available for free on Google Play Store.
Install: (Free)
Compatibility: Android 4.3 and up.
GifBoom: Animated GIF Camera is another easy to use app for capturing GIF or animated live photos. The app lets you capture live photos easily and it also has some cool social media features. You can discover various GIF images based on their categories like Popular, LOL, Pets, Celebs, Sports, Fashion etc.. You can also choose to follow people and interact with them. It also features a feed, where images from the accounts you have followed are accumulated.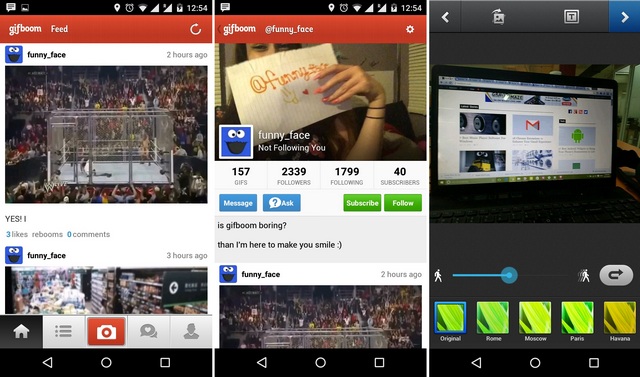 Capturing a GIF is pretty ease, as the viewfinder does not feature many controls that would confuse you. You can start capturing and stop when you feel like. You can then select the photos that you want inside the GIF image. Then you can choose the speed of the animation and also add filters, audio & text to the image or rotate it. Your image will then be saved in the Gif Gallery. GifBoom also lets you share these images on Facebook, twitter, Tumblr and more. GifBoom works fine but the only qualm we have is that the Gif Gallery is buried inside Profile Settings->Gifs Gallery. GifBoom is available for free and it supports devices running Android 2.2 and up but according to the developers, best performance is achieved on devices running Android 4.0 and up.
Install: (Free)
Compatibility: Android 2.2 and up.
In-built Camera Apps that brings Live Photos Functionality
Zoe Camera feature has been the Taiwanese manufacturer's pride and joy since a couple of years. It features a burst mode that lets you capture very short videos, similar to GIF images or Live Photos. Keep in mind though that the live photos feature of HTC Zoe is only available on high-end and flagship smartphones from HTC.
Samsung's TouchWiz Camera
Samsung has always made sure its Android skin TouchWiz is packed with all the features you can think of. TouchWiz's camera interface comes with several modes and one of them is "Animated Mode", which lets you capture animated GIF images with audio.
Google Camera is available for most Android devices but its Live Photos like feature isn't. Google Camera's latest version comes with a SmartBurst feature that automatically creates GIF images. Unfortunately, the feature is currently only supported on Huawei Nexus 6P. Here's hoping Google supports more devices soon.
SEE ALSO: Top 10 Camera Apps For Android
Ready to capture Live Photos on Android?
These are the best apps to bring you the Live Photos feature on Android. If you are using a Samsung or HTC high-end phone, you already have the feature but if you don't have it, you must try these apps and let us know how you like them.