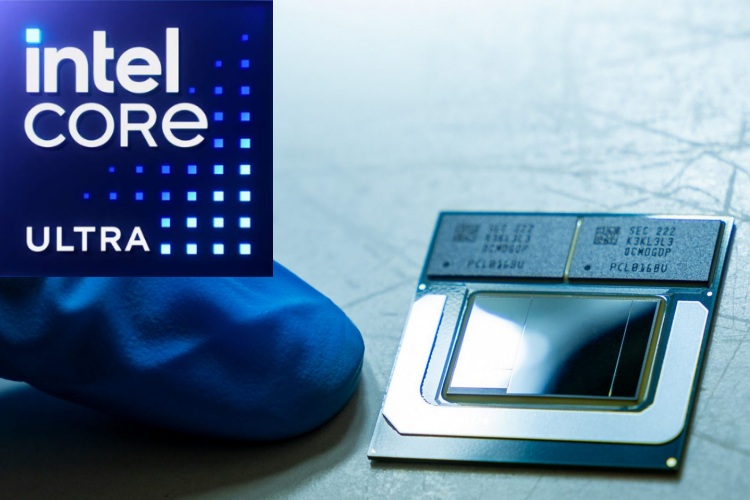 Intel recently talked about how they are innovating on their chip manufacturing process. They shared crucial information related to their upcoming 14th-Gen Meteor Lake CPUs. Intel has demoed an architecture design with on-die RAM. We will talk about what that means, how it is similar to Apple's current chipmaking approach, and what this means for the upcoming Intel Meteor Lake processors.
Intel Meteor Lake CPU with On-Die LPDDR5X Memory Revealed
Intel's advancements on Meteor Lake will play a key role in making these new CPUs distinctly different from older ones, especially if they implement this new CPU architecture design. The chip design was shown off in a demo, but Intel did not reveal if this was an entry-level i3 or flagship i9 processor. Still, the architectural design shown off by Intel on this Meteor Lake CPU indicates a drastic change that directly affects how the computer's RAM operates.
Intel has demoed a Meteor Lake CPU design with on-die memory. The RAM used in most laptops today is either soldered onto the motherboard or is upgradable by adding new RAM sticks. If a CPU has on-die memory, it basically negates any possibility of upgrades. The RAM shown here is Samsung's 16GB LPDDR5X memory with 7500MHz speed. Just so you know, we have not seen RAM speeds this high paired together with a laptop CPU. Even the i9-13980HX laptop that we reviewed only had 4800MHz RAM speeds.
So, it seems that implementing on-die memory means the RAM speed itself can be much higher! The particular LPDDR5X RAM that Intel showed has a peak bandwidth of up to 120 GB/s. Now, we will talk about why Intel has followed in the footsteps of Apple and is now using a similar chip design.
Why Intel & Apple Designed RAM to Be Next to the Processor
When the CPU has to access the system memory, the entire process becomes significantly swifter and more efficient with on-die memory. How so? Simply put, when the RAM is put close to the CPU, they can both talk to each other much faster! Hence, on-die RAM is intrinsically much faster to access for the processor.
Intel's new, potential Meteor Lake chip design is similar to Apple's approach for designing its ARM-based M2 & M1 chips used in their Mac lineup of computers. On-die RAM might become an industry-standard in the future. Apple has already shifted its CPU design to use unified memory. It looks like Intel is gearing up to do the same. You can check out Apple's design below, for the M1 Ultra chip.
Just like how Intel designed the above Meteor Lake CPU, even the Apple chip has its unified memory. Again, this is on-die RAM, where Apple attached the system's RAM to the same die as the M1 Max CPU. If you didn't know, the four black squares below represent the 64GB of unified memory available on the Apple M1 Max chip.
On-die memory is definitely a breakthrough. There is a significant reduction in overall communication latency between the processor and on-board system memory. Because of this advantage, it might be worth trading upgradability for better RAM implementation. Still, if this becomes a standard, it will become impossible to upgrade laptop RAM in the future!
Here is everything we know about Intel 14th Gen desktop & laptop CPUs so far, so go through this detailed explainer to bring yourself up to speed. We have even talked about the release date, specifications, and benchmarks for Intel's next processor lineup. Anyway, what are your thoughts on this new Meteor Lake CPU architecture demoed by Intel? Let us know in the comments below.
Featured Image Courtesy: Intel
---