Last year, MSI launched the Titan GT77 with the Intel Core i9-12900HX and the RTX 3080 Ti Laptop GPU, and it was the most powerful gaming laptop on the face of the planet. It was the heaviest of heavy hitters and could handle anything you'd throw at it without breaking a sweat. MSI has now refreshed the Titan GT77 with the Core i9-13950 HX that Intel launched in January this year (2023) and Nvidia's RTX 4090 16GB laptop GPU. How well does the new MSI Titan GT77 HX 13V hold up, though? Let's find out in our in-depth review.
MSI Titan GT77 HX 13V Review (2023)
I spent more than two weeks with the review unit of the MSI Titan GT77 loaned to us by Intel and tested it under different scenarios (and repeatedly) to bring you an unbiased review. Having said that, let's look at the design and build of this gaming laptop before moving on to the performance section.
Specifications Table
CPU
13th-Gen Intel Core i9-13950HX
RAM
64GB DDR5 4800MHz
Display
17.3-inch UHD (3840 x 2160), 144Hz, Mini-LED, HDR 1000
GPU
16GB GDDR6 Nvidia GeForce RTX 4090 laptop GPU
Storage
4TB (2x 2TB Samsung PM9A1 NVMe Gen 4×4 SSDs in a RAID 0 configuration)
I/O Ports
1x Thunderbolt 4 port (USB Type-C) with PD Charging
1x Thunderbolt 4 port (USB Type-C)
3x USB 3.2 Gen2 Type-A ports
1x SD Express Card Reader
1x HDMI 2.1 (8K @ 60Hz or 4K @ 120Hz)
1x Mini-DisplayPort
1x RJ45 Ethernet port
1x Headphone + Microphone Combo audio Jack
Battery & Charging
99.9Whr (4-Cell), 330W Adapter
Wireless Connectivity
Killer Gb LAN (Up to 2.5G), Killer AX Wi-Fi 6E, Bluetooth v5.3
Weight
Laptop — 3.3 kg | Power Adapter — 1.4 kg
Design & Build Quality
The MSI Titan GT77 HX is a hefty beast — even lifting this behemoth out of the box required some muscle work. If you plan on ordering one for yourself, we suggest you start working out before it arrives. We aptly named our unit "The Big Chungus" at the beebom office.
The Titan GT77 HX 13V offers decent build quality. Even though it features an all-plastic chassis, the laptop is built well and keeps deck flex to a minimum. The top lid, on the other hand, flexes a little more than we'd like. While not a cause for concern, it could have been built better. There are laptops on the market that cost four to five times less (ahem! ahem! Legion) but have equivalent or better build quality, so there's that.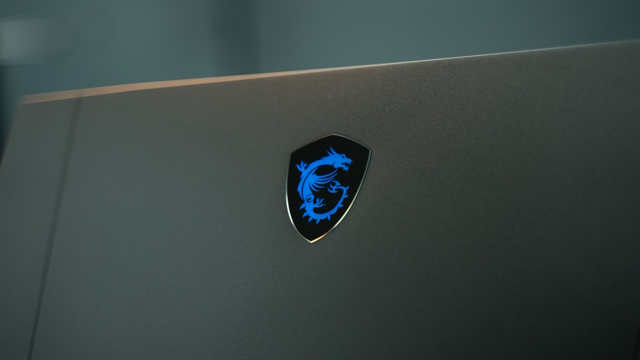 The top lid features an RGB-backlit MSI Dragon logo, which looks fantastic! The silver-colored display hinges complement the dark/ midnight finish of the laptop perfectly, and the combination looks rather tasteful. You also get a good view of the massive fan grills, which house two RGB strips in the middle.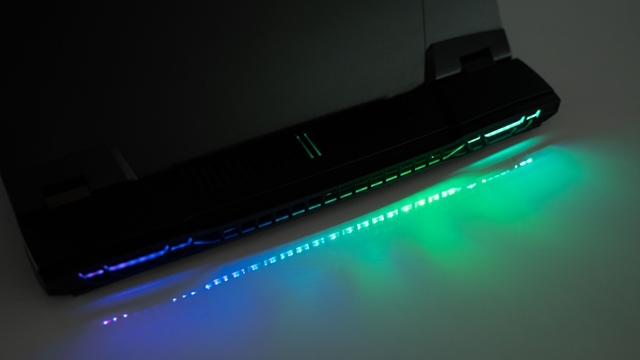 Flipping the laptop over reveals large rubber feet, angular ridges (acting as supporting feet, we presume), and multiple slits for ventilation. When placed on a desk (or any solid surface), the rubber feet provide a large enough gap between the surface and the base of the laptop for air to pass through.
Moving over to the sides of the MSI Titan GT77 HX reveals more ventilation slots for the cooling system, along with a good selection of I/O ports. More on that later.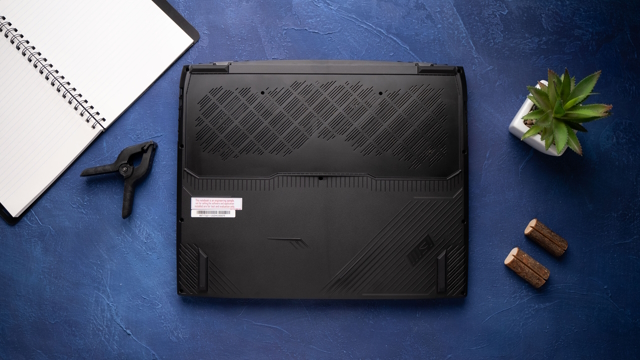 The Titan GT77 HX is only 23mm thick at the sides, which (as MSI claims) improves mobility. However, we still feel this laptop is better suited as a desktop replacement. It weighs 3.3 kilograms (or 7.28 pounds), and its power brick weighs another 1.4 kilograms (or 3.14 pounds). Lugging it around regularly to work or school might not be the most feasible thing. Also, thanks to its unusual (and excessive) depth, fitting this laptop in a backpack is a task and a half. 
The rear portion of the Titan GT77 features more ventilation and good-looking RGB lighting. However, we would have liked it if MSI moved some I/O ports to the back like Lenovo's Legion series does, which makes managing cables easier and keeps things a lot tidier.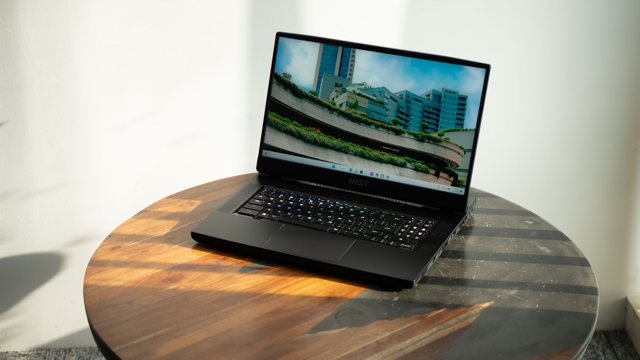 Upon lifting up the top lid, you are greeted with a beautiful 17.3-inch UHD screen with minimal bezels all around (except a substantial chin with the MSI branding), a well-sized trackpad, a full-sized Cherry mechanical low-profile keyboard (although with a squished number pad), a fingerprint scanner, and sizeable speaker grills along the left and right edges of the keyboard deck. The display hinges are well-tuned. The laptop passes the one-hand-open test flawlessly, and the screen wobble is kept to a minimum. However, the display does not go all the way back. 
Overall, the Titan GT77 HX is well-made and offers a clean aesthetic. However, the clean aspect of its design is thrown out the window as soon as you put your hands on it — the laptop is a fingerprint magnet and keeping it clean means a ton of scrubbing with a microfiber cloth. 
MSI Titan GT77: Display
No exaggeration or sugarcoating here — the display of the MSI Titan GT77 HX is fantastic (and massive, at 17.3 inches)! Our review unit came with a mini-LED panel with a 4K resolution (3840 x 2160), 16:9 aspect ratio, 144Hz refresh rate, and support for HDR-1000. However, you can also spec it out with a QHD IPS screen with a 240Hz refresh rate.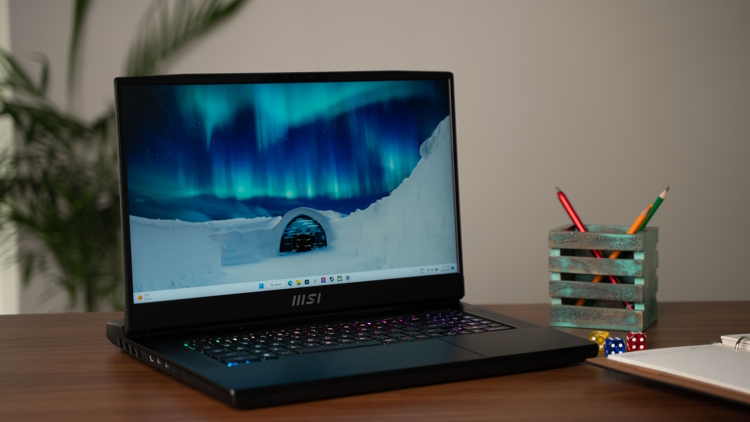 The picture quality is breathtaking, with deep blacks, excellent color reproduction, and impressive sharpness. Use this machine for gaming, editing photos/ videos, or consuming content on the internet, and it will amaze you every time you set your eyes on it. It's that good! 
It is a matte anti-glare display, not a glossy one. However, that's not a bad thing. I used this laptop as my primary machine for an entire week (with 8-hour workdays) and never experienced eye fatigue. The panel kept reflections to a minimum, even under direct sunlight, and the occasional bright studio lighting in the background. The brightness levels are top-notch — more than serviceable under direct sunlight and harsh lighting. You won't need to rush to a dark corner to use the Titan GT77 HX. The viewing angles are also solid, with minimal to no color shift when looking at the display from different sides. Overall, it's an excellent display that you will thoroughly enjoy using. 
Using a Datacolor SpyderX Pro Calibration tool, we measured a maximum brightness of 675 nits with HDR turned off. Once you turn on HDR-1000, the maximum brightness climbs to 1069 nits.

However, there are two things to note here. One, HDR cannot be turned on when running on battery power, and second, you cannot use color profiles in the MSI True Color app when HDR is enabled. If you turn HDR off, you can switch between the different color profiles in MSI True Color. You get dedicated profiles for sRGB, AdobeRGB, and Display P3 color gamut, and the coverage varies accordingly. Here are the results for reference:
MSI Titan GT77: Performance
Daily Use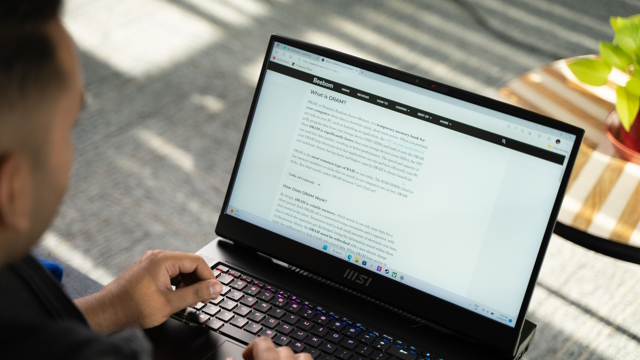 While I use laptops sparingly, I decided to hold nothing back when testing the MSI Titan GT77. I regularly had 20+ Firefox tabs open in the background (with two or more of them streaming 4K videos) and applications like Slack, Steam, and Discord running in the background as I typed my articles in the Libre Office Writer. Unsurprisingly, the Titan GT77 breezed through every task I threw at it. The CPU sat at 9% utilization, with the RAM at 17%. 
You can undoubtedly use the MSI Titan GT77 as your everyday work laptop. Although I would recommend picking up a more conservative device for office work. The only two justifiable reasons to carry this to work daily are:
You absolutely NEED this level of performance in a (somewhat) portable form factor, and anything less will not do, or
You work long hours and don't find the time to go to the gym. You want to squeeze in a solid workout before, during, and after the office. 
Gaming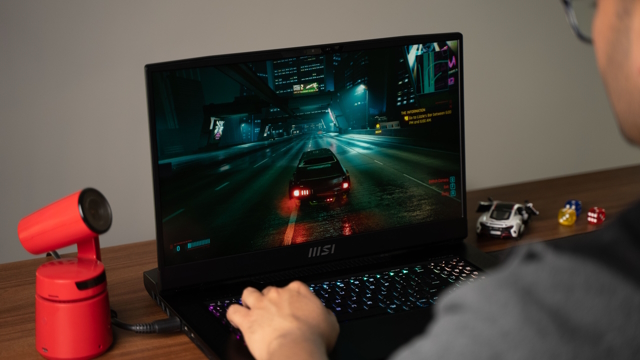 Powering the beastly MSI Titan GT77 is the newly launched 13th-Gen Intel Core i9-13950 HX, and it's a powerhouse! It has 24 cores (8 performance cores, 16 efficiency cores) and 32 threads with a turbo frequency of 5.50 GHz and a maximum power draw of a whopping 157 watts. Undoubtedly, this is the most powerful laptop CPU Intel has ever made.
On the GPU side, we have the Nvidia GeForce RTX 4090 rated at 175 Watts with 16GB of VRAM and a core clock up to 2340 MHz. You get top-of-the-line components, and the performance reflects that.
Gaming is the core focus of the Titan GT77, and there is no second-guessing that. Reading the specifications alone is enough to give you an idea of its gaming capabilities. But as they say — don't judge before you know the whole story. Let's look at the whole story, shall we? Here are some benchmarks.
Note: I ran all benchmarks with the Extreme Performance Mode turned on from the MSI center and the Best Performance power mode selected within the Power & Battery settings in Windows 11.
Cyberpunk 2077 | 1440p, Texture Quality @ High, Ray Tracing @ Ultra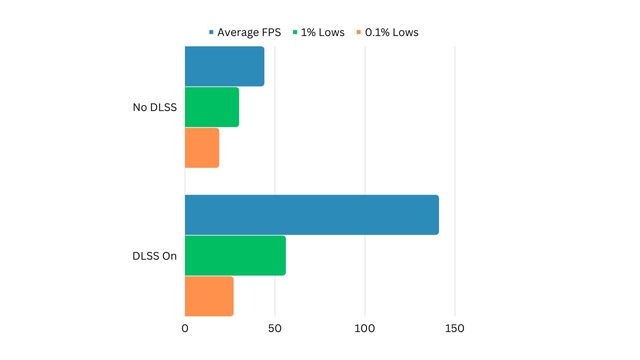 If there's any game that can cripple your PC and bring it back down to the ground, it's Cyberpunk 2077. We ran the game at high settings with Ray Tracing set to Ultra and got an average FPS of 44. With DLSS frame generation turned on and resolution scaling set to Balanced, the average FPS jumped to 141, which is a massive difference!
Over 100 frames per second more with DLSS 3? I will take that any day! The CPU stood at 71° Celsius while the GPU (at the hottest point) reached 57.6° Celsius.
Metro Exodus (Enhanced Edition) | 1440p, Texture Quality @ Ultra, Ray Tracing @ Ultra
With Metro Exodus, the average FPS stood at 106. The experience was super smooth, to begin with, but DLSS 3 kicked it up a notch. With DLSS 3 turned on and resolution scaling set to Balanced, I got a staggering 188 FPS on average. Stunning indeed!
Control | 1440p, Texture Quality @ High, Ray Tracing @ Ultra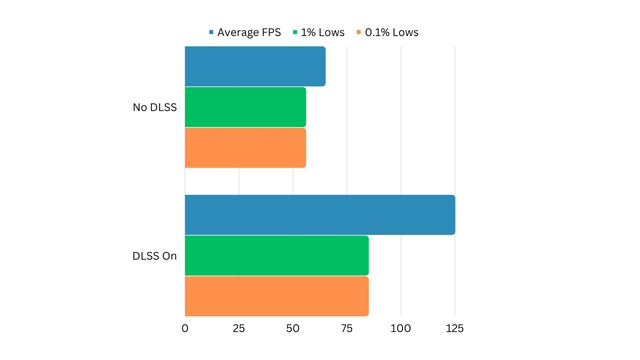 I wanted to try out another demanding AAA title with striking visuals, and Control was a no-brainer. Running the game at 1440p with the High Quality preset resulted in a steady 65 FPS on average. Even during intense action scenes, I didn't experience significant frame drops or stutters, and the overall gameplay was smooth. The recorded 0.1% lows didn't go below 56 FPS, which is impressive.
Turning DLSS on and setting the render resolution to 1707 x 960 gave us an average of 125 FPS, with 0.1% lows of 85, which is great.
Counter-Strike: Global Offensive | 1440p High

Running CS:GO was an effortless affair for the Titan GT77, and it managed 354 FPS on average at 1440p. It looked great and played even better. Even during intense gunfights with smokes and Molotovs thrown around, I experienced no significant FPS drops or stutters. Even though the benchmarks show 0.1% lows of 26 FPS, the in-game experience was smooth.
Note: I tested CS:GO on the Mirage, Dust II, Ancient, and Vertigo maps for consistency. The results were similar on each map.
Synthetic Benchmarks
Gaming benchmarks are one thing. What if you want to use the MSI Titan GT77 for productivity and creative workloads? Does it hold up? Let's find out via these benchmark numbers.
Cinebench R23
We completed both single-core and multi-core runs on the Extreme Performance mode. Here are the results:
The Core i9-13950 HX scored 29,447 points in the multi-core test, comfortably outperforming the Core i9-12900K, which is a desktop CPU and not a laptop chip. It also performs within the margin of error of the Core i7-13700K desktop CPU, which is incredible! It only loses to the Core i9-13900K desktop CPU, which we reviewed earlier this year. Check out our Intel Core i9-13900K review here.
The Core i9-13950 HX hit a maximum clock speed of 5.48 GHz on the performance core, which is in line with the 5.50 GHz that Intel advertises. The maximum temperature (CPU Package) recorded during the Cinebench R23 run was 96°C.
In the single-core test, the Core i9-13950 HX scored 2,085 points, only falling behind the Core i9-13900K (the flagship desktop CPU) by a small margin. It races ahead of the Ryzen 9 7950X, Core i7-13700K, and the Core i7-12900K.
Like the multi-core tests, the CPU consistently reached clock speeds up to 5.48 GHz on the performance cores here, which is a good sign. The maximum temperature (CPU Package) recorded here was 91°C.
Geekbench 5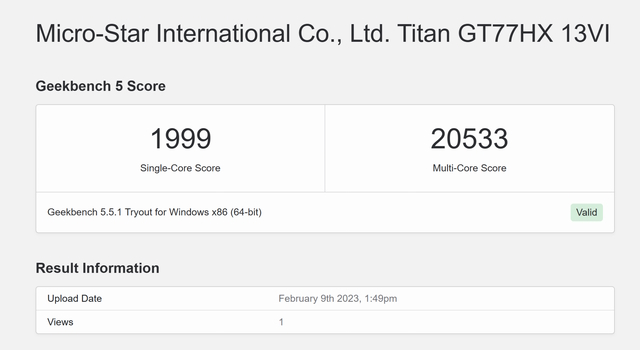 The Core i9-13950 HX scored 20,533 in multi-core, comfortably beating the Core i9-13900K, the Ryzen 9 7950X, the Core i7-13700K, and the Core i7-12900K.
The Core i9-13950 HX fares well in single-core tests, too. It scored 1,999 points, competing head-to-head with the Ryzen 9 7950X and only marginally losing out to the i9-13900K.
PCMark 10 Extended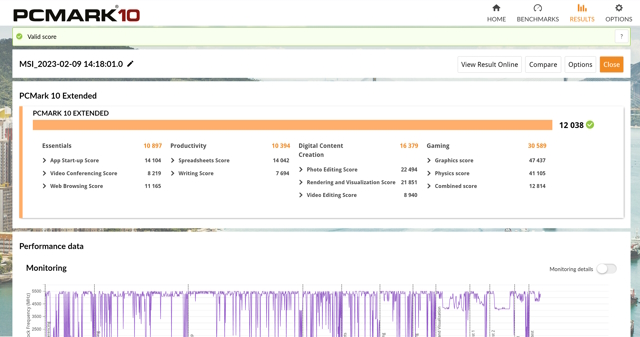 PCMark 10 Extended tests your system's capabilities for general use & productivity tasks. While I had seen for myself how well the Titan GT77 fared in real-world usage, it's nice to see the benchmarks reflect my experience.
The MSI Titan GT77 achieved a whopping 12,038 points, which is a considerably higher score than our full-fledged Core i9-13900K + RTX 3070 Ti desktop rig we used for our i9-13900K review.
3DMark TimeSpy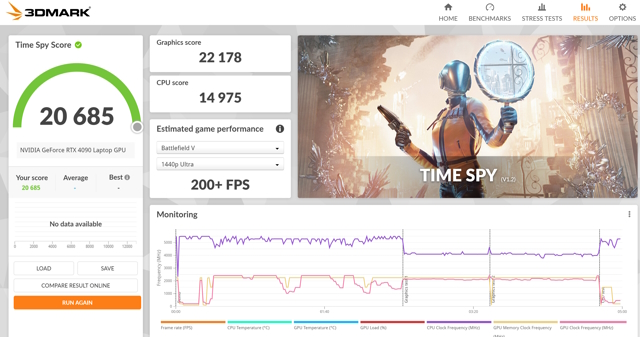 The TimeSpy benchmark yielded an overall score of 20,685. As 3DMark itself points out — it's an excellent score! The CPU briefly hit 99°C during the final stages of the benchmark. However, I'm happy to report that the Titan GT77 did not throttle. The GPU consistently hit 2,415 MHz and reached a maximum temperature of 72.4°C.
3DMark TimeSpy Extreme
The Extreme run fetched us 10,833 points. At this point, I'm at a loss for adjectives to describe how well the Titan GT77 performs. I didn't notice any frame drops or stutters during the benchmark run, and the hardware metrics turned out as expected.
The Intel Core i9-13950HX CPU clock frequency consistently hit 5.48 GHz, and the temperature did not exceed 95°C. The GPU constantly reached its advertised clock frequency of 2,415 MHz, and its temperature did not exceed 69°C.
PugetBench Photoshop Benchmark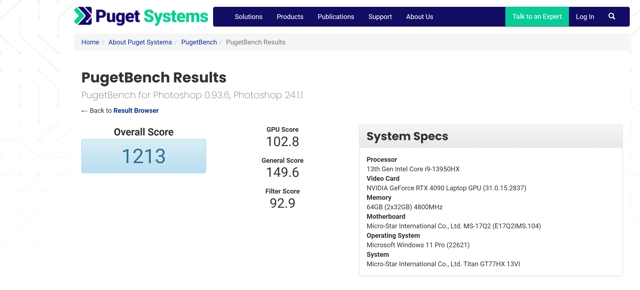 If you're a photographer or graphic designer, there's good news. The Titan GT77 can handle Adobe Photoshop effortlessly. The PugetBench Photoshop benchmark gave out an overall score of 1,213. Editing those snazzy product shots or the stunning landscapes you clicked during your photography trip will be a joyful experience on this laptop. With its solid hardware configuration and beautiful color-accurate display, the Titan GT77 has you covered for years.
PugetBench Premiere Pro Benchmark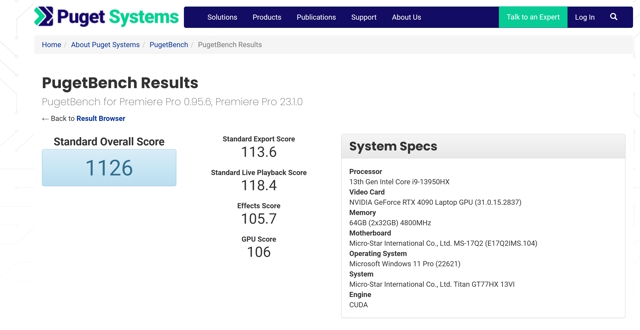 Video editors will have a ton of fun with this. The Premiere Pro benchmark yielded a more-than-respectable 1,126 points. Moreover, it ran flawlessly without any hiccups.
PugetBench After Effects Benchmark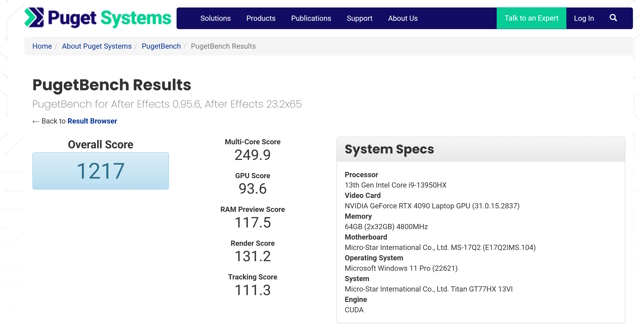 The After Effects benchmark tells a similar story, with 1,217 points on the table. Comparing the scores online within the PugetBench Result Browser, it's clear that the Titan GT77 only loses out to desktop-class 13th Gen Core i9 and i7 processors paired with RTX 4080s and RTX 4090s. A laptop achieving these results is sweet, right?
CrystalDiskMark
Now, let's test the storage read and write speeds. Thanks to 2x 2TB Samsung NVMe Gen 4 drives running in a RAID 0 configuration, we get sequential read speeds of 12,855.44MB/s and write speeds of 10,371.49MB/s. These are blazing-fast speeds! Needless to say, you won't have any complaints about the SSD performance here.
Thermals & Cooling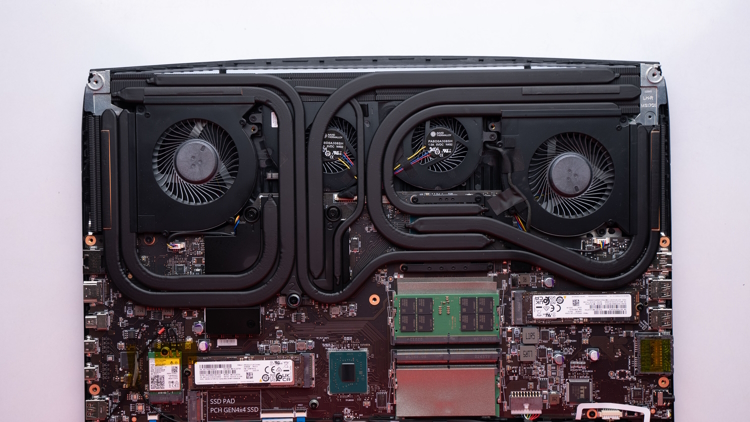 Popping off the bottom lid reveals an impressive cooling solution with four fans (yes, you read that right) and several heat pipes traveling across the CPU and GPU. This is hands down the beefiest cooling solution I have ever seen on a laptop. Fortunately, for all of us, it delivers!
Under load, the fans ramp up quickly and get terribly loud, sounding nothing short of a jet engine. Thankfully, the fans do their job rather admirably. The laptop did not thermal throttle even once during our circuit of tests and benchmarks and only spiked up to 99°C on one occasion. Props to MSI for designing a cooling solution capable enough to cool the mighty Core i9-13950 HX and the RTX 4090. By no means is that an easy feat to achieve.
MSI Titan GT77: Upgradability
If there's a laptop that you can truly call "future-proof," it's the MSI Titan GT77. It already boasts a hardware configuration that will keep you afloat for years and years into the future, but that wasn't enough for MSI. In an era where more laptop manufacturers are soldering components to the PCB to avoid user repair and upgrades, MSI decided to take the opposite approach and double down on it. For this, I love you, MSI!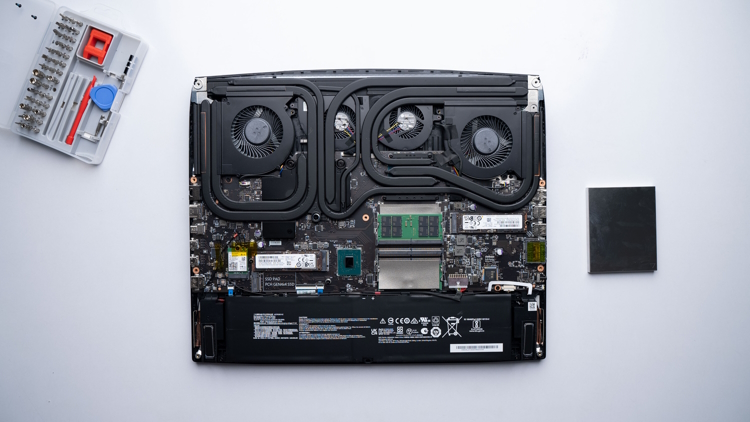 Not that I'm ever going to be rich enough to afford the Titan GT77, but if I were, I'd be one happy duck! The MSI Titan GT77 has 4 RAM slots. Not 1, not 2 — 4! You can install four DDR5 RAM sticks into this laptop, maxing out at 128GB of capacity. Additionally, you have 3x M.2 slots for storage, one of which supports up to PCIe Gen 5 SSDs, while the other two support PCIe Gen 4 SSDs. You can also replace the Wi-Fi card should you need to. I love how upgradable this laptop is, and it gets full points from me in that department. 
Software Experience
The Titan GT77 ships with a bunch of pre-installed software, most of which is appreciated. The others, not so much. Let's explore what you get out of the box on this laptop:
Nahimic Companion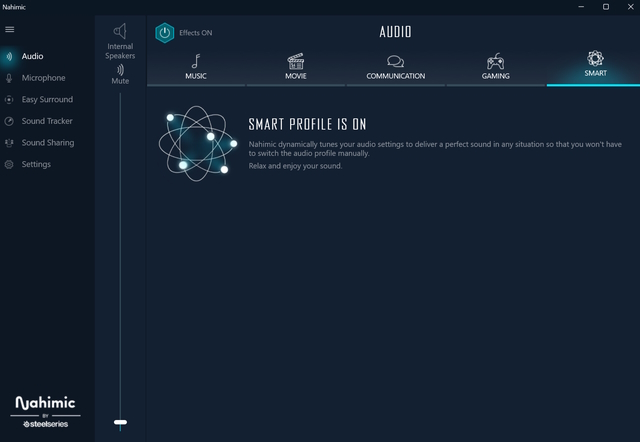 You get the Nahimic Companion app for tweaking audio settings and switching between presets. The app works well and its interface is user-friendly. No points deducted for that.
Intel Killer Intelligence Center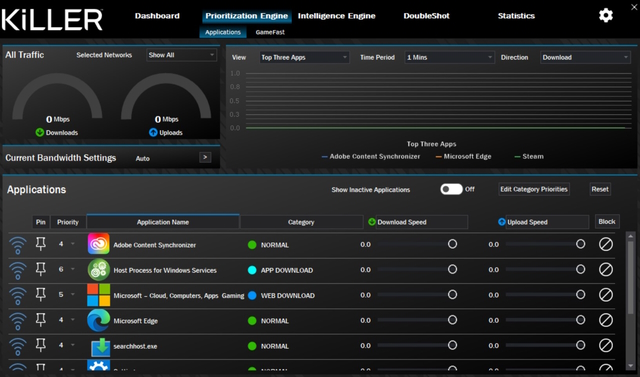 Next up, we have the Killer Intelligence Center by Intel, which helps you monitor and optimize your networking performance. Within the app, you can select your favorite games and programs and assign them a higher priority value, increasing their bandwidth. For instance, if you play competitive CS:GO and stream your sessions on Discord, you can set them to priority level 1 via the Prioritization Engine. It will ensure that you endure no hiccups while streaming your games.
MSI True Color
MSI also pre-loads its True Color software on the Titan GT77 HX, which lets you switch between different color profiles (sRGB, AdobeRGB, P3) and display presets (Gamer, Anti-Blue, Office, Multimedia), depending on your preference or workflow.
For instance, if you're a photographer or graphic designer working on Adobe Photoshop, you can select the AdobeRGB preset from the MSI True Color software. It will give you full coverage of the AdobeRGB color gamut, ensuring optimal color accuracy. Similarly, if you want full coverage of the P3 gamut for your workflow, selecting the P3 preset will fare better.
MSI Center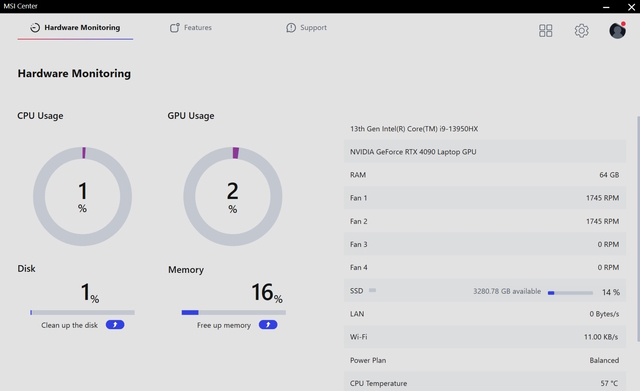 Now, for the star of the show — The MSI Center, which gives you complete control over the laptop's performance. It features a dedicated Hardware Monitoring tab that displays the CPU and GPU utilization, clock speeds, and temperatures, along with other metrics like the fan RPM, Wi-Fi speeds, available storage capacity, and your current power plan. You also have quick-action buttons for disk cleanup and memory optimization.
In the features tab, you get a dedicated Gaming Mode, which auto-tunes your system according to each game to deliver the best experience. Next, you can change the performance profile of the Titan GT77 via the User Scenario section.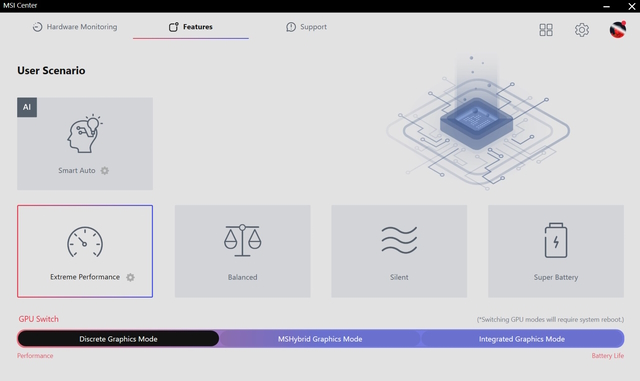 The Extreme Performance profile does what it says — it unlocks the full potential of the laptop by pushing power limits to the max and setting the fans to spin at full throttle. It gets super loud but enables you to squeeze every bit of performance out of this beast.
The Balanced profile applies the system settings that MSI recommends, and it's a best-of-both-worlds scenario. You get solid performance without the super noisy fans or heat output.
The Silent profile noticeably ramps down the fans. While it's great for when you're working in an office setting or at a coffee shop (although we don't see why you'd carry this laptop to a coffee shop), the Titan starts getting uncomfortably warm even under relatively lighter loads like loading up a spreadsheet with a few Chrome tabs open in the background.
The Super Battery profile surprised me. I wasn't expecting a considerable difference in battery life when I turned this on, but oh boy! This profile delivers. If you're rushing to finish a super-important document with the deadline closing in and no power outlet in sight, the Super Battery profile might just be the savior you need. We have explained how it affected our battery life in the later sections.
Also, if you don't want to mess around with the performance profiles, stick to "Smart Auto." The MSI AI Engine will automatically adjust performance according to the task(s) at hand.
The MSI Titan GT77 HX features a MUX switch, which you can access from within the User Scenario tab. You get a Discrete Graphics Mode, Integrated Graphics Mode, and the MSHybrid Graphics Mode, which will switch between the dedicated GPU and integrated GPU depending on your workflow. If you launch a game, the MSHybrid Graphics Mode will set the RTX 4090 into action, but for other tasks like browsing the web, the iGPU will do most of the work.
The pre-loaded software seems superb so far, right? Alas, now comes the kick in the shin.
Norton 360 for Gamers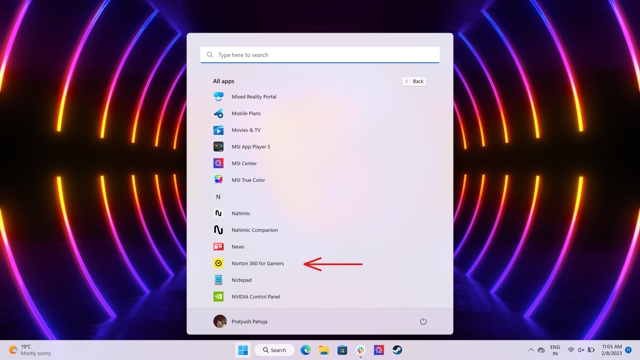 Yep. Norton 360. For gamers!? The pre-loaded (and, dare I say, unnecessary) anti-virus software considerably slowed the boot times and had a negative impact on overall system performance. With Norton running in the background, basic tasks like navigating through the system UI and browsing the web seemed choppy. Uninstalling it resulted in an instant performance uplift.
MSI Titan GT77: Bugs
While the software experience is solid overall, I encountered two rather annoying bugs with our unit of the MSI Titan GT77 HX during my testing. 
The display brightness sliders stop working when Discrete Graphics mode is selected, making it impossible to decrease the brightness. Turning on the Discrete Graphics mode automatically set the brightness to 100%, and using the Fn keys or the sliders in Windows 11's Action Center to decrease the brightness did nothing. 
The Taskbar on my unit was seemingly stubborn regarding pinned apps. Any apps I pinned to the Taskbar would disappear the next day, while the ones I unpinned (looking at you, Xbox) kept coming back like a bad ex-partner. 
In all fairness, the Titan GT77 I have is a review unit. Hopefully, these issues will no longer prevail in the retail units.
Keyboard & Trackpad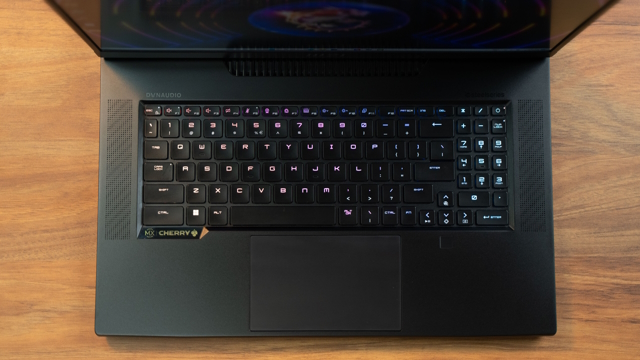 The Titan GT77 features a low-profile Cherry mechanical keyboard by SteelSeries with per-key RGB backlighting, which you can customize via the included SteelSeries GG software. You can choose between multiple lighting presets or set it to a single color if that's more your style.
The laptop includes a full-sized keyboard. However, getting used to its non-standard layout will indeed take time. While the primary keys are well-spaced, you get a 2U left Ctrl, a shorter right Shift, tiny arrow keys, and a squished number pad. The numpad is a nice thing to have, but its small size and cramped spacing make it hard to use effectively. I would have preferred it if MSI ditched it in favor of a more traditional keyboard layout. 
For gaming and typing, this keyboard feels fantastic! The low-profile Cherry MX keys are super tactile, offer excellent feedback, and are a joy to type on, especially for short bursts (writing an email, taking a few notes, etc.). During longer typing sessions, the keyboard starts to feel a little uncomfortable due to three reasons:
The non-standard layout puts your hands in a somewhat awkward position. I often experienced fatigue in my left hand after typing away on this keyboard for 30-45 minutes or more. However, your mileage may vary.
The keyboard deck gets uncomfortably hot, especially near the number row on the left side.
If you have big hands, you may also find the bottom edge of the keyboard deck digging into your palm/wrist.
Also, while the primary keys have mechanical switches, the right Ctrl, Fn, arrow keys, and the number pad on this laptop use traditional non-mechanical switches. We can only presume this is a cost-saving move from MSI, and while it won't bother most users much, it feels somewhat deceptive, especially with the price you are paying. 
Imagine buying a brand new BMW only to discover the dealership swapped its rear seats with those taken from an old station wagon. But if your primary use case is gaming, you won't have any complaints about this keyboard. Overall, it gets a solid 7.5 out of 10 from us! 
The trackpad is super comfortable to use. Its large size never leaves you wanting more, the smooth surface feels great to the touch, and tracking is accurate. The palm rejection on the trackpad also works well, so there are no accidental mouse movements when you're typing. However, tap-to-click is a hit or miss — it works perfectly 90% of the time, but when it doesn't, it gets really frustrating. The trackpad gets an 8 out of 10!
Audio Quality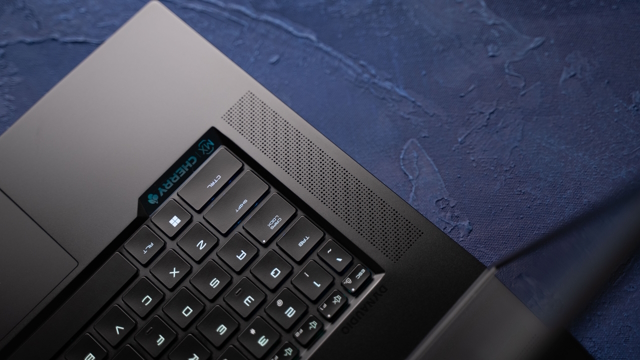 The Titan GT77 features 2 x 2W speakers and 2 x 2W woofers, and it gets LOUD — enough to fill a large hall. The speakers offer excellent clarity and stereo separation, making them perfectly serviceable (and enjoyable) for watching movies and listening to pop/ live music.
However, I noticed the sound output was slightly muddy when playing bass-heavy music tracks at max volume. But that's nit-picking. You can use the pre-loaded Nahimic Companion app to change presets and fine-tune audio settings to your liking. The difference between audio presets is immediately noticeable, and switching between them is seamless.
I/O Ports and Connectivity
The left side of the MSI Titan GT77 houses a reversible power /charging connector, 2x USB 3.2 Gen2 Type-A ports, 1x full-sized SD card Reader, a 3.5mm combo audio jack, and a charging indicator light.
On the right, you have an RJ45 ethernet port, 1x HDMI 2.1 port that supports 8K @ 60Hz or 4K @ 120Hz display out, 1x Mini-DisplayPort, 2x Thunderbolt 4 ports (USB Type-C), one of which supports PD charging, and another USB Type-A 3.2 Gen 2 port. What more could you ask for? The port selection here is solid.
The Intel Wi-Fi 6E proved plenty fast during my day-to-day usage of the Titan GT77. Downloading apps and Steam games was a speedy affair with consistent speeds, and I didn't experience any drops in signal quality. The Wi-Fi also handled long sessions of CS:GO and Apex Legends like a champ, with low ping and no disconnections. I regularly streamed multiple 4K videos at once to test the performance, and the Wi-Fi was always up to the task. Stuttering or annoying buffering icons were nowhere to be seen.
If Wi-Fi isn't your jam, you can use the RJ45 port for some 2.5GbE LAN action. The laptop also features Bluetooth 5.3 and connecting to audio devices such as my Pixel Buds A-Series was quick and convenient. Also, the audio quality via Bluetooth was excellent, and I didn't experience any lag when listening to music, playing games, or attending a meeting.
Security & Sign-In
The Titan GT77 features Windows Hello Facial Recognition tech that unlocks the laptop as soon as it spots your lovely face. However, it asks you to dismiss the lock screen to sign back into Windows, which means you have to click your mouse or press any key to get to your desktop. It works well, even in dim/ minimal lighting.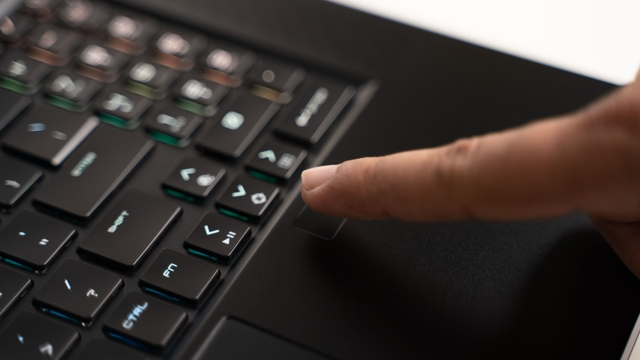 The keyboard deck houses the fingerprint scanner, which is fast and accurate. Placing the finger on the scanner also wakes the device from sleep and logs you in right away, which is a nice touch (pun intended).
Webcam & Microphone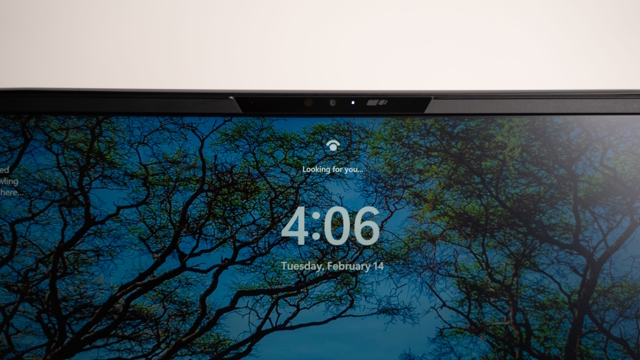 The webcam is somewhat bittersweet. While it supports Windows Hello Facial Recognition for quick sign-in and has a privacy shutter for added peace of mind, the webcam itself is mediocre. It is a 720p HD webcam. While it's certainly not a deal-breaker, a Full HD webcam would have been appreciated (especially considering how much this laptop costs). The microphone, on the other hand, is decent. It's clear enough for video calls, and I have no real complaints.
Battery Life & Charging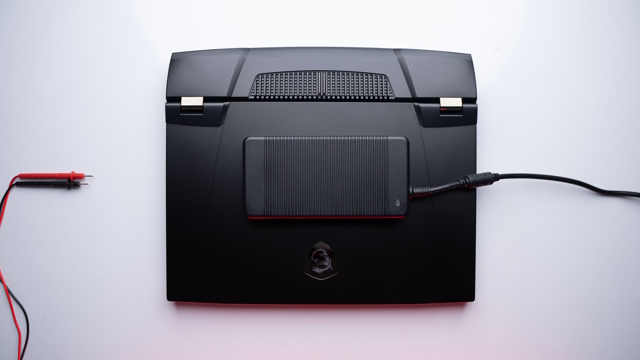 Gaming laptops aren't known for their spectacular battery life, and the MSI Titan GT77 is no exception. While it houses a massive 4-Cell 99.9Whr battery (the largest capacity you can legally travel with on an airplane), the battery backup is mediocre, at best.
With the Discrete GPU mode selected and brightness at 70%, the laptop lasted for a mere 2-hour session of browsing the web and typing a document. However, with the Super Battery mode enabled from within the MSI Center, I got slightly above 4 hours of use doing the same tasks. And of course, we didn't game on battery power.
The laptop takes about 2 hours to charge from 0% to 100%. While it's not terrible considering the size of the battery, faster charging would have been nice to see.
MSI Titan GT77: Pros & Cons
| Pros | Cons |
| --- | --- |
| Exceptional Raw Performance | Super Expensive |
| Excellent Cooling & Thermals | Super Loud |
| Stunning 4K 144Hz Mini-LED Display | Chunky gaming laptop |
| Solid Cherry MX Mechanical Keyboard | Sub-Par Build Quality for the price |
| User Upgradability is Top-Notch | |
| Great Selection of Ports | |
MSI Titan GT77: Should You Buy It?
The MSI Titan GT77 is a laptop with desktop-grade performance. It's undoubtedly the most powerful gaming laptop to ever see the light of day. While it's not a perfect machine, it checks most of the right boxes and tears through any task you throw at it, whether it's 3D rendering, photo editing, or gaming. However, its hefty price tag of Rs 6,71,990 makes it out of reach for most people. It's a masterpiece with shiny, bleeding-edge components to drool over, but only suitable for those who either need a super powerful, somewhat portable workstation or those with a lot of spare cash to burn.
If you need this much horsepower and don't care for portability, I would recommend building a PC instead. Going the PC route allows you to handpick the components you need as per your requirements and generally gives you a better upgrade path. However, if you need to buy a powerful laptop, I would recommend waiting a little longer. A lot more 13th-Gen Intel laptops with RTX 4090s and RTX 4080s will soon hit the market globally. Once there's a wider selection to choose from, you will be in a better place to make a decision. Until then, what do you think about the MSI Titan GT77? Let us know in the comments below.
REVIEW OVERVIEW

SUMMARY

The 2023 refresh of the Titan GT77 HX 13V is a truly remarkable device. It packs serious, unbeatable raw performance under the hood, along with a good feature set. It would have been a super easy gaming laptop to recommend to most users had it not cost a whopping Rs 6,71,990. Still, if raw performance is what you're after, and if you have really deep pockets, the Titan GT77 is an excellent machine.