Intel 14th Gen Raptor Lake Refresh CPUs are right on the horizon and are expected to be released soon, as per a new leak. Earlier, we had covered an early price estimation by a leaker for the new Intel 14th-generation desktop CPUs, and now, product listings for the upcoming 14th-Gen CPUs have been spotted in Europe, Japan, and Asian markets. So, let's check out the release date and pricing for Intel 14th Gen Raptor Lake Refresh desktop CPUs.
Intel Raptor Lake Refresh CPUs: Pricing Leaked
Let's discuss the leaked pricing for upcoming desktop CPUs, called the Intel 14th Gen Raptor Lake Refresh. The X user (formerly Twitter) @momomo_us has spotted the pricing for the upcoming Core i5, Core i7, and Core i9 models. We have converted the leaked pricing (JPY to USD) for the leaked 14th Gen CPU variants below.
| Intel 14th Gen Desktop CPU Variant | Leaked Price (estimated) |
| --- | --- |
| Intel Core i5-14600K | $480 |
| Intel Core i5-14600KF | $445 |
| Intel Core i7-14700K | $640 |
| Intel Core i7-14700KF | $610 |
| Intel Core i9-14900K | $880 |
| Intel Core i9-14900KF | $850 |
Leaked pricing for upcoming 14th-gen desktop CPUs (Source: @momomo_us)
Do note that these are preliminary prices based on leaks. Since these new desktop CPUs have not yet been announced by the company, the prices could change. Given the listings for these specific variants, it is probable that these variants are the ones launching first.
Intel 14th Gen desktop CPUs are known to be based on Raptor Lake Refresh architecture, as confirmed during the Innovation 2023 event not too long ago. The expected specs for many upcoming 14th-gen CPU variants are available via a recent leak too.
Intel 14th Gen Raptor Lake Refresh: Release Date Leaks
When will new Intel 14th-generation desktop CPUs come out? Based on the release cycle of predecessors, we can definitely estimate that it will come in late with a pending announcement. On the Chinese platform Bilibili.com, upcoming 14th-generation desktop CPUs have been a topic of discussion and the release date was leaked by the user ECSM.
Based on this leak, the release date for Intel 14th-generation desktop processors is rumored to be next week. Moreover, the sources close to Videocardz.com have provided exciting release date leaks: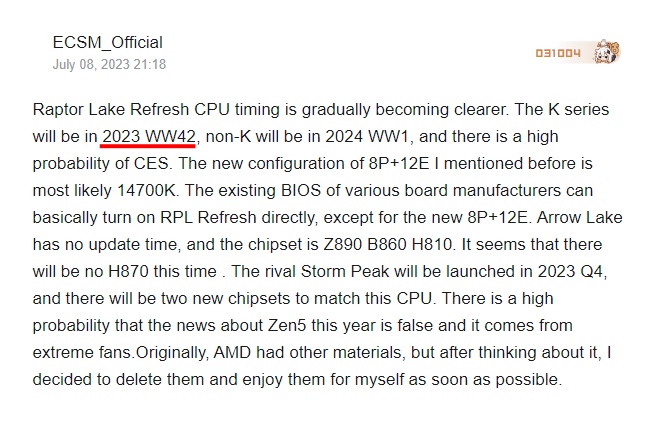 What are your thoughts on the new 14th-Gen desktop processors that Intel is launching soon? Let us know in the comments below.
---
Load More