Instagram has rapidly become a wildly popular platform for sharing photos and videos. Since it's so popular, users want to access it on every device. However, Instagram has always been a mobile-first platform so there has not been much development on the PC front besides having a plain website. And there are certain limitations on the website too which restricts the user to upload photos and videos directly from the PC. So to overcome these annoying limitations, we have come up with smart hacks which will let you use Instagram on PC in its entirety. In this article, we explore all the alternative ways you can have Instagram for PC without any limits. So let's get started.
 Use Instagram for PC Without Any Limitation in 2020
As we said, there are a couple of methods that you can employ to use Instagram for PC without any limitations. In this article, we are going to discuss three different methods. The first is to use a browser hack. The second and third methods make use of the native and third-party apps for Instagram on PC. So without further ado, let's get started, shall we?
1. Use Instagram for PC With Browser Hack
Instagram offers a simple and minimal web portal on PC where you can access most of the mobile app features. The only limitation is that you can't post any media content and share stories directly from the PC. However, there is a neat hack which lets you upload photos and videos right from the PC. In this section, we are going to show you how to use it.
1. Open Chrome browser on your PC and visit Instagram's official website. Now, enter your login ID and password to access your account.
2. Now when you are on the Instagram page, press CTRL+SHIFT+I key. It will open the Inspect Window. All you have to do is click on the "mobile-tablet" icon on the top-left corner of the console. It will resize Instagram to mobile view.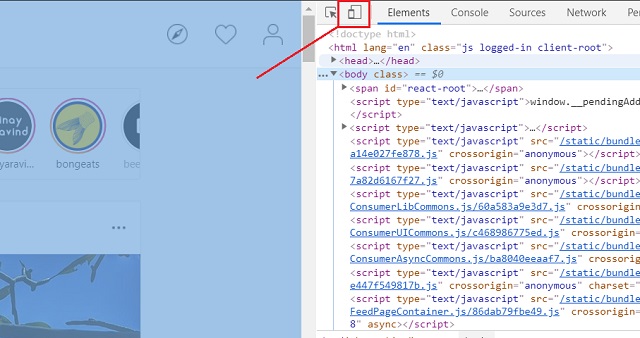 3. Now, refresh the page by clicking on the "reload" button. After that, close the Inspect window.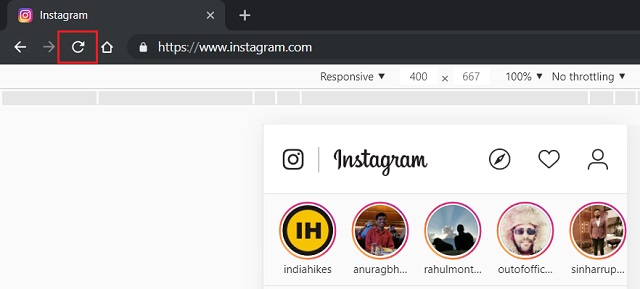 4. Voila, you have the Instagram app in mobile view with the upload button on your PC.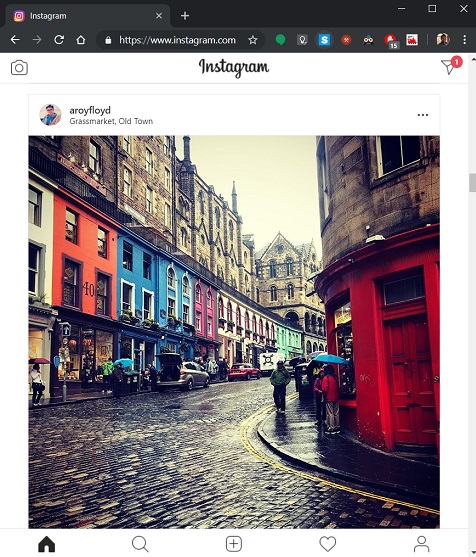 5. Now go on, post photos and videos by clicking on the "Add" button just like its mobile app. Have fun using Instagram on PC!
2. Use Instagram for PC with the Official Desktop App
For a long time, Instagram was limited to the web for PC users. But now, Instagram has upped their game and brought the official Instagram desktop app on the Microsoft Store. Now you can access every Instagram feature on PC including photos and videos upload. Yes, you heard that right. Here are the steps to get the official Instagram desktop app and learn how to post media content directly from the PC.
1. Open the Microsoft Store and search for "Instagram". If you can't find it, open through this link.

2. Open it and click on the "Get It" button. It will start installing Instagram for Windows OS. After that, click on the "Launch" button to open the Instagram app on your PC.

3. Finally, enter your Instagram username and password and click on the "Log In" button.

4. All the major Instagram features including Explore, Direct and Stories are there and working fine. However, the Upload button is nowhere to be seen. Well, don't worry, just check out the next step.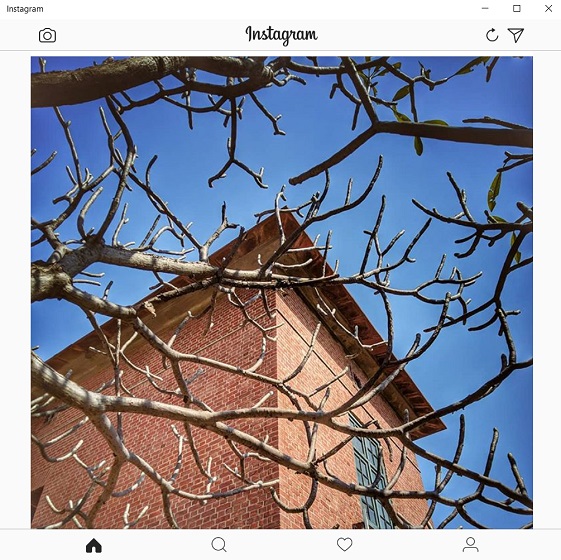 5. Right-click on the Instagram app on the Windows taskbar and click on "New Post".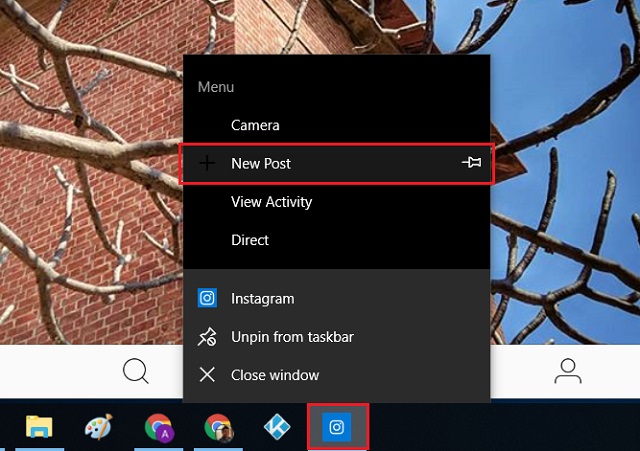 6. There you have it. Now you can upload photos and videos from the PC similar to the mobile app.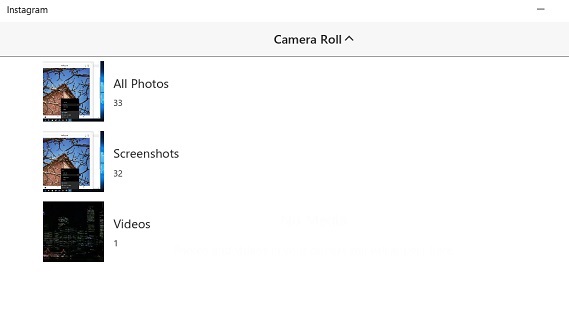 7. Finally, enjoy Instagram on the bigger screen with all the features.
3. Use Instagram for PC Through Third-party Apps
While you can post photos and videos on Instagram using the above methods, there are a few third-party apps which bring stability and some helpful features to the table. To give you a sneak peek, you can directly upload photos and videos on Instagram from PC; schedule an Instagram post to go live at a preferred time; access tons of other filters and editing tools, etc. If you prefer posting media content on Instagram from PC then these apps can be a great alternative. Here are the popular third-party Instagram for PC apps.
Note: The added features on third-party apps are surely great, but there is a privacy concern as well. You will have to share your Instagram credentials with third-party services. So before opting for these services, take your privacy into consideration and then proceed ahead.
1. Ramme
Ramme is a light-weight open-source app for Instagram that works quite well. It brings all the basic features that expect from an Instagram desktop client. The features include the ability to upload photos, support for dark mode, support for Windows keyboard shortcuts, background update, and more. This is a simple Instagram client and doesn't bombard users with pro features and asking money for them. It's a free software with no hidden charges. For a desktop Instagram experience, this is one of the best third-party apps that you can get.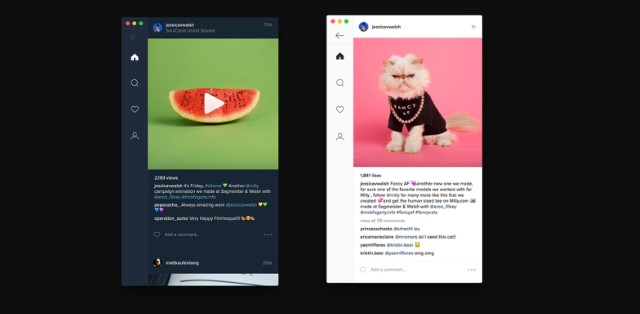 Download Ramme for Instagram (Free)
2. Pic Upload for Instagram
Pic Upload for Instagram does exactly what it says. It's a third-party Instagram app which lets you upload photos and videos from your PC. The app is available on Microsoft Store, so you can grab it without any hassle. The interface is pretty similar to Instagram's default UI. You have the usual upload button and it works similar to the mobile app. Basically, it's an Instagram wrapper and works great for the most part. However, sometimes when you try to upload media content, it asks you to pay money before you can post it. Nevertheless, you can use this app because it does the job sufficiently well.

Download Pic Upload for Instagram (Free, In-app Purchase)
Enjoy Instagram for PC Without Any Restriction
So that's our guide to use Instagram on PC without any limitation. As we went through the steps, we can see the features are almost there but hidden in plain sight. Instagram does this intentionally to stand out as a mobile-first platform. Nevertheless, you can go through the steps and use the method which you find desirable. I would recommend you to use the official Instagram on Windows app, as it's pretty stable and works great for almost everything. Well, that's all from us. If you have any suggestions, let us know in the comments section below.