Netflix is by far the most popular streaming service in the world. It is used by more than 75 million people, and has a great selection of curated, and Netflix-only shows. Netflix has been available in virtual reality for popular headsets like the Oculus, and Samsung Gear VR; and now, it has arrived on the Google Daydream VR platform. So, if you have a Daydream View headset, and a compatible phone, like the Google Pixel, or the Moto Z Droid, here is how you can use Netflix VR with the Daydream View headset:
Setting Up Netflix VR with Daydream View Headset
The process to set up the Netflix VR app is pretty straightforward. If you go to the play store, and search for Netflix VR, the top hit will definitely be the official VR app from Netflix. You can simply download it to your Daydream compatible phone, and pop it into the Daydream View headset.
The first time you launch the app, you will be asked to sign in, or sign up. If you have never used Netflix before, you can sign up for a free month of the service, after which you will have to pay to continue watching it.
During the setup, you will be asked to enter your credit card details, but don't worry, you will only be charged once your free month ends. Also, you're free to upgrade, downgrade (or cancel) your subscription anytime you want.
Download Netflix VR from the Play Store (Free)
Netflix VR on Google Daydream: The Experience
Once you have set up (or signed into) the Netflix app, you will be taken straight to the home screen of the app. Here, you'll see the most popular shows, and movies that you can stream directly. There is also a search option, so you can look up your favorite shows easily. You can even sort the programs by categories, which definitely makes it easier to find the kind of shows you're most interested in watching.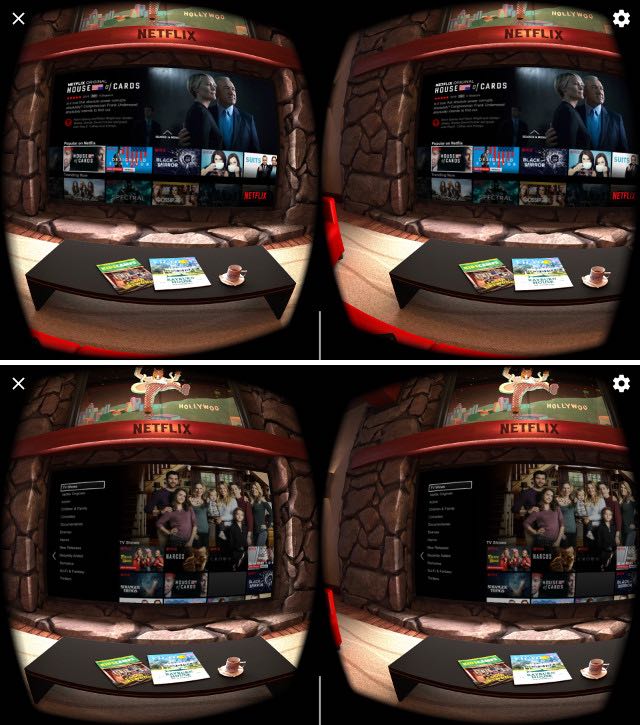 Obviously, these shows are not shot for VR, so the show itself is not a virtual reality experience. However, Netflix has done a great job at making the app great. Inside the app, you're seated on a couch, with the giant Netflix screen directly in front of you, giving you the feeling of having a incredibly large TV on your wall. The room has been designed for the perfect TV watching ambience. The ambient lighting is perfect, and the room is very well detailed. If you look around, you'll see windows with a view of the mountains outside (clearly, we're in a rather beautiful place). On your right, you'll see posters of some of the more famous shows.
Once you start streaming a TV show, or a movie, you'll notice that the lights dim down, so your focus isn't disturbed while watching the show. Overall, Netflix has done a very good job on their VR app for Daydream, and it is definitely an experience you will enjoy. The detail is so well thought out, there's a remote lying on our side, and a couple of magazines, along with a coffee mug on the table right in front. I just wish I could pick that up, and sip it while watching House of Cards.
SEE ALSO: 5 Best Daydream VR Apps You Should Try
Enjoy Your Favorite Netflix Shows in Virtual Reality
With Netflix finally coming to the Daydream VR platform, you can enjoy your favorite TV shows, and movies in virtual reality. All this, while sitting in what can only be described as a very well designed room. I think you'll love the experience, as long as you understand that watching TV shows in virtual reality for long duration can quite easily strain your eyes. VR is clearly not quite there, yet, for us binge watchers. It is definitely worth your time, though, and I would recommend you give it a shot. I loved it, and I think you will too.
As always, I would love to hear your thoughts on Netflix VR; so, feel free to share them in the comments section below.