Earlier today, Qualcomm announced new midrange Snapdragon 632 and the Snapdragon 439 and 429 chipsets for budget smartphones at MWC Shanghai 2018. Well, we are in Shanghai for the unveiling and Qualcomm had other new tech on show at its booth here.
Among other things on show, we got to see and test one of the cool new features Qualcomm has built into most new Snapdragon chipsets. Yes, we are talking about an AI-powered face unlock technology that's not only fast but also lets you add multiple faces.
We tried out the multiple face unlock feature at the Qualcomm booth and well, it works pretty well. We added 3 faces to a Galaxy S9 that had the feature enabled, and we were able to unlock the phone with all of the faces in a snap. In its present form, you can name the face you are adding and when you unlock the phone, it shows the name of the face used to unlock it.
The AI-powered feature is created by SenseTime, the Chinese company which is the world's highest-valued AI startup. According to Qualcomm, multiple face unlock will leverage SenseTime's AI technology to get faster and more accurate over time.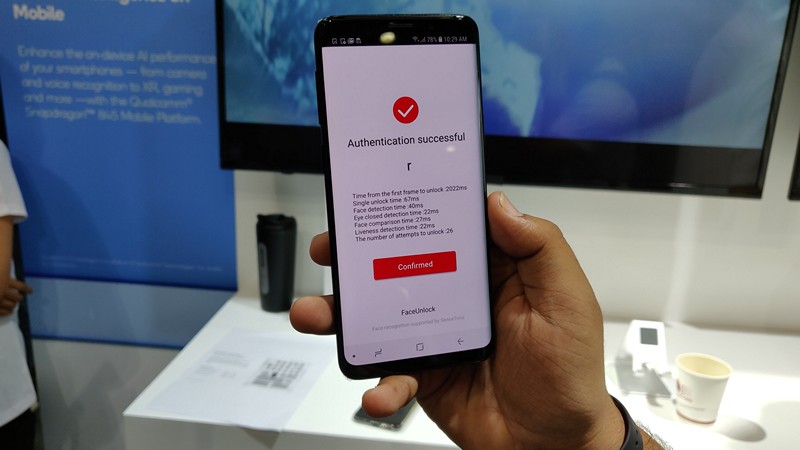 According to the Qualcomm's spokesman we talked to, the new feature is supported on every new chipset launched after Snapdragon 660, except for the Snapdragon 4xx series. So, while it's obvious that higher-end chipsets like the Snapdragon 845 and the SD710 support this, even the Snapdragon 636 or the newly announced Snapdragon 632, which are going to be seen in mid-range and budget smartphones, support the multiple face unlock feature.
Nearly all smartphones these days come with some form of face unlock, and while most of them work well, they lack the option to add multiple faces, which is something a lot of people have the need for.
In fact, Apple has added the option to add multiple faces in the iPhone X's Face ID with the new iOS 12, so it's high Android manufacturers too bring multiple face unlock support, and Qualcomm is helping them get there.
---